Wild Card Weekend and its six playoff games have come to an end! Let's look at which teams punched their tickets to the Divisional Round with an updated NFL playoff bracket. Here's what the AFC Playoff Bracket and NFC Playoff Bracket look like as playoffs move into the Divisional Round.
Current NFL Playoff Bracket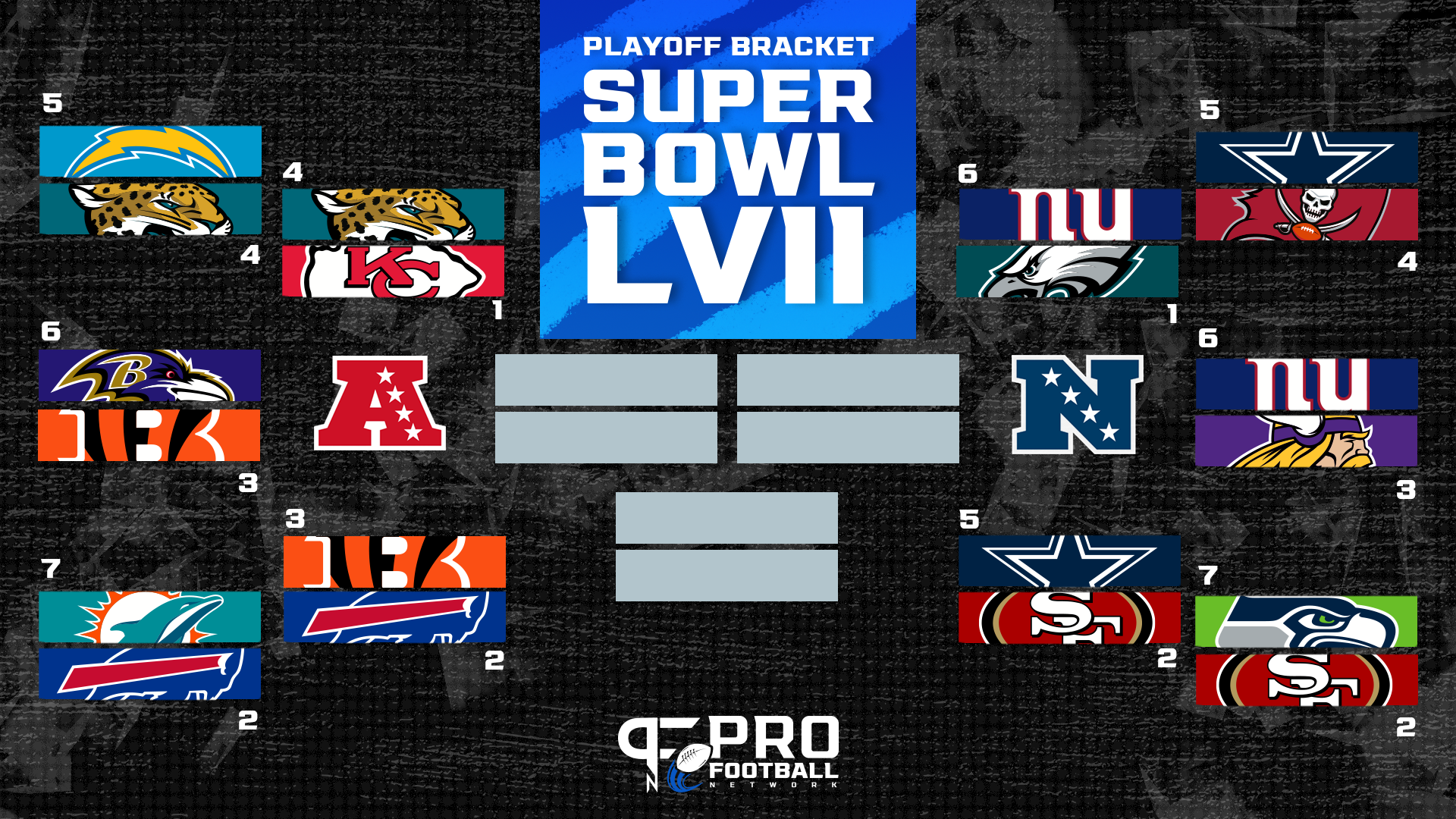 AFC Playoff Seeds and Standings
1. *Kansas City Chiefs
2. Buffalo Bills
3. Cincinnati Bengals
4. Jacksonville Jaguars 
5. Los Angeles Chargers (Eliminated)
6. Baltimore Ravens (Eliminated)
7. Miami Dolphins (Eliminated)
NFC Playoff Seeds and Standings
1. *Philadelphia Eagles
2. San Francisco 49ers
3. Minnesota Vikings (Eliminated)
4. Tampa Bay Buccaneers (Eliminated)
5. Dallas Cowboys
6. New York Giants
7. Seattle Seahawks (Eliminated)
NFL Divisional Round Bracket Schedule
The NFL has announced the times, days, and games for the Divisional Round.
We know that the No. 1 seeds in both the AFC and NFC — the Kansas City Chiefs and Philadelphia Eagles — will host their respective opponents. With the Giants upsetting the Vikings, they will be traveling to take on Philadelphia. The Chiefs will host the Jacksonville Jaguars.
MORE: NFL Playoff Wild Card Results
After their decisive win on Monday night, the Dallas Cowboys will travel to San Francisco on Sunday to face the second-seeded 49ers.
With the Buffalo Bills defeating Miami, they are guaranteed a home game next week. They will be facing the Cincinnati Bengals in the Divisional Round.
Unlike the Wild Card Round, the games will only be stretched out over two days instead of three. There will be games on Saturday, January 21st, and Sunday, January 22nd. We will update this section when we know which teams will play and when.
Saturday, Jan. 21
Jacksonville Jaguars at Kansas City Chiefs
4:30 p.m. ET | NBC
New York Giants at Philadelphia Eagles
8:15 p.m. ET | FOX
Sunday, Jan. 22
Cincinnati Bengals at Buffalo Bills
3 p.m. ET | FOX
Dallas Cowboys at San Francisco 49ers
6:30 p.m. ET | CBS