With all 32 NFL teams practicing by the end of this week, we're continuing to go inside storylines facing various teams around the league.
Latest NFL News and Rumors: The Arizona Cardinals' Many Changes
The Arizona Cardinals will be undergoing a transformation on both sides of the ball. And they'll have two new coordinators doing it — the youngest coordinator tandem in the NFL.
OC Drew Petzing, 36, and DC Nick Rallis, 30, will oversee their sides of the ball for the first time in their careers.
According to multiple sources who've worked with Petzing in the past, the former Browns offensive assistant coach will likely run his version of Browns head coach Kevin Stefanski's offensive scheme. What those sources added specifically is that you'll likely see a lot of two-tight sets (12 personnel), which was the base of Stefanski's offense in past seasons with the Browns.
And because of the scheme switch, second-year tight end Trey McBride, the highest-drafted player at his position last year, could see an increased role in the team's passing game.
McBride saw 599 snaps (53% of the offensive snaps) as a rookie but only caught 29 passes for 265 yards (9.14 yards per catch) and posted just one touchdown.
As for Arizona's defense, there is some mystery on what the scheme will look like based on OTA practices, but inside linebacker Zaven Collins was moved to the outside, and veteran ILB Kyzir White was working as the middle linebacker in what some coaches around the NFL expect to be an odd man front (3-4 possibly).
Head coach Jonathan Gannon ran an odd-man front with the Philadelphia Eagles but started off every game last season with three defensive tackles in the lineup.
Bills' Josh Allen and Stefon Diggs Relationship Heading Into Training Camp
Much was made about an issue between quarterback Josh Allen and wide receiver Stefon Diggs during the team's OTA practices. However, a league source who knows both players well called it "much to do about nothing."
The source added that because the NFL news cycle is "slow in June," it became a bigger issue outside the team than it really was.
Diggs "can get emotional," the source added, but the two players have a "very strong working relationship," and the issue should be "well behind them" when the Buffalo Bills have their first training camp practice on Wednesday.
Browns Making Changes on Defense
The Cleveland Browns will still employ a 4-3 defense, but the front will be changing. New defensive coordinator Jim Schwartz will use a "wide-9" front, which features having his ends line up outside both offensive tackles. By doing this, it enables the ends to get up field faster.
Veteran DL coach Jim Washburn, who came up with this defensive front back in the late 1990s when the two were working with the Tennessee Titans, was hired as a defensive consultant by Schwartz earlier this year.
A coaching source very familiar with this front and Schwartz's defensive philosophy said this type of front will ask the cornerbacks to play the run more than most teams do because the ends are getting up field. You will see a low percentage of blitzing, and Schwartz puts a major premium on just four-man pressure.
While Schwartz has his critics around the NFL, it's hard to argue against the success that many of his defensive linemen have had in the past.
Here are some examples of DL sack numbers under Schwartz or Washburn over the years (note: minimum of EIGHT sacks):
Defensive Tackles
Albert Haynesworth/Titans: 8.5 (2008)
Ndamukong Suh/Lions: 10.0 (2010), 8.0 (2012)
Marcell Dareus/Bills: 10.0 (2014)
Fletcher Cox/Eagles: 10.5 (2018)
Defensive Ends
Jevon Kearse/Titans: 14.5 (1999), 11.5 (2000), 10.0 (2001), 9.5 (2003)
Kevin Carter/Titans: 10.0 (2002)
Kyle Vanden Bosch/Titans: 12.5 (2005), 12 (2007)
Jerry Hughes/Bills: 10.0 (2014)
Jason Babin/Titans: 12.5 (2010), Eagles: 18.0 (2011)
Trent Cole/Eagles: 11.0 (2011)
Cliff Avril/Lions: 11.0 (2011), 9.5 (2012)
Mario Williams/Bills: 14.5 (2014)
Ziggy Ansah/Lions: 8.0 (2013), 14.5 (2015)
Michael Bennett/Eagles: 9.0 (2018)
Brandon Graham/Eagles: 9.5 (2017), 8.5 (2019), 8.0 (2020)
So, don't be surprised to see veteran DEs Myles Garrett and Za'Darius Smith put up huge sack numbers this season due to the defensive front adjustment.
Las Vegas Raiders All-In on Marcus Peters?
Veteran cornerback Marcus Peters, who visited the Las Vegas Raiders earlier this year, is scheduled to visit the team again this week — sometime on Monday, a league source confirmed. NFL Network reported that Peters is expected to also work out for Las Vegas during this visit.
The source added that there is a higher expectation this time around that the veteran coverage defender will sign with the Raiders, who have an obvious need at the position.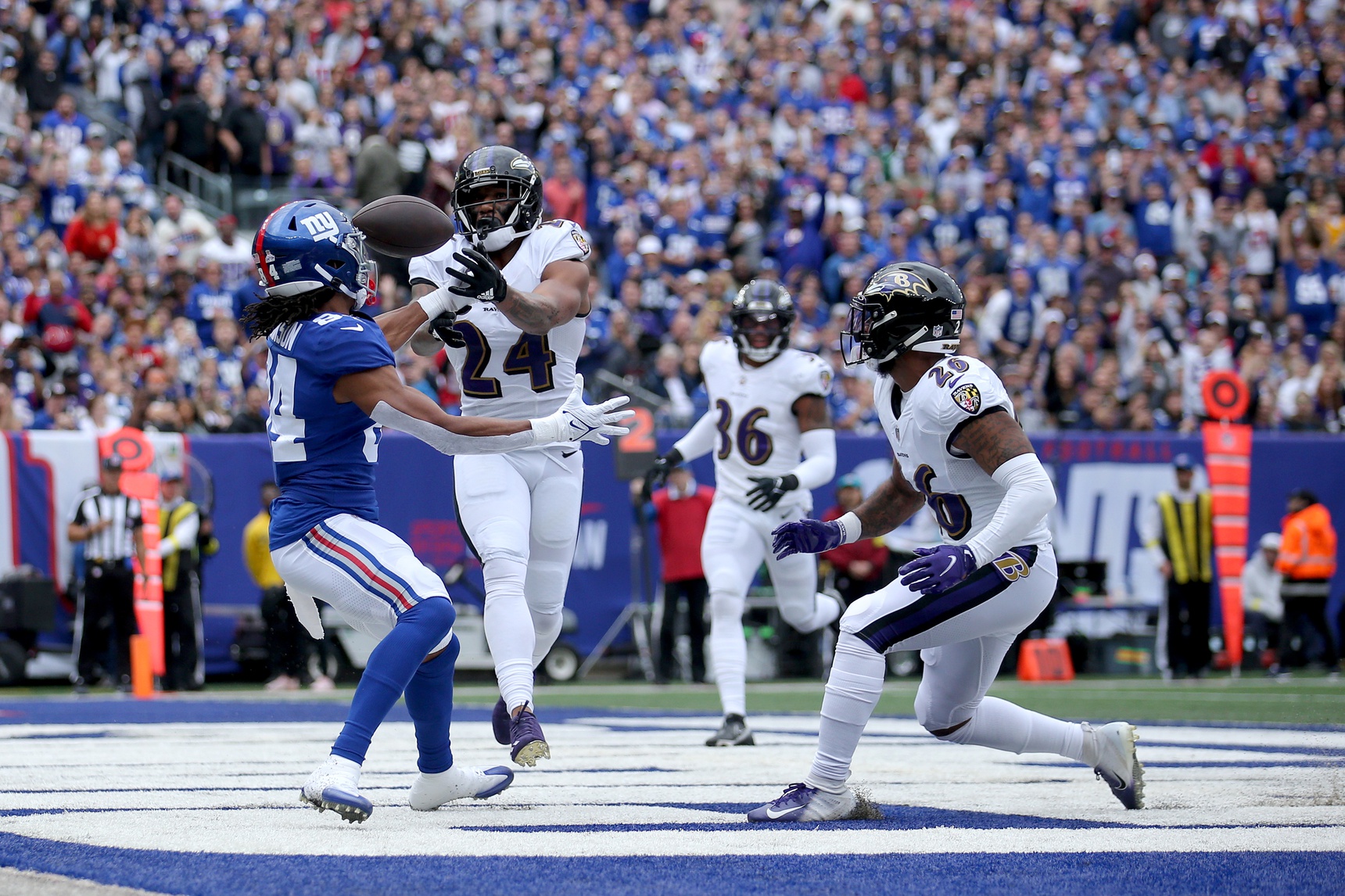 Peters, who has been known in personnel circles as a good man-to-man defender, turned 30 in January.
Versatile third-year CB Nate Hobbs, who is capable of playing inside or outside, is known as the team's best cornerback, but Las Vegas lacks quality overall as coverage players on the back end of their defense, which is why the team has shown strong interest in Peters.
Miami Dolphins Safety Brandon Jones Set To Return?
Starting S Brandon Jones, who suffered his injury (left ACL) during a Week 7 game last season against the visiting Pittsburgh Steelers, is expected to be on the field practicing with his teammates this week, a league source said, and could be on the field as early as Wednesday when the team has its first practice, barring an unforeseen setback.
Jones, who enters training camp in the final season of his four-year rookie deal, is set to earn $2.7 million.
Veteran cornerback Nik Needham (torn Achilles), who re-signed with the team (one year, $1.8 million, $750K fully guaranteed) back in March, was placed on the active/physically unable to perform (PUP) list last week (7/20).
Jets QB Aaron Rodgers Already Making a Difference
When the New York Jets finished their OTA sessions in June, word emanating from around the team was that 10-time Pro Bowl quarterback Aaron Rodgers was an even better leader than they anticipated.
One example was when the four-time NFL MVP called third-year QB Zach Wilson over to have him listen in and view how he called one of the situational drills (believed to be the two-minute or four-minute offense), a source said.
And while Rodgers didn't practice a whole lot during the spring sessions, his presence was clearly felt. Whether it was bonding with his new coaches or with some of the front office members, Rodgers made it a point to connect with members of his new team.
So far in training camp, word around the team is Rodgers, who is in his 19th NFL season, has been very sharp in practice and has quickly developed outstanding chemistry with second-year wide receiver Garrett Wilson in particular.
Big Year Incoming for Pittsburgh Steelers QB Kenny Pickett?
One of the biggest storylines for the Pittsburgh Steelers is the development of second-year QB Kenny Pickett.
Pickett, who was the only QB selected in the first round of the 2022 NFL Draft, did not have a multiple-touchdown passing game last season. But Pickett did, however, put together four game-winning drives and three fourth-quarter comebacks during the second half of the season. And Pickett's arm, a source with knowledge of the situation said, looked noticeably stronger during their OTA practices.
Pickett's knock in personnel circles coming into last year's draft was that his arm strength was lacking, so it will be interesting to see what transpires in training camp. The Steelers will be the last team to hold a camp practice this summer (first practice is on Thursday).
Another player the coaches and front office are looking forward to seeing practice is second-year WR Calvin Austin, who missed his entire rookie season due to a serious foot injury (Lisfranc).
Austin, who opened scouts' eyes during 2022 Senior Bowl week practices, looked all the way back during OTA practices and "clearly is 100 percent," we're told. As for his potential role, it could get interesting.
"I can see some (former NFL WR) Percy Harvin in him," Memphis head coach Ryan Silverfield recently told Pro Football Network. "I know (offensive coordinator) Matt Canada's offense, and he will probably move him around."
Silverfield was an offensive assistant during part of Harvin's tenure with the Minnesota Vikings and said while "Austin is smaller physically than Harvin, but he can do similar things."
Tennessee Titans Offense Might Look Different in 2023
While it's hard to imagine that veteran RB Derrick Henry won't be very involved overall in the Tennessee Titans' offense, a league source with knowledge of the situation said head coach Mike Vrabel wants to bring the offense along, and things could look a little different under new offensive coordinator Tim Kelly.
Another source added that signing veteran WR DeAndre Hopkins, who played for the Houston Texans when Kelly was their play-caller in 2019, has nothing to do with Vrabel's thinking in terms of adjusting the offensive philosophy. The Titans had one of the NFL's worst receiver corps last season in terms of overall talent, and new GM Ran Carthon simply upgraded the group.
It could be that Vrabel doesn't want to be as run-heavy as in the past or that some things schematically may be different than from years past (blocking scheme or personnel groupings, for example). But we may finally see Vrabel not be so reliant on Henry as he has been in the past.
Tennessee is not only excited about the addition of Hopkins, but they feel that second-year WR Treylon Burks is ready to make a big jump in productivity this year.
Burks, a first-round pick, missed six games as a rookie and wasn't always in good enough physical shape. Yet, sources said the word around the team is that Burks looked like a different player during OTAs and is "primed" for a big jump this season.