The Tennessee Titans are perennial underdogs.
An old-school team in a new-school era, the Titans have long been considered playoff contenders under head coach Mike Vrabel, powered by the thundering legs of running back Derrick Henry.
But in a conference with the rocket launcher arms of Patrick Mahomes, Josh Allen, and Justin Herbert and the unflinching acumen of Joe Burrow, Trevor Lawrence, and Tua Tagovailoa, the Titans have fallen by the wayside when it comes to fanfare.
However, with one of the game's most talented wideouts joining the fray in Nashville, don't count the Titans out just yet. According to NFL Network's Ian Rapoport, former Arizona Cardinals and Houston Texans star DeAndre Hopkins signed a two-year, $26 million deal with the Titans. And the future Hall of Famer will make a difference in the AFC South race.
DeAndre Hopkins Lifts Titans to Contender Level in the AFC South
Everyone and their grandmother have Trevor Lawrence's Jacksonville Jaguars as the favorite to take the AFC South. The young QB made the second-year leap in 2022 and captained the long-downtrodden Jags to a division title.
Christian Kirk and Evan Engram became fantasy football stars at their respective positions, while Doug Pederson was a bona fide Coach of the Year candidate after cleaning up the hot mess that was Urban Meyer's 2021 Jaguars.
But I think everyone and their grandmother have been a little quick to toss the Titans aside.
Vrabel has been one of the league's best coaches since taking over in the Music City.
Prior to the 2022 season, he'd made the playoffs three times in three years, each time with a key member of the organization winning one of the NFL's most prestigious awards (Ryan Tannehill with Comeback Player of the Year in 2019, Henry with Offensive Player of the Year in 2020, and Vrabel himself with Coach of the Year in 2021).
2022 was a season to forget to be sure, but the team had it rough by way of injuries. Star pass rusher Harold Landry missed the entire season, first-round wideout Treylon Burks missed significant time on injured reserve, second-team All-Pro DT Jeffery Simmons played much of the campaign hurt, and Tannehill missed five games, ending the year on injured reserve with an ankle issue. And those were just the tip of the iceberg.
The 2022 season, one in which the Titans went just 7-10 and missed the playoffs, is one that Vrabel will surely want to put in the rearview mirror, but signing one of the NFL's most explosive and exciting weapons will go a long way toward vaulting Tennessee back into the contender conversation.
Sure, Tennessee might not leap to the top of Super Bowl odds in mid-July with this signing.
After all, the move did not change much at sportsbooks, as the Titans are still 70-1 to 100-1 to win Super Bowl, depending on where you look. But they're certainly a threat to take over the AFC South crown from Lawrence and Pederson.
DeAndre Hopkins Can Be the Missing Piece of Tennessee's Playoff Puzzle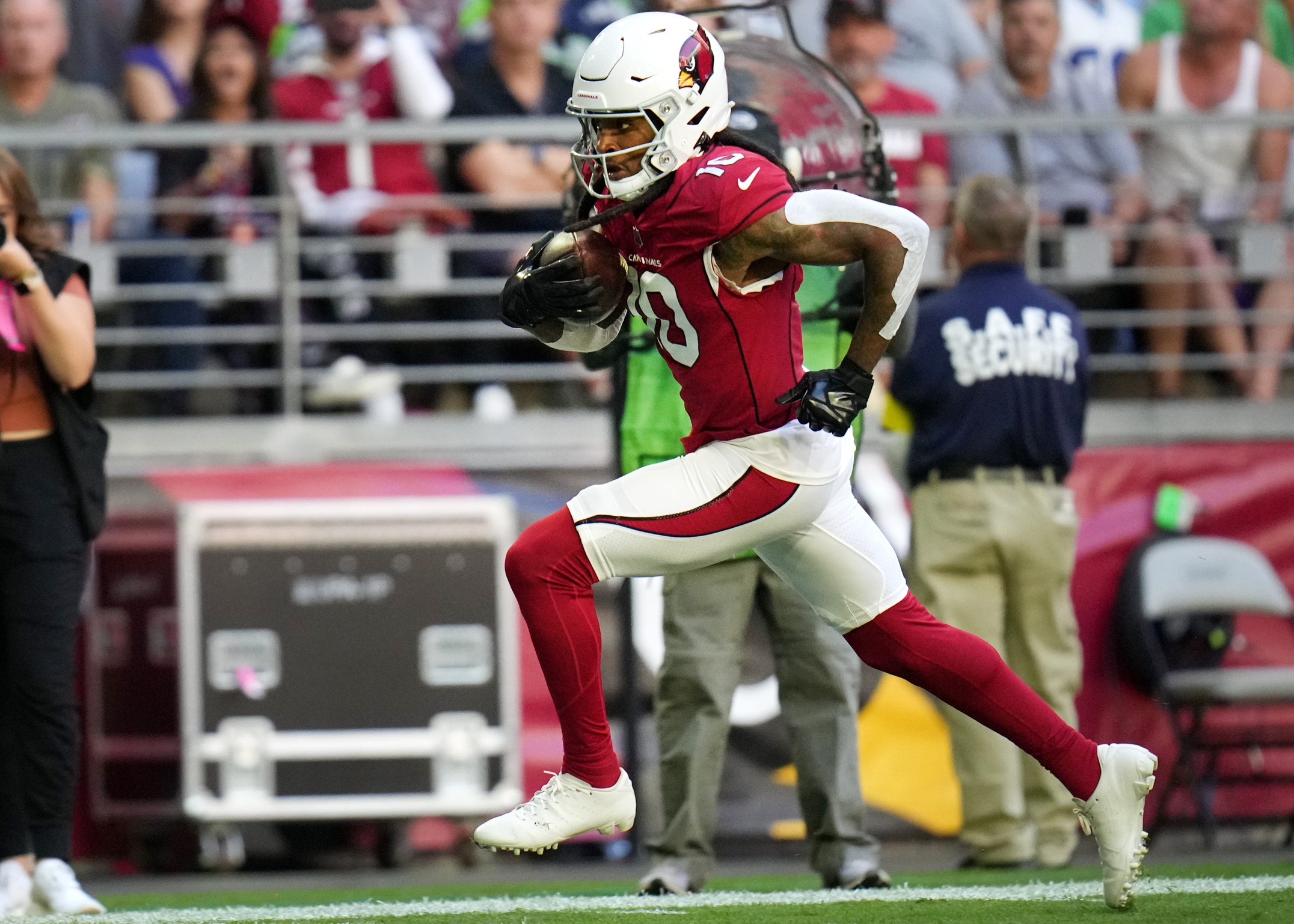 Now, I don't want to overstate the impact of one free agent signing, but this isn't just any free agent signing. Hopkins has a gold jacket waiting in Canton and is one of the best pass catchers of the past decade. And he's still playing like it, too.
I know Nashville has a rough history surrounding signing over-the-hill Hall of Fame wide receivers, so I would understand some trepidation on the part of Titans fans before throwing a party over this news. But this isn't the Julio Jones trade of 2021. It's not the Andre Johnson signing of 2016. And it's not the Randy Moss signing of 2010.
Hopkins is not over the hill. Just let his 2022 performance prove it to you.
After returning from a suspension last season, the perennial Pro Bowl wideout racked up 64 receptions for 717 yards in just nine games, many of which were without starting quarterback Kyler Murray. He compiled at least 60 yards in seven of those nine games and looked every bit as dangerous as the Hopkins that terrorized NFL opponents for the better part of a decade.
And Hopkins won't be alone on Tennessee's offense. He joins a group of young, up-and-coming weapons who now have one of the game's top veterans leading the charge and soaking up the attention of opposing defensive coordinators.
2022 first-round pick Treylon Burks was rounding into form after coming back from injury over the second half of the season and has been tearing up offseason practices. In fact, he was Tannehill's "favorite target" during OTAs, according to team writer Jim Wyatt. Fellow second-year pass catcher, tight end Chigoziem Okonkwo, has likewise been gaining steam as a breakout candidate.
And the Titans drafted one of college football's best running backs, Tulane's Tyjae Spears, in the third round of the 2023 NFL Draft to back up future Hall of Famer Derrick Henry, to boot.
Sure, Tannehill isn't Mahomes, Allen, Herbert, Burrow, Lawrence, or Tagovailoa, but he's a capable passer who now has two of the game's most dangerous players at his disposal. Not only is Hopkins still playing at peak form, but Henry is still running roughshod over every defender in his sight (1,538 yards and 13 touchdowns in 2022).
With Hopkins forcing defensive coordinators to allocate extra attention on the boundary and Henry imposing his will at the line of scrimmage, Burks and Okonkwo will have more room to roam the middle of the field and become threats of their own as they take a step forward in their sophomore years.
With Hopkins Lifting the Offense, Tennesse's Defense Helps Round the Titans Into Legitimate a Playoff Threat
Hopkins' most direct impact will come on offense, to be sure, but Tennessee's defense is nothing to scoff at, either. Simmons, Denico Autry, and a returning-to-full-health Landry make up arguably the most underrated trio of front-seven defenders in football.
As for the secondary, CB Roger McCreary needs to take another step heading into his second year, but there were glimpses last season of the talent that made him a top-35 pick in 2022. He and 2020 second-round pick Kristian Fulton could be a strong CB duo if things break right this season, especially if Fulton can play a full 17 games for the first time in his young career.
And let's not forget that the Titans still have the oft-overlooked Kevin Byard roaming the defensive backfield as one of the game's best center-fielders.
As mentioned at the top of this piece, the Titans and many of the team's top players represent one thing best in the 2023 NFL landscape: underdogs. There's no flashy, traits-based passer under center (at least until 2023 second-round pick Will Levis takes over), and the team's head coach isn't a young offensive guru.
But Hopkins now gives Tennessee what most other teams realize is necessary to compete in the NFL: a star pass catcher who can clear up space for his offensive counterparts.
Combine that new-school move with the team's throwback ground-and-pound style, and you have a unit that can compete with the current belle of the AFC South ball.