Injuries are an unfortunate reality of NFL life, but everyone who follows the league — fantasy football players, sports bettors, and fans of teams — wants the latest health information. In that vein, we're tracking every NFL injury ahead of Week 2.
Let's review the injury report for every game on the NFL's Week 2 schedule. Remember, you can always stay up-to-date on the latest injury buzz around the league with PFN's NFL and Fantasy News Tracker.
NFL Week 2 Injury Tracker
Green Bay Packers at Atlanta Falcons
Packers: RB Aaron Jones, INACTIVE (hamstring); WR Christian Watson, INACTIVE (hamstring); David Bahktiari, INACTIVE (knee)
Falcons: LB Troy Andersen, OUT (concussion); CB Jeff Okudah, INACTIVE (foot)
Aaron Jones and Christian Watson are both inactive for Sunday. Jones did not practice all week, while Watson was limited Friday. Watson looks more likely to be back in Week 3. Bahktiari struggling with his health is always a blow for this offense, and they will hope he can be back next week.
Andersen was ruled out early for the Falcons, while Okudah ultimately did not dress on Sunday. Also inactive was Cordarelle Patterson, who had been on the injury report this week.
Las Vegas Raiders at Buffalo Bills
Bills: No injuries of note
Raiders: WR Jakobi Meyers, OUT (concussion); EDGE Chandler Jones, OUT (personal)
However, the Raiders will be without Meyers, who suffered a scary concussion after taking a brutal hit from Broncos safety Kareem Jackson in Week 1. Josh McDaniels said Friday that Meyers was doubtful for Week 2, and he was later ruled out.
UPDATE – WR Davante Adams: After taking a nasty hit over the middle of the field, Adams was taken to the blue tent for further evaluation. Adams was then taken to the locker room.
Baltimore Ravens at Cincinnati Bengals
Ravens: TE Mark Andrews, ACTIVE (quad); OT Ronnie Stanley, OUT (knee); C Tyler Linderbaum, OUT (Ankle); CB Marlon Humphrey, OUT (foot); S Marcus Williams, OUT (pectoral)
Bengals: RB Chris Evans, OUT (hamstring); EDGE Joseph Ossai, OUT (ankle); LB Markus Bailey, ACTIVE (knee)
Mark Andrews was the only Raven left questionable this week, and he was able to suit up. The others were ruled out on Friday. Of the Bengals' injury concerns, only Markus Bailey was able to suit up Sunday.
Update: Odell Beckham Jr. was ruled out with a foot injury early in the second half of the Ravens Week 2 game.
Seattle Seahawks at Detroit Lions
Seahawks: OT Charles Cross, OUT (toe); EGDE Boye Mafe, OUT (knee); EDGE Mike Morris, OUT (shoulder); LB Devin Bush, OUT (shoulder); S Jamal Adams, OUT (knee)
Lions: OT Taylor Decker, OUT (ankle); EDGE Josh Paschal, OUT (knee); CB Emmanuel Moseley, OUT (knee/hamstring); CB Khail Dorsey, OUT (illness)
The Seahawks have had a tough week on the injury front, with five players ruled out. The Lions are not in a much better situation with four players, including Moseley, ruled out for this week.
UPDATE: WR DK Metcalf, RETURNED (Ribs): suffered a rib injury on the Seahawks' first drive. He left the game and was questionable to return after heading to the locker room. Metcalf returned to the sideline a short time later.
UPDATE: CB Tariq Woolen, QUESTIONABLE (chest): Things got worse for the Seahawks straight after as Tariq Woolen left the game with a chest injury and was left questionable to return.
UPDATE – RB David Montgomery, QUESTIONABLE (thigh): Montgomery was taken to the locker room after suffering an injury during the third quarter against the Seahawks. He was later announced as questionable with a thigh injury.
UPDATE – WR Amon-Ra St. Brown, Questionable (cramping): This has been a tough game for St. Brown, who has been down a couple of times. Fortunately, it appears the main issue is cramping rather than anything more serious.
Indianapolis Colts at Houston Texans
Colts: TE Drew Ogletree, OUT (concussion); G Quenton Nelson, ACTIVE (toe)
Texans: QB C.J. Stroud, ACTIVE (right shoulder); OT Laremy Tunsil, INACTIVE (knee); LB Neville Hewitt, INACTIVE (illness); S Jalen Pitre, OUT (chest); S Jimmie Ward, OUT (hip)
Good news on both sides of this one, as Quenton Nelson and C.J. Stroud are able to suit up for the game. The Texans would have loved to have Tunsil out there protecting the blindside but ultimately had to list him inactive.
UPDATE – QB Anthony Richardson, OUT (Concussion): There was a major blow for the Indianapolis Colts in the second quarter of Week 2 as Anthony Richardson was headed to the locker room. Richardson already had two rushing touchdowns when he left the game. The QB hit his head on the turf after his second touchdown run and is being evaluated for a concussion. He was later ruled out and placed into the concussion protocol.
Kansas City Chiefs at Jacksonville Jaguars
Chiefs: RB Clyde-Edwards Helaire, ACTIVE (illness); TE Travis Kelce, ACTIVE (knee)
Jaguars: G Brandon Scherff, ACTIVE (ankle); C Luke Fortner, ACTIVE (ankle); DL Tyler Lacy, ACTIVE (hip); CB Gregory Junior, OUT (hamstring); S Antonio Johnson, OUT (hamstring)
All is good for the Chiefs, as both Clyde Edwards-Helaire and Travis Kelce could suit up. Patrick Mahomes will have a full complement of weapons around him this week.
The Jaguars got good news on the offensive line, as both Scherff and Fortner suit up. With Chris Jones playing for KC, having the interior at full strength is vital.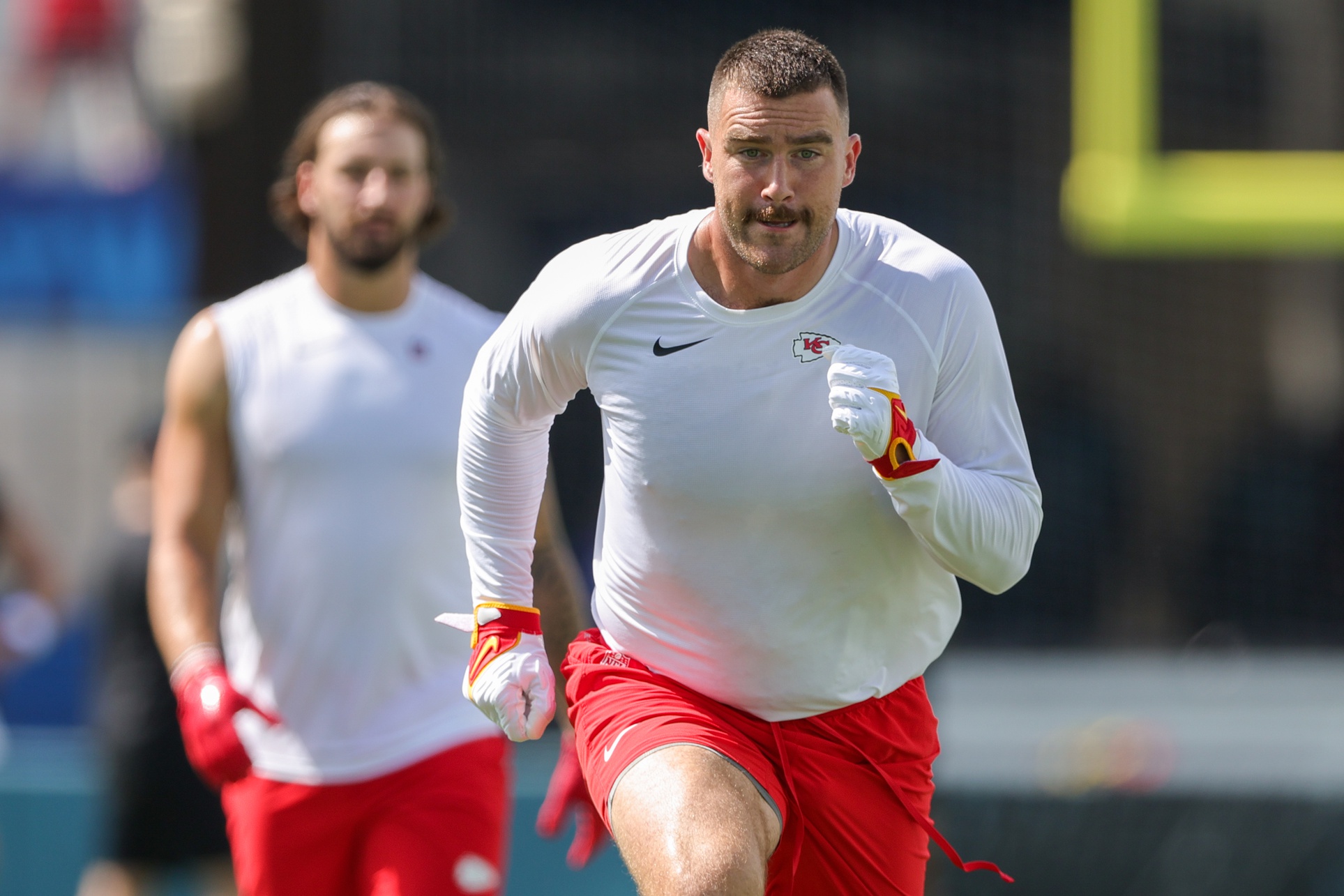 UPDATE – Zay Jones, RETURED (knee): Jones left the Jaguars Week 2 game to be evaluated for a knee injury. At the time of the injury, he had been targeted twice with zero receptions. If Jones misses time, it should benefit Christian Kirk, who struggled for targets in Week 1. Jones came back into the game in the second half.
Chicago Bears at Tampa Bay Buccaneers
Bears: CB Josh Blackwell, OUT (hamstring); OL Nate Davis, OUT (Personal)
Buccaneers: DT Calijah Kancey, OUT (calf); LB SirVocea Dennis, OUT (hamstring); CB Carlton Davis, OUT (toe); S Christian Izien, ACTIVE (concussion)
The Bears ruled Davis out early Sunday with a personal matter and ultimately had to list Blackwell inactive as well. He was already the backup to Kyler Gordon at corner, and now rookie Tyrique Stevenson will likely be thrust into action.
In Tampa, Davis didn't practice this week and has been ruled out. Kancey dealt with a calf injury over the summer and aggravated the issue in the season opener. He won't play on Sunday despite Todd Bowles indicating Kancey's MRI coming back clean.
Los Angeles Chargers at Tennessee Titans
Chargers: RB Austin Ekeler, OUT (ankle); EDGE Joey Bosa, ACTIVE (hamstring); EDGE Chris Rumph II, INACTIVE (hamstring); LB Eric Kendricks, INACTIVE (hamstring/personal); LB Daiyan Henley, INACTIVE (hamstring)
Titans: WR DeAndre Hopkins, ACTIVE (ankle); G Peter Skoronski, INACTIVE (illness); CB Kristian Fulton, OUT (hamstring); S Amani Hooker, OUT (concussion)
A mixed week for the Chargers. Yes, they get Bosa on the field, but they will be without Ekeler, Rumph, Kendricks, and Henley. That is a significant group on both sides of the ball for the Chargers.
Losing Fulton, Hooker, and Skoronski in Week 2 is a blow, but the Titans will be buoyed to have Hopkins available. Hopkins and Burks have huge potential on the outside against a defense that was shredded in the passing game last week.
New York Giants at Arizona Cardinals
Giants: WR Wan'Dale Robinson, INACTIVE (knee); OT Andrew Thomas, INACTIVE (hamstring); EDGE Azeez Ojulari, INACTIVE (hamstring)
Cardinals: OT Kelvin Beachum, ACTIVE (hand); DT Leki Fotu, INACTIVE (shoulder); EDGE L.J. Collier, OUT (biceps); LB Josh Woods, OUT (ankle); S Budda Baker, INACTIVE (hamstring)
As expected, Wan'Dale Robinson and Azeez Ojulari could not recover from their doubtful tag on Friday and are not active today. Not having Andrew Thomas on the field will be a big blow to the Giants offense.
Baker was a late addition to Arizona's injury report, suggesting he tweaked his hamstring during Friday's practice. He was unable to suit up for Sunday's game.
San Francisco 49ers at Los Angeles Rams
49ers: No injuries of note
Rams: WR Puka Nacua, ACTIVE (oblique)
Nacua was the NFL's most impressive rookie in Week 1, but an oblique injury prevented him from practicing on Thursday. The fifth-round pick — who hauled in 10 Matthew Stafford passes for 199 yards in L.A.'s win over the Seahawks — is expected to be ready for Week 1, per Sean McVay. That was confirmed Sunday when Nacua was not named among the inactives.
New York Jets at Dallas Cowboys
Jets: RB Breece Hall, ACTIVE (knee); OT Duane Brown, ACTIVE (shoulder); OT Mekhi Becton, ACTIVE (knee); K Greg Zuerlein, OUT (groin)
Cowboys: WR Brandin Cooks, OUT (knee); OT Tyler Smith, OUT (hamstring); G Zack Martin, ACTIVE (groin); S Donovan Wilson, OUT (calf)
The Jets' only player from the injury list to be ruled out was K Greg Zuerlein, who was ruled out early. Hall, Becton, and Brown all managed to suit up.
MORE: Best Running Backs in the NFL 2023
The Cowboys did not have such a good time, with three players in Cooks, Smith, and Wilson being listed among the inactives. The positive news is that Martin was at least able to be active.
Washington Commanders at Denver Broncos
Commanders: CB Jartavius Martin, OUT (concussion)
Broncos: TE Greg Dulcich, IR (hamstring); EDGE Frank Clark, OUT (hip)
The Commanders are pretty healthy heading into Week 2, as Martin is their only injured player. Edge rusher Chase Young was a full practice participant on Friday after not suiting up in Week 1 — Ron Rivera said he's ready to go for Sunday.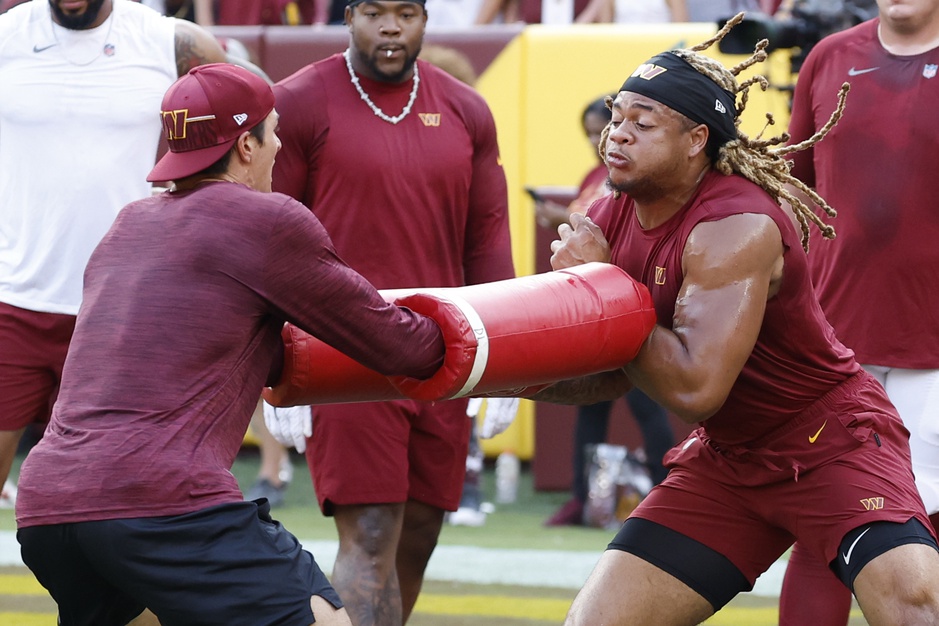 Although Dulcich was initially supposed to miss multiple weeks, he's been working on the side of the field during this week's Broncos practice sessions. Sean Payton said Dulcich feels better as he works his way back from a hamstring issue, but he ended up being placed on the IR on Saturday.
Miami Dolphins at New England Patriots
Dolphins: TE Julian Hill, OUT (ankle); OT Terron Armstead, OUT (back/ankle/knee); EDGE Jaelan Phillips, OUT (back); DB Elijah Campbell, OUT (knee)
Patriots: WR DeVante Parker, QUESTIONABLE (knee); OT Trent Brown, QUESTIONABLE (concussion); G Mike Onwenu, QUESTIONABLE (ankle); G Cole Strange, QUESTIONABLE (knee); G Sidy Sow, QUESTIONABLE (concussion); CB Jonathan Jones, QUESTIONABLE (ankle)
Miami's offensive line held up surprisingly well against the Chargers in Week 1, but they'd still love to have Armstead back. He returned to practice on Wednesday and was no longer a no-contact jersey by Thursday, a positive sign for his Sunday night availability.
Phillips wasn't listed on the injury report earlier this week but appeared to tweak his back during Friday's practice. He's questionable for Sunday after leading Miami in pressures in Week 1.
Parker, Strange, and Onwenu all missed Week 1 for the Patriots but are practicing on a limited basis this week. Brown, who didn't practice all week, is New England's most significant offensive concern heading into their AFC East matchup. If Brown can't go, he'd likely be replaced by one of Tyrone Wheatley Jr. or Vederian Lowe.
Meanwhile, Jones wasn't spotted at Friday's practice. New England could deploy a CB trio of Christian Gonalzez, Marcus Jones, and Myles Bryant against Tyreek Hill and Jaylen Waddle.
New Orleans Saints at Carolina Panthers
Saints: RB Kendre Miller, QUESTIONABLE (hamstring); DB J.T. Gray, QUESTIONABLE (shoulder)
Panthers: WR DJ Chark, QUESTIONABLE (hamstring)
Miller couldn't get healthy for his NFL debut, but limited practices this week suggest he could be trending in the right direction for Monday night. Both he and Gray were limited all week and are listed as questionable heading into Monday.
Chark is slowly working his way back from a hamstring injury and logged limited practices Wednesday through Friday — the extended week gives him a chance to be ready for MNF. Chark was able to practice in full Friday, putting him on track to play, but remained listed as questionable.
Jaycee Horn won't be playing on Monday night, and he'll have to miss at least four games after the Panthers placed him on IR Friday. He's expected to return during the second half of the season. C.J. Henderson will start at corner opposite Donte Jackson for the time being.
Cleveland Browns at Pittsburgh Steelers
Browns: WR Amari Cooper, QUESTIONABLE (groin) DT Siaki Ika, QUESTIONABLE (foot); S Juan Thornhill, QUESTIONABLE (calf)
Steelers: RB Anthony McFarland Jr., OUT (knee); WR Diontae Johnson, OUT (hamstring)
Thornhill missed the Browns' Week 1 game against the Bengals, but Cleveland got by starting Rodney McLeod next to Grant Delpit. He managed a limited practice on Friday after failing to participate on Thursday.
Cleveland's most significant concern looked to be at defensive tackle. Ika didn't practice this week, while Harris and Hurst got in limited sessions on Friday. Both Harris and Hurst managed to be full participants on Saturday and have been cleared.
MORE: NFL Week 2 Predictions for Every Game
A major concern popped up for the Browns on Saturday when Amari Cooper put in a limited practice and was listed as questionable with a groin injury. Details are slim on the ground in terms of what happened, but the fact this is a new injury for Cooper is not a great sign for Monday. On Sunday, Schefter reported that Cooper is unlikely to play Monday.
Johnson and McFarland didn't practice on Friday, but the rest of Pittsburgh's injured players were limited participants. Johnson has already been ruled out for Monday night's game and is expected to miss several weeks, although the Steelers have not placed him on injured reserve. All other names on the report this week were cleared on Saturday.