We are into the second quarter of the 2023 NFL season, and we have another enticing week ahead. With 11 games during the two main slates on Sunday, the Week 6 NFL coverage map is here to tell you which games will be shown in your area.
From the current NFL standings to team depth charts to coverage of every game in the 18-week NFL schedule, we have all the news from around the league to keep you up to speed!
NFL Coverage Map for Week 6
The guys at 506 Sports do an excellent job compiling the NFL coverage maps, which use a simple color-coded system to tell you which games will be shown in your area. This week sees FOX with the double-header, meaning you will only have one CBS option in your area this week.
The maps below are correct as of Wednesday morning and could be subject to change.
CBS Single-Game NFL TV Coverage Map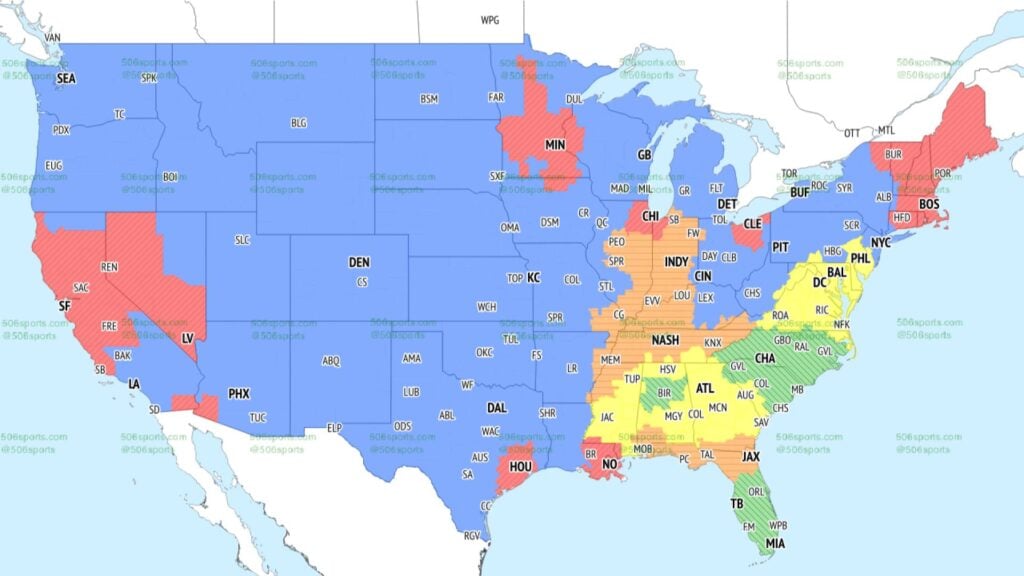 Blue: Seattle Seahawks at Cincinnati Bengals
Ian Eagle and Charles Davis
The Seattle Seahawks return from a bye to find an awakened Cincinnati Bengals offense. Seattle has bounced back from a Week 1 loss to climb to 3-1. Meanwhile, the Bengals have won two of the last three to save themselves from an absolute disaster at 2-3.
This game deservedly commands a reasonable chunk of the Week 6 CBS NFL coverage map in what could be the highest-quality game of the day.
Green: Carolina Panthers at Miami Dolphins
Kevin Harlan and Trent Green
The Carolina Panthers will look to break their losing streak when they head to South Florida this week. However, in their way stands the Miami Dolphins, who have been one of the most exciting teams this season. The Dolphins will have their eyes on another win but would be foolish to overlook the Panthers this week.
Yellow: Washington Commanders at Atlanta Falcons
Andrew Catalon, Tiki Barber, and Matt Ryan
This very well may be one of the more evenly matched games of the day. The Washington Commanders are on a three-game losing streak but have had 10 days to recover from their nationally televised mauling at the hands of the Chicago Bears. Meanwhile, the Atlanta Falcons have got themselves to a 3-2 record but have yet to look totally convincing, especially on offense.
Brown: Indianapolis Colts at Jacksonville Jaguars
Spero Dedes and Adam Archuleta
The AFC South is shaping up to be one of the more exciting divisions this season. The Jacksonville Jaguars were the preseason favorite and, coming off a two-game winning run in London, will want to push home an advantage over their divisional rivals. The Indianapolis Colts will be without Anthony Richardson, but at 3-2, they have been one of the surprise packages of the season so far.
Red: New England Patriots at Las Vegas Raiders (Late)
Jim Nantz and Tony Romo
The master and apprentice will be CBS' only late afternoon game. Last year's matchup had one of the most bizarre endings, and the New England Patriots desperately need to get a win on the board to quiet the doubters. Standing in their way is former Patriots coach Josh McDaniels, who will be looking to string together back-to-back wins.
FOX Early-Game NFL TV Coverage Map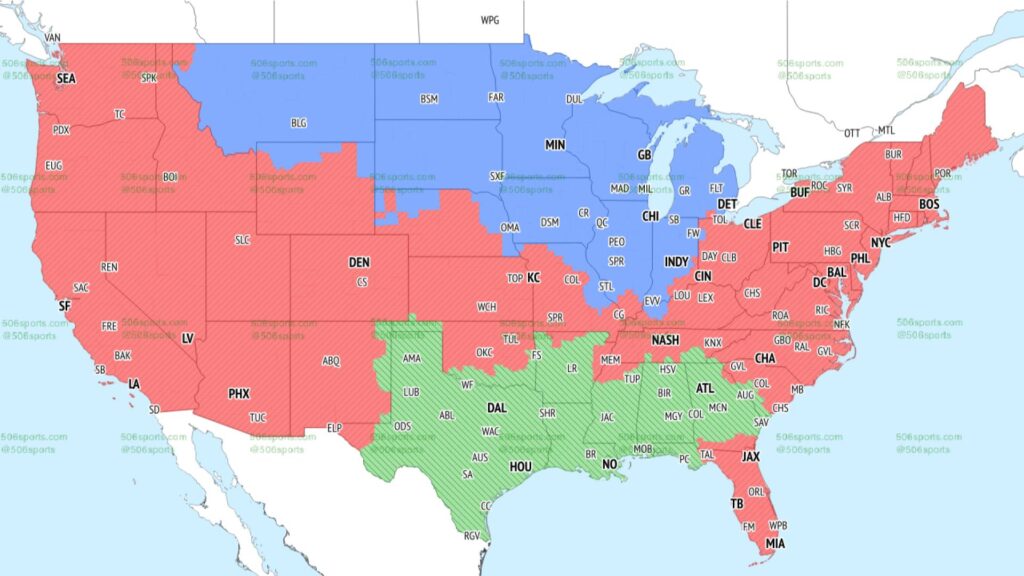 Red: San Francisco 49ers at Cleveland Browns 
Kevin Burkhardt and Greg Olsen
The San Francisco 49ers will look to extend their 5-0 start to the season in Cleveland this week. The way the 49ers are playing is enticing enough to get FOX to send their lead crew to cover one of their early-slate games.
MORE: Week 6 NFL Power Rankings
The Cleveland Browns are coming off their bye week and will be desperate to get above .500, even if they are without QB Deshaun Watson.
Blue: Minnesota Vikings at Chicago Bears 
Brandon Gaudin and Robert Smith
This is a battle for survival for these two NFC North teams. With the Detroit Lions already at 4-1, falling to 1-5 will signal the end of any realistic chance of winning the division. This has the real feel of an elimination match, which would put both head coaches under huge pressure.
Green: New Orleans Saints at Houston Texans
Chris Myers and Mark Schlereth
The New Orleans Saints went into New England last week and got a dominant and somewhat surprising victory. The Houston Texans lost a heartbreaker, but their play has been promising. Both of these divisions are there for the taking, and this game could be huge when we look back at how the season played out in the AFC and NFC South.
FOX Late-Game NFL TV Coverage Map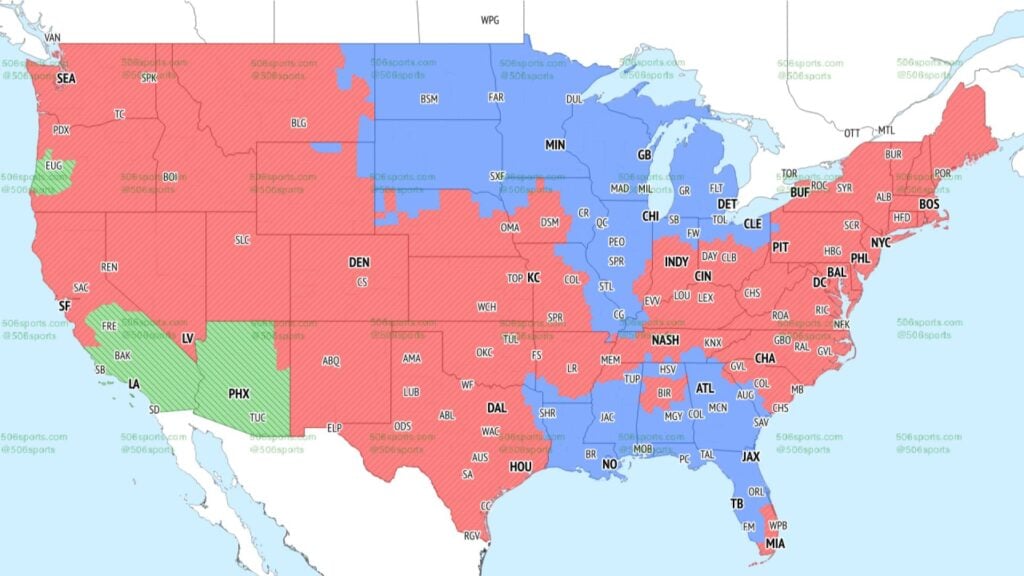 Red: Philadelphia Eagles at New York Jets
Kevin Kugler and Mark Sanchez
This should have been the star-studded game of the day, but Aaron Rodgers' Achilles injury has robbed us of what would have been arguably the game of the week.
MORE: NFL Bye Weeks Schedule 2023
As it stands, this should be an easy Philadelphia Eagles victory, but rarely are things that simple. The Eagles haven't looked right against lesser teams this year and will be desperate to avoid an upset.
Blue: Detroit Lions at Tampa Bay Buccaneers
Adam Amin and Daryl Johnston
This game was flexed into this spot, and deservedly so. The Lions and the Tampa Bay Buccaneers are a collective 7-2, with both sides playing spells of good football. This game is arguably the best of the late slate across both channels and deserves perhaps even more of the FOX Week 6 coverage map than it is already commanding.
Green: Arizona Cardinals at Los Angeles Rams
Kenny Albert and Jonathan Vilma
Both the Arizona Cardinals and Los Angeles Rams have fought admirably at times this season. Their 1-4 and 2-3 records do not adequately reflect the fight we have seen them show. However, those records mean that neither can afford to lose this game. Hopefully, that means we see an exciting back-and-forth game that goes down to the wire.
NFL Week 6 National TV Broadcasts
Thursday Night
Denver Broncos at Kansas City Chiefs (Amazon)
On the surface, this game feels like it should be fairly one-sided. However, strange things happen in Thursday Night Football divisional matchups. The chance of this being an upset would increase a decent amount if Travis Kelce is out or inactive.
Sunday Morning
Baltimore Ravens at Tennessee Titans (NFL Network)
Our final London game of the season sees a smashmouth battle between the Baltimore Ravens and Tennessee Titans. This is one of those games that feels like it will be full of big hits, lots of running the football, and end up being reasonably close because neither team pulls away.
Sunday Night
New York Giants at Buffalo Bills (NBC)
The New York Giants and prime time have not mixed well. They will be hoping that the Buffalo Bills are struggling to adjust from their trip back from London, where they looked out of sync. It will be fascinating to see if having kickoffs nearly 12 hours apart on successive Sundays has any impact on the Bills' performance.
Monday Night
Dallas Cowboys at Los Angeles Chargers (ESPN/ABC)
The Los Angeles Chargers will come off their bye desperate to build on their two-game win streak. Meanwhile, the Cowboys get a chance to bounce back from their prime-time humiliation last week. One thing we know about the Chargers is that this game will likely be exciting, close, and ultimately head-scratching.