It is time to start planning ahead for your Sunday and which NFL games you will be watching with the Week 2 NFL coverage map. This week will see CBS with the doubleheader, meaning each area will receive just one of the FOX games. Let's take a look at how the coverage maps break down this week.
NFL Coverage Map for Week 2
The maps that 506 Sports put together are fantastic for NFL fans. Their color-coded system makes it quick and easy to see which games will be broadcast in which area by both CBS and FOX. It is worth noting that these are the maps on Wednesday and certain elements are subject to change.
CBS Early-Game NFL TV Coverage Map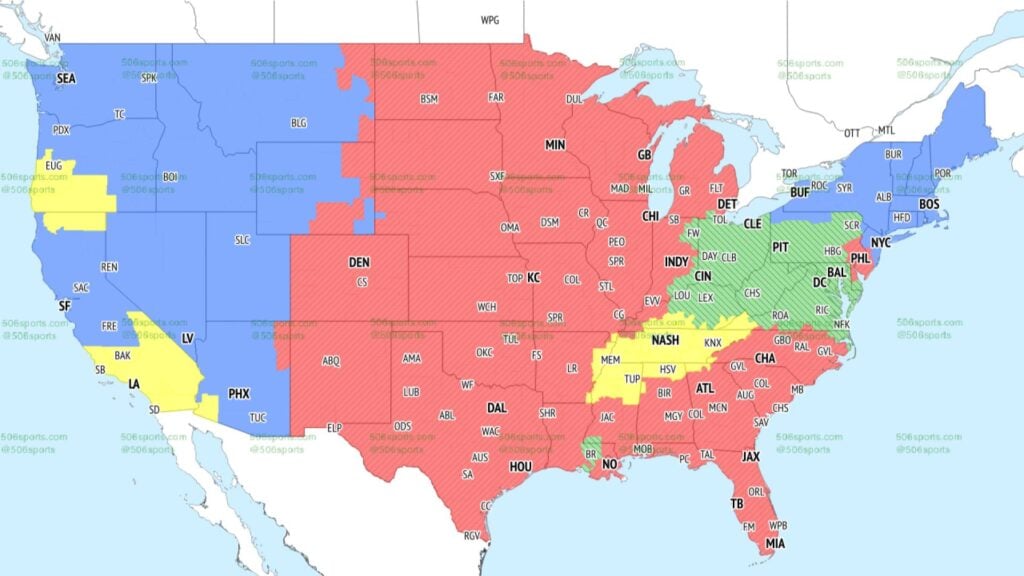 Red: Kansas City Chiefs at Jacksonville Jaguars
Ian Eagle and Charles Davis
This game was always one that many NFL fans would have circled in Week 2, but the events of Week 1 make it all the more exciting. The Chiefs' loss on Thursday Night Football means they cannot afford to fall to 0-2, but the Jaguars in Jacksonville will be a stern test. Jacksonville crept past the Colts and will now what a statement win over KC at home.
Blue: Las Vegas Raiders at Buffalo Bills
Kevin Harlan and Trent Green
This game is another 1-0 team facing a 0-1 team. However, it likely is not the way you would have expected. The Raiders held off the Denver Broncos in an unconvincing win, while the Bills looked even less convincing on Monday Night Football. No Week 2 game is a must-win, but for the Bills, this one will feel like it at home.
Green: Baltimore Ravens at Cincinnati Bengals
Andrew Catalon, Tiki Barber, and Matt Ryan
Our third 1-0 versus 0-1 of the slate, and this is a doozy in the AFC North. The Ravens have a great chance to put themselves two games ahead of the Bengals early in the season. Meanwhile, the Bengals and Joe Burrow need to put their abject performance behind them.
Yellow: Los Angeles Chargers at Tennessee Titans
Tom McCarthy, James Lofton, and Jay Feely
This game has commanded very little of the CBS Week 2 NFL coverage map, and this could be the most exciting game of the bunch. The Chargers offense looked very strong against the Miami Dolphins last week, but their defense was shredded by Tua Tagovailoa and Tyreek Hill. This week they will have a very different test in the form of Derrick Henry. Which team will bounce back and avoid falling to 0-2?
CBS Late-Game NFL TV Coverage Map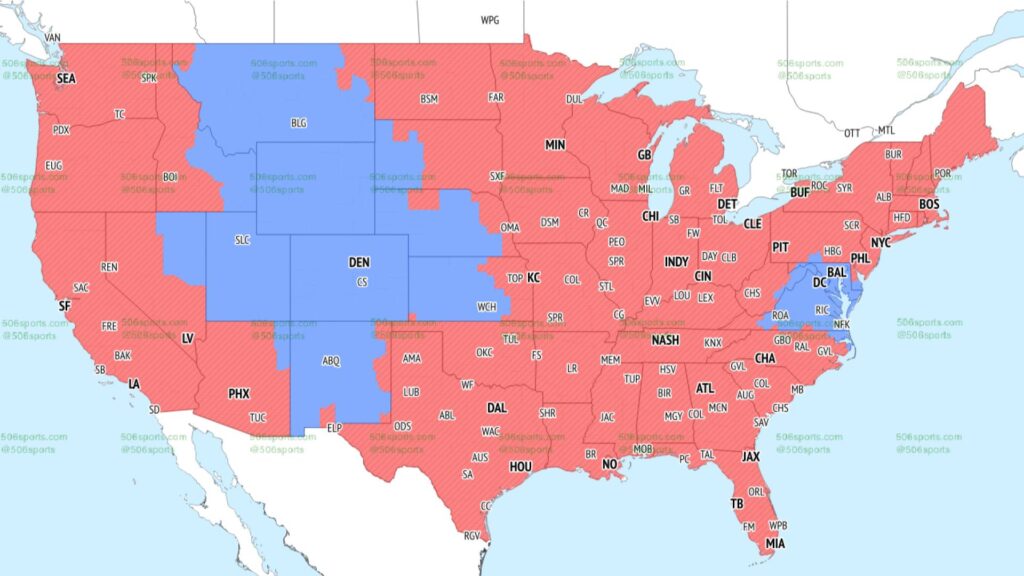 Red: New York Jets at Dallas Cowboys
Jim Nantz and Tony Romo
Well, this game was a mouth-watering prospect until the fourth snap that the Jets offense took in Week 1. The prospect of Rodgers and the Jets offense against that Cowboys defense, while Dak Prescott and his group took on a very good Jets defense. Unfortunately, it looks to be tough sledding for Zach Wilson against the Cowboys' incredible defense. This game could end up being as disappointing as Sunday Night Football was in Week 1.
Blue: Washington Commanders at Denver Broncos
Spero Dedes and Adam Archuleta
The other game on the late-afternoon slate for CBS at least feels like it could be a tighter battle. The Commanders held off the Arizona Cardinals in Week 1, while the Broncos lost to the Raiders. Sean Payton and the Broncos want to avoid falling to 0-2, and with home-field advantage, they would hope to have too much for Washington.
FOX Single Game NFL TV Coverage Map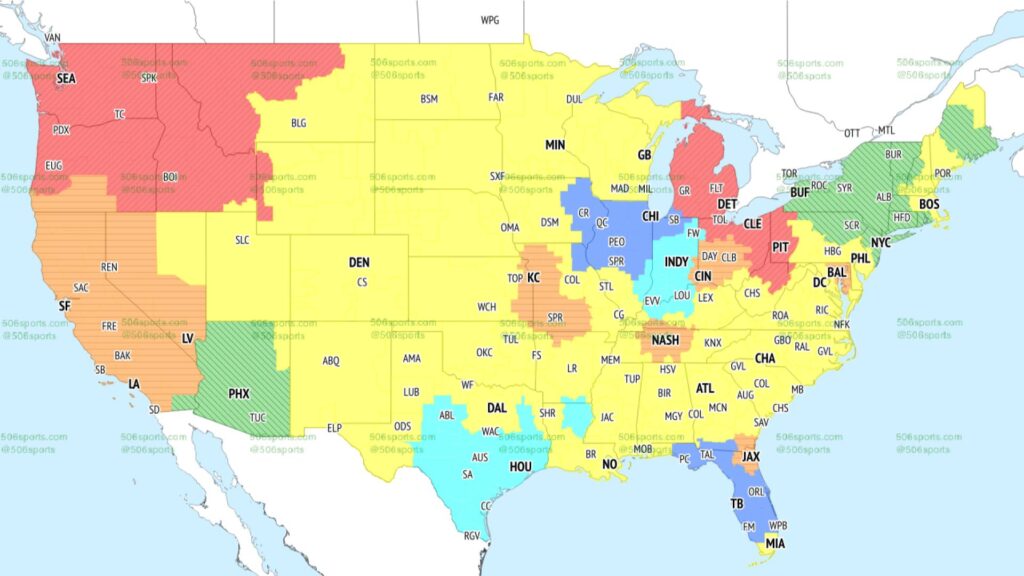 Red: Seattle Seahawks at Detroit Lions
Kevin Burkhardt and Greg Olsen
This has all the makings of being an exciting game, assuming the Week 1 Seahawks don't show up. The Lions had a big statement win against the Chiefs and now have the chance to put their marker down in the NFC. The longer rest and the early kickoff play heavily into the Lions' hands.
Blue: Chicago Bears at Tampa Bay Buccaneers
Joe Davis and Daryl Johnston
Other than the Justin Fields entertainment factor, this game was never going to get a huge amount of respect on the FOX NFL coverage map in Week 2. The Buccaneers pulled off a surprise victory in Week 1 against the Vikings, but neither team is expected to be a major Super Bowl threat, and this game could be a tough watch.
Yellow: Green Bay Packers at Atlanta Falcons
Kenny Albert and Jonathan Vilma
With two 1-0 teams facing off in Atlanta, there is a real opportunity for one team to put themselves in a great position early. With arguably the weakest two divisions in the NFC, starting 2-0 could leave either team needing to win just seven games the rest of the way if they want a shot at winning the division. Of course, they won't be thinking that way, and when it comes to playoff spots and seedings later, this could be a game we look back on.
Cyan: Indianapolis Colts at Houston Texans
Chris Myers and Robert Smith
This was another game that was never going to get much love on the FOX NFL coverage map. The subplot of two rookie QBs makes it intriguing, but neither team played pretty football in Week 1. Even a comprehensive win for one team will be looked at skeptically in terms of what it means in the big picture.
Green: New York Giants at Arizona Cardinals (Late)
Adam Amin and Mark Schlereth
Both the Giants and Cardinals need a big bounceback. The Giants, in particular, were embarrassed at home on national television. New York should be too much for the Cardinals, but how they perform will tell us something about where they might sit in the NFC playoff picture.
Orange: San Francisco 49ers @ Los Angeles Rams (Late)
Kevin Kugler and Mark Sanchez
With both teams coming in at 1-0, this could be an early divisional marker. The 49ers didn't have to break much of a sweat against the Steelers, while the Rams had to scrap quite hard. Can Los Angeles deliver an early psychological blow on the division favorites?
NFL Week 1 National TV Broadcasts
Thursday Night
Minnesota Vikings at Philadelphia Eagles (Amazon)
I believe most thought this would be a battle of two 1-0 teams, both probably coming off comfortable wins. However, that is not the case. The Eagles will consider themselves lucky to have escaped Gillette Stadium with a win, while the Vikings were caught out at home. Warning bells could start to ring for Minnesota if they struggle against what is thought to be the class of the NFC.
Sunday Night
Miami Dolphins at New England Patriots (NBC)
MORE: NFL Week 1 Takeaways
This is a tough week for the Dolphins. Flying cross country to face a Bill Belichick-led defense who just caused the defending NFC champions a headache in Week 1. Gilette Stadium will likely be a cauldron once again, and the Dolphins need to be at their exciting best to avoid what many would view as an upset. This game may well tell us a lot about New England's prospects in 2023.
Monday Night
New Orleans Saints at Carolina Panthers (ESPN)
Cleveland Browns at Pittsburgh Steelers (ABC)
Two divisional battles round out the week on Monday Night. Both games could be tight, but neither game screams a high-quality affair based on what we saw in Week 1. The good news is that if one game gets out of hand, you have another to turn to. The Saints and Browns could put big blows in divisional rivals with wins, opening up two-game leads.