The New York Jets are officially AFC contenders now that future Hall of Fame quarterback Aaron Rodgers is under center, but Gang Green still has a few questions to answer during training camp. The Jets' defensive roster is largely set, especially after general manager Joe Douglas struck quickly to replace safety Chuck Clark (ACL) with free agent Adrian Amos. But New York will have several position battles on the offensive side of the ball.
Top New York Jets Training Camp Battles To Watch
Right Tackle | Mekhi Becton vs. Max Mitchell vs. Billy Turner
While the Jets could theoretically shake up their offensive line by moving veteran Duane Brown to right tackle, that's probably not a realistic option. The 37-year-old Brown, due $10 million in cash in 2023, has never played right tackle at the NFL level.
"It's not something I've practiced over the years," Brown said of playing right tackle in June. "Not to say I can't do it, but I've been solidified (at left tackle) for a while."
Former first-round pick Mekhi Becton wants to play on Rodgers' blindside and lost 45 pounds over the offseason in an effort to get back in the Jets coaching staff's good graces. Becton tried to convince New York to keep him at left tackle last season before he went down with the second major knee injury of his career.
"It made no sense to put me at right tackle," Becton said in May. "I hurt my right knee. That's going to be the knee that I put the most pressure on (while backpedaling in pass protection). I explained it (to the coaches), but no one cared."
Becton might not be pleased about playing on the right side, but it's his best option to land a significant free agency contract next offseason after the Jets declined his fifth-year option. But Becton isn't New York's only right tackle option.
Max Mitchell made five starts at right tackle during his rookie campaign in 2022 and will compete for the role again next season. Meanwhile, the Jets also signed Billy Turner, who played under New York offensive coordinator Nathaniel Hackett in Denver and Green Bay, which could give him a leg up.
If the Jets aren't happy with any of the contenders on their roster, they could re-sign George Fant, who appeared in eight games and played both left and right tackle for New York last season. Given that Fant is still on the free agent market as July approaches, he shouldn't cost too much to bring in.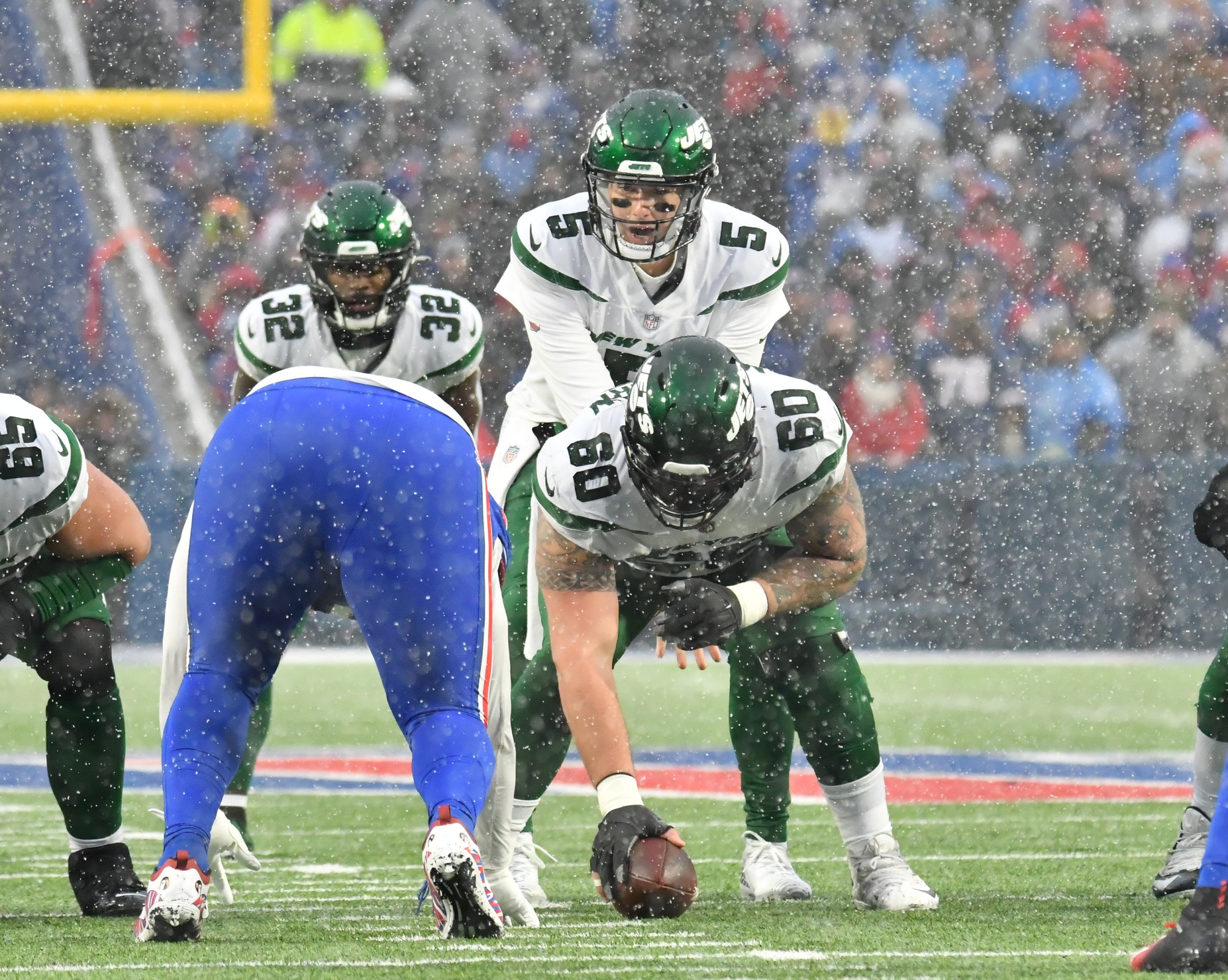 Center | Connor McGovern vs. Joe Tippmann
While the Jets need to find a solution, they also have questions at center. New York re-signed veteran center Connor McGovern, who made 48 starts over the past three seasons, but they also used a top-50 pick on Joe Tippmann.
After the draft, head coach Robert Saleh said the Jets would hold an "open competition" between McGovern and Tippmann. Veteran Wes Schweitzer also saw some first-team reps during minicamp, but he seems more like valuable depth than a realistic candidate for a starting job.
McGovern's experience could give him the upper hand. His previous work in between guards Laken Tomlinson and Alijah Vera-Tucker will give him a rhythm that Tippmann might take a while to develop, while Rodgers may prefer to play with a veteran center like McGovern instead of a rookie like Tippmann.
Tippmann is also capable of playing guard, which could give the Jets a few interesting options. Vera-Tucker is nominally a guard, but he played tackle at USC and spent time there for New York last season. If the Jets want to get their best five on the field, they could potentially field a lineup of Brown-Tomlinson-McGovern-Tippmann-AVT from left to right.
No. 2 RB | Michael Carter vs. Zonovan Knight vs. Israel Abanikanda
Depending on how Breece Hall recovers from his ACL injury, this could turn into a battle for the Jets' No. 1 running back job. New York has expressed optimism that Hall will be available for Week 1, but there's always a chance that he suffers a setback heading into his second NFL season.
Based on last year's production, Zonovan Knight should be the leading contender to back up Hall. While he averaged only 3.5 yards per carry, he forced 29 missed tackles on 114 rushing attempts, leading to an NFL-best 34.1% broken-tackle rate. However, Knight has been banged up so far this offseason, and reports have indicated he could be fighting for a roster spot.
Michael Carter struggled to produce after Hall went down and regularly failed to generate yards after contact. That's never been his game, and Carter profiles as a receiving back in New York's offense, regardless of whether Hall is back in Week 1 or not. Through two NFL campaigns, he's managed 77 receptions for 613 yards via the air.
Meanwhile, rookie Israel Abanikanda could prove to be a draft steal after he surprisingly fell to the fifth round. A speed threat who likely would have dominated the NFL Combine had he been able to test, Abanikanda could become a home-run hitter for the Jets in Year 1. While he needs to show more consistency on a down-to-down basis, he has more upside than either Knight or Carter.