Minnesota Vikings defensive coordinator Brian Flores took the podium on the first day of practices for Vikings training camp and outlined a lot of his philosophy for building a defense. It's well known that Flores has historically run defenses with versatility in mind, with the flexibility to deploy players in multiple spots and blitz from unusual angles.
But that sort of flexibility only runs one layer deep. Flores' entire approach is meant to account for the skill sets — and learning styles — of the players he has on the roster.
Every Brian Flores Defense Is Different
In that sense, every Flores defense looks a little bit different. They ranked second in the NFL in blitz rate in 2021 but 10th in 2019. He's always been in the top half of blitz rate, but the level of aggression changes with situation and personnel.
The same can be seen in his usage of different coverages or coverage concepts. He always ranks near the top in usage of single-high safeties, but how that's deployed changes from year to year. Sometimes he makes the defense specialize in off-man coverage and other times he asks them to press.
The reason that has changed has been because of Flores' ability to adapt to the players he has around him. One method he uses to gauge whether or not a player truly has the ability to play different roles comes from that player's learning style.
Flores Knows That There Are Different Types of Football IQ
"I think [there are] some guys who learn conceptually. This is this coverage, that's that coverage, this is this front, that's that stunt or that blitz. I heard it differently, but if that guy goes in, I gotta go out," Flores said.
"There's things conceptually that you can see versus someone who's memorizing it," he contrasted. "And in that instance, yeah he can handle his job, but he doesn't know what else is going in some other spots. Which, you know, those players play too. It's about putting a group together, and that's what training camp is about."
Both types of players are valuable to Flores in a defense. And at the end of the day, any player who knows what he's been asked to do has met the baseline that Flores is looking for. He focuses less on football intelligence and more on football technique and capability.
"I like to think I have a pretty good football IQ, but I can't play," Flores said to reinforce the point that physical capability is paramount. "We need guys who can play, who can run, who can hit, who can tackle, who can get off blocks. I put more of a premium on those things."
That's not to say they don't value it at all. After all, Flores also pointed out that football intelligence is a necessity. That it's impossible to keep up with modern offenses without the ability to process things quickly and efficiently.
"Offenses in this league, on every snap, there's movement," he said. "So they move the Y, they move the receiver, they jet motion, they explode to empty. A lot of it is just making sure we can handle the various or myriad of formations the offense gives us."
To Flores, football intelligence plays out in a number of ways. From the ability to quickly diagnose an offense to getting into the right check to being able to quickly visualize a defense and fill a different role from a different spot, there are several different ways that kind of intelligence can showcase itself.
Brian Flores Will Find a Way To Use His Players
If a player can play, Flores will find a way to use him. He was asked about three different players on Minnesota's defense — Harrison Smith, Josh Metellus, and Danielle Hunter, the last of whom is currently in a contract dispute with the Vikings. In every instance, Flores identified their intelligence and versatility.
But when asked about the ability of Hunter to adapt to a defense without time in minicamp or training camp, Flores dismissed those concerns. While Hunter can line up anywhere and cause "havoc" for opposing offenses, Flores said, "At the end of the day, we're telling him to go get the quarterback, there's really not much to that, so I think he'll be just fine."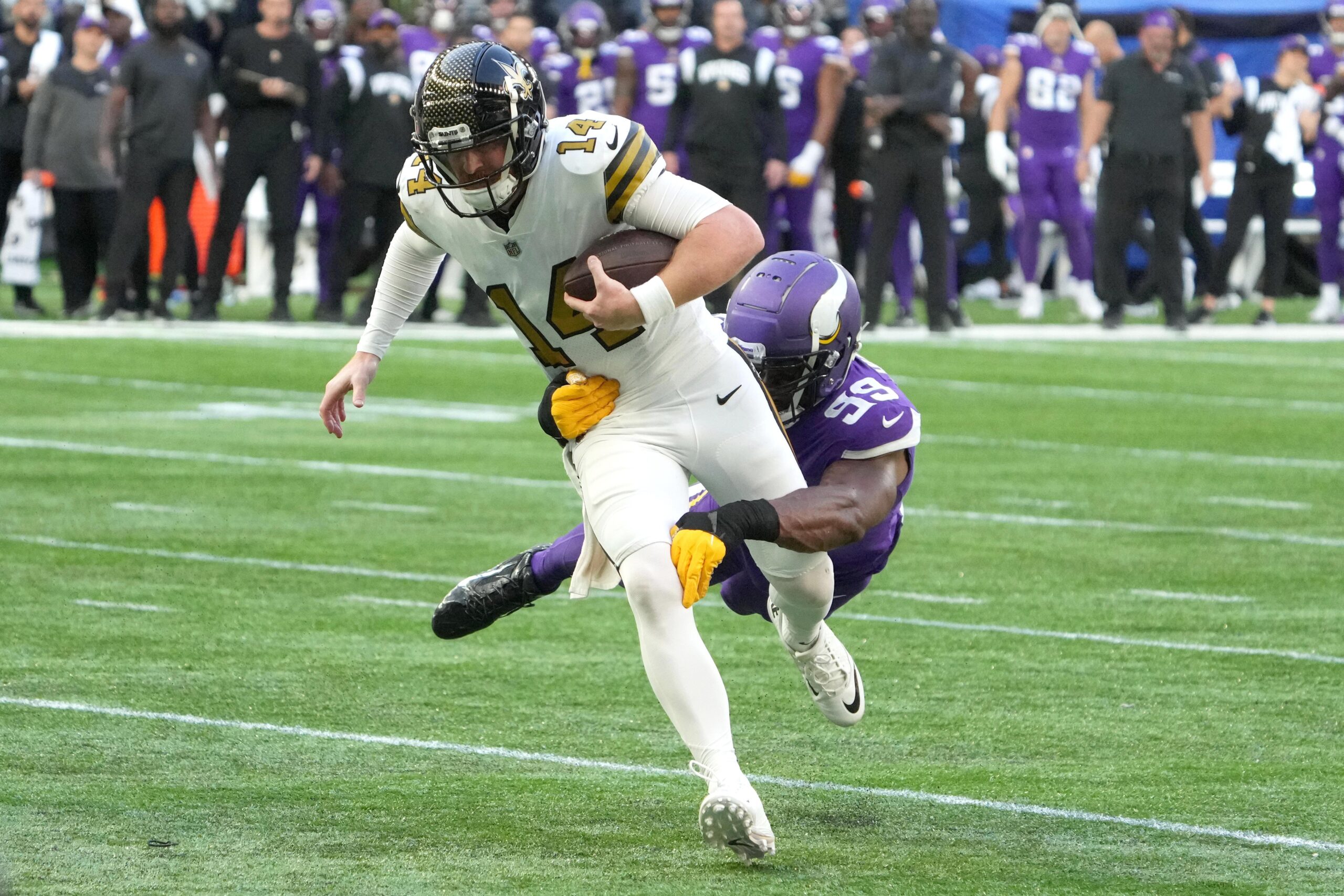 That's why Flores' coaching philosophy is not about deploying complex defenses and wild blitzes, though that has been in his history. It's getting players to improve the collective intelligence and responsiveness of the unit.
"I think you need great communication, great camaraderie throughout the group. The best defenses I've been a part of, there have been real good relationships among that group," said Flores.
"Then you've got to execute," he added. "You've got to be able to communicate, be versatile, be flexible. Make in-game adjustments. Those things we'll build on over the course of training camp. We'll work towards those things, you don't do it all on day one. You can't."
Flores' experience on a number of high-level defenses, especially from his decade in New England, gave him experience on how defenses succeed.
"Those teams are always fundamentally sound," he said. "That's standard operating procedure. You've got to be fundamentally sound. Footwork, hand placement, communication, things of that nature.
"You do all of those things, you give yourself a chance," Flores said.