The Minnesota Vikings have resolved some of their biggest questions since the last time we posted a 53-man roster projection, specifically, the questions surrounding Danielle Hunter's absence from practices. They also have held their first few padded practices, which gives us a little bit more context to their camp performances.
Here are our best guesses for how the Vikings will construct their Week 1 roster.
Minnesota Vikings 53-Man Roster Projection: Offense
Quarterbacks (3)
Kirk Cousins
Nick Mullens
Jaren Hall
There won't be many changes to the depth chart here, and the new third quarterback rules make it increasingly likely that the Vikings roster three signal-callers. After Nick Mullens took time to be with his family, Jaren Hall took on a high volume of snaps and was seemingly unready.
Mullens has historically been a strong backup quarterback, so there's no reason to be concerned that a fifth-round rookie looks shaky.
Out: None
Running Backs (5)
Alexander Mattison
C.J. Ham
Kene Nwangwu
Ty Chandler
DeWayne McBride
Last time, we didn't have McBride making the team in favor of some additional space elsewhere on the roster. The fact that he didn't get much mention by coaches when talking about running backs also made it a bit easier to move him to the practice squad.
But he's been getting in time with the second and third teams in camp and has seemingly impressed the coaches. Minnesota's running game will be built around the committee concept, even though it's clear that Alexander Mattison will be the lead back. Having another back on the roster, especially for goal-line work, should help.
Out: Zach Ojile
Wide Receivers (6)
Justin Jefferson
Jordan Addison
K.J. Osborn
Jalen Nailor
Brandon Powell
Trishton Jackson
We decided to go with six receivers here instead of five, which lets two bubble players onto the roster instead of one. In this case, the Vikings would have Brandon Powell returning punts with Jalen Reagor off the roster. Trishton Jackson has looked good in camp for a few years now, and he's been doing it again this year, so we gave him the sixth spot.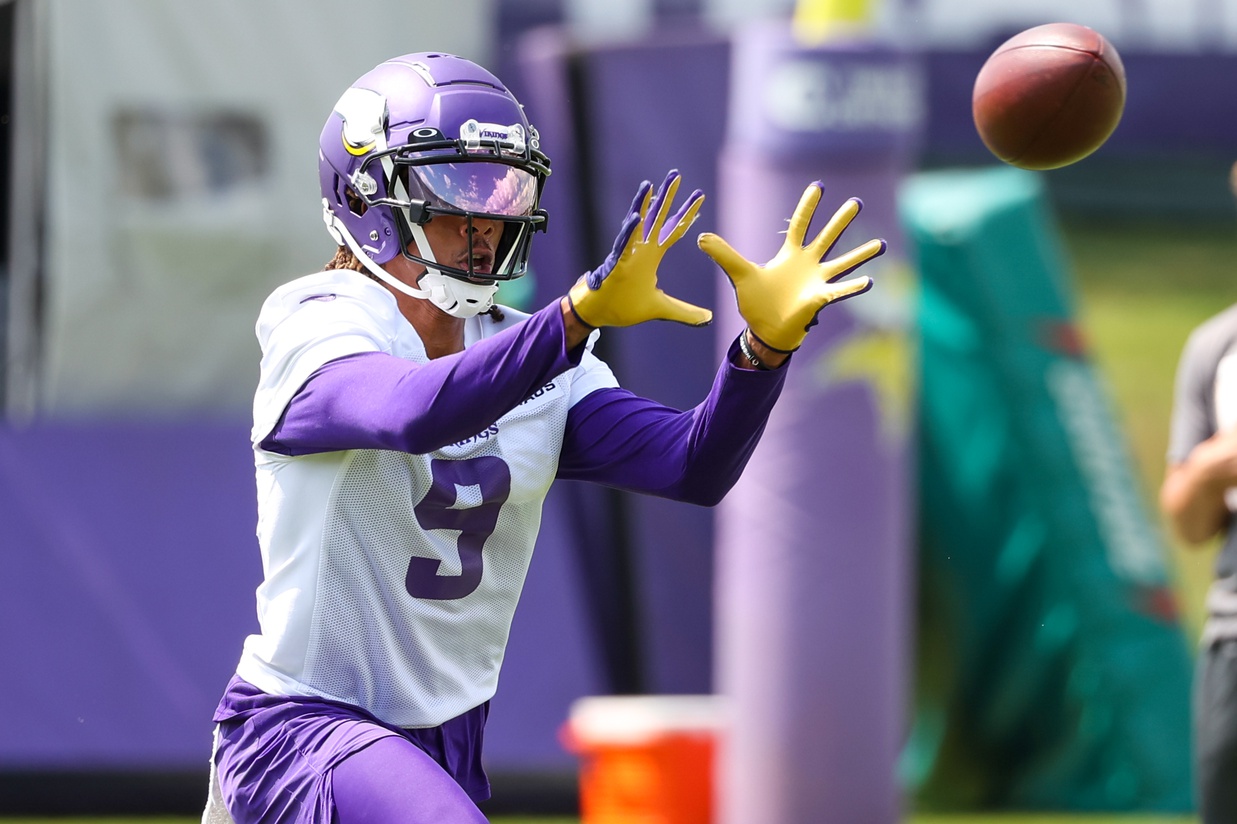 Thayer Thomas would be a practice squad candidate in this setup. The Vikings would likely lean on four receivers for the most part, with Nailor, Osborn, and Addison rotating in and out of the lineup as need be. Jackson has been working with special teams, so he should be able to help out there right away.
Out: Jalen Reagor, Thayer Thomas, Blake Proehl, Lucky Jackson, Cephus Johnson III, Garett Maag
Tight Ends (4)
T.J. Hockenson
Josh Oliver
Johnny Mundt
Nick Muse
The Vikings are building an offense that focuses less on receivers and more on backs and tight ends. That doesn't mean they won't roster a good number of receivers, but they need to have at least a few tight ends on the roster in order to make it work out.
Josh Oliver and T.J. Hockenson have been getting quite a bit of run with the first team, and Johnny Mundt has rotated in with the group on occasion. Nick Muse has been ahead of the other tight ends on the roster, especially in red-zone drills, so he's included here.
Out: Ben Sims, Colin Thompson
Offensive Line (10)
Christian Darrisaw
Ezra Cleveland
Garrett Bradbury
Ed Ingram
Brian O'Neill
Blake Brandel
Chris Reed
Oli Udoh
Austin Schlottmann
Vederian Lowe
This could change very quickly if the Vikings sign Dalton Risner, but this group, for now, projects to have 10 offensive linemen with the hope that they have enough depth at guard to fill in any holes that crop up during the season.
At the moment, Chris Reed and Brian O'Neill haven't been taking the field as they recover from injury. This has allowed us to see who the Vikings seem to value in different positions, and that includes Oli Udoh at right tackle, which came as a bit of a surprise to most observers. He might be locked into the roster at this point, which makes juggling the rest of the offensive line a little interesting, given how many tackles there are.
Out: Josh Sokol, Sam Schlueter, Bobby Evans, Alan Ali, Jacky Chen
Minnesota Vikings 53-Man Roster Projection: Defense
Edge Defender (4)
Danielle Hunter
Marcus Davenport
D.J. Wonnum
Pat Jones II
The return of Danielle Hunter to the lineup has been massive for the team, but that was largely expected. Every day that passes decreases the odds that someone like Andre Carter II, who is on the NFI list, can put enough on tape to make the roster.
With that in mind, it might be the case that the Vikings stick with Pat Jones II. There is the possibility that Luiji Vilain overtakes Jones, but we'll project Jones there for now. At the moment, D.J. Wonnum seems pretty locked into the third edge rusher spot.
Out: Andre Carter II, Luiji Vilain, Benton Whitley, Curtis Weaver
Interior Defensive Line (5)
Harrison Phillips
Khyiris Tonga
Dean Lowry
Esezi Otomewo
Jaquelin Roy
In response to stocking the offense with extra players — there are 28 instead of the usual 25 — we're cutting down a little bit at some defensive spots. That means five defensive linemen instead of six, but that's plenty when there's positional flexibility for players like Harrison Phillips and Jaquelin Roy. The Vikings are primarily going to be in nickel, which means only putting two interior defenders on the field at once, so there's no need to make sure there's a full rotation of three linemen each.
Out: Jonathan Bullard, James Lynch, Ross Blacklock, Sheldon Day, Junior Aho, Calvin Avery, T.J. Smith
Linebacker (4)
Brian Asamoah
Jordan Hicks
Troy Dye
Ivan Pace Jr.
Not much has changed here since the last projection, and Ivan Pace Jr. keeps taking second-team reps ahead of Troy Reeder. That could mean the undrafted rookie has demonstrated enough in meeting rooms and on the practice field that he's ready to go. If he's also as capable as Reeder of producing on special teams, that would be huge.
The Vikings seemingly have confidence in him and Troy Dye as backup linebackers, and with this particular scheme and setup, they only need to have four on the roster.
Out: Troy Reeder, William Kwenkeu, Wilson Huber, Abraham Beauplan
Cornerback (5)
Byron Murphy
Akayleb Evans
Joejuan Williams
Mekhi Blackmon
Andrew Booth Jr.
Last time, we didn't roster Andrew Booth Jr. in favor of speedster Kalon Barnes, but this time, we'll continue moving forward with Booth. Booth has immense physical talent, and the potential starters on the roster don't have good matchups against speedy receivers. Booth might be better suited for that role than anyone else among rosterable talent, even if he disappointed last year. Plus, second-round picks don't usually get cut in their second year, even after failing to live up to expectations.
Out: Kalon Barnes, Tay Gowan, NaJee Thompson, C.J. Coldon Jr., Jaylin Williams
Safety (4)
Harrison Smith
Camryn Bynum
Lewis Cine
Josh Metellus
Last time we had five safeties for a total of 10 defensive backs, but we move down to nine in this projection to accommodate all the offensive talent. This would mean that the practice squad likely has many more defensive players than offensive players in order to balance things out and have available depth throughout the season.
Jay Ward, a fourth-round pick, doesn't make the team in this projection. That would be a surprise — only about one fourth-round rookie every two years gets cut, but it wouldn't have to be the end of Ward's time with the Vikings. He'd be slated for a practice squad spot if he clears waivers, which happens far more often than fans tend to think. At the moment, there just isn't a ton of room for him, and he hasn't rotated in much with the first or second team.
Out: Jay Ward, Theo Jackson
Specialists (3)
Greg Joseph
Ryan Wright
Andrew DePaola
The Vikings have indicated that the kicking job is an open competition, but there hasn't been much news in the way of who's ahead in that competition. Minnesota has indicated that they are more than satisfied with Greg Joseph's performance from last year, so it's his job to lose.
Out: Jack Podlesny