The first few days of the Minnesota Vikings' training camp practices are in, which has given us the first look at the team's depth chart and some initial insight into which players have improved the most. It also allows us to contrast our most recent projection with the first pre-camp projection to track how players have progressed in the opening days of training camp.
Things will change by the time cutdown day rolls around on Aug. 29, but for now, we have a couple of camp performances to go on and a few words from the coaching staff to tell us where players are situated.
Minnesota Vikings 53-Man Roster Projection: Offense
Quarterbacks (3)
Kirk Cousins
Nick Mullens
Jaren Hall
The depth chart looks the same as the last roster projection, but the certainty has increased. The Vikings signaled their trust in Nick Mullens as the backup quarterback early on in the process. Offensive coordinator Wes Phillips said that it would be difficult for rookie fifth-round quarterback Jaren Hall to get reps because "We feel great about Nick, so sometimes you're trying to get Nick ready for his role."
Kirk Cousins has largely looked on point in camp with a few small mistakes, and the chemistry between him and the receivers seems stronger now than in the last camp. Hall has had a bit of an up-and-down camp, but the potential is certainly there.
Out: None
Running Backs (4)
Alexander Mattison
C.J. Ham
Kene Nwangwu
Ty Chandler
In this formulation, seventh-round rookie DeWayne McBride doesn't make the team, in part to make room along the offensive and defensive lines. He would still likely end up on the practice squad and could operate as depth for the team. The Vikings, when talking about their running backs, have made consistent mention of all three backs at the top of the depth chart while throwing in McBride as an afterthought. Here, we'll do the same.
Out: DeWayne McBride, Zach Ojile
Wide Receivers (5)
Justin Jefferson
Jordan Addison
K.J. Osborn
Jalen Nailor
Thayer Thomas
There's one change here from last time, which is that Thayer Thomas has taken Brandon Powell's spot on the roster. At the same time, we've added some certainty to the projection of Jalen Nailor as the fourth receiver. Previously, Nailor's position was primarily a best guess based on his minicamp role, but in camp, he has captured that role and already turned in some big plays.
Thomas is a punt return candidate, and without Brandon Powell or Jalen Reagor making the roster this time around, the Vikings needed to fill the role. Thomas wins out here because he's made a few more plays as a receiver in camp.
Out: Jalen Reagor, Brandon Powell, Trishton Jackson, Blake Proehl, Lucky Jackson, Cephus Johnson III, Garrett Maag
Tight Ends (4)
T.J. Hockenson
Josh Oliver
Johnny Mundt
Nick Muse
An offense built to be more flexible in its personnel needs to build a balanced roster. In this case, four tight ends to go with five receivers and three running backs — plus fullback C.J. Ham — seems to be the best way to build out depth at key positions while also preserving special teams value.
T.J. Hockenson and Josh Oliver figure to be big parts of the offense, and the coaching staff has demonstrated that they value Johnny Mundt. From there, it's a guess as to who will be the fourth tight end, so we went with last year's seventh-round pick.
Out: Ben Sims, Colin Thompson
Offensive Line (10)
Christian Darrisaw
Ezra Cleveland
Garrett Bradbury
Ed Ingram
Brian O'Neill
Blake Brandel
Chris Reed
Oli Udoh
Austin Schlottmann
Vederian Lowe
Until we get a bit more clarity on how the offensive line room shakes out when Chris Reed is healthy, we will have to assume that the depth chart the Vikings have put forward is the depth chart that they're working with. That means Oli Udoh, who was cut in the last projection, makes the team as the Vikings' primary backup tackle.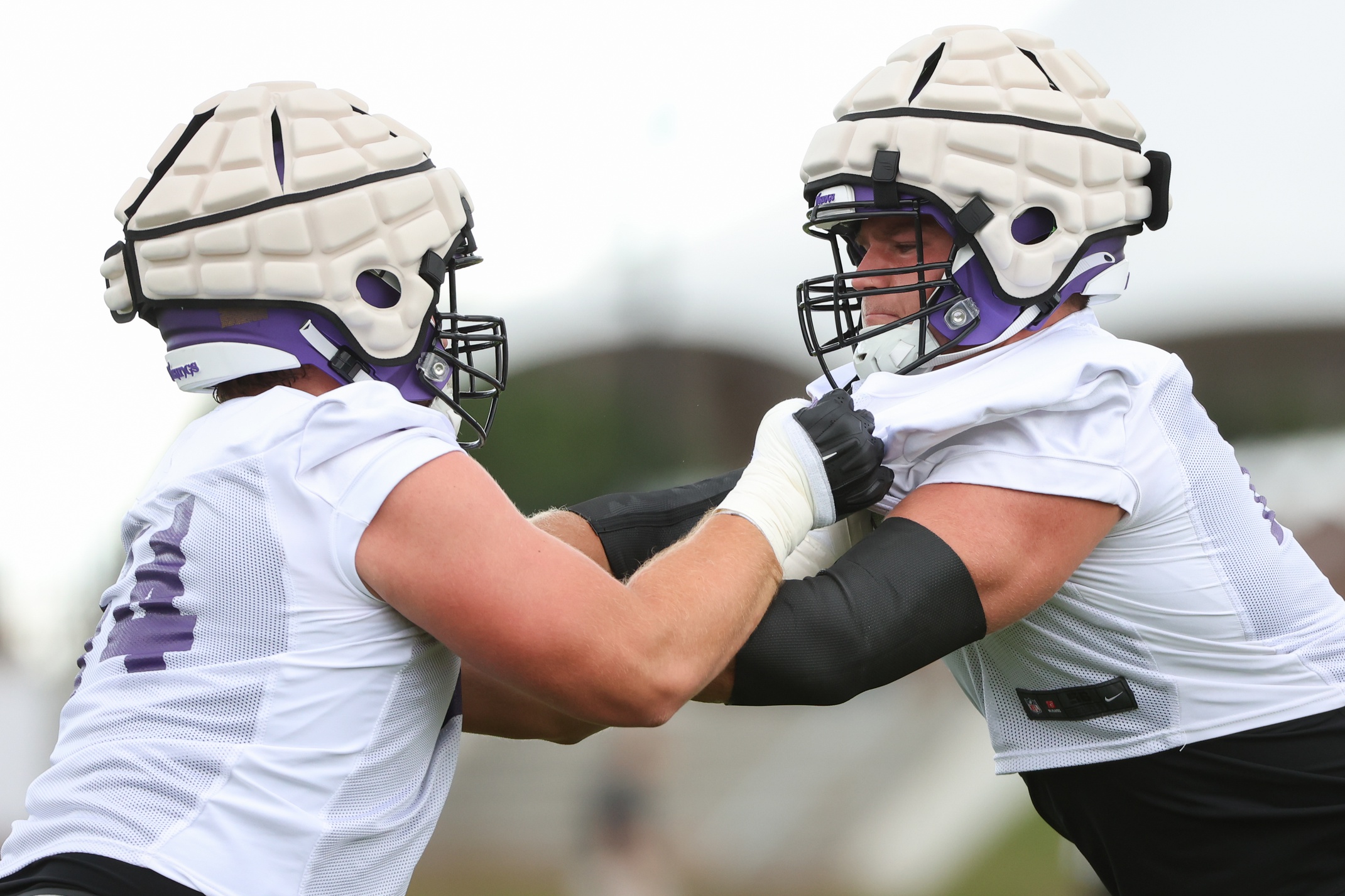 It's entirely possible that Blake Brandel is the real backup swing tackle, but he's been stuck playing guard while Reed recovers on the PUP list. Minnesota has been excited about Vederian Lowe as well, meaning that there has been a glut of tackles on their depth chart worth keeping. In this scenario, they keep all three and have Austin Schlottmann as the backup center.
Out: Josh Sokol, Sam Schlueter, Bobby Evans, Alan Ali, Jacky Chen
Minnesota Vikings 53-Man Roster Projection: Defense
Edge Defender (4)
Danielle Hunter
Marcus Davenport
D.J. Wonnum
Andre Carter II
This roster runs a little light on edge defenders and cuts Pat Jones II despite a somewhat strong end to the 2022 season. Wonnum has received somewhat consistent rotation with the first team, with Danielle Hunter holding in, while Jones hasn't seen much of that at all.
Andre Carter II is still on the NFI list, so we don't know where he sits on the depth chart, but the EDGE talent is worrisome enough that he'll have a genuine shot once healthy.
Out: Pat Jones II, Luiji Vilain, Benton Whitley, Curtis Weaver
Interior Defensive Line (6)
Harrison Phillips
Khyiris Tonga
Dean Lowry
James Lynch
Esezi Otomewo
Jaquelin Roy
Six defensive linemen may seem like a bit much, but both Esezi Otomewo and Lynch could potentially have outside flexibility. James Lynch rotated in with the first team on occasion, so we'll give him a spot here.
Jaquelin Roy was drafted to play both interior positions, and his flexibility could be useful here. For now, we're going to assume that Dean Lowry's spot on the depth chart is secure, though that could change.
Out: Jonathan Bullard, Ross Blacklock, Sheldon Day, Junior Aho, Calvin Avery, T.J. Smith
Linebacker (4)
Brian Asamoah
Jordan Hicks
Troy Dye
Ivan Pace Jr.
During minicamps and OTAs, the two second-string linebackers were Troy Dye and Troy Reeder. That has since changed. Ivan Pace Jr., the undrafted linebacker from Cincinnati, has taken over Reeder's spot on the depth chart. This is unusual for an undrafted rookie and could signal the Vikings' immense confidence in his talent.
While it's unlikely Pace would ever take on a starting role, he could turn into a decisive subpackage player in the years to come.
Out: Troy Reeder, William Kwenkeu, Wilson Huber, Abraham Beauplan
Cornerback (5)
Byron Murphy
Akayleb Evans
Joejuan Williams
Mekhi Blackmon
Kalon Barnes
The biggest surprise of this projection might be that one of last year's second-round picks, Andrew Booth Jr., doesn't make the team. That might be a little aggressive, but it is important to remember that his issue wasn't just availability — his play on the field in his limited run was also disappointing.
Given that the Vikings have opted to play Mekhi Blackmon and Joejuan Williams ahead of him at certain times during the offseason, the writing might be on the wall for the athletic phenom. With all of that in mind, it might still be odd to select Kalon Barnes, currently the fastest man in the NFL, ahead of Booth. But the reason has to do with more than just cornerback play — it's about special teams.
The roster, as constructed, does not have many special teams mavens. Having one or two "non-specialist specialists" like Barnes could be tremendously helpful.
Out: Andrew Booth Jr., Tay Gowan, NaJee Thompson, C.J. Coldon Jr., Jaylin Williams
Safety (5)
Harrison Smith
Camryn Bynum
Lewis Cine
Josh Metellus
Jay Ward
Having five safeties is a little bit unusual, but it makes sense given the versatility that a player like Josh Metellus, and hopefully rookie Jay Ward, can provide. While it's been pointed out that both players can play a number of roles on defense, from box safety to nickel corner, it's also the case that Metellus is a valuable special teams asset as well.
As the Vikings develop their hybrid defensive identity, both players will be critical to the structure of the team, but they will also provide critical support in the third phase of the game.
Out: Theo Jackson
Specialists (3)
Greg Joseph
Ryan Wright
Andrew DePaola
There isn't much reason to expect a change here. Colin Thompson was listed as a long snapper in our last projection but has been moved to tight end based on what the Vikings have asked him to do in practice. He could still operate as a backup long snapper or compete for the position.
Out: Jack Podlesny