The Los Angeles Chargers won double-digit games and made the playoffs in 2022, something they hadn't done in four years. But any positivity surrounding Justin Herbert's first postseason trip was dashed when the Chargers coughed up a 27-point Wild Card round lead to the Jaguars. Can Los Angeles make amends for their playoff disaster next season, or will their schedule prove too challenging?
Los Angeles Chargers Schedule and Opponents
Here is the Chargers' complete preseason and regular-season schedule for 2023.
Chargers Preseason Schedule
Week 1: at Patriots
CBS LA | 9 p.m. ET (Saturday, Aug. 12)
Week 2: vs. Buccaneers
CBS LA | 8:05 p.m. ET (Sunday, Aug. 20)
Week 3: at Giants
CBS LA | 10 p.m. ET (Friday, Aug. 25)
Chargers Regular-Season Schedule
Week 1: vs. Dolphins 
CBS | 4:25 p.m. ET (Sunday, Sept. 10)
Week 2: at Titans
CBS | 1 p.m. ET (Sunday, Sept. 17)
Week 3: at Vikings
FOX | 1 p.m. ET (Sunday, Sept. 24)
Week 4: vs. Raiders
CBS | 4:05 p.m. ET (Sunday, Oct. 1)
Week 5: BYE

Week 6: vs. Cowboys (MNF)
ESPN | 8:15 p.m. ET (Monday, Oct. 16)
Week 7: at Chiefs
CBS | 4:25 p.m. ET (Sunday, Oct. 22)
Week 8: vs. Bears (SNF)
NBC | 8:20 p.m. ET (Sunday, Oct. 29)
Week 9: at Jets (MNF)
ESPN | 8:15 p.m. ET (Monday, Nov. 6)
Week 10: vs. Lions
CBS | 4:05 p.m. ET (Sunday, Nov. 12)
Week 11: at Packers
FOX | 1 p.m. ET (Sunday, Nov. 19)
Week 12: vs. Ravens (SNF)
NBC | 8:20 p.m. ET (Sunday, Nov. 26)
Week 13: at Patriots
CBS | 1 p.m. ET (Sunday, Dec. 3)
Week 14: vs. Broncos
CBS | 4:25 p.m. ET (Sunday, Dec. 10)
Week 15: at Raiders (TNF)
Amazon | 8:15 p.m. ET (Thursday, Dec. 14)
Week 16: vs. Bills
Peacock | 8:15 p.m. ET (Saturday, Dec. 23)
Week 17: at Broncos
CBS | 4:25 p.m. ET (Sunday, Dec. 31)
Week 18: vs. Chiefs
TBD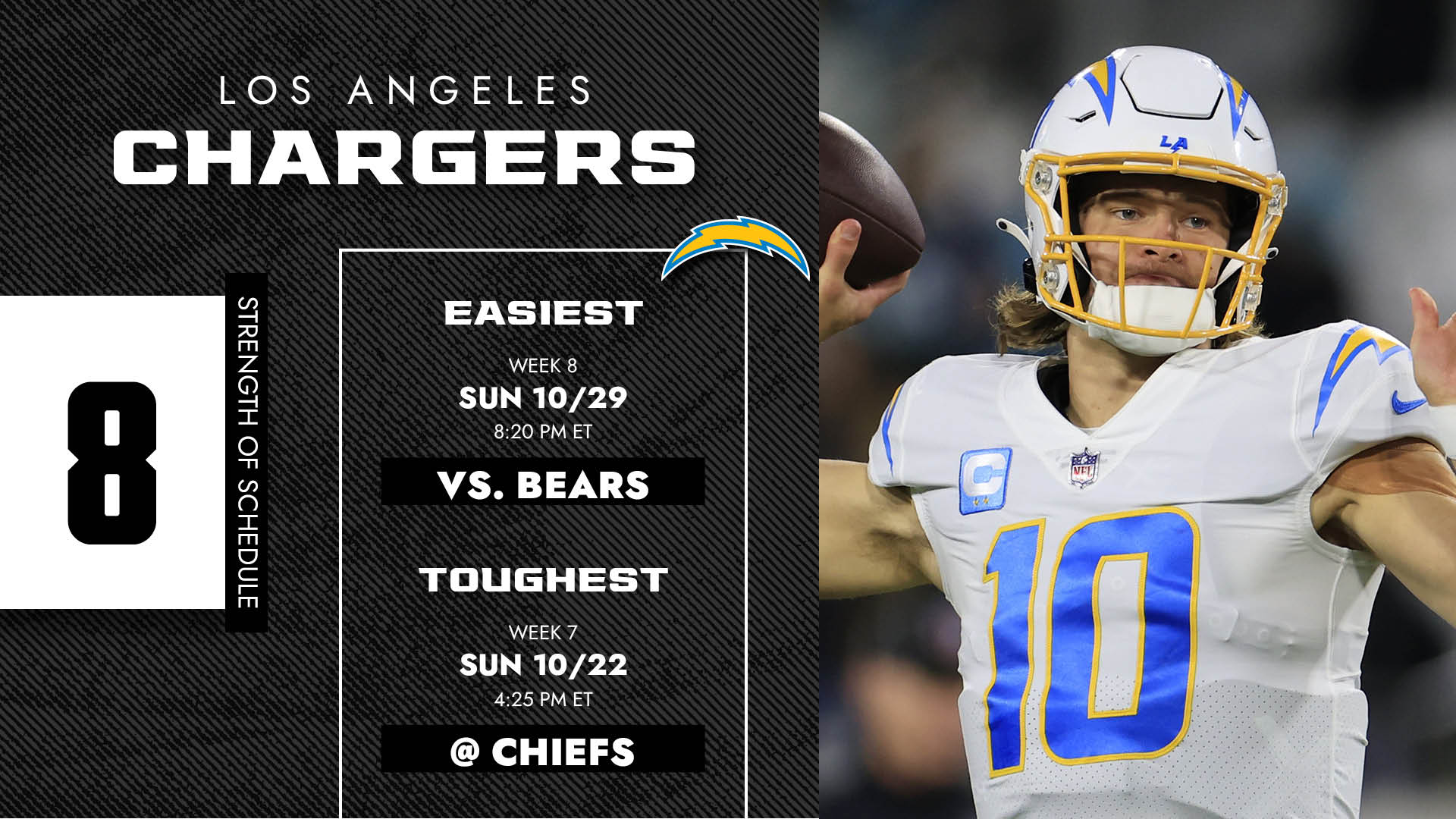 Los Angeles Chargers Strength of Schedule
The Chargers have a rather demanding schedule in 2023. Based on projected win totals, Los Angeles has the sixth-hardest strength of schedule in the NFL. Their respective opponents combined to go 149-136-0 for a .517 record in 2022.
According to Pro Football Network's SOS model, which accounts for more than just win-total projections and estimates team strength, the Chargers will have the eighth-hardest schedule in the league.
MORE: Full List of Chargers Draft Picks 2023
Among the four AFC West teams, Los Angeles will have the most challenging schedule in 2023. Las Vegas has the 16th hardest, Denver is 14th, and Kansas City owns the 13th-toughest schedule in the NFL next year.
Los Angeles Chargers Record Prediction
The 2022 iteration of the AFC West was supposed to go down in NFL lore as one of the most impressive divisions in the history of the sport. Instead, things remained mostly the same. The Broncos and Raiders combined to win 11 games, while the Chargers made the postseason but finished four games behind the eventual Super Bowl champion Chiefs.
Ending the year with a playoff loss might have seemed more digestible had it come in a less devastating fashion, but allowing the third-largest comeback in NFL postseason history will tend to leave a bad taste in a team's mouth.
However, the Chargers didn't overreact and were instead one of the quietest teams of the offseason. Their only meaningful addition on the offensive side of the ball was first-round wide receiver Quentin Johnston, who figures to add an explosive downfield element to a unit that sorely needed it.
MORE: 2023 NFL Offense Rankings — Where Do the Chargers Land?
In Austin Ekeler, Keenan Allen, Mike Williams, and Johnston, L.A. boasts one of the league's more talented sets of playmakers. They're hoping new coordinator Kellen Moore can get more out of that group than former play-caller Joe Lombardi did, and a higher depth of target for Herbert and the passing attack is the first item on the agenda.
For the most part, the Chargers are running it back with their same core and hoping that key contributors like Rashawn Slater, Joey Bosa, and J.C. Jackson don't suffer significant injuries as they did in 2023. Los Angeles has plenty of stars and has started to build depth, and a second consecutive 10-win campaign is well within their reach.
Record Prediction: 10-7