Week 1 hit a lot of fantasy managers hard with injuries to several key players, along with some underwhelming performances! As you look to set your starting lineups in Week 2 and get back on track, what's the information that you need to know?
We do the research here at Pro Football Network so you can sit back, relax, and not panic as you submit your starting lineup heading into Week 2. Let's talk about the players you should consider starting — or sitting — here in this critical week for fantasy football.
Looking to make a trade in your fantasy league? Having trouble deciding who to start and who to sit? Check out PFN's Free Fantasy Football Trade Analyzer and Start/Sit Optimizer to help you make the right decision!
Top RBs To Start in Week 2
David Montgomery, Detroit Lions
David Montgomery impressed in Week 1 against the Kansas City Chiefs. Not necessarily from the efficiency of his carries but the overall amount of work he saw.
It's not easy to see 21 carries in an NFL game, but Montgomery proved that he should be viewed as a reliable fantasy asset moving forward this season.
There's even more room for Montgomery to grow as a receiving option in this offense, too. Montgomery has averaged 7.9 yards per target since the 2022 season, which is second best of 33 qualified NFL running backs. As Jahmyr Gibbs works to get up to speed at the next level, Montgomery could potentially see even more work going into Week 2.
This is a great matchup on the ground for the Lions' RBs after Kyren Williams and Cam Akers rumbled for three touchdowns last week. Montgomery's a solid bet to find the end zone again and see 15+ touches.
AJ Dillon, Green Bay Packers
There's a strong possibility that Aaron Jones does not suit up for this matchup against the Atlanta Falcons. At the time of writing, all signs are pointing to that being the case, which means that AJ Dillon is in line for a monstrous workload in Week 2.
MORE: Fantasy/NFL News Tracker
Even if Jones does suit up, he's not going to be anywhere near 100%. Dillon could also easily see 15+ touches here against the Falcons. He belongs in starting lineups as a top-20 play.
Kyren Williams, Los Angeles Rams
Williams is certainly not a top-24 option for me. However, he is worth pointing out due to the volume he saw in Week 1.
Akers seems to have taken a back seat to Williams in this offense that looked surprisingly good last week. If you're in need of a Flex option this week, Williams could see additional work as a receiver out of the backfield in a game that figures to see the Rams playing from behind.
Top WRs To Start in Week 2
Brandon Aiyuk, San Francisco 49ers
Brandon Aiyuk was fantastic in Week 1 with a dominant performance against the Pittsburgh Steelers, and there's very little reason to doubt that won't be the case again here in Week 2 against the Los Angeles Rams.
AIYUUUUUUUUUUUK AGAIN.

📺: #SFvsPIT on FOX
📱: Stream on #NFLPlus https://t.co/G4uoYVOqQn pic.twitter.com/oe2fa730Im

— NFL (@NFL) September 10, 2023
Brock Purdy looked Aiyuk's way early and often last week, and the Rams' DBs are going to have a tough time containing him. He's a top-15 option in my rankings for this week.
Chris Godwin, Tampa Bay Buccaneers
Chris Godwin did enough in Week 1 to return value on where he was being ranked, and he was a fine option in full-PPR formats. For fantasy managers who had a ton of concerns about what Godwin would do with Baker Mayfield as his quarterback, those fears were somewhat calmed last week.
Heading into Week 2, Godwin and the Bucs have a great matchup against the Chicago Bears defense that just lost Kyler Gordon, and Josh Blackwell will most likely miss this game with a hamstring injury. Out of the slot, Godwin will most likely draw coverage from Greg Stroman Jr., and that's a massive mismatch.
Godwin's in my starting lineups this week if I've got him.
Elijah Moore, Cleveland Browns
With the news that Amari Cooper is questionable for Monday Night Football, Elijah Moore moves up my rankings. The talented WR already saw an equal amount of targets as Cooper last week, but he now should step into the WR1 role if Cooper does miss.
With the fact that Cooper popped up on the injury report this late in the week, it's a strong sign that he's going to be inactive, which would put Moore into the top 24 at the WR position for me.
Top QBs/TEs To Start in Week 2
Anthony Richardson, QB, Indianapolis Colts
We saw what we needed to see from Anthony Richardson in Week 1. It's as simple as that. In a matchup here against the Houston Texans, Richardson should be started as a top-10 option with top-five upside yet again for fantasy football.
Hunter Henry, TE, New England Patriots
Hunter Henry was one of my guys going into this year due to the role that he would have in this Patriots offense, combined with the fact that he had a ridiculously low ADP.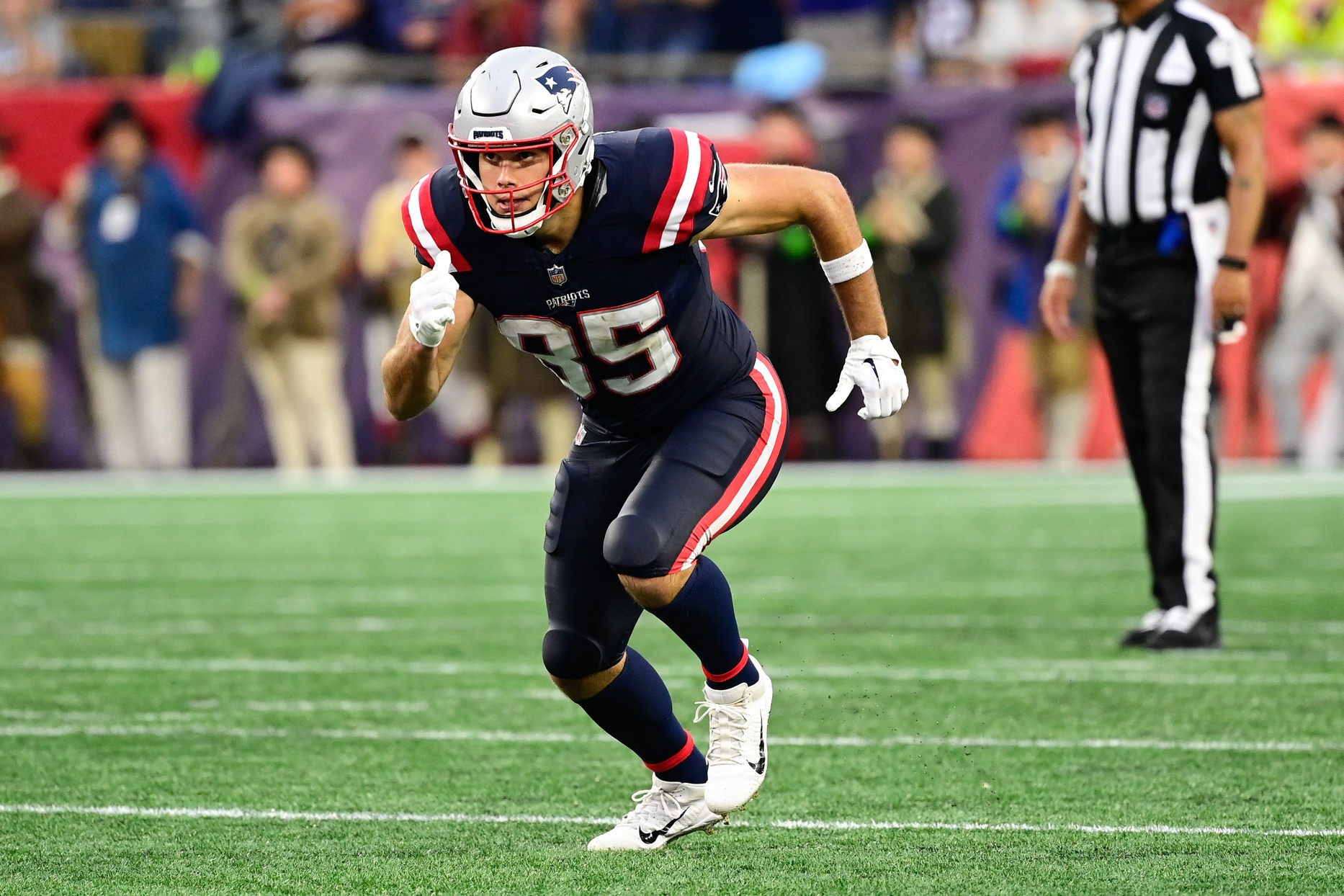 Henry proved to be a valuable contributor for fantasy lineups in Week 1, and he should be needed again here in this matchup against the Miami Dolphins. He's a top-12 option in my rankings.
Top RBs To Sit in Week 2
Rachaad White, Tampa Bay Buccaneers
Rachaad White was not impressive — that's putting it nicely — in Week 1 against the Minnesota Vikings. Nineteen total touches for just 49 total yards is not going to get the job done for fantasy football, unfortunately.
MORE: Fantasy Week 2 RB Rankings — Derek Tate's Top Players To Target
White still remains a top-20 option in rankings for me due solely to the matchup. However, if you have another option like Dillon or Miles Sanders, they would be the more preferable play.
Raheem Mostert, Miami Dolphins
Raheem Mostert was a popular start among fantasy football analysts last week due to the matchup, but he didn't exactly light up the scoreboard and needed to have his fantasy day saved by a touchdown.
Heading into Week 2, Mostert draws a much tougher matchup against the Patriots' defense that can clamp down on opposing rushing attacks. Mostert's outside my top 24 RBs on the week.
Brian Robinson, Washington Commanders
Brian Robinson certainly came through for fantasy managers last week in a prime matchup against the Arizona Cardinals. With Antonio Gibson riding the bench for a fumble, Robinson saw 21 total opportunities and ended the week as a top-15 RB for fantasy purposes.
However, he now draws a tougher matchup in Week 2 against the Denver Broncos that should have fantasy managers a little more hesitant to plug him into their starting lineups. The volume should be there again, but he has to find the end zone for you to feel happy that you started him. He's a Flex option at best.
Top WRs To Sit in Week 2
Garrett Wilson, New York Jets
Garrett Wilson saw his fantasy football stock plummet after only a handful of snaps on offense this past week with Aaron Rodgers going down and tearing his Achilles. After being hyped up all offseason as the next breakout star for fantasy football, Wilson's now a questionable start with Zach Wilson throwing him the ball.
Still can't believe Garrett Wilson did this 🤯 pic.twitter.com/Vv1baxG7cs

— New York Jets UK (@NYJetsinUK) September 12, 2023
Due to the talent level, Wilson's still a top-24 WR in my rankings for this week. However, this matchup against the Dallas Cowboys defense has me very worried for this Jets offense.
The upside for Wilson is gone, but he could still provide a decent floor. If you have another WR like Mike Evans or Tyler Lockett that you can start instead, I'd be doing that.
Christian Kirk, Jacksonville Jaguars
Christian Kirk went from being a solid fantasy football option in 2022 to essentially an afterthought in Week 1 now that Calvin Ridley is in town. Kirk saw just three targets from Trevor Lawrence, while Zay Jones and Ridley went on to have solid performances against the Indianapolis Colts.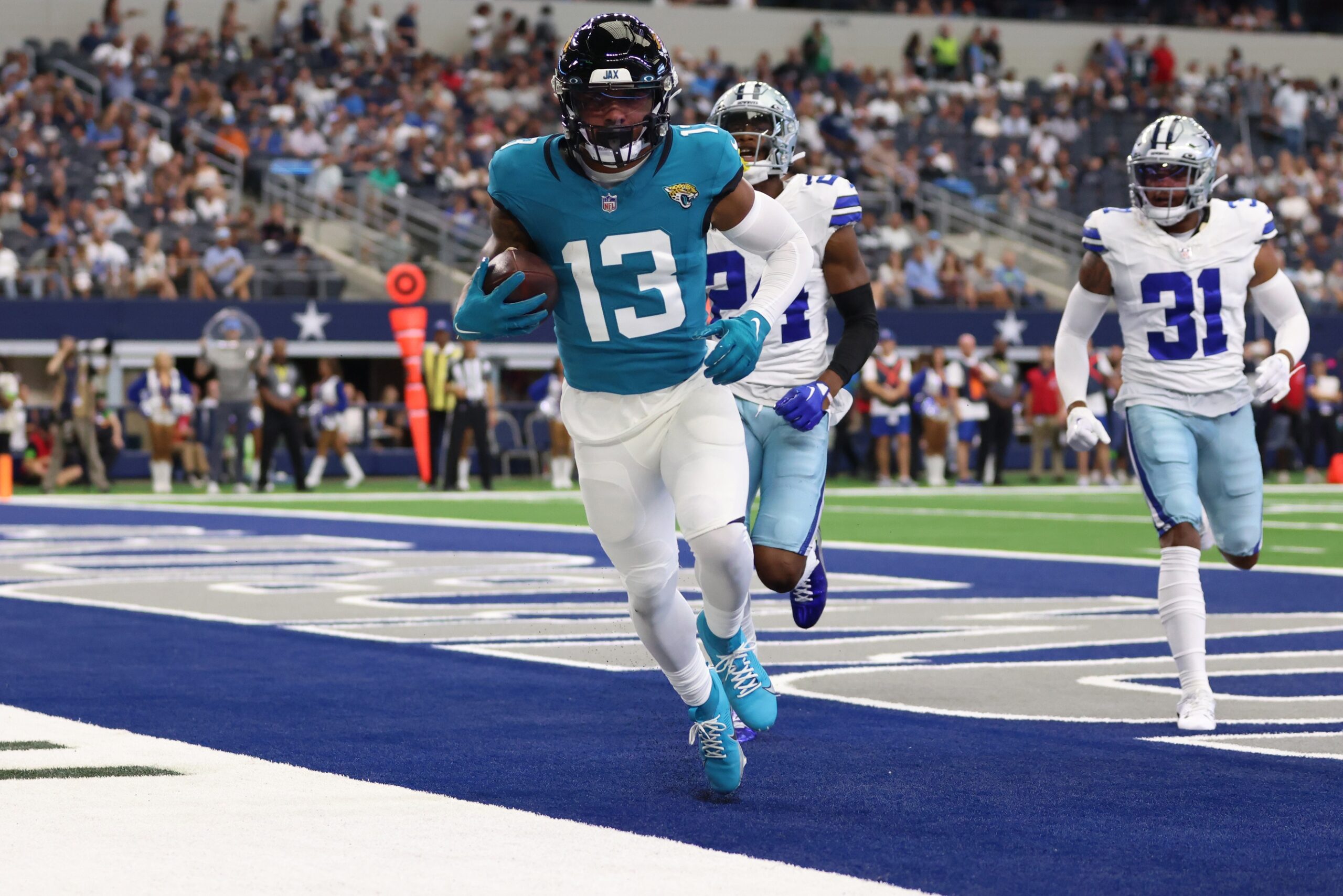 Kirk's not buried in my fantasy rankings just yet. We know what he can be when he gets the opportunity. However, I'm looking at other options for my starting lineup if I have the chance.
Nico Collins, Houston Texans
Nico Collins had a solid showing in Week 1 as he saw 11 targets from C.J. Stroud up against the Baltimore Ravens secondary. However, he's heading into Week 2 with some questions as to who will be throwing him the ball.
Stroud popped up on the injury report late in the week, and it's unknown at the time of writing if he'll be healthy enough to play. Collins is merely a Flex option heading into this matchup against the Indianapolis Colts.
Top QBs/TEs To Sit in Week 2
Dak Prescott, QB, Dallas Cowboys
Where's the volume going to be for Dak Prescott to finish as a top-10 QB for fantasy football?
The Jets are certainly not going to be able to keep this game close with Rodgers now done for the year, so we legitimately could see Dak throw the ball 25 times or less this week.
MORE: Brandin Cooks Injury Update
There are better options for your QB spot in your fantasy lineup that have more upside. Go with one of them instead.
Dalton Schultz, TE, Houston Texans
Dalton Schultz came into this year as a decent flier for fantasy due to the presumed volume that he would see as a safety blanket for Stroud. Unfortunately, that presumed volume resulted in just two receptions for four yards in Week 1 against the Baltimore Ravens.
There are plenty of other available TE options to stream. You don't need to put Schultz into your lineup, especially with Stroud coming into this one banged up.
Fantasy Players To Watch This Week
Kyle Pitts, TE, Atlanta Falcons
Let's focus in on the Atlanta Falcons offense, shall we? What do we do with Kyle Pitts?! Arthur Smith has two of the best young playmakers in the entire NFL in his offense, and he simply refuses to use them. It's infuriating!
Was Desmond Ridder's lack of passing volume just a one-time thing last week because of game script? Or is this really how Atlanta's offense is going to be every single week? If so, Pitts is going to be a nightmare to roster all season long yet again in 2023.
Drake London, WR, Atlanta Falcons
Fantasy managers who drafted Drake London expecting big things in 2023 already have to be ready to pull their hair out. Currently, the Falcons' QB has more receptions on the year than London, which is an asinine sentence to type.
London has all the talent in the world to be a top-five fantasy option. Unfortunately, he landed in an offense that refuses to throw him the ball. If we have another performance here where he's barely targeted, London's going to hit waiver wires all across the fantasy landscape.
Listen to the PFN Fantasy Podcast
Listen to the PFN Fantasy Podcast! Click the embedded player below to listen, or you can find the PFN Fantasy Podcast on iTunes, Spotify, and all major podcast platforms.  Be sure to subscribe and leave us a five-star review! Rather watch instead? Check out the PFN Fantasy Podcast on our Fantasy YouTube channel.