The Las Vegas Raiders might have been a dark horse as sneaky playoff contenders last year but are now considered to be on the outside looking in when it comes to playoff odds. They've made a number of big changes that could turn their fortune around, and it wouldn't be shocking to see them meeting last year's expectations this year.
After pushing their chips in on Jimmy Garoppolo, Las Vegas might be poised to turn the franchise around, but that kind of gamble comes with consequences — head coach Josh McDaniels will likely be on the outs if they turned over the roster this much just to see more of the same results.
Everything You Need Ahead of the Las Vegas Raiders' 2023 NFL Season
As one of a few potential candidates to draft or sign a quarterback in free agency, given all the drama surrounding the team and Derek Carr, the Raiders turned out to be one of the more frustrating teams to model or predict. They have a sharp offensive mind in McDaniels, but he hasn't demonstrated the ability to be a leader of a team.
Whether he can improve there while still maintaining offensive acumen might matter more than the quarterback solution they arrived at or how they shuffled around the makeup of their pass-catching unit.
Retaining most of their coaching staff while turning around the roster suggests that the Raiders think it's more about the personnel than the leadership. If they're right, it could mean big returns, but if they can't figure out something this year, they'll likely be walking.
Raiders Roster Changes
The Raiders were one of the teams to watch in free agency after they terminated their contract with their starting quarterback. They eventually embraced Garoppolo, who gets to reunite with McDaniels (his former Patriots offensive coordinator).
Those changes defined their offseason, but the number of changes the Raiders made — and other significant moves they made along the way — can't be ignored. They had a number of needs in the draft and could have justified any number of positions with their early picks.
Players Signed/Claimed

QB Jimmy Garoppolo
QB Brian Hoyer
WR Jakobi Meyers
WR Phillip Dorsett
WR Cam Sims
WR DeAndre Carter
WR Kristian Wilkerson
TE O.J. Howard
TE Austin Hooper
OT Justin Murray
G Greg Van Roten
EDGE Jordan Willis
DT Adam Butler
DT Jordan Willis
LB Robert Spillane
CB Brandon Facyson
CB David Long Jr.
CB Duke Shelley
S Marcus Epps
S Jaquan Johnson
LS Jacob Bobenmoyer
Players Drafted

EDGE Tyree Wilson
TE Michael Mayer
DT Byron Young
WR Tre Tucker
CB Jakorian Bennett
QB Aidan O'Connell
S Christopher Smith II
LB Amari Burney
DT Nesta Jade Silvera
Players Lost

QB Derek Carr
QB Jarrett Stidham
WR Mack Hollins
WR Isaiah Zuber
WR Dillon Stoner
TE Darren Waller
TE Foster Moreau
OT Sebastian Gutierrez
OT Jackson Barton
EDGE Myron Tagovailoa-Amosa
EDGE Clelin Ferrell
EDGE Jordan Jenkins
EDGE Tashawn Bower
DT Isaac Rochell
DT Andrew Billings
DT Kyle Peko
LB Denzel Perryman
LB Jayon Brown
LB Harvey Langi
LB Micah Kiser
CB Sidney Jones
CB Rock Ya-Sin
CB Anthony Averett
S Duron Harmon
S Matthias Farley
S Jason Elliott
P Julian Diaz
LS Trent Sieg
The Raiders went through significant changes on their roster, both in terms of volume and significance. In addition to the change at starting quarterback from Carr to Garoppolo, the backup quarterback situation changed, with Brian Hoyer replacing Jarrett Stidham. They also drafted a fourth-round quarterback to round out the unit.
While they figure out what the offense looks like with Garoppolo, they'll have to do it without tight end Darren Waller, a big-play threat who could have been a big part of this offense. Losing him and Foster Moreau meant replacing him with three other tight ends, two in free agency and another in the draft.
They also made sure there was receiving talent to work alongside Davante Adams and Hunter Renfrow, signing the top free agent wide receiver in Jakobi Meyers and adding a bevy of depth receivers like Cam Sims and Phillip Dorsett.
Those big changes on offense were complemented by significant defensive modifications. The Raiders, with a high draft pick, needed to do as much as they could to turn around their franchise. Adding a pass rusher with their first pick in Tyree Wilson is meant to supplement the group of Maxx Crosby and Chandler Jones.
The defensive tackle group underperformed last year, and it's possible that third-round pick Byron Young makes an early impact, though that change might wait for next year. They may also wait to be aggressive at linebacker. They moved on from Denzel Perryman and added Robert Spillane, but that's not a huge upgrade.
Instead, the biggest changes come in the secondary, where it's possible that four or even all five starting secondary spots see a transition. Adding three cornerbacks in free agency in Duke Shelley, David Long Jr., and Brandon Facyson means there will be a change at outside corner, and it's possible that draft pick Jakorian Bennett challenges Nate Hobbs for a nickel role.
Marcus Epps is likely to start alongside Tre'von Moehrig with Johnathan Abram, who was waived partway through the 2022 season, and Duron Harmon gone.
All in all, the Raiders are hoping the numerous changes on defense and the impactful moves on offense produce a competitive enough roster to no longer think about top draft picks and instead think about playoff spots.
Las Vegas Raiders Coaching Staff 2023
Head Coach: Josh McDaniels
Offensive Coordinator: Mick Lombardi

Pass Game Coordinator: Scott Turner
Quarterbacks: Bo Hardegree
Wide Receivers: Edgar Bennett
Assistant Wide Receivers/Offensive Assistant: Matt Lombardi
Offensive Line: Carmen Bricillo
Assistant Offensive Line: Cameron Clemmons
Running Backs: Kennedy Polamalu
Tight Ends: Jerry Schuplinski
Offensive Quality Control: Mitch Singler
Offensive Assistant: Fred Walker

Defensive Coordinator: Patrick Graham

Senior Defensive Assistant: Rob Ryan
Pass Game Coordinator/Defensive Backs: Jason Simmons
Defensive Backs: Chris Graham
Defensive Line: Rob Leonard
Defensive Assistant/Pass Rush: Matt Edwards
Linebackers: Antonio Pierce
Defensive Quality Control: Keith Heyward

Special Teams Coordinator: Tom McMahon

Assistant Special Teams: Derius Swinton II
Assistant/Returners: Danny Amendola

Director of Football Research and Strategy: Matt Sheldon
Head Strength and Conditioning Coach: AJ. Neibel

Strength and Conditioning Assistant: D'Anthony Batiste
Strength and Conditioning Assistant: Deuce Gruden
Strength and Conditioning Assistant: Rick Slate
The Raiders moved on from defensive line coach Frank Okam after just one year with the team. They had one of the most disappointing pass-rush units in the NFL last year, so adding Rob Leonard, who coached outside linebackers for the Dolphins and Ravens before this, makes sense.
Offensively, the Raiders didn't change much, keeping their staff but adding Scott Turner, who coordinated the Washington offense and coached quarterbacks in Carolina, as their pass game coordinator.
Predicting the Las Vegas Raiders Depth Chart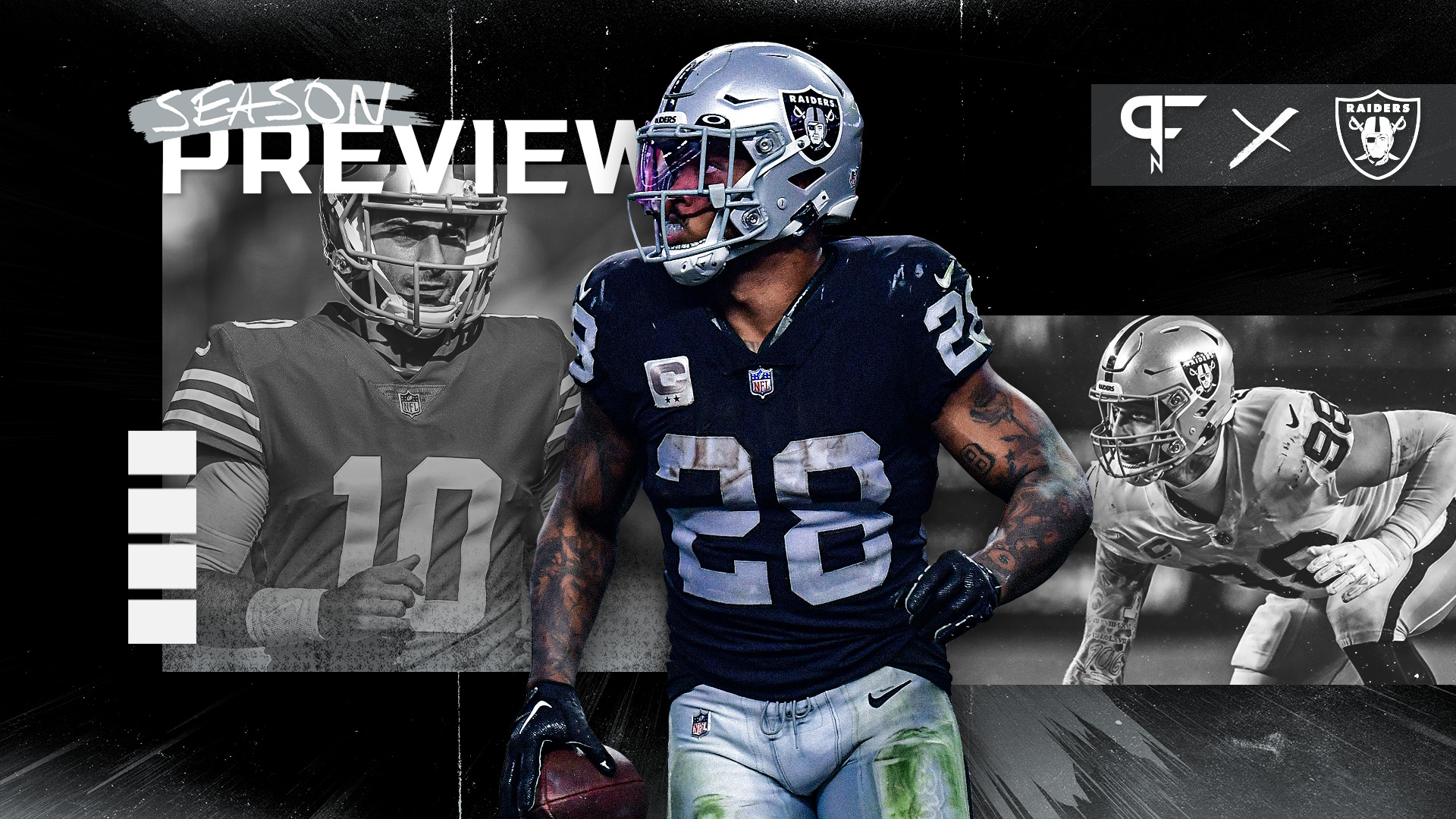 QB: Jimmy Garoppolo, Brian Hoyer, Aidan O'Connell
WR: Davante Adams, Jakobi Meyers, Hunter Renfrow, Tre Tucker, Cam Sims, Phillip Dorsett
RB: Josh Jacobs, Ameer Abdullah, Branden Bolden
TE: Michael Mayer, Austin Hooper, O.J. Howard
LT: Kolton Miller, Justin Herron, McClendon Curtis
LG: Dylan Parham, Greg Van Roten
C: Andre James
RG: Alex Bars, Netane Muti
RT: Jermaine Eluemenor, Brandon Parker
EDGE: Maxx Crosby, Tyree Wilson
DT: Jerry Tillery, Byron Young
NT: Bilal Nichols, Adam Butler, John Jenkins
EDGE: Chandler Jones, Jordan Willis
LB: Robert Spillane, Luke Masterson
LB: Divine Deablo, Amari Burney
RCB: David Long Jr., Brandon Facyson
LCB: Duke Shelley, Amik Robertson
NCB: Jakorian Bennett, Nate Hobbs
SS: Marcus Epps, Roderic Teamer
FS: Tre'von Moehrig, Jaquan Johnson, Christopher Smith II
2022 Results and Standings
The Raiders fell far below their expectations, generating only six wins and earning the seventh overall pick in the draft. In a division meant to be among the very best, this was beyond disappointing and precipitated big roster changes.
Their best win was likely against the Seattle Seahawks or Los Angeles Chargers, but they didn't have many marquee moments throughout the season. Instead, they blew more halftime touchdown leads than any other team in the NFL (five).
That meant their record in games where they exited the half with a touchdown lead or greater was just 1-5, the second-worst in the NFL behind the Indianapolis Colts, who went 0-2 in those situations. The Raiders' .166 performance in those situations sat in stark contrast to the NFL-wide .796 record with a halftime touchdown lead.
They were a better offense than defense, ranking 12th in total points scored and 15th in EPA per play while giving up the 26th-most points and ranking 30th in EPA per play. That's not surprising given where the talent of the team is concentrated and the focus of the coaching staff. But it certainly wasn't enough to bring them over the top against meaningful quality opponents.
The best argument in their favor turned out to be producing close — if losing — games against high-quality teams, like their 29-30 loss to Kansas City or 34-37 overtime loss to San Francisco. It's not enough to give them a good grade on the 2022 season, but it might point to glimmers of hope for next year.
2023 Power Rankings and Season Outlook
The Raiders rank 26th in Pro Football Network's Power Rankings, meaning that their bright spots aren't enough to overcome looking the same this year as they were last year. There's some optimism that the offense will remain a high-level unit, but the issue is that they haven't made big splashes in the secondary — making a lot of moves there doesn't mean making good moves.
Given their division and the general nature of the NFL, it's hard to buy into a team that may not be able to effectively defend the pass. On top of that, Garoppolo is a high-quality quarterback on paper, but it's difficult to buy into him as the kind of quarterback that can consistently push teams to wins instead of relying on a supporting cast to do much of the work for him in San Francisco and struggling in moments where the team needs him to shine.
Without the defensive support he found in the Bay Area, his overall efficiency might suffer even with a solid receiving group and an improving offensive line. Nevertheless, the offensive chemistry he has with his head coach and a few of the players on the roster might mean he can help pull the Raiders out of the muck and into contention.