If there is a team in the NFL that needs all the help it can get on offense and is in desperate need of a spark, especially for fantasy football, it is the New York Jets. After making his NFL debut last week, rookie wide receiver Denzel Mims could be the sole glimmer of hope for this struggling franchise and fantasy football managers.
However, with Jamison Crowder doubtful and Breshad Perriman ruled out for their Week 8 matchup against the defending champions, Denzel Mims will have to carry the passing game. Considering the New York Jets will be facing the vaunted Kansas City Chiefs offense this week, the game script could be in Mims' favor. When the Jets inevitably get down multiple scores, they will need to air the ball out. Will that be enough for Denzel Mims to become fantasy-relevant in Week 8? 
Update: ESPN's Adam Schefter reported that Jamison Crowder will in fact be out for Sunday's game against the Kansas City Chiefs. Both Crowder and Perriman are now officially out.
[sv slug=fantasy]
Both Jamison Crowder and Breshad Perriman are likely out for Week 8
On a team devoid of much useable fantasy talent, this is less than ideal considering Crowder had been the only player worth rostering in fantasy. 
Unfortunately, Crowder suffered a setback this week with a nagging groin injury and was deemed unlikely to play. 
"It's not looking great for Sunday. There were some times that I felt like he looked very good," Gase said. "And then there was a part of practicing, where he was like, 'Hey, I'm feeling it a little bit.' And then after practice, when I talked to him with the trainer, we were going to see how he felt today, and then obviously he doesn't feel as good as we're hoping."
Related | When is the fantasy football trade deadline on different platforms? 
Head coach Adam Gase said Friday that Breshad Perriman would not play after suffering a concussion in last Sunday's loss to the Bills, according to ESPN's Rich Cimini.
While Perriman will be missed, he hasn't necessarily been a reliable fantasy option. Having played in only four games so far, he caught 11 of his 17 targets for 118 yards with no touchdowns. The loss of Crowder is much more impactful.
While only playing in four games, Crowder had seen double-digit targets in every game he has played in, catching 29 of his 46 targets for 383 yards and two touchdowns. While he is WR33 on the season, his 19.8 PPR points per game has him tied for fifth with Adam Thielen. The only players above him are Davante Adams, Tyler Lockett, DeAndre Hopkins, and A.J. Brown.
Denzel Mims will be Sam Darnold's favorite target Sunday
After hamstring injuries kept Mims out this season, he finally got on the field for the first time last Sunday. Though he only caught four passes for 42 yards, he was tied for the team lead with seven targets, so the Jets weren't shy about getting him involved early.
The strangest part of Denzel Mims' debut is how the team completely went away from him after the initial success he saw early in the game. Six of his targets and all of his catches came in the first half of the game, then he disappeared. Mims next target didn't come until 5:31 left to go in the fourth quarter.
For someone who came into the NFL Draft with all of the momentum and hype on his side, it was surprising to see the team go away from him after finally getting him on the field.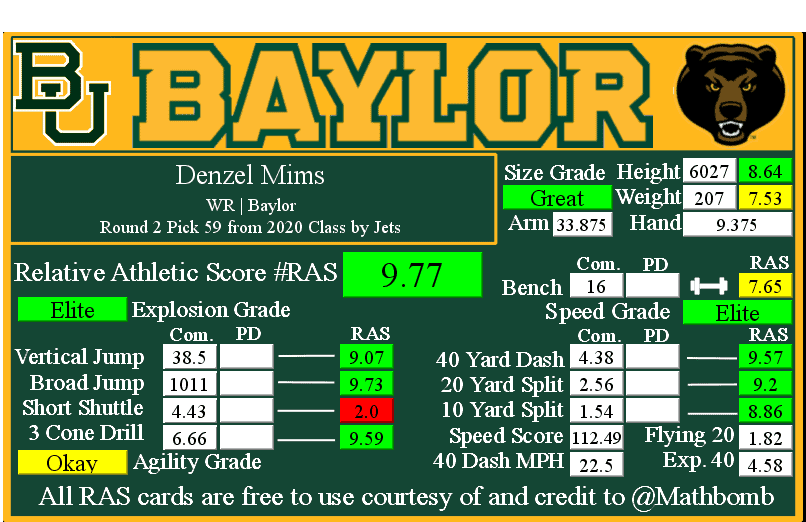 A PFN metric created by Kent Lee Platte called Relative Athletic Score takes player measurements and put them on an easy to understand 0 to 10 scale compared to their position group. A final score is then produced which is also on a 0 to 10 score to show overall athleticism for a draft prospect. This data can be used to chart trends over time, showing that overall athleticism is likely a contributing factor to player success in the NFL.
Denzel Mims' score of 9.77 was the third-highest of the entire class, behind Chase Claypool (Notre Dame) and Kristian Wilkerson (Southeast Missouri State).
Mims has the speed and athleticism to beat nearly every matchup he comes up against on Sundays. The only thing standing against him is the time he needs to develop and learn his craft.
Should fantasy managers put Denzel Mims into their lineups in Week 8?
I would caution against it personally. While I expect this to be a blowout and the Jets to move to 0-8 on the year, I don't feel comfortable starting a player making his second career start even with multiple players out.
While the Jets are averaging 22.9 targets per game to their wide receivers, the Chiefs are not a good matchup for opposing receivers in fantasy. They've allowed only eight wide receivers to finish as a top-48 option, and five of them needed a touchdown, which is something the Jets receivers have done just four times this year.
I would have no problem stashing Denzel Mims on your fantasy teams if he has a solid week. He could move into a more permanent role in this offense moving forward and even into the WR2 option on the team. Until that happens, I would steer clear of this team for fantasy purposes all together unless absolutely necessary.
Want more fantasy football analysis and news?
Be sure to follow us on Twitter: @PFN365 to stay up to date with all things around the NFL and the 2020 fantasy football season. Also, continue to visit Pro Football Network for NFL news and in-depth analysis while also visiting our fantasy football section for more coverage and up-to-date rankings.
Tommy Garrett is a writer for PFN covering Fantasy Football. You can read more of his work here and follow him at @TommygarrettPFN on Twitter.
Listen to the PFN Fantasy Podcast
Listen to the PFN Fantasy Podcast! Click the embedded player below to listen, or you can find the PFN Fantasy Podcast on iTunes, Spotify, and all major podcast platforms.  Be sure to subscribe and leave us a five-star review! Rather watch instead? Check out the PFN Fantasy Podcast on our Fantasy YouTube channel.