The San Francisco 49ers have their sights set on competing for a Super Bowl in 2023. However, the franchise must consider its future as well. The contract situations of wide receivers Deebo Samuel and Brandon Aiyuk may reach a bubbling point after this season.
We're diving into how the 49ers can best navigate their complicated contract situations.
Deebo Samuel and Brandon Aiyuk's Contract Situations
The 49ers felt they had one of the best young wide receiver combinations in the NFL only a year ago. After watching Samuel breakout with 1,770 total yards and him carrying the offense in the second half of the 2021 season, San Francisco eventually extended him on a three-year, $71.55 million deal. Aiyuk, still on his rookie deal through 2023, was also steadily progressing into a better player.
Aiyuk held up his end of the deal in 2022, producing his first 1,000-yard season and setting a career-high with eight touchdowns. The 49ers exercised his fifth-year option for 2024, guaranteeing him $14.124 million next season. But Samuel produced an "awful" 2022 campaign, leaving the team in a complicated situation entering a make-or-break season.
What the 49ers Must See From Deebo Samuel
The 2023 season is more crucial for Samuel than anyone could've expected. Carrying a massive $28.5 million cap hit in 2024, the 49ers already had to make a decision on Samuel's contract after this year.
San Francisco general manager John Lynch structured the contract so the 49ers could either release Samuel as a post-June 1 cut to spread his massive cap hit over four years or extend him again and reduce the percentage of cap allocated to him.
MORE: Ranking the San Francisco 49ers' Best and Worst-Case Scenarios
The financial decision was already going to put the 49ers under pressure. However, things became more complicated when Samuel showed up in bad shape. His production fell off a cliff due to his sluggishness, producing only 98 touches for 864 yards and five scores.
Samuel claimed he'll "be more than ready to go" from Day 1 of training camp this year, but Matt Barrows of The Athletic said he already doesn't look in peak condition in offseason minicamp. Considering Samuel has missed at least four games in two of his last three seasons, his huge cap hit in 2024, and now concerns over his conditioning, San Francisco may not have much of a choice if this season doesn't bring a major turnaround in performance.
The best-case outcome is Samuel again looks like an elite receiver, and they can re-do a deal that was meant to force a decision next year anyway. Samuel was fantastic in 2021, even before counting his rushing contributions, ranking sixth in target share, fifth in receiving yards, fourth in yards per route run, first in yards per reception, and sixth in EPA.
All of those numbers dropped considerably in 2022. Even considering he played with three quarterbacks in the regular season, Samuel's drop to 19 in target share, 37th in yards per route run, 69th in yards per reception, and 215th in EPA is unacceptable. Simply put, the 49ers will have to outright release Samuel if that level of production is reproduced.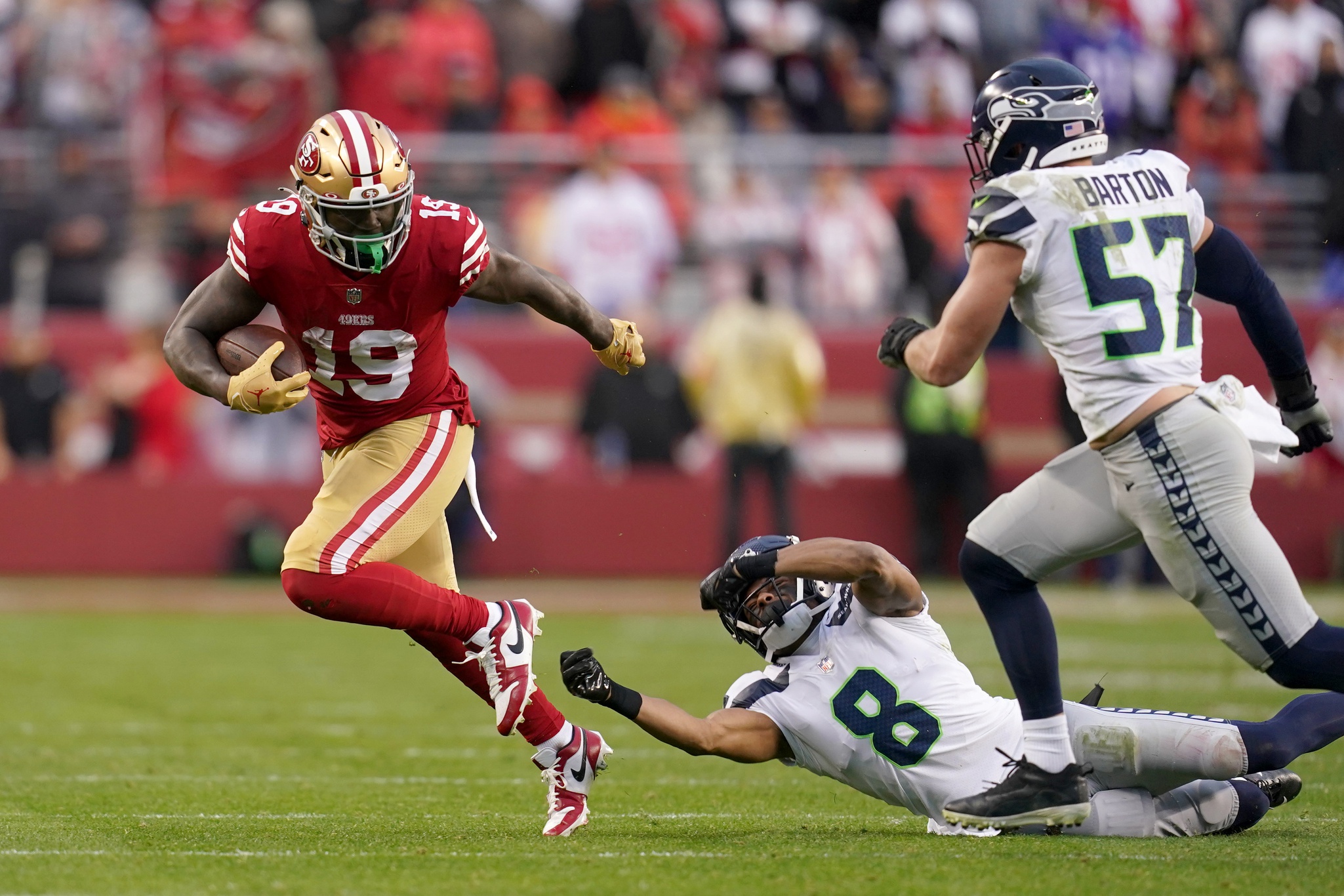 Do 49ers Extend Brandon Aiyuk's Contract?
The blend of Samuel's sudden drop in efficiency and Aiyuk's steady improvement from Year 1 to now has put the team in a difficult financial situation. With more than $42 million set to be allocated to the duo in 2024, there's an unlikely possibility that neither player is on the roster beyond this season.
San Francisco hasn't been shy in their ability to replace highly-paid players with rookies and cheaper veterans. However, extending Aiyuk makes sense considering his development and relationship with the coaching staff.
MORE: San Francisco 49ers Season Preview 2023
In 2021, Aiyuk ended up in head coach Kyle Shanahan's "doghouse" because he didn't practice the way the head coach wanted. Yet, the two came out stronger after butting heads. In 2022, Aiyuk overtook Samuel as the better player of the two.
A slick route runner with great speed, Aiyuk created the third-best separation, ninth-best QB rating per target, and 13th-best route win rate in 2022. His raw stats reflected his improved process and skill. Paying him the $14 million fifth-year option was an easy decision and good value.
An extension for Aiyuk will likely be costly since wide receiver has seen a major increase in spending in recent years. Spotrac calculated his market value near $18 million per year thanks to similar deals for Christian Kirk, Courtland Sutton, and Mike Williams. If the 49ers wait another offseason for a deal, he'll likely garner over $20 million a year as the cap increases.
The Niners can still retain both players if Samuel gets closer to the level he reached in 2021. Re-doing Samuel's deal and extending Aiyuk can drastically reduce what the team will pay them in 2024 while still keeping them together for a few more seasons.
It's a benefit they have because Brock Purdy is on a cheap rookie contract, but that doesn't mean the 49ers are obligated to pay a premium if Samuel isn't living up to his deal.