We saw the shape of the highest-paid running backs in the NFL shift a few years back, but since then, the market hasn't moved all that much. Entering the 2023 NFL offseason, who is the highest-paid RB in the NFL, and who sits among the top 10 when it comes to the average annual value (AAV) of their contract?
Who Is the Highest-Paid Running Back in the NFL?
Christian McCaffrey sits atop the list of the highest-paid running backs in the NFL, with an AAV of $16 million. However, the cap situation for the 49ers is pretty clean.
With McCaffrey having been traded during the 2022 season, he will count for just $12 million against the 49ers' cap in 2023. None of that is guaranteed. There is a further $18.352 million counting against the Carolina Panthers' 2023 cap as dead money.
Highest-Paid Running Backs | 2-11
2) Alvin Kamara, New Orleans Saints | AAV: $15.0 million
It's been a rocky few years for Alvin Kamara, with his performances dipping off and a court case hanging over him heading into 2023. As it stands, Kamara's contract has three more years remaining, plus a void year in 2026. The five-year contract extension he signed in 2020 was worth $15 million per year. However, a restructure in 2022 has left him with a $16.034 million cap number in 2023.
That value does not match Kamara's recent performances, but the Saints are somewhat stuck. If they cut him, they would incur a $19.372 million dead money charge for 2023. One option could be a post-June 1 release designation, spreading that dead money over 2023 and 2024.
3) Jonathan Taylor, Indianapolis Colts | AAV: $14 million
After a tumultuous offseason in 2023, the Indianapolis Colts and Jonathan Taylor came to agreement on a new contract. The extension is a three-year deal worth $42 million. IT ends a period of massive uncertainty for Taylor, and keeps him in Indianapolis for the foreseeable future.
4) Derrick Henry, Tennessee Titans | AAV: $12.5 million
The 2023 season is set to be the final year of Derrick Henry's contract with the Tennessee Titans. The deal was originally a four-year contract worth $12.5 million per year. However, the contract now contains two void years and is set to void in February 2024.
With a cap number of $16.368 million in 2023, could we see the Titans either extend Henry's deal or push more money into those void years?
5) Nick Chubb, Cleveland Browns | AAV: $12.2 million
Coming in sixth on the list of highest-paid running backs in Nick Chubb. The Cleveland Browns RB signed a three-year extension worth $12.2 million per year. His cap number is due to jump to $14.85 million in 2023, so it will be intriguing to see whether the Browns choose to restructure the deal this offseason.
6) Josh Jacobs, Las Vegas Raiders | AAV: $12 million
After a lot of posturing between Josh Jacobs and the Las Vegas Raiders, they finally reached an agreement. Jacobs' contract, worth up to $12 million in a single year, is more than fellow disgruntled RB Saquon Barkley.
However, each RB could not secure a long-term deal with their respective teams. Jacobs may be tagged again next offseason. 
7) Aaron Jones, Green Bay Packers | AAV: $12 million
Aaron Jones' contract is somewhat eye-watering heading into 2023. The original terms of the deal were four years at $48 million with $13 million guaranteed. However, restructuring the deal last year means Jones currently has a $20.013 cap number in 2023.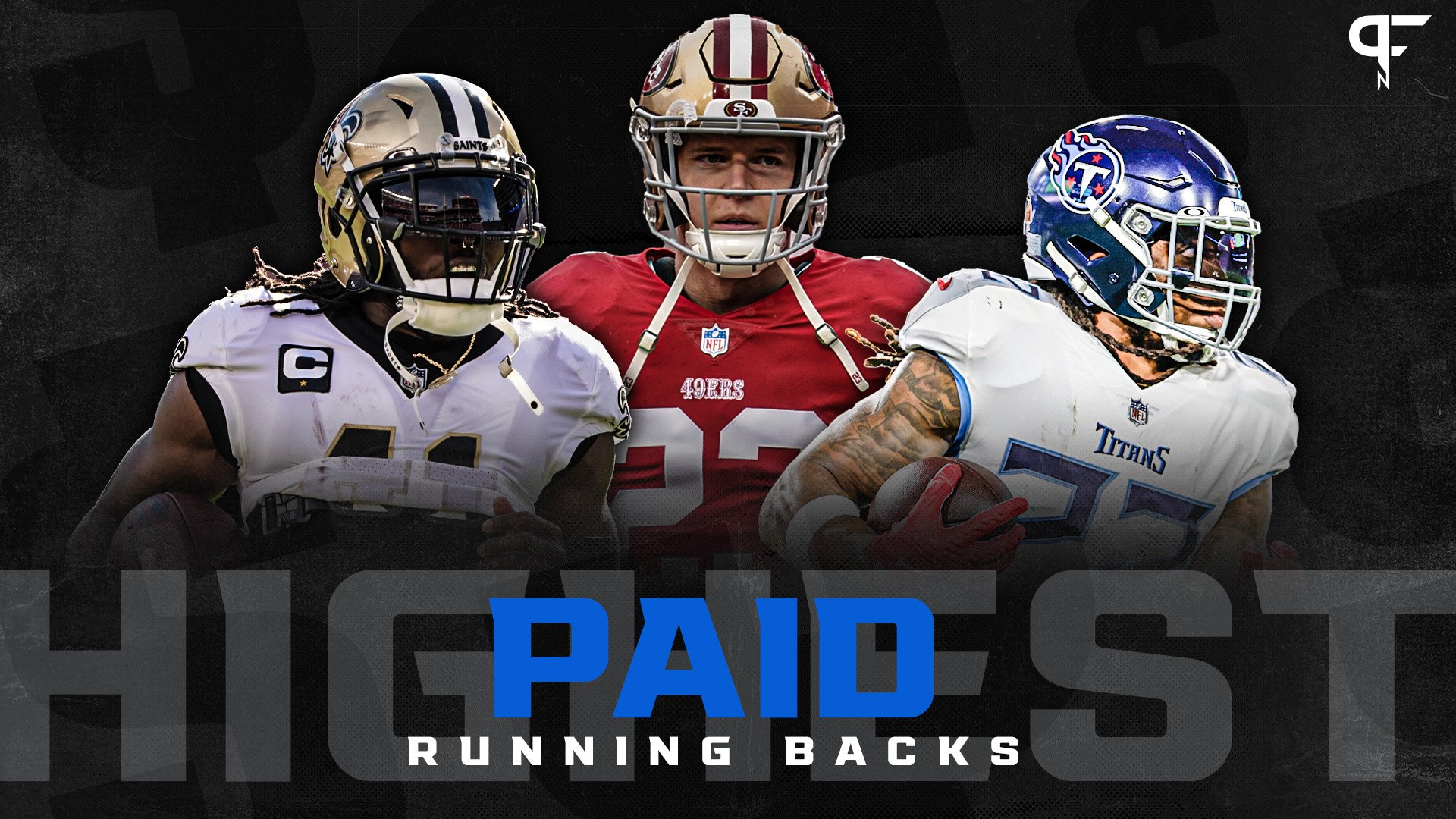 The Packers now have a decision to make. Do they restructure the deal again and push more money into 2024 and the void year in 2025, or do they release Jones, saving more than $10 million in cap space but leave a $9.552 million cap dead-money number?
T-8) Saquon Barkey, New York Giants | AAV: $10.1 million
Saquon Barkley was franchise-tagged right at the last second by the New York Giants. He will now hope to secure a long-term deal with the franchise or attempt to engineer a trade in his sixth season in the league.
T-8) Tony Pollard, Dallas Cowboys | AAV: $10.1 million
The first of the running backs to get franchise-tagged was Tony Pollard. He remains in Dallas, counting for $10.1 million against the cap, His presence with such a high cap number could put the Cowboys in a tricky spot regarding the future of Ezekiel Elliott.
T-10) James Connor, Arizona Cardinals | AAV: $7 million
In 2020 Kenyon Drake, Melvin Gordon, Todd Gurley, and Mark Ingram all placed in the top 10 of RB cap hits.
MORE: Best Running Backs in the NFL for 2023
The NFL moves like a lightning bolt across the sky. James Connor struck at the perfect time when securing his three-year, $21 million deal from the Arizona Cardinals.
T-10) Dalvin Cook, New York Jets | AAV: $7 million
Dalvin Cook took advantage of a team looking to maximize their Super Bowl potential in 2023. A $7 million deal isn't salary cap affixation by any means, but to pay someone you fully expect to be a backup, or even possibly the third back in the rotation, is surprising at best and completely foolish at worst.