Davis Mills helped lead the Houston Texans to a stunning upset over the Los Angeles Chargers last weekend. Let's look at the advanced metrics to see if the quarterback can be more than a temporary solution for the Texans.
Davis Mills has shown the usual rookie inconsistencies
Mills has had an up-and-down season, as you would expect from a rookie on one of the NFL's worst football teams. He has totaled 2,200 yards, 12 touchdowns, and 10 interceptions in nine starts and eleven appearances.
Those aren't terrible statistics for a rookie, especially one playing for one of the league's worst teams, but they don't inspire much excitement either.
Examining Mills' advanced metrics
For a more complete picture of Mills' play this season, let's use the Offensive Value Metric (OVM). The OVM is a grading system created by the (Bx) Movement to measure how much of a player's statistical production they were actually responsible for.
Mills has been far from excellent on this metric this season. His overall grade of 22.12 ranks 23rd in the NFL among qualifying quarterbacks. That could be significantly worse, but obviously, it isn't ideal.
The statistics behind Mills' grade
To understand Mills' OVM grade, we need to look at the statistics involved in calculating it.
He is throwing the ball an extremely shallow distance, averaging 7.1 yards beyond the line of scrimmage, the seventh-lowest average among qualifying quarterbacks. On his completions, that number is 5.1 yards on average, tied for ninth-worst.
If Mills was an elite quarterback, you would expect him to be completing such simple passes at a high level. Instead, he has a mediocre completion rate, at 66.6%, 0.2 percentage points lower than expected. Mills isn't throwing into especially tight windows either, doing so on a relatively low 15.2% of his pass attempts.
These statistics paint the picture of a middling quarterback. However, that doesn't mean there aren't some reasons for optimism.
The bright spots for Mills
In what has been a rough season for the Houston Texans overall, Mills has still managed several excellent performances. Take a look at the chart below. The black dots mark Mills' weekly grades, and the yellow line represents the league-average OVM grade for quarterbacks.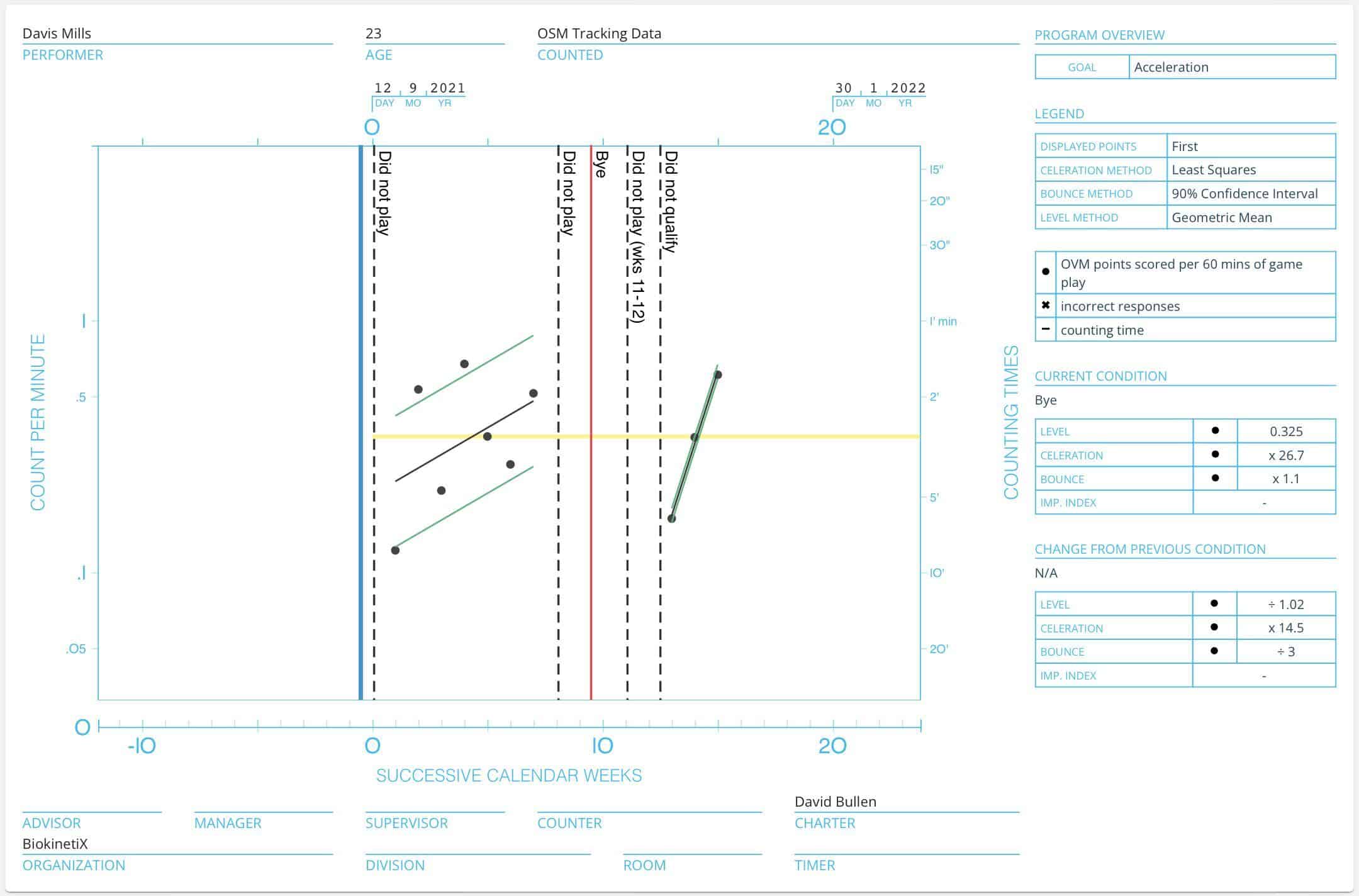 It doesn't take a statistician to see that Mills' OVM grades have been extremely inconsistent. The Texans quarterback had several awful performances, earning grades below 10 points in Weeks 2 and 14.
But he has also played exceptionally well on a number of occasions. In a narrow defeat to the New England Patriots in Week 5, he earned a grade of 40.33. And just last week, Mills led all quarterbacks with a grade of 36.52.
While Mills has been far from consistent, his best performances rank well above the league average. If he can reach that level on a more regular basis, he could be a quality starting quarterback.
Will the Houston Texans stick with Mills next season?
Mills playing well presents Houston with an opportunity. Deshaun Watson's departure after this season seems nearly inevitable, which might normally force the Texans to select a quarterback early in the 2022 draft. However, if Mills continues to play well, they could stick with him for another season and improve their roster in other areas.
That would give Mills a chance to show what he is capable of with less dysfunction surrounding him. And if he can't prove that he is the long-term answer, Houston will have created a better situation for whoever they decide to commit themselves to in the future.
The Texans will likely pick early in the 2022 draft. If they fall in love with a prospect, they should be able to select him. But if they don't, Mills gives them the freedom to take a more patient approach.