We're still in the early stages of the 2023 NFL season but closing in on the middle stages. Fantasy football values are still being formulated, but after three weeks, things are starting to come into focus. The RB position is always challenging, as touchdowns can heavily influence perceived value.
Unraveling all that we saw in Week 3 and translating it into Week 4 RB trade targets is where fantasy managers can differentiate themselves. To help you get your head around it all, here are our thoughts on some RBs to buy low or sell high entering Week 4.
Having trouble deciding who to start and who to sit? Check out PFN's FREE Start/Sit Optimizer to help you make the right decision!
Which RBs Should You Trade for in Fantasy Football?
Austin Ekeler, Los Angeles Chargers
This isn't your typical buy-low candidate. It's not as if Austin Ekeler is playing poorly, but you know who is? RB Joshua Kelley. Since taking over as the lead back for an injured Ekeler, it's hard to imagine anyone playing worse.
It's entirely possible that Kelley's performance played himself out of a role when Ekeler returns from his high ankle sprain.
He's probably going to be out through the Chargers' Week 5 bye. If you can afford to sit on Ekeler for two more weeks, see if you can swing a trade now from a manager who may be struggling without the elite RB1.
Dameon Pierce, Houston Texans
It's tough to buy low on any player the week after he scores a touchdown, but Pierce still hasn't shown any sort of ceiling. He is playing well, and I'm a believer in C.J. Stroud, who is only getting better, too.
MORE: Fantasy News Tracker
As Stroud improves, so will this offense. Pierce is the clear lead back. He continues to play well ahead of Devin Singletary. The closer-than-you'd-think snap count in Week 3 was largely due to the game never being competitive.
Pierce still handled 14 carries and saw three targets. There are much better games ahead for Pierce.
Which RBs Should You Trade Away in Fantasy Football?
Rhamondre Stevenson, New England Patriots
It's tough to call a player a sell-high option after a 7.2-point outing. For Rhamondre Stevenson, it's justified.
The Patriots do not have a prolific offense. Stevenson needs volume to justify his cost in fantasy drafts. While he did see 19 carries, he only caught one of four targets for three yards. Stevenson needs more passing-game work, but RB Ezekiel Elliott is not going away.
Elliott may not be catching passes, but he's on the field and taking a ton of work. He handled 16 carries against the Jets; this will be a problem all season. If someone out there still values him as a high RB2, you would be wise to sell.
Alexander Mattison, Minnesota Vikings
I'm not sure if anyone out there is valuing Alexander Mattison as a strong RB2 anymore. Hopefully, this week renewed his manager's confidence in him.
Against a soft Chargers defense, Mattison carried the ball 20 times for 93 yards and added five receptions for 32 yards. It was easily his most efficient game of this season so far.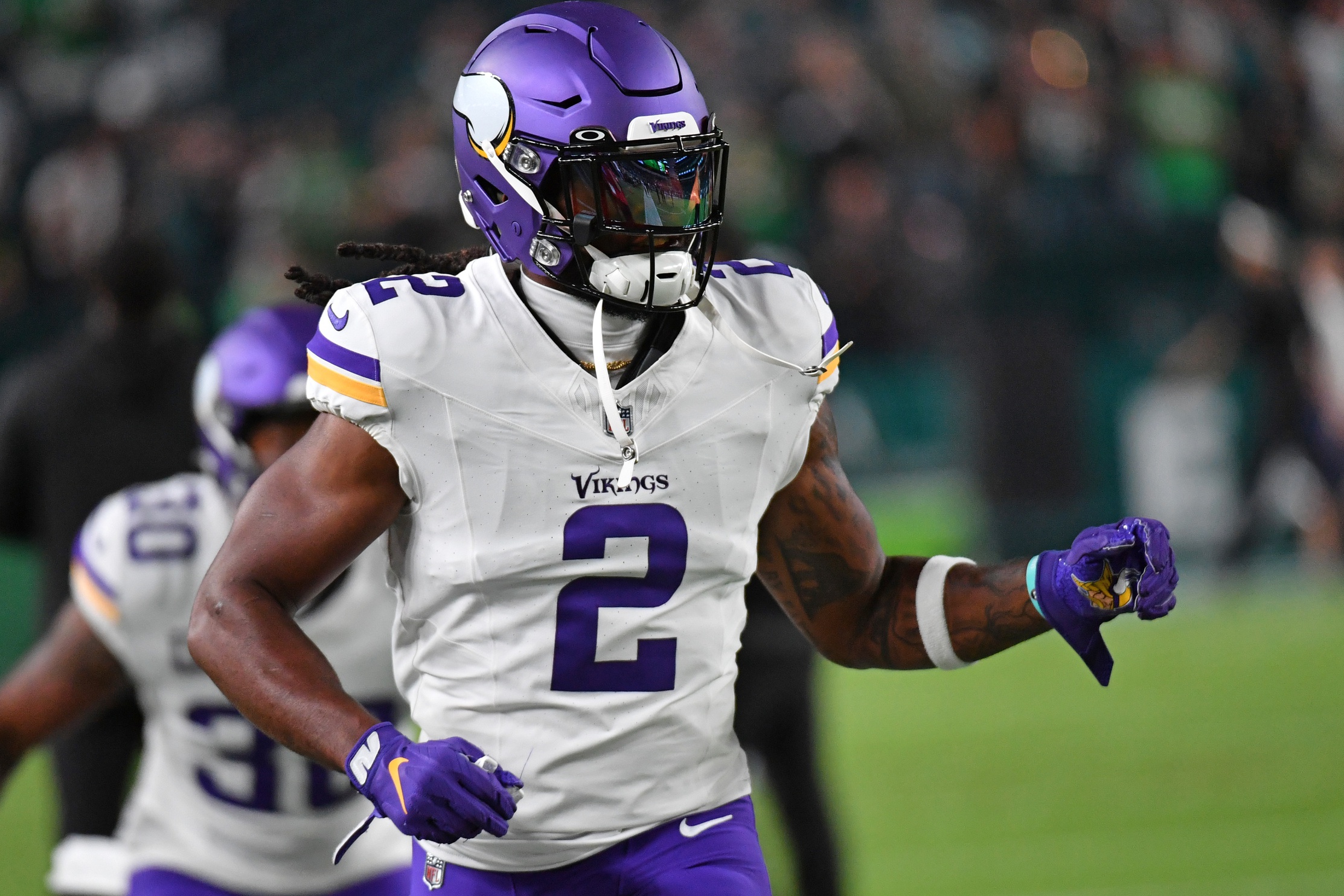 The Vikings just traded for RB Cam Akers, but he was inactive this week as he needs time to get up to speed on the playbook. Just one week ago, Mattison looked like a guy ready to get benched.
If he keeps up this level of play, he will keep his job. But if he falters, the Vikings have no real allegiance to him. They will not hesitate to give Akers more work. Mattison is not the strongest of sells, but he's a sell if you can get the right price.
Trending RB Fantasy Football Trades
Are you considering making a trade in your fantasy football league? Our PFN Trade Analyzer allows you to find the best trades to make in seconds! It also allows us to see trending searches, which we've compiled a few of the most popular below.
Should You Trade Alexander Mattison for Tyler Allgeier?
As of right now, Mattison is still clearly the more valuable fantasy asset. He is coming off his best game of the season and remains locked in as the Vikings' RB1. However, Akers was inactive. He will likely be active in Week 4, which puts some added pressure on Mattison to perform.
Mattison will still be the lead back with Akers active. But if he struggles, there is now a legitimate threat behind him.
MORE: Early Week 4 Waiver Wire Pickups
Tyler Allgeier is still seeing significant work in the Falcons backfield, but he has no hope of ever overtaking Bijan Robinson as the team's RB1. This past week, he saw his snap share decline for the third consecutive game.
We may very well look at these two players in three weeks and view them the same. But right now, Mattison is still clearly the more valuable player. Since I don't see much upside with Allgeier absent a Robinson injury, stick with Mattison out of these two RBs.
Should You Trade Jahmyr Gibbs for Austin Ekeler?
This is an interesting one because I'm not quite sure who would be willing to sell Austin Ekeler for Jahmyr Gibbs. Perhaps there are managers out there concerned about Ekeler's high ankle sprain. Based on recent comments from Brandon Staley, the earliest we should expect Ekeler back is Week 6.
Fantasy managers in need of a win now may have no choice but to move Ekeler for players who are actually going to contribute over the next two weeks.
Gibbs played a season-high 60% of the snaps last week. The problem is he's not being used as the receiver many of us thought he would be. Gibbs handled 17 carries, which is great, but saw just two targets.
Additionally, David Montgomery returned to a limited practice on Monday. He may not play Thursday because of a short week, but I fully expect him back in Week 5. And I fully expect Dan Campbell to reinstate Montgomery to his pre-injury role.
If someone out there is panicking and willing to give you Ekeler in a deal where Gibbs is the main piece on the other side, I would eat the two more weeks of Ekeler being out and take that deal.
Listen to the PFN Fantasy Podcast
Listen to the PFN Fantasy Podcast! Click the embedded player below to listen, or you can find the PFN Fantasy Podcast on iTunes, Spotify, and all major podcast platforms.  Be sure to subscribe and leave us a five-star review! Rather watch instead? Check out the PFN Fantasy Podcast on our Fantasy YouTube channel.