The 2023 fantasy football season is now firmly underway. The NFL landscape is always shifting, and fantasy managers should always be looking to improve their rosters. Let's take a look at the top Week 4 waiver wire targets and pickups that fantasy managers should consider adding to their rosters.
Looking to make a trade in your fantasy league? Having trouble deciding who to start and who to sit? Check out PFN's Free Fantasy Football Trade Analyzer and Start/Sit Optimizer to help you make the right decision!
Top Waiver Wire Pickups in Week 4 | Quarterbacks
Note: As always, all players are rostered in 50% or less of Yahoo leagues.
C.J. Stroud, Houston Texans (19% Rostered)
The rookie signal-caller in Houston is legit. Stroud lit up the Jaguars in Week 3, completing 20 of 30 passes for 280 yards and 2 touchdowns. That's consecutive 20-point games for Stroud.
MORE: Fantasy News Tracker
The schedule is decent, with the Pittsburgh Steelers and Atlanta Falcons coming up, but this is about Stroud being a legitimate startable quarterback for the rest of the season. It's not a certainty, but after this performance, now is the time to make the move if you need a QB.
FAAB Recommendation: 4-6%
Top Waiver Wire Pickups in Week 4 | Running Backs
There are a couple of priority adds at the running back position off the waiver wire. De'Von Achane and Elijah Mitchell are among them.
De'Von Achane, Miami Dolphins (40% Rostered)
There is simply no way I could justify leaving De'Von Achane off this list after what he just did. Now, to be fair, the Dolphins did whatever they wanted against the Broncos in Week 3. Whether it was WR Tyreek Hill, RB Raheem Mostert, Achane, or even QB Mike White and WR Robbie Chosen, it didn't matter.
With that said, Achane arrived. Despite Mostert scoring four touchdowns, Achane finished as the overall RB1 with 51.3 PPR fantasy points. He ran the ball 18 times for 203 yards and added four catches for 40 yards. Achane scored four touchdowns.
The Dolphins certainly won't be this prolific on the ground again, but Achane undoubtedly earned his keep. This is going to be a timeshare between him and Mostert, and Achane will have fantasy value, so pick him up now.
FAAB Recommendation: 30-35%
Elijah Mitchell, San Francisco 49ers (39% Rostered)
I understand why fantasy managers might have dropped Elijah Mitchell — he didn't even touch the ball in Week 2. Still, he's still the clear handcuff for Christian McCaffrey. We know Mitchell has a legit RB1 upside if he's in the lead role. He also did enough in Week 3 to be a desperation Flex play. Based on that upside alone, he's worth putting on benches.
FAAB Recommendation: 5-10%
Tyjae Spears, Tennessee Titans (24% Rostered)
Tyjae Spears is not going to be fantasy-relevant as long as Derrick Henry is healthy, but the Titans are not a good team. There is a nonzero chance they move Henry at the deadline. Also, the former Alabama back could get hurt.
Spears is unquestionably the proper handcuff. He's seen 10 targets in three games so far. There's some semblance of desperation startable value here, too. He's not a must-roster, but he's worth rostering as the last guy on your bench.
FAAB Recommendation: 5-7%
Kendre Miller, New Orleans Saints (34% Rostered)
RB Alvin Kamara is due back next week. It goes without saying that Kendre Miller's time is not upon us just yet. With that said, Miller is undoubtedly superior to Tony Jones. With Jamaal Williams on IR, this should be a Kamara-Miller backfield.
If Miller's time does come, it will likely be over the second half of the season. Now is the time to stash him cheaply, if you can.
FAAB Recommendation: 5-7%
Matt Breida, New York Giants (30% Rostered)
I have to include Matt Breida here because he operated as the Giants lead back on Thursday night. However, it wasn't exactly exciting. Breida carried the ball four times for 17 yards and caught three passes for one yard. He just happened to fall into the end zone.
Saquon Barkley might be back this week. If not, he should be back next week. Regardless, you don't need Breida.
FAAB Recommendation: 0%
Top Waiver Wire Pickups in Week 4 | Wide Receivers
Youth is the story, with rookies Tank Dell, Jayden Reed, and Josh Downs as priority adds, among some other Week 3 surprises.
Tank Dell, Houston Texans (30% Rostered)
RB Noah Brown going on IR opened the door for Tank Dell to assume a starting role in Houston's three-receiver sets. I don't think Brown is getting his job back.
The rookie posted his second straight 20-point week. He caught five passes for 145 yards and a touchdown in a blowout win over the Jaguars. There should be more volume in more competitive games.
Dell has to be considered a weekly WR3 at this point and must be added in all leagues.
FAAB Recommendation: 20-25%
Adam Thielen, Carolina Panthers (46% Rostered)
It's actually surprising that Adam Thielen isn't rostered in more than half of Yahoo leagues. He may be old, but he's the Panthers clear WR1.
Thielen had a mammoth day against the Seahawks, catching 11 of 14 targets for 145 yards and a garbage-time touchdown. It was Thielen's best fantasy outing since 2020.
After a dismal Week 1, Thielen has scored over 50 fantasy points over the past two weeks. He has to be considered an every-week WR3 at this point. Pick him up.
FAAB Recommendation: 20-25%
Romeo Doubs, Green Bay Packers (41% Rostered)
I remain unimpressed by Romeo Doubs. Nevertheless, he saw 12 targets on Sunday. That has to count for something.
Doubs has benefited from operating as the WR1 without Christian Watson. The true WR1 was close to returning this week, but I surmise the Packers held him and RB Aaron Jones out due to the short week.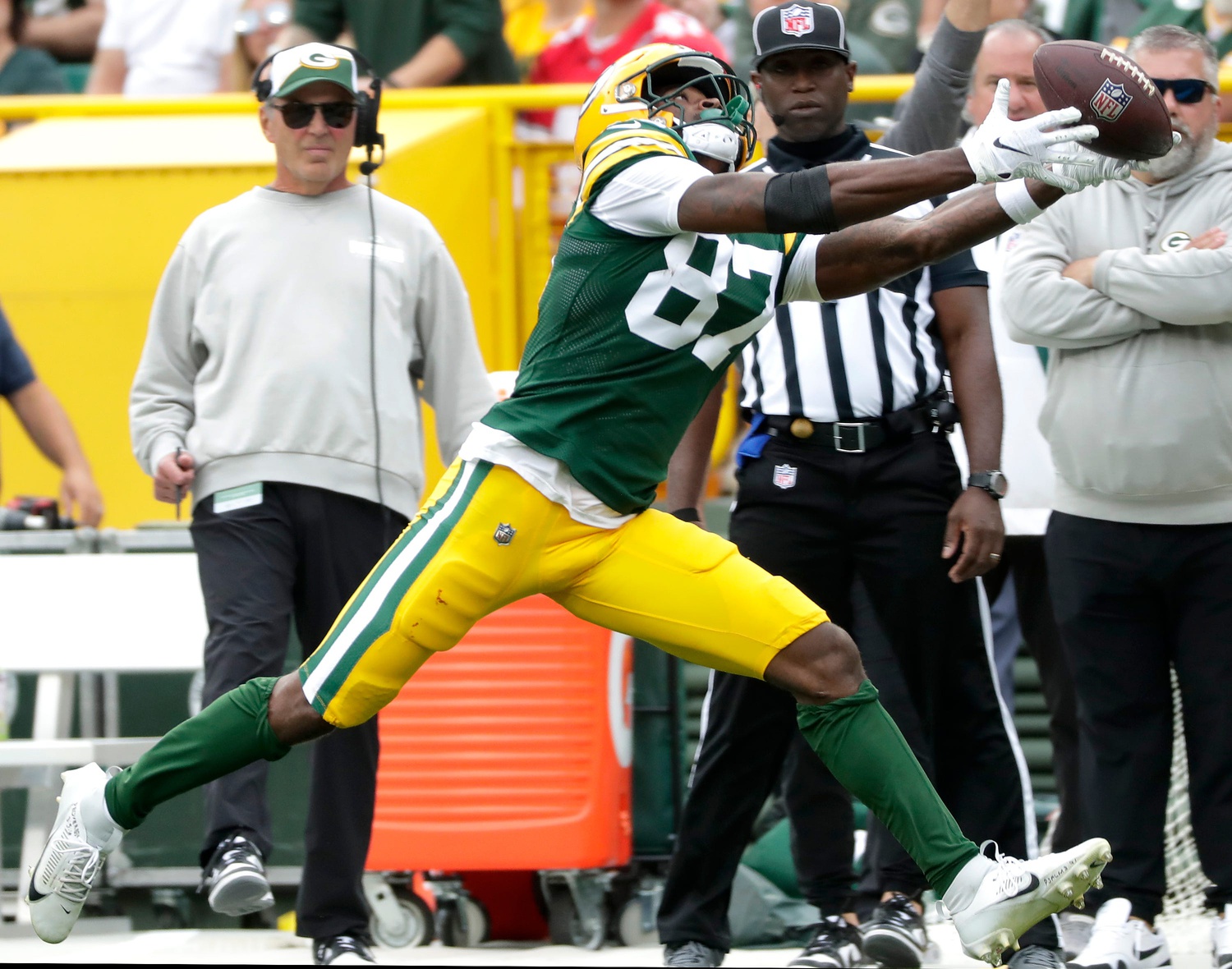 It's possible Doubs ends up being useless when Watson returns, but you have to take the chance now.
FAAB Recommendation: 10-12%
Jayden Reed, Green Bay Packers (21% Rostered)
I still really like Jayden Reed. He's made some impressive catches in his three career games.
This week, Reed caught three of seven targets for 63 yards. It's unclear what his role will be when Watson returns, but I'm willing to bet on talent here.
FAAB Recommendation: 4-6%
Josh Downs, Indianapolis Colts (2% Rostered)
Rookie wide receivers often start coming on later in the season. We may have seen the first signs of that happening for Josh Downs already.
Downs caught eight of 12 targets for 57 yards. Most notably, he vastly outplayed WR Alec Pierce, who has just 76 receiving yards so far this season.
If Downs takes over as the WR2 in two receiver sets, he could be startable. Now would be the time to get ahead of the game and stash him.
FAAB Recommendation: 3-5%
Rashee Rice, Kansas City Chiefs (26% Rostered)
Odds are, the answer to which Chiefs WR to roster is none of them. It's probably just TE Travis Kelce and a random guy each week. But if one guy could potentially break through, it would be the rookie.
We know WR Skyy Moore can't play, and we know what WR Marquez Valdes-Scantling is. WR Kadarius Toney barely has a role, and WR Justin Watson is just a role player. The answer to which Chiefs WR to roster is either no one…or maybe Rashee Rice.
The rookie caught five of seven targets for 59 yards against the Chicago Bears in a game that was never competitive. Given the typical rookie progression, he's worth taking a stab at to see if he can surge over the second half of the season.
FAAB Recommendation: 2-4%
Michael Gallup, Dallas Cowboys (18% Rostered)
It was an uneventful start to the season for Michael Gallup. He caught just one pass in each of the Cowboys' first two games.
Week 3 did not go well for the Cowboys, losing to the worst team in the NFL. However, it went as well as could be expected for Gallup.
He caught six of seven targets for 92 yards — his best outing since 2021.
I'm not exactly sure Gallup has overtaken Brandin Cooks as the WR2, but I also wouldn't expect a repeat performance. This was a unique game situation. With that said, Gallup has been a fantasy WR3 in the past, so I would be remiss not at least to mention him.
FAAB Recommendation: 1-2%
DJ Chark, Carolina Panthers (10% Rostered)
This is another example of me listing a player because I feel I have to. D.J. Chark saw 11 targets against the Seahawks, but Andy Dalton also attempted 58 passes. That's two games worth of throws.
Chark only caught four of them, but he did manage 86 yards and a nice touchdown.
He looks good, but he is in a rotation behind Adam Thielen. If you need a desperation body in a Flex spot, you could certainly do worse than Chark, but he is not a priority add off the Week 4 waiver wire.
FAAB Recommendation: 1-2%
Josh Palmer, Los Angeles Chargers (2% Rostered)
It is quite interesting that WR Quentin Johnston can't usurp Josh Palmer for the Chargers' WR3 role, but it's a reality. As a result, Palmer deserves some attention.
In an excellent game environment, Palmer caught four of seven targets for 66 yards and a touchdown. It was his first even remotely fantasy-relevant performance of the season and was buoyed by a 30-yard tip drill touchdown. I don't actually think he's relevant, but if you're desperate, the WR3 in a Justin Herbert offense isn't the worst move to make.
Update: With Mike Williams confirmed done for the season due to a torn ACL, I am now much more bullish on Palmer. The FAAB recommendation has been increased to reflect that.
FAAB Recommendation: 8-12%
Top Waiver Wire Pickups in Week 4 | Tight Ends
The tight end position is not in a good spot this season. Once again, there is only one player really worth adding.
Luke Musgrave, Green Bay Packers (18% Rostered)
There are a lot of Packers on the Week 4 waiver wire. Luke Musgrave is another one whose role is uncertain when Watson returns. Still, the tight end position is terrible. Musgrave saw eight targets against the Saints, catching six for 48 yards. It could've been even better if Jordan Love hadn't missed him on at least one wide-open pass.
MORE: PFN's Consensus Rankings
Tight ends typically struggle as rookies, especially early on. If Musgrave is already this good, he could be a weekly starter in short order. Given the state of the position, he's worth a pickup.
FAAB Recommendation: 4-6%
Listen to the PFN Fantasy Podcast
Listen to the PFN Fantasy Podcast! Click the embedded player below to listen, or you can find the PFN Fantasy Podcast on iTunes, Spotify, and all major podcast platforms.  Be sure to subscribe and leave us a five-star review! Rather watch instead? Check out the PFN Fantasy Podcast on our Fantasy YouTube channel.