Fantasy football leagues and similar contests have been a passion of mine for more than three decades, ever since I founded my Sunday Sofa Sloths league in 1992. I'm especially fond of offbeat twists on standard leagues, which is why the new vampire format not only drew me in as a player but inspired me to write about it, given that it's so interesting and still relatively unknown.
I've been chosen as the vampire, and I will chronicle the season to give readers an idea of how one of these leagues plays out.
Behind in research? Get a trade offer in your dynasty or redraft league? Not sure who to start or sit this week? Leverage PFN's FREE fantasy tools — our Fantasy Football Draft Kit, Fantasy Football Trade Analyzer and Calculator, and Start/Sit Optimizer! Put the finishing touch on your A+ draft with 1 of our 425+ fantasy football team names.
What Is a Fantasy Football Vampire League?
The league preselects one owner as the vampire, either by volunteer or random draw. The vampire does not participate in the draft and has to build his roster from all the leftovers after the other teams have drafted.
Obviously, that alone would make it nearly impossible to win any games, let alone compete for the playoffs. So where it gets interesting is that only the vampire is allowed to use the waiver wire. There is an exception for when standard teams lose a player to IR, but even then, they have to wait until after the vampire has made its waiver claims for the week.
In addition to improving the team through waivers, the vampire can steal players from other teams every time the vampire wins a game. It's actually more of a swap than a steal. For example, the first time I win a game, I can steal one player from my opponent's starting lineup and return one of my starters at that same position.
This creates an added layer of strategy for the regular owners, who might feel comfortable resting some of their better players against a weak vampire lineup in order to prevent having a Justin Jefferson or Ja'Marr Chase pilfered.
The ideal vampire league features 12 teams. Ours is only 10, so I feel good about my chances of making a run at the playoffs. We held our draft Aug. 29, and I watched nine teams load up with talent waiting to see what would be left for me.
I know nobody cares about other people's fantasy teams, but this is such a new concept that I thought people might enjoy seeing how the draft played out and how my Nosferatu's Coffin Corner team fares this season.
To get an idea of what I was left with to build my initial roster, I'm listing the options that were available, as ranked by the Sleeper site that is hosting our league, along with the choices I made in building my 16-man roster.
Quarterback
Russell Wilson
Jared Goff
Brock Purdy
Jordan Love
Bryce Young
Matthew Stafford
Derek Carr
Kenny Pickett
I went with Goff and Purdy. I like the idea of a Week 1 shootout in Kansas City for Goff, and he could actually be my yearlong starter as any steals I earn likely will be running backs and wide receivers.
Running back
Damien Harris
Raheem Mostert
Tyson Allgeier
Devin Singletary
D'Onta Foreman
Chuba Hubbard
Tank Bigsby
Jeff Wilson
Deon Jackson
Kenneth Gainwell
I went with the top four of Harris, Mostert, Allgeier, and Singletary. Points are going to be really hard to come by at this position, but every year, there is an early waiver star at running back, and I'll be able to grab him. It could be Jackson with Jonathan Taylor out for at least the first four games.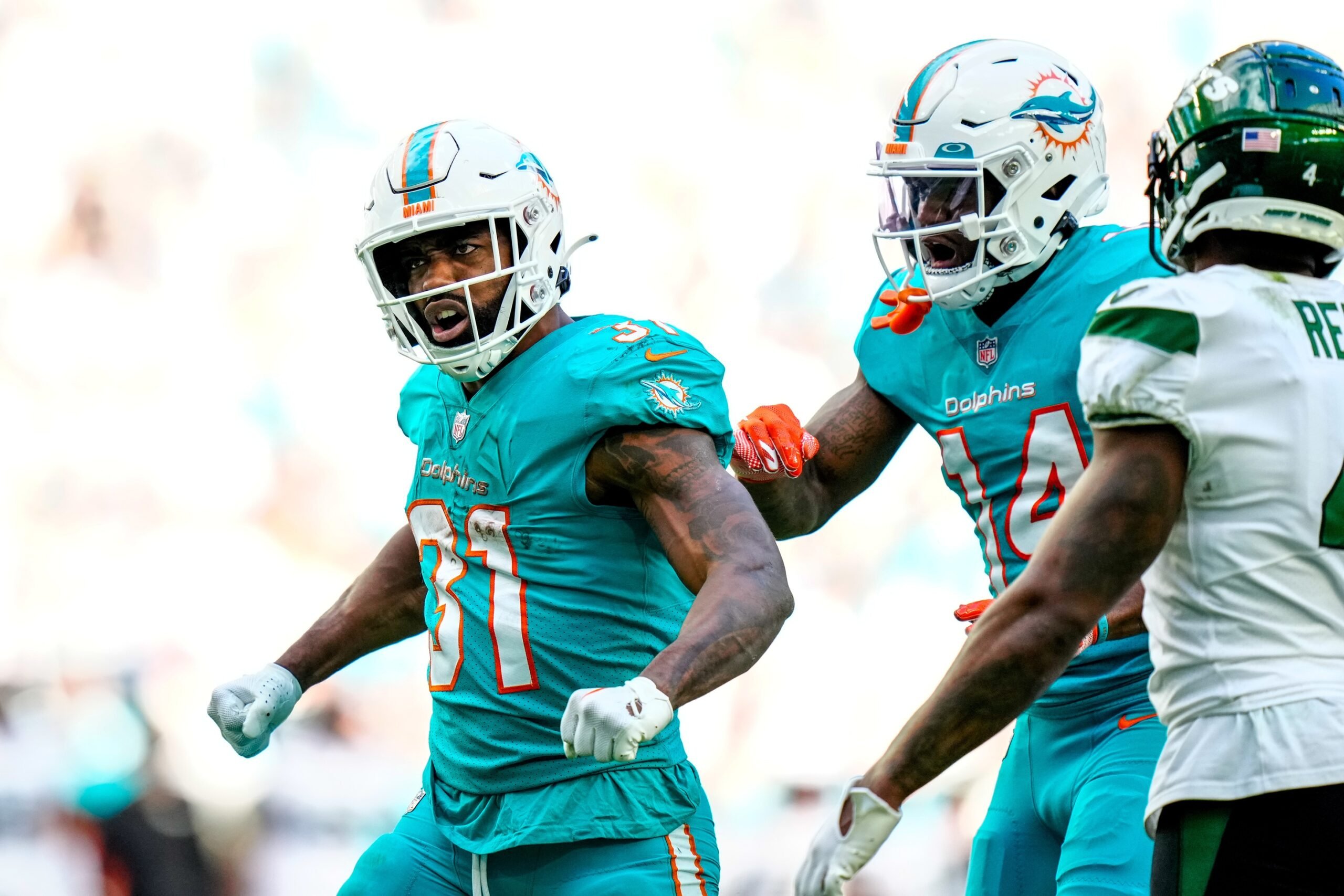 I like Singletary as a checkdown machine with a rookie quarterback, and Mostert is always capable of an explosive play that can put him on par with starter-level points. I just need one upset win to majorly upgrade this position.
Wide receiver
Treylon Burks
Elijah Moore
Jakobi Meyers
Jameson Williams
Rashod Bateman
Adam Thielen
Rondale Moore
Skyy Moore
Darnell Mooney
Zay Jones
I almost went right down the line again, only skipping over the suspended Williams. Burks went in the 11th round of a standard 12-team league draft I participated in over the weekend, and Moore was the first pick in the 10th round.
 Tight end
Chigoziem Okonkwo
Greg Dulcich
Tyler Higbee
Gerald Everett
Michael Mayer
Dalton Knox
Irv Smith Jr.
Hayden Hurst
There were three Cincinnati-centric options with Smith, Hurst, and Mayer, but I can't go wrong in loading up with Ryan Tannehill targets, right? I took Okonkwo and Higbee. With any steals I earn likely focused elsewhere, I can see this being a revolving door on the waiver wire looking for the best weekly matchup.
Kicker
Riley Patterson
Graham Gano
Matt Gay
Chris Boswell
Jason Myers
Greg Zuerlein
I went with Meyers in what basically was drawing names out of a hat.
Defense
Packers
Seahawks
Steelers
Bengals
Browns
Titans
Commanders
Chargers
I was surprised to see the Steelers available. I might end up owning them all season. I also took the Packers, who might end up with the most points of the available group by the end of the year.
MORE: Fantasy Football Preseason Takeaways
I will post weekly updates on my waiver and, hopefully, steal decisions. That way, if you feel like giving a vampire league a try next season, you'll have a better idea of whether you want to volunteer to be the vampire.
Listen to the PFN Bengals Podcast
Listen to the PFN Bengals Podcast! Click the embedded player below to listen, or you can find the PFN Bengals Podcast on iTunes, Spotify, and all major podcast platforms.  Be sure to subscribe and leave us a five-star review! Rather watch instead? Check out the PFN Bengals Podcast on our NFL YouTube channel.
Listen to the PFN Fantasy Podcast
Listen to the PFN Fantasy Podcast! Click the embedded player below to listen, or you can find the PFN Fantasy Podcast on iTunes, Spotify, and all major podcast platforms.  Be sure to subscribe and leave us a five-star review! Rather watch instead? Check out the PFN Fantasy Podcast on our Fantasy YouTube channel.