With Week 4 of the NFL season in the books, we're continuing to focus on the best rookie playmakers nationwide. The 2023 rookie wide receiver group is putting up impressive numbers early on. With Week 5 right around the corner, here are our best rookie receivers for fantasy football for the upcoming slate.
Looking to make a trade in your fantasy league? Having trouble deciding who to start and who to sit? Check out PFN's Free Fantasy Football Trade Analyzer and Start/Sit Optimizer to help you make the right decision!
Who Are the Best Rookie WRs for Fantasy This Week?
Our NFL Week 5 dynasty wide receiver rankings are courtesy of the PFN Consensus Fantasy Rankings.
1) Puka Nacua, Los Angeles Rams
There are no surprises regarding the top rookie receiver in fantasy football. Puka Nacua has quickly grasped a role similar to Cooper Kupp's and has proven to be a massive steal as a 2023 draft pick and a fantasy star.
Nacua's current trajectory is absurd. He's on pace for NFL records in catches (166) and yards (2,129). At this rate, the two biggest concerns with rostering Nacua have little to do with what he can control.
MORE: Week 5 Waiver Wire Targets
The Los Angeles Rams are still waiting to see whether Kupp returns this year at all. Fortunately, they've started his 21-day activation window, so … fingers crossed. A Kupp return may render Nacua a forgotten option, and Tutu Atwell would jump Nacua since the rookie and Kupp are so similar.
The other potential red flag is whether the team is competitive all season long. A wayward campaign could push the team to sit quarterback Matthew Stafford, which would tank Nacua's value in the fantasy playoffs.
2) Zay Flowers, Baltimore Ravens
While new offensive coordinator Todd Monken hasn't completely fixed the Baltimore Ravens' passing game, but he's positively impacted the team's red-zone offense. Baltimore has scored a touchdown or field goal on 14 straight drives that wound up in the red zone. Some regression will happen, but the Ravens are scoring a touchdown on 80% of red-zone trips this year.
First-round pick Zay Flowers has yet to find the end zone, but that doesn't mean he hasn't been solid. He's already seen 10 targets twice this season and is catching 82.8% of total targets on the year. With Lamar Jackson turning back the clock against the Cleveland Browns and delivering a masterful performance, there's reason to believe Flowers continues to trend upward in Week 5.
Facing the Pittsburgh Steelers this week is a good opportunity for Flowers to have a big day. Pittsburgh is 26th in passing yards allowed and 28th in passing touchdowns. They lack a corner capable of running with Flowers, so Baltimore should aggressively deploy their rookie.
3) Jordan Addison, Minnesota Vikings
After racing out to a hot start with three solid games, Jordan Addison was a nonfactor against the Carolina Panthers.
He saw only one target despite playing on 28 offensive snaps, and he wasn't hurt, so Minnesota's sudden pivot away from targeting Addison was surprising. Then again, Kirk Cousins had a rough day against Carolina, so it's possible that Minnesota just wanted to run the clock out and win a close battle.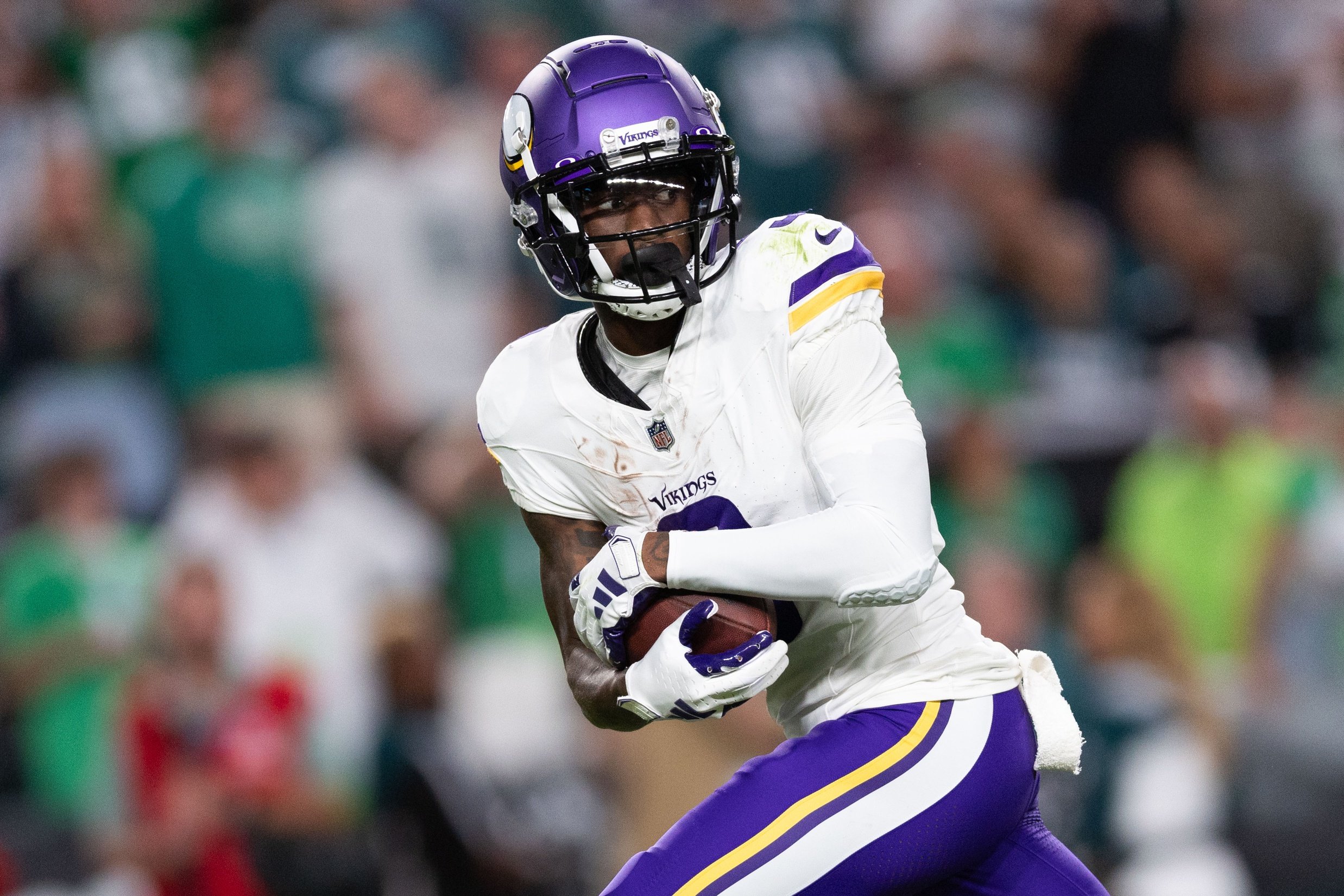 History may repeat itself in Week 5 as Minnesota hosts the Kansas City Chiefs. The Chiefs' passing defense is elite, boasting speed, high-IQ playmakers, and versatility. While the Chiefs can score in droves, egging Minnesota on to throw more, that has not been Kansas City's way of winning in 2023.
Addison should be a much safer play this week, regardless. The Vikings stand a better chance of winning if they ditch a run-heavy approach against Kansas City. It's more likely Addison sees between five and eight targets as he did in Weeks 1-3 compared to last week's one.
4) Tank Dell, Houston Texans
After turning in a stellar preseason, Tank Dell hasn't needed long to prove he's a viable producer at this level. Despite concerns about his size and the Texans' offense, Dell benefits from C.J. Stroud's strong early play and Nico Collins' emergence.
Dell's blazing speed and fluidity put immense strain on individual defenders having to stay in front of him. He creates easy separation against man looks and can dice up zone coverages after the catch.
It's fair to be concerned whether Dell will ever get the volume of targets needed for him to be a bonafide weekly starting option in fantasy. However, he's a strong flex option, capable of exploding for a matchup-winning performance.
5) Rashee Rice, Kansas City Chiefs
Playing with Patrick Mahomes gives his playmakers a unique upside to explode for a big game any given week. However, it's also possible to overvalue his receivers because we don't know the consistency or value of targets they'll get weekly.
Rookie Rashee Rice is a good example of this. He's been fine in 2023, catching 13 passes for 140 yards and one touchdown. But the speedster was supposed to be more than a short-yard target who wins more with his length than his ability to stretch the field. And yet, his longest catch through four games is only 25 yards.
Kansas City simply hasn't been a stellar, explosive offense in three of its four games. For Rice to have value, he has to score. He's worth playing in Week 5 against a weak Minnesota secondary because Andy Reid just might give Rice some schemed targets in the red zone, but he's far from a lock to see those opportunities.
6) Michael Wilson, Arizona Cardinals
Outside of Nacua, no rookie receiver is hotter than Michael Wilson right now. The Arizona Cardinals are still a bad team, but their offense has been surprisingly efficient and capable under Joshua Dobbs' care. Wilson has benefitted from the veteran's poise and accuracy thus far.
MORE: Early Fantasy Week 5 Start/Sit
Wilson, a notably good route runner for someone 6'2″, finally earned a bigger workload in Week 4. He caught all seven targets for 76 yards and his first two touchdowns. Before this past week, he had no more than four targets in any game.
But Wilson continues to make the most out of his targets. He's a big play threat, and the offense embraces him more. Now is a good time to buy or hold onto Wilson.
7) Jayden Reed, Green Bay Packers
The Green Bay Packers offense has faltered more in the last two weeks, producing a combined 38 points against the New Orleans Saints and Detroit Lions. The weaknesses of Jordan Love are coming to a head after an impressive debut where he overcame his inconsistencies with big plays. If those big plays aren't coming, Love loses value.
That has a ripple effect on Jayden Reed. The versatile playmaker has had some big moments thus far and is clearly a major part of Green Bay's offense, but his production relies on a quarterback who is among the least accurate passers in the league.
Reed has earned at least five targets weekly, but his 48% catch rate indicates his play will vary weekly. Reed has more long-term value than he does weekly until his quarterback improves.
8) Marvin Mims Jr., Denver Broncos
Marvin Mims Jr. leads the NFL with 26.9 yards per catch. That's pretty good, and his ability to create big plays is perfect as a flex flier where your team needs an unlikely performance to win as an underdog.
However, Mims has only 11 targets and nine catches in four games. He's far from a sure thing to produce and, therefore, can only be viewed as a high-risk, high-reward play.
9) Josh Downs, Indianapolis Colts
We knew that Josh Downs would be a possession threat based on his usage at North Carolina, and the slot specialist hasn't disappointed the Indianapolis Colts yet. He's been the unit's go-to man on clutch plays, culminating in an eight-catch, 57-yard performance in Week 3. He's averaging only 9.29 yards per reception, though.
Downs' lack of scoring upside is tied to Anthony Richardson's playstyle and Downs' physical build. Until the Colts' offense prioritizes Downs' quickness in the red zone, Downs remains a low-upside fantasy play.
10) Jalin Hyatt, New York Giants
It's hard to put high expectations on any mid-round rookie receiver. Still, it's especially difficult to count on one to beat out a veteran surrounding cast with a mediocre quarterback at the helm. The New York Giants offense has struggled mightily this year with Saquon Barkley banged up, leaving Daniel Jones floundering despite the fat new contract he was handed this offseason.
MORE: Fantasy News Tracker
Hyatt has to be the vertical savior of the unit, but thus far, he has only two catches for 89 yards. He might be a better option later in the year once the Giants have a healthy Barkley and a more refined receiver rotation.
Listen to the PFN Fantasy Podcast
Listen to the PFN Fantasy Podcast! Click the embedded player below to listen, or you can find the PFN Fantasy Podcast on iTunes, Spotify, and all major podcast platforms.  Be sure to subscribe and leave us a five-star review! Rather watch instead? Check out the PFN Fantasy Podcast on our Fantasy YouTube channel.