The NFL Draft is in the rearview mirror now, which means that dynasty rookie drafts will be taking place all summer long.
Being able to identify breakout players or sleepers in the final rounds of your rookie drafts – like Isiah Pacheco in 2022 – is a massive advantage over the rest of your league. Selecting a late-round gem can easily take a cellar-dweller and flip them into a contender, but finding these players is easier said than done.
We do the research here at Pro Football Network to ensure that you can walk into your fantasy football drafts confident that you're going to make your team better. With that in mind, here are several players that you should be targeting when you're on the clock in the later rounds.
Did you get a trade offer in your dynasty or redraft league? Not sure what to do? Make championship-winning decisions with PFN's FREE Fantasy Football Trade Analyzer and Calculator!
Dynasty Rookie Sleepers 2023
Chase Brown, RB, Cincinnati Bengals
Chase Brown experienced a bit of an up-and-down predraft process, but the tape suggested that he was one of the best running backs that the 2023 NFL Draft had to offer.
At 5'9, 216 lbs., Brown runs with a compact frame that allows him to bounce off of would-be tacklers with ease. With his 83 missed tackles forced in 2022, Brown ranked third in the entire nation, and he consistently showcased his impressive ability to avoid tacklers and pick up the necessary yardage.
Brown fell to the fifth round of the 2023 NFL Draft, but he landed in a spot that's ripe for fantasy production in year one. Joe Mixon remains a member of the Cincinnati Bengals for 2023 – with question marks surrounding his future past that point – but the depth chart is wide open behind him.
Chris Evans and Trayveon Williams are Brown's biggest obstacles to inheriting Samaje Perine's touches from 2022, and Williams and Brown have just 64 combined career carries to their name. Both are also Day 3 selections in their respective drafts.
It's not a guarantee that Brown wins the RB2 job outright in training camp, but at this stage of dynasty rookie drafts, you're simply looking for talent to align with potential opportunities. Brown certainly qualifies, and he should be a main target for RB-needy rosters in the later rounds.
Current Dynasty Rookie Ranking: 29th Overall
Current Dynasty Rookie RB Ranking: RB9
Israel Abanikanda, RB, New York Jets
If you like highlight reel plays, you're going to be all about Israel Abanikanda, the RB prospect out of Pittsburgh. No other RB in all of college football last season scored more rushing touchdowns than the electric playmaker that fans call "Izzy."
Abanikanda found the end zone an impressive 20 times as a rusher while adding another one through the receiving game for good measure. His acceleration and ability to get to full speed instantly are going to be a differentiator at the next level, and he promises to work his way onto a few highlight packages by the end of the season if he can work his way up the depth chart in New York.
Breece Hall and Michael Carter – and potentially Zonovan Knight – find themselves perched solidly above Abanikanda on the Jets' current depth chart, but there's an opening at the beginning of the season for Izzy to make some noise.
Hall is currently rehabbing an ACL injury that knocked him out of the majority of his rookie season. While it's expected that he'll be back and ready for Week 1 at the time of writing, other running backs in previous years have shown that 100% capacity post-ACL surgery isn't always a sure thing.
If Abanikanda can consistently make splash plays during training camp and the preseason, it'll be easy to see a path for him to take the RB2 role in this offense right out of the gate. For an offense that will be looking for a big-play threat to complement Hall as he works to get back up to full speed, the Jets won't hesitate to put the ball in Israel's hands, which means an opportunity for him to return value on his current dynasty rookie ADP (average draft position).
He has some competition to work through first, but Abanikanda can be a home-run selection in the later rounds of your dynasty rookie draft.
Current Dynasty Rookie Ranking: 32nd Overall
Current Dynasty Rookie RB Ranking: RB11
Puka Nacua, WR, Los Angeles Rams
There's been a consistent drum beat for the rookie WR out of BYU during the Los Angeles Rams' offseason program. Puka Nacua didn't receive significant draft capital in the 2023 NFL Draft, but L.A. has proven before that they can take mid-round selections and turn them into reliable receiving options in fantasy football – see Cooper Kupp.
While Nacua won't wow you with his athleticism, he does the little things right for the position that will help translate to immediate production in the NFL. He's a smooth route-runner that understands release concepts well, he has a fantastic understanding of space and vision in the open field, and he's able to pick up yardage easily after the catch.
The similarities to a former Rams wideout, Robert Woods, are eerie. If Nacua can continue to build on this solid foundation he's laid in the first portions of the offseason, the WR2 role in L.A. is his for the taking.
Kupp will easily be the target leader for this Rams offense in 2023, but behind him, it's players like Ben Skowronek, Tyler Higbee, and Hunter Long that will be Nacua's main competition. As mentioned previously, in the latter stages of a dynasty rookie draft, you're aiming for talent combined with opportunity. Nacua has a chance to finish the 2023 season with the most receiving yards of any rookie.
Current Dynasty Rookie Ranking: 35th Overall
Current Dynasty Rookie RB Ranking: WR14
DeWayne McBride, RB, Minnesota Vikings
It was certainly odd to see the player that had the most rushing yards in college football last season still available well into Day 3 of the 2023 NFL Draft.
DeWayne McBride absolutely obliterated his level of competition in 2022 as he rumbled for over 1,700 rushing yards and nearly 20 touchdowns (on just 233 carries!). At UAB, McBride showed zero hesitation in lowering his shoulder and running straight through the chest of an incoming tackler, which would often result in said defender staring up at the sky as McBride powered forward.
While McBride is certainly more of a throwback NFL RB with his power capacity and lack of receiving chops – he had just four total targets in all of 2022 – he has the potential to rise up the Minnesota Vikings' depth chart this upcoming season after the release of Dalvin Cook.
Alexander Mattison will certainly be the lead option in this backfield, but the RB2 role is up for grabs in a Vikings offense that promises to be high-powered yet again this year. Kene Nwangwu and Ty Chandler – McBride's main competition – have just 28 combined career carries in the NFL, and McBride has proven that he can handle a significant workload if called upon.
He'll move down the rankings in full PPR formats due to his lack of receiving upside, but the workhorse potential is certainly there.
Current Dynasty Rookie Ranking: 36th Overall
Current Dynasty Rookie RB Ranking: RB12
Eric Gray, RB, New York Giants
Eric Gray certainly has had an interesting prospect trajectory. After spending the first two years of his college career at Tennesee, where he generated some buzz, Gray transferred in 2021 to Oklahoma in the hopes that it would put him on the national stage.
Unfortunately, Gray went on to just have 412 rushing yards in the 2021 season, and he took a tumble down consensus draft boards. However, 2022 showcased some of his best work, as he piled up 1,400 rushing yards and a heavy dosage of targets in the receiving game.
Gray tied for the 16th most targets at the RB position in the nation last season, and he demonstrated that he could carve out a role in an NFL backfield as a pass-catching option that can pick up yardage after the catch.
While Gray wasn't selected until the fifth round of the 2023 NFL Draft, he fell into a landing spot that may be primed for fantasy production as early as this season.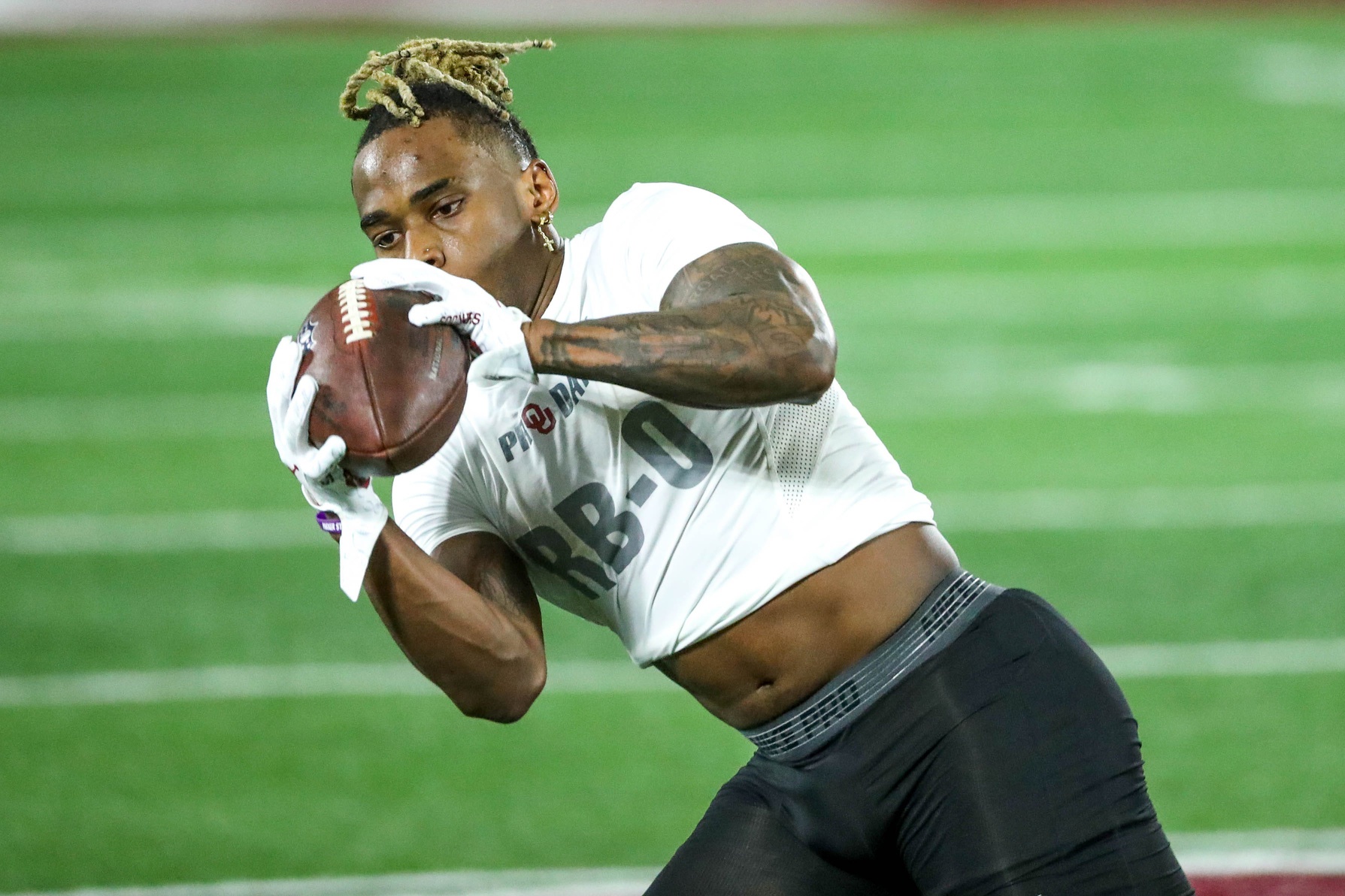 The New York Giants are currently in contract negotiations with Saquon Barkley, the talented former No. 2 overall pick who is set to play out the 2023 NFL season on the franchise tag. Behind the star veteran on the depth chart are Matt Breida, who is now 28 years old, and Gary Brightwell. Neither of those players should stand in the way of Gray climbing the depth chart to claim the No. 2 RB role in this Brian Daboll-coached offense.
If Saquon doesn't ink a long-term extension with the team, Gray could find himself as the lead option in New York as early as 2024. Even if Saquon does sign a long-term extension though, dynasty managers always need to be prepared for the worst-case scenario (i.e. injuries), and Gray can hold immense value on your bench.
At this time next year, we could be looking back and wondering how Gray fell so far down dynasty rookie draft boards.
Current Dynasty Rookie Ranking: 38th Overall
Current Dynasty Rookie RB Ranking: RB14
Charlie Jones, WR, Purdue
If you're looking for production, Charlie Jones offers it. In 2022, Jones saw the fourth most targets at the WR position in all of college football with an impressive 138. He turned that into 97 receptions for 1,199 yards and 12 touchdowns!
He was selected in the fourth round of the 2023 NFL Draft, which can oftentimes lead to an opportunity right out of the gate in a player's rookie season, but he fell into a situation with three fantastic receivers already above him on the depth chart.
The Cincinnati Bengals feature Ja'Marr Chase, Tee Higgins, and Tyler Boyd to comprise one of the league's best wide receiver corps, which means that Jones is unlikely to make much of an impact in Year 1.
However, the potential that Jones is catching passes as a starting WR from Joe Burrow as early as 2024 is certainly there. Both Boyd and Higgins are in the final year of their respective contracts, which creates a bit of an issue for Cincinnati as they work to try and extend Burrow.
While it's highly likely that one of those two wideouts is back in 2024, it's almost a foregone conclusion that the Bengals won't be able to retain both due to salary cap restraints. With Jones' draft capital and college production in mind, it's not hard to see that Cincinnati views him as a part of the team's future.
It's up to Jones to prove that he's worthy of that role as he works behind the scenes in 2023, but dynasty managers should have no issue selecting him in the later rounds and stashing him to see how everything plays out.
Current Dynasty Rookie Ranking: 39th Overall
Current Dynasty Rookie RB Ranking: WR15
Sean Tucker, RB, Tampa Bay Buccaneers
Unfortunately, medical issues caused Sean Tucker to careen down NFL Draft boards this spring, but there's no denying his talent when you put on the tape. Tucker has a running style that's reminiscent of Nick Chubb coming out of Georgia, he possesses good movement ability for a player of his size, and he's a solid receiver out of the backfield.
Tucker tied for the third most targets at the RB position in all of college football last season with 52. For context, Christian McCaffrey only saw 46 targets in his final season at Stanford, which goes to show just how heavily involved Tucker was as a receiver at Syracuse.
As mentioned though, medical concerns caused Tucker to sign as a UDFA with Tampa Bay after the 2023 NFL Draft. This is normally an indication that dynasty managers shouldn't look at the aforementioned player and should allocate their draft capital elsewhere, but this situation may be a bit different.
Rachaad White is currently the only RB of consequence on the Buccaneers' roster at the time of writing. While Ke'Shawn Vaughn has shown brief flashes here or there, he's had numerous opportunities to climb the depth chart in Tampa Bay and has yet to deliver.
The threat of a veteran RB signing over the remainder of the offseason hangs over this situation for fantasy football, but Tucker's ADP is low enough that it's worth the risk. If he gets buried on the roster and can't make final roster cuts, dynasty managers will be able to move on from him easily in their leagues.
However, if Tucker can prove in training camp that he's worthy of the RB2 role, there are a ton of touches available in this Buccaneers offense.
Current Dynasty Rookie Ranking: 40th Overall
Current Dynasty Rookie RB Ranking: RB15
Xavier Hutchinson, WR, Houston Texans
It's not often that dynasty managers can select the player that received the most targets in all of college football the prior season with their final selection in a dynasty rookie draft, but that's exactly what's happening right now with Xavier Hutchinson.
The ultra-consistent prospect out of Iowa State fell to the sixth round of the 2023 NFL Draft due to overall athleticism concerns, but Hutchinson's ability as a receiving option out of the slot gives him the opportunity to quickly climb up the Houston Texans' depth chart.
Nico Collins hasn't shown enough to be viewed as a WR1 in an NFL offense yet, John Metchie III is hopefully going to be on the field in 2023 after being diagnosed with leukemia in July of 2022 but has yet to take an NFL snap, and Robert Woods is at the tail end of his career.
Hutchinson compared favorably to Jakobi Meyers coming out of college, and he could carve out a similar role in this new Texans offense that is going to need a security blanket over the middle of the field for a young rookie QB.
The entire depth chart is wide open here in Houston, which means that Hutchinson could easily go from having the most targets in all of college football last season to leading the Texans in targets too.
Current Dynasty Rookie Ranking: 44th Overall
Current Dynasty Rookie RB Ranking: WR18
Tyler Scott, WR, Chicago Bears
Justin Fields loves to air it out downfield. Despite having a lackluster receiving corps in 2022, Fields was tied for the seventh-highest ADOT (average depth of target) last season for players with over 150 dropbacks.
This tendency from Fields pairs perfectly with Scott's skill set. As evidenced by his 4.44 40-yard dash at the 2023 NFL Scouting Combine, Tyler Scott has no issue turning on the afterburners and leaving defenders behind in the dust when he is able to build up a head of steam.
While there may not be an opportunity for immediate fantasy production this season with DJ Moore, Chase Claypool, and Darnell Mooney occupying the starting three WR roles, 2024 may be where Scott emerges as a big-play threat in dynasty managers' lineups.
Mooney is in the final year of his contract and coming off of an injury. There's no telling what Chicago will do if Mooney comes to the negotiating table and demands WR1 money now that Moore is in town.
If Mooney is no longer a member of the Bears next season, Scott easily slides right into that role. As someone that this regime clearly wanted to bring into their building, Scott's a worthy investment for dynasty managers near the end of their drafts.
Current Dynasty Rookie Ranking: 46th Overall
Current Dynasty Rookie RB Ranking: WR19
Jaren Hall, QB, Minnesota Vikings
This one's for the Superflex dynasty managers out there that are needing to bolster their QB depth going into next season.
Currently, there are rumors swirling around Kirk Cousins' future with the Minnesota Vikings past 2023. Due to an expiring contract, Cousins may be looking for work outside of the great state of Minnesota next season, and that creates a window for Hall to step up into the starting role.
Hall has his limitations as an NFL QB, which is why he fell to the fifth round of the 2023 NFL Draft, but he's a clean and accurate signal-caller that would thrive in a run-heavy, play-action system.
Dynasty managers have to build depth in their Superflex leagues at the QB position, so taking chances on players that could work their way into a starting role sooner than later is always a wise choice in rookie drafts.
If Hall does become the starting QB in 2024 for the Vikings, Justin Jefferson and the receiving corps in Minnesota could easily push the young passer into the weekly top-24 discussion.
Current Dynasty Rookie Ranking: 64th Overall
Current Dynasty Rookie RB Ranking: QB9
Listen to the PFN Fantasy Podcast
Listen to the PFN Fantasy Podcast! Click the embedded player below to listen, or you can find the PFN Fantasy Podcast on iTunes, Spotify, and all major podcast platforms.  Be sure to subscribe and leave us a five-star review! Rather watch instead? Check out the PFN Fantasy Podcast on our Fantasy YouTube channel.