It may only be three to five rounds, but the annual dynasty rookie draft is one of the most important aspects of dynasty fantasy football leagues. Despite being short, there are several ways you can utilize the rookie draft to improve your dynasty roster. Let's go over a couple of strategies you can employ in your dynasty rookie draft.
Did you get a trade offer in your dynasty or redraft league? Not sure who to start or sit this week? Make championship-winning decisions with PFN's FREE fantasy tools — the Fantasy Football Trade Analyzer and Calculator and Start/Sit Optimizer!
Dynasty Rookie Draft Strategies
There's no one way to approach your dynasty rookie draft. How you attack the rookie draft depends almost entirely on what your roster looks like and your plan for the upcoming season.
Here are a few ways you can maximize the rookie draft to benefit your roster.
Understand the Impact of the Draft Class on the Value of Rookie Draft Picks
Not all rookie draft picks are created equal. I know what you're thinking. Well, of course, the 1.01 is better than the 1.12. Yes, that's true, but there's even more to it.
In redraft, picks generally have similar values each season. A dynasty rookie 1.01 or 1.02 can be immensely more valuable one year than the next, depending on the position or upside of the player and how it meshes with the landing spot.
Do your best to learn as much as possible about the upcoming draft classes. Does a particular class have a clear top prospect that you know is going at the 1.01, as Caleb Williams will in 2024? Is a class deep at wide receiver or running back, making it is easier to trade back and place yourself in a prime spot for underrated depth?
All of this information helps you value your rookie draft picks, which leads to the next principle. Without this knowledge, you're at risk of evaluating an asset incorrectly, and that is what leads to extended down seasons.
Know the Ever-Changing Value of Rookie Draft Picks
In redraft, the general value of a draft pick doesn't really change. A mid-first-round pick is just as valuable in March as it is in August because very little happens to influence the value during these dead months. In dynasty, rookie draft picks change in value all the time.
By understanding this change, you can extract the most value from your rookie picks and gain an edge on your competition. And that doesn't always mean drafting the best player.
As you get closer to your rookie draft, those picks shift from speculative rankings to actual players. Depending on the strength of the draft class, this can either cause the price to rise — especially early ones — or for them to slightly drop off a touch in the back half if there is a scenario similar to that of a few years ago where some were forcing Ke'Shawn Vaughn into first rounds. By knowing this information, you can leverage changes in trade values.
Trading Picks
Knowing how to wheel and deal is one of the most critical skills a manager can have. How you go about it is, of course, dependent upon your team's needs. But the main goal is to extract maximum value whenever possible.
If you understand the shifting landscape of rookie valuation, you can turn a not-so-valuable rookie pick into an established player. Or, you can turn an aging veteran into a valuable rookie pick. Timing is everything.
Dynasty managers (and fantasy managers in general) can all suffer from rookie fever. It's human nature. We are programmed to fall in love with what someone could be, often at the expense of appreciating what someone already is.
There are multiple ways to exploit this in others. My favorite thing to do in rookie drafts is to trade down, especially in draft classes where there's no clear stud or where I pick later in the draft where the caliber of prospect dips a bit. Or to be ahead of the curve on the evaluation of a rookie class and make moves before my league-mates have a good feel for the value of those picks/players.
When possible, think about the road map you are creating. No one move is the "final" one. They're all connected. Plan out your moves ahead of time if possible. That way, if you're able to trade for Player A, you already know how you can move them or someone else for the next evolution of your team. One move should flow into the next to keep your squad from becoming stagnant.
Beware of Overconfidence
Believe it or not, we're all not as good at predicting the future as we think we are. Heck, NFL teams pay scouts and coaches up to seven figures, and they strike out a ton.
I know that sounds like something a person who writes about fantasy football for a living shouldn't say, but it's important to know what we don't know. There's a skill here. I promise. By trading down and accumulating more picks, you give yourself more chances to hit on a player. In any inexact science, you want as many chances to strike big and accumulate future assets.
It feels great when you pinpoint a prospect that ends up hitting big time. It not only can help carry your team for years to come, but it can prove to you that your process is at least directionally accurate and thus position you for sustained success.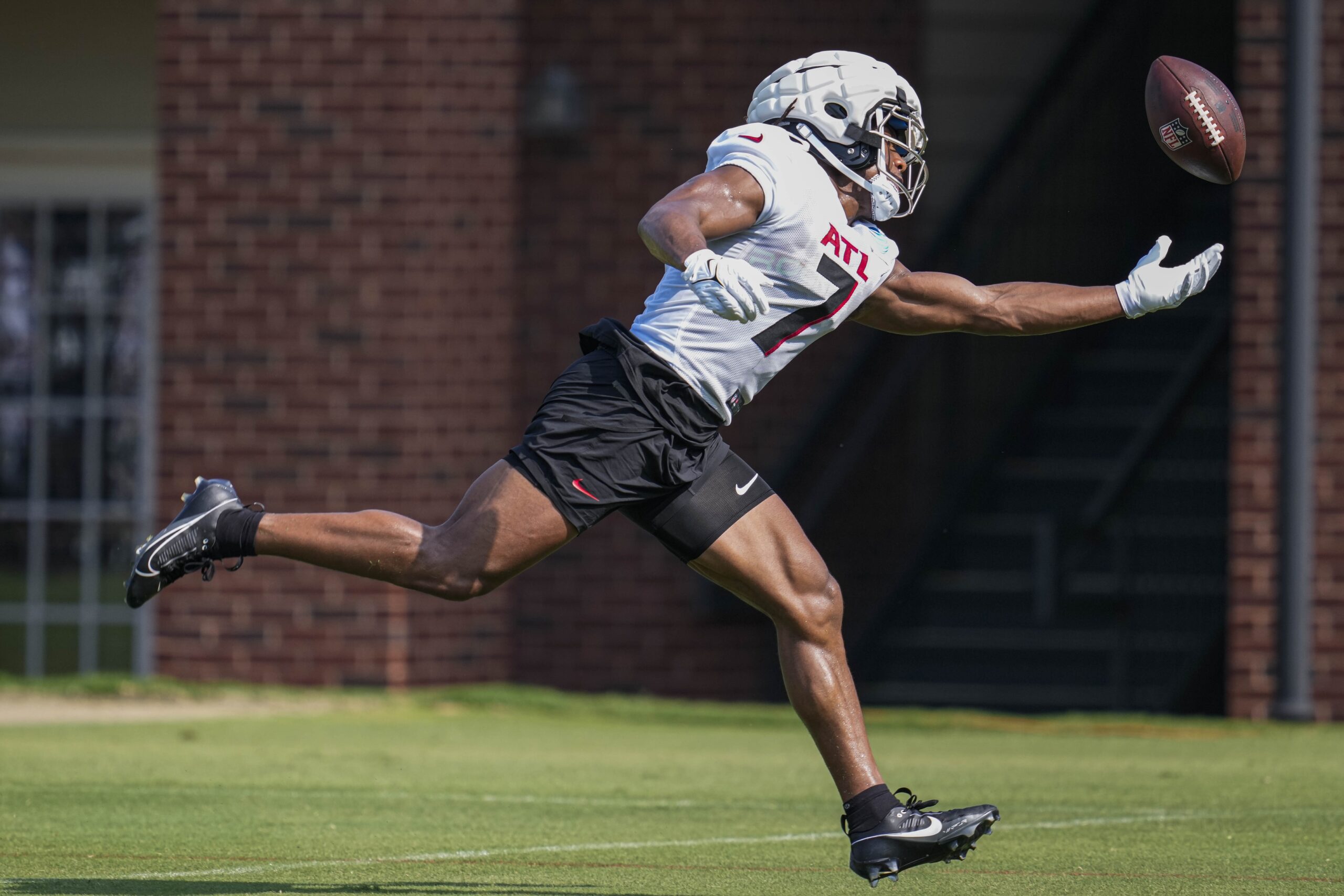 However, that's easier said than done. Fantasy football is a game of probabilities. Your goal as a manager is to give yourself the best odds of success. One way to do that in dynasty rookie drafts is to increase the number of darts you can throw at the board.
By no means am I trying to discourage you from going, "This guy is going to be great." I'm just illustrating the value in the approach of, "I know one of these guys will be great," and being able to take multiple shots at hitting on that guy.
If a manager in your league is obsessed with getting his guy, say, Will Levis this year, use that to your advantage. Trade your 1.05 for his 1.09 and 2.03, for example. Trading up is rarely the right move in a dynasty rookie draft. Trade down and increase your chances of finding a talented young superstar in the making. The work of a dynasty fantasy manager is never done; you should always be taking the temperature of the room.
Need vs. Want
This is a challenge for NFL teams as well. What do you do if the best player available isn't someone you need? If your team is stacked at wide receiver but has a gaping hole at running back, do you pass on a better prospect to try and fill a need? Maybe it's the opposite, and you have a loaded core of RBs but have the 1.01 and are looking at Bijan Robinson?
If you need a running back, but you know the right pick is a wide receiver, try and trade down so you can get your guy plus something else. Ideally, you would always find a way for the guy you want to be the right pick at your spot. Unfortunately, it doesn't always work out that way.
If you can't trade down and have to make a selection, this really comes down to personal preference regarding how to manage your team. I have a difficult time taking a lesser player and would likely take BPA, regardless of position. But that's because I trust myself to make the moves needed to make these pieces fit. If trading isn't a strength for you, you may be more apt to draft by position and fill out your roster under the assumption that it won't change much with time.
Usually, these players tend to be wide receivers, too, given the length of their prime-value windows. Quarterback is another spot that can present value due to only having to start one. Oftentimes, managers will ignore the position because they're comfortable where they stand at the moment. However, with a narrow mindset like that, you could leave significant value on the table (as was the case when Jalen Hurts fell down draft boards before his debut).
Even if I'm drafting a player I know I can't use right away, this is dynasty fantasy football. In most leagues, there will be ample opportunity to make trades, and the rosters are huge. Trust that you can extract more value for your roster by taking the best player rather than one with less value that fills a need.
Remember … this is your organization. Build it in such a way that you are comfortable with the direction you are headed. Identify your goals (short and long-term), trust your process, and have fun in building the next great dynasty!
Listen to the PFN Fantasy Podcast
Listen to the PFN Fantasy Podcast! Click the embedded player below to listen, or you can find the PFN Fantasy Podcast on iTunes, Spotify, and all major podcast platforms.  Be sure to subscribe and leave us a five-star review! Rather watch instead? Check out the PFN Fantasy Podcast on our Fantasy YouTube channel.