DeVante Parker had the best season of his career in 2019. During his time with the Miami Dolphins, he has been plagued by seemingly minor injuries, leading to questions about his dedication to the game. However, in 2019 he finally appeared to put the pieces together, playing in all 16 games for the first time since being drafted by the Dolphins in 2015.
Featured | Three potential offensive line upgrades for Dolphins in the 2021 NFL Draft
In part thanks to his more consistent availability, Parker totaled 1,202 receiving yards and nine touchdowns, both career highs by significant margins. That is an encouraging sign by any standard, and fans are understandably excited to see how he will perform in 2020.
[sv slug=mocksim]
According to the OSM, Parker's 2019 season was incredibly inefficient
Parker's dramatically improved statistics, impressive as they were, hid the fact that he was one of the least efficient wide receivers in the NFL last season. In order to illustrate that point, I will be using PFN's Offensive Share Metric, which measures how valuable a player was to their offense.
In 2019, Parker received an OSM grade of 28.03, which ranked 84th out of 93 qualifying wide receivers, making him one of the least valuable wide receivers in the NFL.
His weekly grades don't cast him in much better of a light. Below, you can see his grades from each week of the NFL season, represented by black dots, compared to the league average for wide receivers, represented by the yellow line.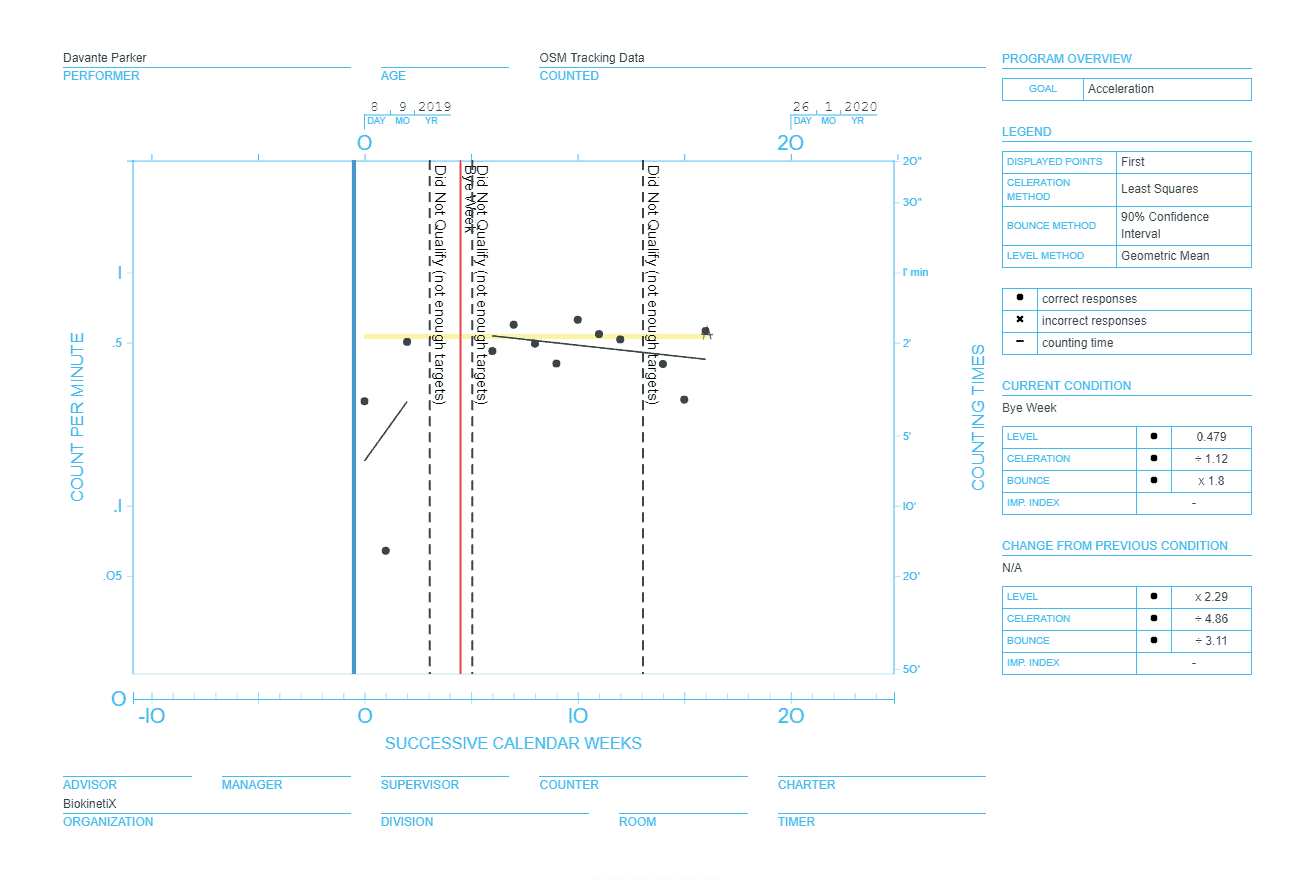 As you can see, while he had a few decent performances, those were heavily weighed down by several games that graded significantly below the league average. And even if you take those out of the equation, Parker was still below that line more often than he wasn't in 2019.
Explaining why Parker's OSM grade was so low
It is important to note that this ranking does not mean that Parker is one of the NFL's worst wide receivers. Rather, it indicates that he was highly inefficient while producing his admittedly impressive numbers.
Now, that still requires some further explanation. Fortunately, when looking at his advanced metrics, as recorded by the NFL's Next Gen Stats, it rapidly becomes clear why Parker graded so poorly in 2019.
Parker's catch percentage was not great
To start with, Parker only caught 56.3% of his passes, a number that was better than only 19 other wide receivers. To put how poor that ranking is into perspective, remember that 93 wide receivers in total qualified for a grade, so Parker's catch percentage was well below the median.
Additionally, there was a massive difference between Parker's catch percentage and that of the player with the highest percentage at the position: Michael Thomas. As you might have heard, Thomas and Parker recently engaged in a heated debate on social media, during which Parker suggested that Thomas' numbers were inflated by the large number of targets he received.
While that is true to a certain extent, Thomas rewarded his team's faith in him by catching an absurd 80.54% of those targets. Maybe if Parker did the same he could earn a similar role in Miami's offense.
Parker also failed to create separation from defenders
The other area in which Parker significantly underperformed was in the amount of distance he was able to put between himself and defenders. At the time that his quarterback's passes reached him, the nearest defender was an average of 2.1 yards away, tied for the third-lowest distance in the NFL. In other words, Parker did a terrible job of getting open, something that is very important to a wide receiver's success.
Parker's failures in this area probably don't come as much of a surprise to those who watched him play in 2019. Most of his highlight plays were made with a defender right on top of him. As impressive as that was, however, it certainly didn't make things easy for Parker or his quarterback.
In fact, it seems reasonable to suggest that Parker's inability to create separation contributed heavily to his low catch percentage. It is much easier to complete a catch if no defenders are around you to contest it.
When looking at the statistics I've mentioned here, it should be relatively clear what I meant when I said Parker was an inefficient player. While he is capable of remarkable athletic feats, that ability only translates into yards on slightly more than half of his targets.
While that kind of player can be useful in certain situations, it isn't very practical to make them the focal point of the offense due to their lack of consistency.
Parker's style might not mesh with Tua Tagovailoa
In an article I wrote last week, I mentioned that a change in quarterback from Ryan Fitzpatrick to Tua Tagovailoa could lead to an increase in Albert Wilson's production. However, the opposite might be true for Parker.
Fitzpatrick loves throwing deep, 50-50 balls and trusting his receivers to make a play. Players like Parker, who make their living making contested catches, are perfect fits for that style. But or a player like Tua, who relies more on accuracy and quick decision-making, that skillset is less useful.
To be fair to Parker, it is certainly possible that he could adjust his 2019 playstyle to better suit a Tua-led offense. After all, last season was the first time we saw him play at a high level for the whole year. He might have been simply playing in a way that fit Fitzpatrick's gunslinging style.
However, don't be too surprised if Parker sees a decrease in production when Tua takes over the starting role, whenever that might be.