After a prolific four-year stretch where Dalvin Cook totaled at least 1,135 rushing yards and six touchdowns for the Minnesota Vikings, a divorce may be in store for the pairing. According to ESPN's Adam Schefter, the Vikings are looking to trade Cook before releasing him on Friday.
Let's dive into Cook's five best landing spots if Minnesota releases or trades him.
Dalvin Cook's Landing Spots
Cook's $14 million cap hit in 2023 is an issue for a team that has spent the offseason trimming their massive allocation of cap space to aging veterans. While Cook has been a star for the NFL franchise, he turns 28 this summer. Releasing him would clear $9 million in 2023, $12.5 million in 2024, and his full $14.5 million cap hit in 2025.
Miami Dolphins Add to Track Team With Cook
The Miami Dolphins are a team naturally linked to Cook. He's from Miami, attending Miami Central High School, and we've seen several stars in Tyreek Hill and Jalen Ramsey basically force their way into trades to South Florida.
ESPN's Jeremy Fowler linked Miami to Cook before the 2023 NFL Draft, saying they "could get aggressive" in pursuit of him. We don't know if that happened, but Miami did draft a player in Round 3 who has been compared to Cook: Devon Achane.
Achane is much lighter than Cook, weighing about 30 pounds less but still shows similar explosiveness and solid contact balance. Adding Cook wouldn't be just a minor upgrade, even if Achane is a super-efficient satellite back.
MORE: Best NFL Running Backs in 2023
Miami's current backfield is fine but unspectacular. Raheem Mostert and Jeff Wilson Jr. can get the job done as a rotation, but there's certainly room to improve, and Cook is certainly an improvement.
Last year, Cook ranked second in the NFL in routes run, evaded 62 tackles, and averaged 4.8 yards per carry despite facing a light front on only 42.4% of touches. His ability to handle the workload as a lead back and still have great efficiency would be just another boost to a loaded offense.
Dallas Cowboys Replace Ezekiel Elliott With Cook
While Dallas Cowboys owner Jerry Jones continues to say he hasn't closed the door on bringing Ezekiel Elliott back, what if he were to upgrade by adding Cook?
The two have different playing styles, with Elliott being a bruiser who can pass-protect better than Cook. But if the Cowboys are concerned with Tony Pollard's ability to handle the lion's share of carries, then adding Cook should be considered.
Dallas would surely love not only the depth of having Cook and Pollard but also the leverage that the latter would lose after the franchise tag was applied to him. Pollard already signed the tag, guaranteeing him $10 million in 2023, but both sides could benefit from a long-term deal.
Without another viable starter on the roster, the Cowboys can benefit from Cook adding a speedy platoon partner to Pollard. Pollard could also be moved around formations more as he was with Elliott in comparison to a workhorse always in the backfield.
Buffalo Bills Add Cook To Prioritize the Running Game
How about uniting Dalvin with his brother, James Cook? The Buffalo Bills opted against investing heavily into the position this offseason, allowing incumbent starter Devin Singletary to walk in free agency and replacing him with Damien Harris. With the current setup, James Cook and Harris would be in some sort of rotation, with Latavius Murray and Nyheim Hines spelling them.
That's not an overly attractive backfield as it is. Quarterback Josh Allen could use more help on offense, so why not go back to the Vikings to pillage one of their stars? Dalvin is much more impactful as a runner than his brother, though both are considered excellent receivers.
MORE: How Dalvin Cook's Departure Affects the Minnesota Vikings' Backfield
Consider that James faced the highest percentage of light fronts in the NFL last year, with a whopping 65% of snaps against four defensive linemen. Dalvin would be a far greater threat to run out of these looks next to Allen, who would still have the option to audible to take advantage of pre-snap mismatches.
It's imperative that the Bills offer Allen more options so they can avoid becoming predictable. Though their mother said the Cook brothers are incredibly competitive with each other, Buffalo can benefit from the camaraderie and sheer talent upgrade by adding Dalvin.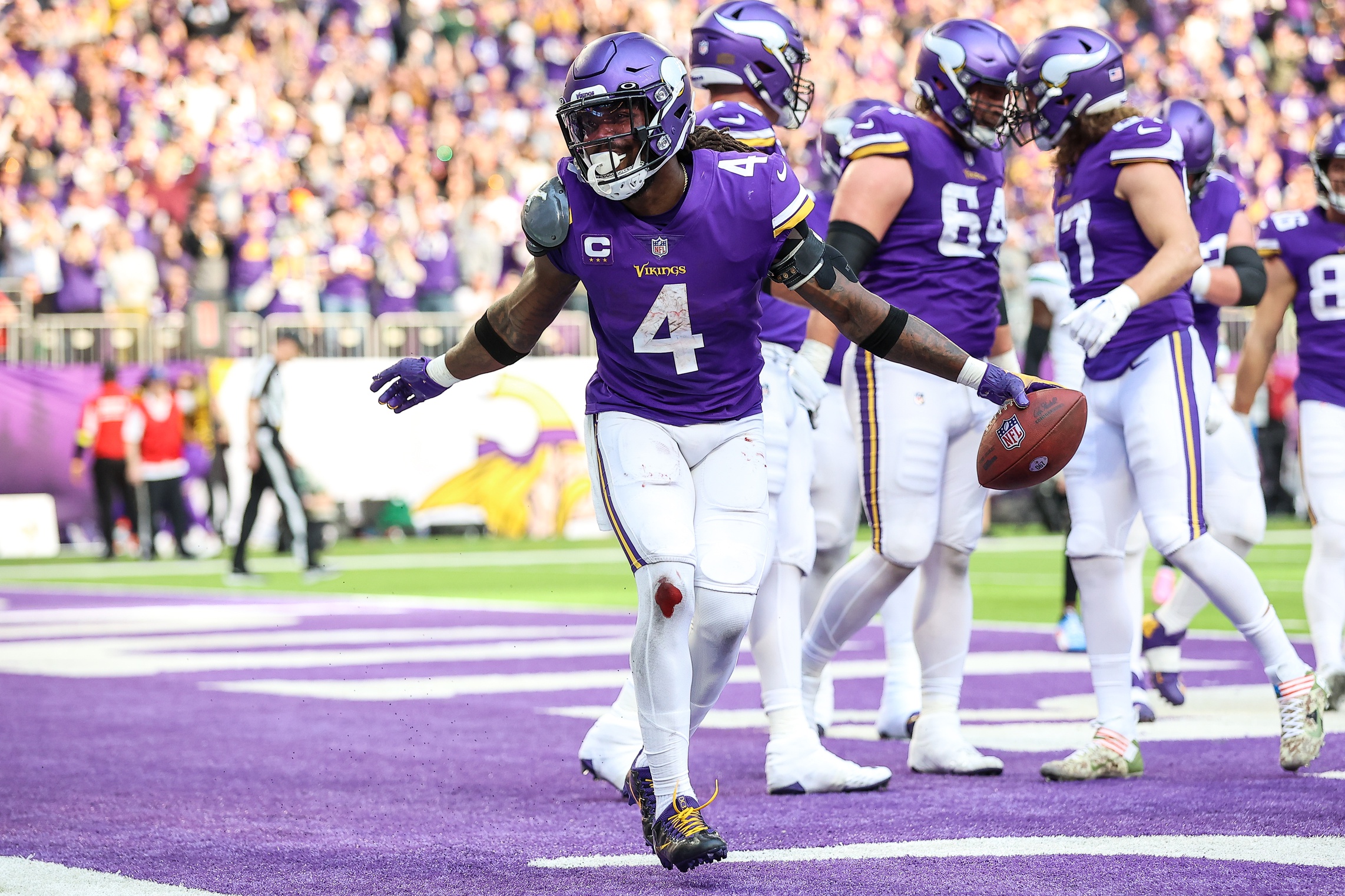 Washington Commanders Finally Find Star in Cook
Pinning full blame on Brian Robinson Jr. and Antonio Gibson for the Washington Commanders' run game failure isn't fair. The Commanders had a makeshift line for much of 2022, and the results showed. Despite attempting the fourth-most runs in the league, the Commanders were 12th in yards and 29th in touchdowns, thanks to a 4.0 per-carry average.
Cook can't completely overcome line issues, but the Commanders put some work in to help improve the unit this offseason. They drafted center Ricky Stromberg in the third round and signed veteran right tackle Andrew Wylie. Adding offensive coordinator Eric Bieniemy may lead to more varied looks that open creases for backs to find more space.
The biggest perk of adding Cook on top of getting a quality rusher is there'd be no more committee in place. Commanders head coach Ron Rivera has often utilized multiple backs throughout his career, but when there's a star, he rides them hard.
Cook has proven capable of being a three-down back who can help sophomore QB Sam Howell embrace being a starter.
Denver Broncos Add Cook After Javonte Williams Injury
Schefter reported the Denver Broncos have been as interested in Cook as the Dolphins have been, showing a sign they believe Javonte Williams may not be ready to carry the starting load coming off a torn ACL.
New Broncos head coach Sean Payton had excellent success with running backs who specialize in a zone-running scheme while in New Orleans. From Mark Ingram to Alvin Kamara, Payton gave fantasy managers many reasons to be happy with his playmakers.
MORE: Dalvin Cook Released — What Can Fantasy Managers Expect From Alexander Mattison in 2023?
Denver seemingly had a franchise star in Williams until he went down in Week 4 of the 2022 season. The latest news on Williams has been discouraging, as Broncos general manager George Paton said he wasn't sure when he'd be back. Paton had kept the door open to drafting a running back in the 2023 NFL Draft, but the team stood pat with Samaje Perine as their primary backup.
Considering how poorly Russell Wilson played in 2022 and the prospect of not having Williams at full health for the foreseeable future, adding Cook would be a major signing for the Broncos. We may not have expected this outcome, but Denver is the team with the most need and best fit considering their circumstances.