The Dallas Cowboys had much to prove after an embarrassing Week 3 loss, but they found their redemption in a 38-3 win against the New England Patriots.
Here are the winners and losers from the Cowboys vs. Patriots Week 4 matchup.
From the current NFL standings to team depth charts to coverage of every game in the 18-week NFL schedule, we have all the news from around the league to keep you up to speed!
Dallas Cowboys Week 4 Winners
CB DaRon Bland
Don't let his name fool you. Bland had a spicy day with two interceptions, including a pick-six.
He became the third corner in Cowboys' history with multiple interception return touchdowns in the same season. He joins current CB Trevon Diggs and Dallas great Larry Brown, according to Cowboys PR.
When asked about his pick-six, the cornerback said, "I saw open field when I got the ball, so I said, 'Nobody's catching me from here.'"
To the CRIB with @DaRon_Bland 🏡

📺: FOX & NFL+ ➡️ https://t.co/yLMhJNTZjs pic.twitter.com/Fx8zRVl6bx

— Dallas Cowboys (@dallascowboys) October 1, 2023
Bland has been moved to the outside after Diggs was ruled out for the season. Diggs tweeted his thoughts on Bland during the game, saying, "Daron Bland is The Best DB in that class.."
Daron Bland is The Best DB in that class..

— SEVEN (@TrevonDiggs) October 1, 2023
After the game, HC Mike McCarthy said, "It's just great to see your young players have that success, especially when you know how much they put into it. So I thought he played phenomenal today."
TE Jake Ferguson
Ferguson had a fergalicious showing, as he led the team in receiving yards with 77 yards on seven catches, averaging 11 yards per catch.
The tight end is making a second-year jump as the team's starting tight end. He has speed when he takes off, but his yard-after-catch abilities are noticeably strong.
He is also a strong blocker for the offense. According to Marcus Mosher, Pro Football Focus graded Ferguson as the second-highest run-blocking tight end in the league as of Week 3.
#Cowboys TE Jake Ferguson has really improved as a run blocker in Year 2.

According to @PFF, he is the No. 2 run-blocking tight end in the NFL, with a grade of 80.0.

— Marcus Mosher (@Marcus_Mosher) September 29, 2023
McCarthy called him a "very instinctive football player" after the game, saying, "You're seeing a guy that's paid a price, he's got his weight up, you know, from year one or year two, and he needs to maintain that and keep, keep it because the tight end position they do a lot of heavy lifting."
The tight end was Prescott's security blanket during the game, something he says is a product of trying to be at the right spot at the right time.
"If we have a play in practice where we just don't quite connect, I'm going up, and I'm talking to him, and I'm saying, do we want this after practice? Are you feeling this? And he's giving me his input and what he's thinking, and I think that goes a long way. So when I do get out there, it's I'm in the right spot at the right time, and we're really on the same page," said Ferguson.
WR Michael Gallup
Gallup continues to prance all over opposing defenses for the second week. The wide receiver has seemingly found his stride. 
MORE: NFL Week 4 Winners and Losers
He had the second-most receiving yards for the day, just behind Ferguson, with 60 on five catches. He averaged a solid 12 yards per catch.
Gallup is building up to be Prescott's go-to receiver when teams double-team WR CeeDee Lamb to avoid big plays. Luckily for Prescott, he has a guy like Gallup, who can get open and make a play for long-yardage.
QB Dak Prescott
Prescott continues to play with speed and impress with his footwork and the ability to release the ball quickly. His cadence of "here we go" presnap shows the control and communication he maintains throughout the offense. The offense has found its rhythm again, and Prescott's consistent demeanor was a large part of that.
In the Middle
RB Tony Pollard
Pollard had 47 yards on 11 carries, averaging 4.3 yards per touch. His longest run of the afternoon was a 16-yard run. Overall, the team tallied 124 rushing yards and one rushing touchdown by RB Hunter Luepke.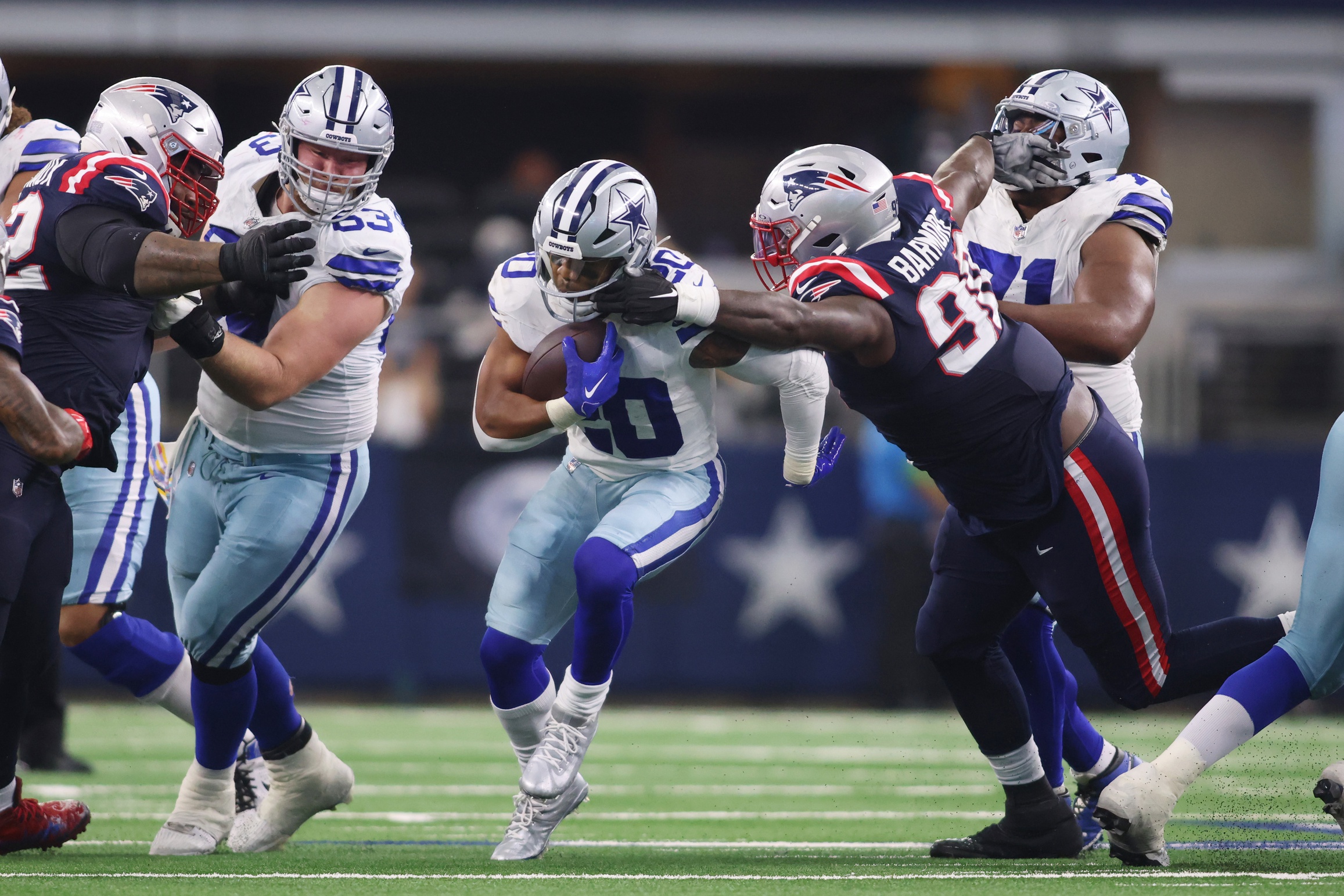 Pollard didn't have a stellar showing, but he is still a constant factor for the Cowboys offense. He plays a physical game to find holes and gain yardage.
The most significant help to Pollard is having Rico Dowdle as his second running back. 
However, Dowdle exited the game with a hip injury. The extent of this ailment remains a question and can impact the run game if he can't be available for some time.
Losers
Red-Zone Offense
The team was one for four in scoring in the red zone, which is still concerning.
If the defense wasn't playing at the elite level they were, creating big plays and takeaways, then the game could have turned out differently because of the lack of scoring near the goal line.
MORE: Week 5 NFL Power Rankings
While there were two touchdowns from the offense, only one was scored in the red zone. 
RB Luepke had a three-yard rush, ending the team's dry spell. However, there is still work to be done as the season progresses. 
After the game, Prescott spoke to reporter Erin Andrews on the sidelines. When asked what he was happiest about from the offense's performance, he said, "We didn't score enough in the red zone. When we put it all together, and we score to our standard, it's gonna be dangerous."
It will be interesting to see how the team responds to this, especially as they prepare for the San Francisco 49ers for their Week 5 matchup. They have been a boogie man for the Cowboys, especially in the last two years.
Listen to the PFN Cowboys Podcast
Listen to the PFN Cowboys Podcast! Click the embedded player below to listen, or you can find the PFN Cowboys Podcast on iTunes, Spotify, and all major podcast platforms.  Be sure to subscribe and leave us a five-star review! Rather watch instead? Check out the PFN Cowboys Podcast on our NFL YouTube channel.