The NFL power rankings return in Week 5 with a vengeance. With so many games played between teams with similar on-paper talent and records, there will be some significant movement in the rankings this week.
From the current NFL standings to team depth charts to coverage of every game in the 18-week NFL schedule, we have all the news from around the league to keep you up to speed!
Bills and Texans Storm Ahead in NFL Power Rankings
The Miami Dolphins scored 70 against the Denver Broncos in Week 3, but their defense decided to dress up as the Broncos, 30 days shy of Halloween, against the Buffalo Bills.
32) Chicago Bears (32)
The Chicago Bears tried unplugging it and plugging it back in, and it appeared to work … for a half. Unfortunately, Chicago's software caught a virus in the second half, which caused a horrific decision by Matt Eberflus and Luke Getsy on a fourth-and-short call that decided the game.
—> DEN (28) @ CHI (28) <—
CHI has 4th & 1 at the DEN 18, Q4 00:52

Recommendation : 🤷 Toss-up (+0.8 WP)
Actual play: 👉 (Shotgun) K.Herbert left tackle to DEN 18 for no gain (A.Singleton). pic.twitter.com/JL6WVOLdYF

— 4th down decision bot (@ben_bot_baldwin) October 1, 2023
They will be crushed for going for it, but that wasn't a horrific call. The horrific call came on the play. You have a 230-pound QB who runs like the wind but is also as physical as almost any runner in the league. Instead of sneaking it for three feet or running something like QB Power or Counter, they ran what appeared to be a read option.
The problem is, even with Justin Fields, their option game is lackluster at best.
31) Denver Broncos (31)
The Denver Broncos were absolutely lifeless during the first half against Chicago. They allowed Justin Fields to put up Wilt Chamberlain numbers just seven days after allowing 70 points in a football game.
They could not, however, out-suck the Chicago Bears in the end. Without some serious changes on the defensive side of the ball, this is not a football team that will win many games in 2023. They need help on this roster. But they traded first and second-round picks for a head coach this past offseason.
30) Las Vegas Raiders (30)
Despite fielding a quarterback that was entirely overwhelmed by the professional pass rush and coverage he was facing, the Las Vegas Raiders found a way to make a game out of one that looked like it was going to be a blowout.
But it's hard to get a feel for if there are actually some building blocks here or if it was just the Los Angeles Chargers doing what they do, which is trying to give every single game away.
29) Carolina Panthers (29)
Andy Dalton might win this football game for the Carolina Panthers, which makes it all the more peculiar that it was reported that the Panthers were actively looking for a receiver to acquire in the trade market.
MORE: What Are the Playoff Odds for the 0-4 Teams?
Let's be honest; they aren't actually trying to win football games. This season is about trying to get Bryce Young up to speed. That is what the receiver is for, not to help win football games. If that was the goal, Dalton would be starting.
And maybe he should anyway. Bryce Young has a boatload of talent, but he is very clearly overwhelmed at every corner.
28) New York Giants (23)
The New York Football Giants have struggled so far in 2023. Their offensive line has been a disaster to this point, and they are unable to effectively rush the passer outside of one player on the defensive interior. In addition, they're forced to start two rookie cornerbacks in a Wink Martindale defense.
Daniel Jones is not playing well, but few quarterbacks would survive in the environment he's found himself in. It was a miracle he survived a season ago, but the offensive structure around him has disintegrated.
27) New York Jets (27)
The Jets seem to have a superpower when the Dallas Cowboys aren't involved. The Buffalo Bills and Kanas City Chiefs are teams with two of arguably the top quarterbacks in the NFL. But against New York, Patrick Mahomes and Josh Allen looked not only mortal but bad.
In the end, Mahomes did just enough to win the game, and the Jets did just enough to lose it. Zach Wilson played about as well as anybody on the Jets sideline could have hoped for. But a fumbled shotgun snap effectively ended the game for the Jets. Wilson simply took his eye off the ball for a second.
It was nice to see his teammates consoling him on the sideline at the end of the game. But that won't appease the defense that once again put on a fantastic performance to keep New York in the game.
26) Minnesota Vikings (28)
The Minnesota Vikings only managed 44 offensive plays against the Carolina Panthers, but that's all they needed. A one-of-eight day on third down is to blame for their lack of ball control, which is surprising considering they ran the ball well and have Justin Jefferson on their team.
But that was all of their offense. Their veteran quarterback, who had played well in recent weeks with a few stinky moments sprinkled in burst a sewage line in his home during this game, and was blasted trying to chase down a 99-yard INT return.
25) Arizona Cardinals (25)
The Arizona Cardinals aren't a talented football team on paper, but they are incredibly well-coached. They have no-name journeymen playing career ball at multiple positions. Their offensive structure is legitimately good in the passing game, and James Conner runs like every defensive player owes him money.
They may not be "good," but they are competitive, and that makes them a whole lot of fun.
24) New England Patriots (21)
Mac Jones was horrific against the Dallas Cowboys. Pairing that with a mass of injuries to the New England Patriots secondary, and things were never going to be pretty against the Cowboys. Jones made mistakes that we usually do not see from third-year veterans, particularly when they lack high-end physical tools. Rolling out and trying to throw across the field against that defense is asking for disaster, and the Cowboys obliged.
23) Pittsburgh Steelers (20)
The Pittsburgh Steelers are terrible. Matt Canada and the offense do not offer the answers that Kenny Pickett needs. Pickett's own confidence is clearly not there because Pickett is as skittish as any quarterback we've seen in the pocket over the past few seasons. He's seeing ghosts, and he's running into the haunted house too often.
22) Cincinnati Bengals (11)
Attention Cincinnati Bengals, we have a problem. We KNOW that Joe Burrow is one of the best quarterbacks in the NFL. But he is nowhere near that player right now. In fact, he's producing like one of the worst passers in the league at the moment. A bad weather game from Week 1 hurts his overall production, but it has not been a pretty start for the Bengals offense.
Without a healthy Burrow, the Bengals have no chance of competing in the AFC North. Adding a bad rib injury for WR Tee Higgins, and there could be disastrous results unless the calf somehow magically heals.
21) Washington Commanders (19)
The Washington Commanders deserved a chance to win or lose the game in regulation. Their coach failed them. Ron Rivera failed to show the confidence and conviction to let his guys, who just drove down the field to score with no time left on the clock, try to win the game.
They had a chance in overtime, but everyone in the world except Rivera knew the outcome as soon as they kicked the PAT. They were already the plucky underdog. Would you rather have a chance to win the game with a rookie QB on one play from the two or with an overtime drive against the Philadelphia Eagles defensive front?
Make it make sense, "Riverboat" Ron.
20) Tennessee Titans (24)
The Tennessee Titans absolutely throttled the Cincinnati Bengals. The offensive line finally got things going for Derrick Henry, and Henry obliged by absolutely bullying the second and third level of the Bengals' defense.
When Tennessee isn't forced to play from behind, it allows them to dictate the style and tempo of their offense. Being able to use play action and take responsibility off of Ryan Tannehill allows this offense to operate smoothly. In that respect, little has changed since Arthur Smith took over as the Atlanta Falcons head coach.
19) New Orleans Saints (18)
The New Orleans Saints offense couldn't manage 200 net offensive yards against a Tampa Bay Buccaneers defense that, while talented, had been leaking oil on the back end so far in 2023.
Derek Carr's shoulder was clearly an issue. His passes didn't have nearly enough zip on them in the underneath windows. And while he was still able to uncork it downfield, it was slightly underthrown.
Despite 11 Buccaneers penalties, they were unable to get into the end zone during their two red zone trips. It's not easy to believe that Jameis Winston would have given the Saints a worse chance to win. However, he did throw an interception in his only passing attempt. And it was a horrific arm punt.
18) Atlanta Falcons (16)
The Atlanta Falcons offense is a tragedy. A travesty. An outright dumpster fire. Although the offense, or a version of it, worked for Ryan Tannehill and the Titans, it is not working very well for Desmond Ridder. It doesn't necessarily offer a plethora of answers, and Ridder has struggled.
His processor, which was something he was lauded for leaving Cincinnati, is struggling mightily at the NFL level. However, the accuracy concerns he left school with remain at an alarming rate. It's hard to miss receivers as big as Drake London and Kyle Pitts, but Ridder is finding a way.
Atlanta has vastly improved their defense from a season ago. That will keep them in games while their offense, hopefully for their sake, figures things out. There has been far too much invested in the weapons and offensive line to struggle all year in that area.
17) Los Angeles Chargers (22)
The Los Angeles Chargers are quite easily the most frustrating team in the NFL. Nobody is better at trying to lose football games. That has been a trend forever, but their collapse in the playoffs last season and their continued collapses so far in 2023 have become not just consistent but entirely constant.
They keep putting Justin Herbert in positions where he absolutely needs to be Superman, and no quarterback will be perfect when every single game is being decided on the final possessions. This team cannot coast. That should be entertaining, but instead, it's simply terrifying.
16) Houston Texans (26)
The Houston Texans might not be a fluke. C.J. Stroud is looking like the QB1 that some NFL Draft hobbyists and experts believed him to be *glances at the mirror*. But his performance should be shocking, even his greatest supporters.
He looked horrible in his first preseason outing. He lost his starting left tackle, left guard, and right tackle. His playmakers on the outside were lackluster on paper.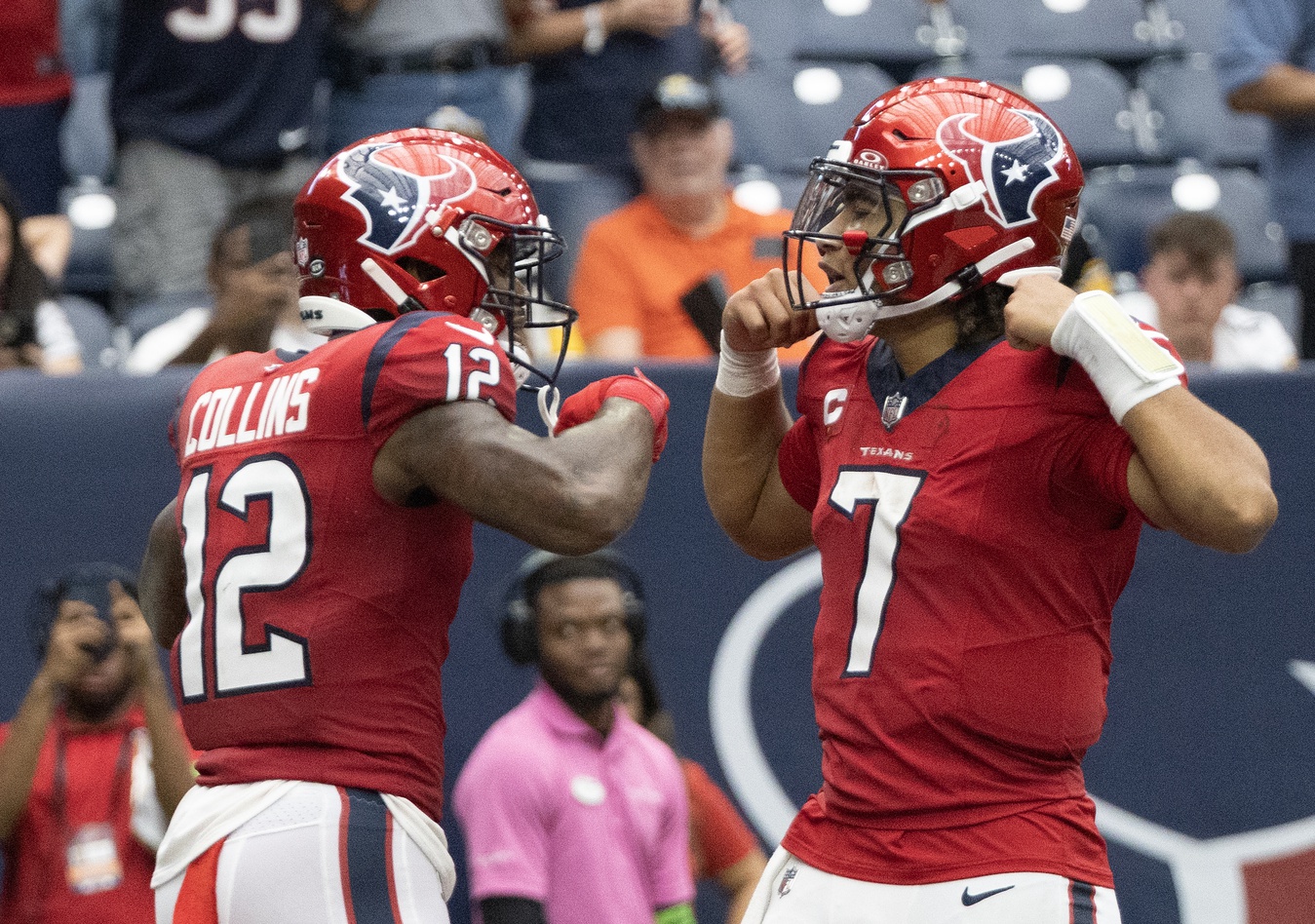 But he has a great rapport with Tank Dell and Nico Collins. Robert Woods may not be what he once was, but he's a viable third option in that offense. Maybe this all comes crashing down, but this team is at least entertaining, if not legitimately good.
15) Green Bay Packers (17)
Jordan Love is still growing as a passer. While there are very positive signs from him so far, he is still a relatively young quarterback in the grand scheme, and he's one of the most inexperienced despite being a third-year player.
Joe Barry gets a lot of flack for his defense, and much of it is warranted. But at some point, players also have to execute, which is something we have not seen at a high level for over a year from this defense. Rashan Gary and Kenny Clark are animals on the defensive front, but this team is struggling on that side of the ball.
14) Indianapolis Colts (13)
The Colts are already a whole lot of fun. After trailing 23-0 midway through the third quarter, they managed to bring the game back to a 23-23 tie with a chance to win the game on a final possession in regulation. They may have gotten away with it, too, if it wasn't for Kylen Granson's meddling hands (dropped the third-down bomb.)
It took three touchdowns, two two-point conversions, and an extra point to tie the game. Anthony Richardson only managed to complete 44% of his passes, but he also threw two TDs, no interceptions, and converted on two, two-point conversions through the air.
He has a long way to go as a passer. The passing attack may not be incredibly "efficient" with him from a completion percentage perspective, but they will be explosive. Shane Steichen is coaching to Richardson's strengths, just as he did Justin Herbert as a rookie and Jalen Hurts as a young passer.
13) Jacksonville Jaguars (15)
The Jacksonville Jaguars defense did a lot of the work against Atlanta, which is a bit of a worry for Jacksonville moving forward. However, they dominated Atlanta from the start and advanced their record to 2-2.
The Falcons' defense has done a fantastic job of keeping things in front of them, but the Jaguars offense needs to find more consistent explosives on offense. Their offensive line is too suspect to lean on this unit to sustain long drives with consistency.
12) Tampa Bay Buccaneers (14.)
We *looks in the mirror again* were wrong about the Tampa Bay Buccaneers. Although they had a talented roster going into the season, the idea was that Baker Mayfield and that offensive line simply would not be good enough.
MORE: PFN's Player News Tracker
Through approximately a quarter of the season, that simply is not correct.
Baker Mayfield has been icy on third down so far this season. Mike Evans has had a resurgence after a few more muted seasons with Tom Brady playing under center. The defense remains impressive at all three levels of the field.
11) Cleveland Browns (10)
The vaunted Browns defense continued playing well against Baltimore despite the appearance of a 28-3 blowout. The Browns had absolutely zero offense in the game without Deshaun Watson, although, aside from a week ago, Watson hasn't necessarily been lighting the world on fire.
However, the Ravens managed two touchdowns off of Dorian Thompson RObinson's two picks before the Browns' final drive. But the Ravens also managed drives of 93 and 94 yards against Cleveland in the second quarter. Baltimore accrued 12 first downs in that quarter alone. But they only managed four in the other three quarters combined.
10) Los Angeles Rams (12)
Puka Nacua might be the biggest story in the NFL. The rookie WR broke the record for receptions in the first four games of a career. The player he supplanted, Anquan Boldin, might be his best stylistic comp. He's a technical possession receiver who has quickly turned into Matthew Stafford's best friend as Cooper Kupp misses time.
9) Detroit Lions (9)
After an ugly interception to start the game, the Detroit Lions posted four straight scoring drives, practically deciding the game before it even got to the half. Aidan Hutchinson is the real deal on the edge. He's been one of the most productive rushers in the league, and he had the Packers offensive line in hell on Thursday Night Football.
David Montgomery continues to take up the… lion's… share of the backfield touches, much to the chagrin of Jahmry Gibbs' fantasy owners. But Gibbs is a sub-200-pound running back who, while likely underutilized right now, will be more important to have fresh late in the season, given his absolutely outrageous explosiveness.
8) Seattle Seahawks (8)
The Seattle Seahawks' defense is starting to get healthy at an important juncture. They need the middle of their passing defense to improve, and although Jamal Adams has become a bit of a coverage meme, it is only because safety coverage is largely unintelligible to the masses.
Seattle's offense wasn't the high-flying product we've become accustomed to against New York, but the offense didn't need to be. They managed two touchdown drives of over 50 yards, but the Seahawks only had two possessions of more than three first downs. However, with the Giants' offense on the other end, game flow didn't necessarily dictate pushing their limits.
7) Baltimore Ravens (7)
Despite being down many of their important pieces throughout the roster, Baltimore still had Mark Andrews and Lamar Jackson, and that was all they really needed against the Cleveland Browns on Sunday.
It didn't hurt that their defense thoroughly abused the Browns' rookie QB. Mike Macdonald's defense has been flying around the field since acquiring Roquan Smith last season. Against Cleveland, they even managed it without both of their starting edge rushers.
6) Miami Dolphins (3)
The Miami Dolphins were dismantled by the Buffalo Bills. The offensive line that had played so well in the first few weeks of the season cracked. Although they still found space against the Buffalo defense, the Bills had more answers at the second and third level than any team to date.
But Miami's defense is a problem … for them. Buffalo didn't run all over them like the Chargers did in Week 1, but Josh Allen absolutely carved up the Dolphins secondary. He finished 21 of 25 for 320 yards, four TDs, and a perfect passer rating.
Vic Fangio needs to find some answers.
5) Dallas Cowboys (6)
The Dallas Cowboys and the Buffalo Bills are the same team. They're both supremely talented rosters that can absolutely demoralize even other impressive rosters. However, they can also each lay eggs against bad teams, struggle intermittently in critical areas, and struggle once the playoffs roll around.
The Cowboys embarrassed Mac Jones and the Patriots offense. Their lack of speed did not pair well with the Cowboys' speed, which is almost never-ending on the defensive side of the ball.
4) Philadelphia Eagles (4)
The Eagles are still an incredibly talented roster, but there is a clear flaw in their construction, and it will likely force Howie Roseman into aggressive mode before the deadline. Philadelphia needs to improve up the spine of their defense. Although their defensive tackles are outstanding, their linebacker and safety play has been their defense's Achilles heel.
The passing attack had a nice day, but a few big plays that the Eagles picked up because of coverage miscommunications from Washington artificially inflated the passing numbers. That remains an area they must improve moving forward.
3) Buffalo Bills (5)
The Miami Dolphins looked unstoppable during the first three weeks. Well, their offense looked unstoppable. Their defense had clear flaws that we all mostly ignored because we're like cats chasing lasers, watching their offense streak down the field.
Buffalo, in true Bills fashion, absolutely bullied the Dolphins on Sunday. It took a while to get into a groove defensively, but once they got the lead, it was pretty clear they would be able to dictate the flow of the game from then out.
2) Kansas City Chiefs (2)
The Kansas City Chiefs might deserve to be the top team in the NFL power rankings, given their early-season defensive dominance, but the San Francisco 49ers have been too clean through four weeks of play.
A game against a talented New York Jets defense provided a stern test for the Chiefs offense, which still hasn't totally gelled yet. However, this isn't the first elite quarterback in 2023 to have a lackluster game against the Jets.
1) San Francisco 49ers (1)
Christian McCaffrey scored three touchdowns on the ground, and Brock Purdy was practically perfect on the day, and yet their game against Arizona was tight until the fourth quarter. That is partially a testament to the Cardinals' competitiveness, but it is mostly because of the game flow.
MORE: NFL Week 4 Winners and Losers
The 49ers only had three true possessions in the first half. They punted on their first drive of the second half, but even on that drive, they picked up three first downs. In short, it was just a slow game. The offense remained dominant.