The Dallas Cowboys almost always have lofty expectations heading into their season. However, they haven't been to a conference championship game in over a quarter century. In a relatively weak NFC, could 2023 be the year for the team? How does their schedule help or hurt their cause?
Dallas Cowboys Schedule and Opponents
Preseason Schedule
Week 1: vs. Jaguars
CBS | 5 p.m. (Saturday, Aug. 12)
Week 2: at Seahawks
CBS | 10 p.m (Saturday Aug. 19)

Week 3: vs. Raiders
CBS | 8 p.m. (Saturday, Aug. 26)
Regular Season Schedule
Week 1: at Giants
NBC | 8:20 p.m. (Sunday, Sept. 10)
Week 2: vs. Jets
CBS | 4:25 p.m. (Sunday, Sept. 17)
Week 3: at Cardinals
FOX | 4:25 p.m. (Sunday, Sept. 24)
Week 4: vs. Patriots
FOX | 4:25 p.m. (Sunday, Oct. 1)
Week 5: at 49ers
NBC | 8:20 p.m. (Sunday, Oct. 8)
Week 6: at Chargers
ESPN | 8:15 p.m. (Monday, Oct. 16)
Week 7: BYE
Week 8: vs. Rams
FOX| 1 p.m. (Sunday, Oct. 29)
Week 9: at Eagles
FOX | 4:25 p.m. (Sunday, Nov. 5)
Week 10: vs. Giants
FOX | 4:25 p.m. (Sunday, Nov. 12)
Week 11: at Panthers
FOX | 1 p.m. (Sunday, Nov. 19)
Week 12: vs. Commanders
CBS | 4:30 p.m. (Thursday, Nov. 23)
Week 13: vs. Seahawks
Amazon Prime | 8:15 p.m.(Thursday, Nov. 30)
Week 14: vs. Eagles
NBC | 8:20 p.m. (Sunday, Dec. 10)
Week 15: at Bills
FOX | 4:25 p.m. (Sunday, Dec. 17)
Week 16: at Dolphins
FOX | 4:25 p.m. (Sunday, Dec. 24)
Week 17: vs. Lions
ESPN/ABC | 8:15 p.m. (Saturday, Dec. 30)
Week 18: at Commanders
TBD | TBD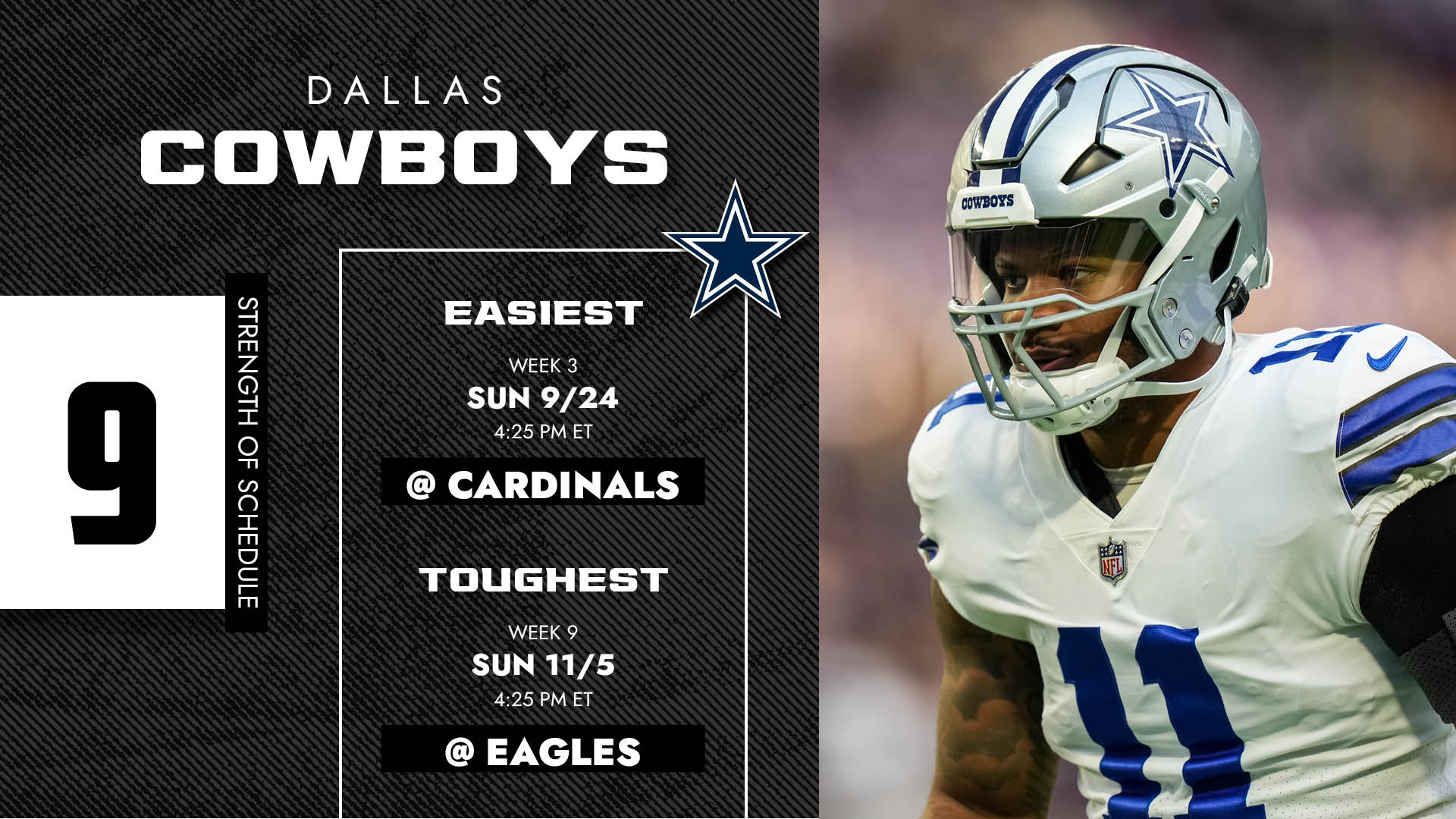 Dallas Cowboys Strength of Schedule
Dallas got lucky a season ago, having one of the easiest schedules in the NFL despite winning the NFC East in 2021. But that won't be the case in 2023, even though they won 12 games for a second consecutive season but did not win the division.
MORE: Dallas Cowboys 2023 Season Preview
Cowboys opponents have a projected win total of 8.79 games, giving them the 11th-hardest schedule in the NFL using that method.
According to PFN's own strength of schedule metric, which takes factors into account more than just win totals, Dallas has the 10th-hardest NFL schedule.
Dallas Cowboys Record Prediction
The Cowboys have had consecutive 12-win seasons. And no matter how any one individual feels about Dak Prescott, it's impossible to argue that he's not one of the best quarterbacks in the conference. Add Brandin Cooks to an offense that desperately needed speed, and things are looking up for the Cowboys' offense.
Moreover, no defense has been consistently better over the past two seasons, at least according to Expected Points Added models.
MORE: How was the Cowboys' Roster Built?
Anything can happen in the NFL. Injuries are part of the game, and they have a massive impact on wins and losses. Every year, we see teams that aren't competitive most weeks beat juggernauts. Sometimes it even happens in key moments.
Fortunately, given the quality of their roster, every game on Dallas' schedule is relatively winnable.
The Cowboys play the AFC East in 2023, but that's not the relative cakewalk it was even just a half-decade ago. The Bills have been a regular-season powerhouse over the past five seasons, the Dolphins' offense is endlessly efficient, the Jets are going all in, and the Patriots are going to be better than many want to give them credit for. The AFC East is likely the best division in football.
The Cowboys' current Vegas win total is set at 9.5, with the over reasonably juiced. Although Kellen Moore has been used as a punching bag for Dallas fans over a few perceived shortcomings, Mike McCarthy hasn't called plays in some time now. There's no guarantee he'll be better than Moore, who consistently got good production from the Cowboys' offense.
Projected Record: 12-5