Dak Prescott is the most polarizing player in the NFL, which shouldn't surprise a soul. Tony Romo once held the crown of the league's most criticized passer. No matter what happens on the field, whoever quarterbacks the Dallas Cowboys will be vastly overrated or underrated, depending on who you ask.
It's May, which in the NFL media world is list season. Companies across the world are chiming in with their QB rankings heading into 2023. On those lists, one likely finds Prescott at the top or second in the NFC rankings. Writers and podcasters who value the immediate past over the full body of work may have him as low as fourth in the conference. But anything lower than that is premature at best, and Cowboys fan bait at worst.
Even when we look at the entirety of the NFL, it's hard to make a legitimate case for Prescott falling outside of the top 10. But is he really the best quarterback in the NFC? Is he actually a top-five QB in the NFL, or is he legitimately knocking on that doorstep?
Is Dak Prescott a Top-5 QB?
Josh Allen is a top-five NFL quarterback. Nobody in their right mind would argue that fact. His frame, arm, and athleticism make him a cheat code.
But in a world that hasn't stopped talking about Prescott's 15 interceptions, Allen's league-leading 19 turnovers isn't talked about nearly as much. Trevor Lawrence, who ranks above Prescott on a few lists out there, lost five more fumbles than any other QB and turned the ball over two more times than Prescott. Joe Burrow quietly had one less turnover than Prescott did.
And while Prescott did his damage in four or five fewer games than them, his interception totals don't tell the entire story. In fact, with all the advancements in performance tracking over the past few decades, interceptions are one of the lazier stats in the sport.
"When you think about it, you have all these deep analytics, all these different things," Cowboys backup QB Cooper Rush told reporters. "And it's, 'Oh, their team got it? It's on him.' That's part of playing quarterback. We always joke around that someday there will be an unearned interception, just like an unearned run in baseball. Pitchers get breaks that way."
According to PFF's turnover-worthy play rate, Prescott performed better than Allen, Geno Smith, and Tua Tagovailoa in 2022. And while Prescott did make more puzzling decisions than we'd seen in the few years prior, last season was more a year of bad breaks than bad throws. Tipped passes, miscommunications, and unbelievable defensive plays always play a role in turnovers, but even more so for Prescott in 2022.
MORE: 2024 NFL Mock Draft Simulator With Trades (FREE)
Patrick Mahomes is in a league of his own. Burrow is trying to claw his way into that tier. Allen flashes that sort of upside, but he plays with far more variance than the top two. But those three are the absolute no-brainers to place over Prescott.
Justin Herbert is a freaky passer who, not unlike Prescott, has somewhat underachieved through little fault of his own (poor OL, slow WRs, bad OC). He probably deserves the nod over Prescott, particularly when we discuss the contractual differences between the two.
Lawrence showed in the back half of the season why he was considered one of the best QB prospects since Andrew Luck. But he needs to stack his performance with an even better one in 2023, considering the team added Calvin Ridley on the outside.
Lamar Jackson was the league's youngest MVP, but his ability to remain healthy in recent years and the Ravens' inability to surround him with a serviceable passing attack has let him down. Adding Odell Beckham Jr. and Todd Monken to the mix could once again sour him toward the top.
Jared Goff was efficient for the Lions, but he's one of the easiest to disregard when comparing him to Prescott. They're two of a dying breed, which is the pocket passer. Prescott is better pre- and post-snap, is more accurate, is better against pressure, and is more of an athletic weapon than Goff. Situation matters, and if that Lions OL deteriorates, we're just as likely to see late-stage Rams Goff than the 2022 version.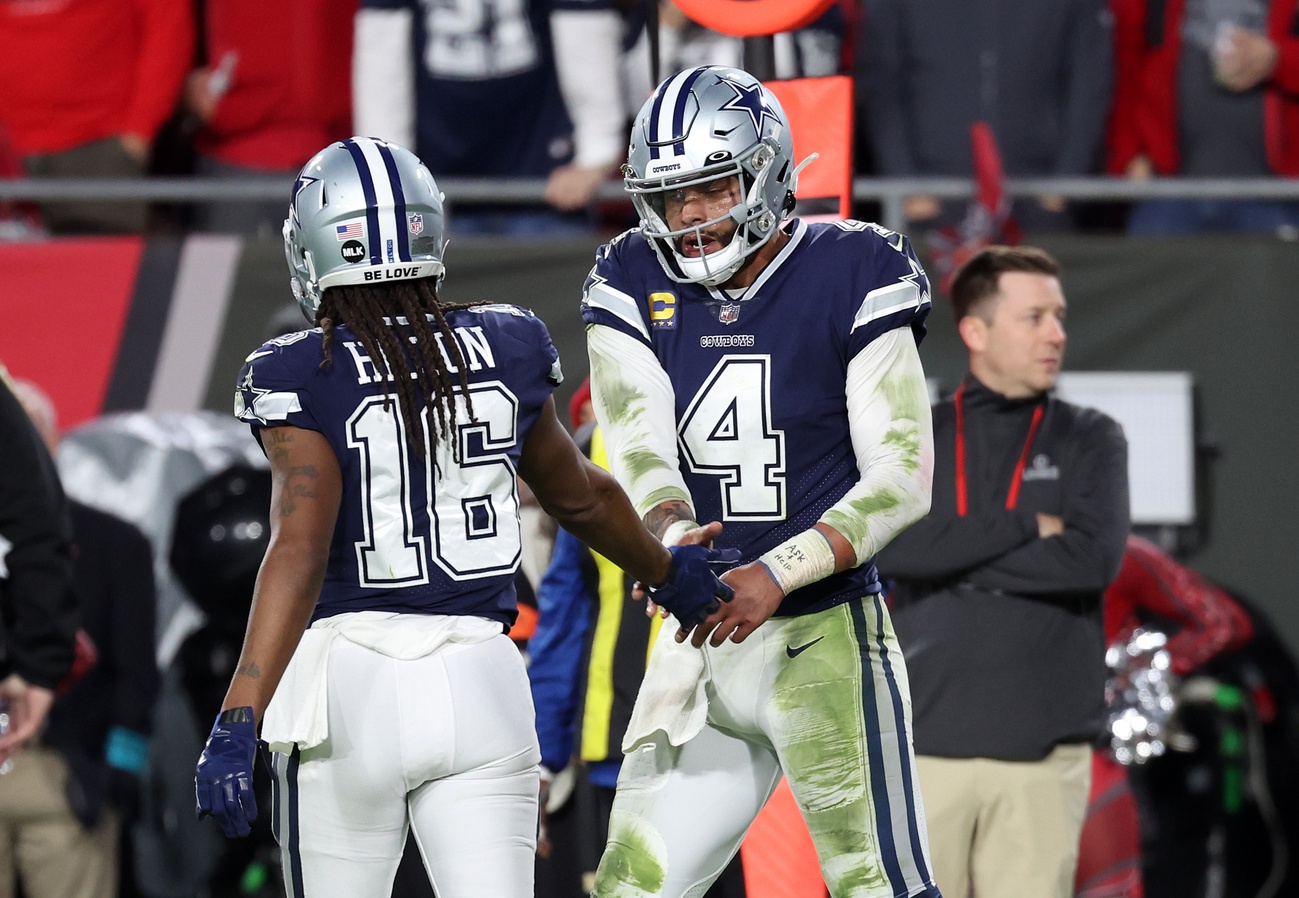 A season ago, Prescott's 52.5% success rate ranked below only Mahomes and Allen. He ranked eighth in both EPA and the EPA+CPOE composite. Mind you, this was in what many claim was arguably his worst season.
On third and fourth down, only Mahomes, Allen, and Jalen Hurts had higher success rates. On 3rd-and-6 or more, only Tagovailoa (47.2%) and Mahomes (46.7%) had higher success rates than Prescott (44.3%).
In fact, Prescott's success rate from 2020-2022 ranks fourth, above Aaron Rodgers, who won two MVPs in that time. Only Mahomes, Allen, and Ryan Tannehill (who misses Arthur Smith dearly) have better marks over that time.
Prescott is a quarterback guy's favorite quarterback. But because of the team he plays for, many want to claim he's just Kirk Cousins with better marketing. He's not.
Is Dak Prescott the Best QB in the NFC?
It's well known that there's a great disparity between the QB play in the NFC and AFC. It's as lopsided as it's ever been.
There's a chance that depending on how one goes about ranking the NFL quarterbacks and what one values in a QB, no NFC passer ranks inside of the top five. There's even a chance that only two fall into the top 10.
If you're resistant to change or someone who needs a lot of evidence before being swayed into a decision, Prescott is likely that person's pick for being the best QB in the NFC.
But what Hurts did in 2022 was no fluke. Is his supporting cast arguably the best in the league? Yes. Did he have an unbelievably talented offensive coordinator that put him into positions to maximize his ability? Yes.
But has Hurts improved in some meaningful way every… single… season… since he first stepped foot on the field for the Crimson Tide? YES!
Additionally, the league is changing. The mobile quarterback revolution is upon us, and that's only going to become clearer as time moves on and more defensive coaches begin losing their hair in clumps.
Is Hurts a better pure passer than Prescott? He most certainly is not. But Hurts' rushing ability is the reason why folks continuously discount just how much better he has become as a passer since his Alabama days. Heck, he took a massive step forward in 2022, particularly with his ability to attack the intermediate middle of the field.
The threat of Hurts' legs isn't just a bonus for him as a runner but for the Eagles' entire rushing attack. His legs add a gap that the defense must defend, and NFL teams are already trying to defend the run with as few bodies as physically possible.
Pair the Hurts' ascension with a subpar year from Prescott, and it's hard to argue for the Cowboys' QB over the one playing for the Eagles. But the guy with a star on his helmet is better than you're willing to admit.
Reacting to Jon Ledyard's Rankings
In a guest appearance for Pro Football Network's YouTube channel, Jon Ledyard ranked the top 12 QBs in the NFL.
12. Kirk Cousins
11. Matthew Stafford
10. Aaron Rodgers
9. Tua Tagovailoa
8. Trevor Lawrence
7. Lamar Jackson
6. Dak Prescott
5. Jalen Hurts
4. Justin Herbert
3. Josh Allen
2. Joe Burrow
1. Patrick Mahomes
Remember, folks, if a list has anyone but Mahomes at the top, disregard the list entirely.
It's difficult to pick apart the list too much here. There are minor details and personal biases that could move any non-Mahomes player on the list up or down spots here and there.
Geno Smith's 2022 campaign makes him deserving of recognition, but that's a very small sample size compared to Cousins (who is like Prescott in the sense that he's a bit underrated relative to the vitriol he receives), Stafford, and Rodgers.
However, sixth is right in the sweet spot for Prescott. He likely couldn't climb much higher, given his physical ceiling is lower than most of the list. However, when we look at "quarterbacking" in the old-school sense, it doesn't get any sweeter than watching Prescott deal. When he's in rhythm and his teammates are working for him, he can deliver sublime passing performances.
And the always entertaining Jerry Jones believes Prescott can be Brady-like.
"I don't want to dare do this to Dak or me or anybody, but I think just as (Tom) Brady became, in my mind, better and better and more impactful on how [his team] won as he got into his career, I think Dak really has those qualities. I think he can get better."
But the pressure is on. Prescott's looking for another significant contract extension, he is one of the two best quarterbacks in the NFC, and his offense has improved from a season ago. Prescott must produce some playoff success in 2023, or he risks losing favor even with his more staunch supporters.