After toiling away in mediocrity throughout the Andy Dalton years, Joe Burrow's ascent has turned the Cincinnati Bengals into perennial championship contenders. The Bengals have won the AFC North for two straight years and are favored to do it again in 2023. What kind of schedule will they face to get to that point?
Cincinnati Bengals Schedule and Opponents
Full 17-game schedules are available to view for all 32 NFL teams. Here is the Bengals' 2023 NFL regular-season schedule.
Preseason Week 1: vs. Packers
Bengals Preseason TV Network | 7 p.m. ET (Friday, Aug. 11)
Preseason Week 2: at Falcons
Bengals Preseason TV Network | 7:30 p.m. ET (Friday, Aug. 18)
Preseason Week 3: at Commanders
Bengals Preseason TV Network | 1 p.m. ET (Sunday, Aug. 26)
Week 1: at Browns
CBS | 1 p.m. ET (Sunday, Sept. 10)
Week 2: vs. Ravens
CBS | 1 p.m. ET (Sunday, Sept. 17)
Week 3: vs. Rams (MNF)
ESPN | 8:15 p.m. ET (Monday, Sept. 25)
Week 4: at Titans
FOX | 1 p.m. ET (Sunday, Oct. 1)
Week 5: at Cardinals
FOX | 4:05 p.m. ET (Sunday, Oct. 8)
Week 6: vs. Seahawks
CBS | 1 p.m. ET (Sunday, Oct. 15)
Week 7: BYE
Week 8: at 49ers
CBS | 4:25 p.m. ET (Sunday, Oct. 29)
Week 9: vs. Bills (SNF)
NBC | 8:20 p.m. ET (Sunday, Nov. 5)
Week 10: vs. Texans
CBS | 1 p.m. ET (Sunday, Nov. 12)
Week 11: at Ravens (TNF)
Prime Video | 8:15 p.m. ET (Thursday, Nov. 16)
Week 12: vs. Steelers
CBS | 1 p.m. ET (Sunday, Nov. 26)
Week 13: at Jaguars (MNF)
ESPN | 8:15 p.m. ET (Monday, Dec. 4)
Week 14: vs. Colts
CBS | 1 p.m. ET (Sunday, Dec. 10)
Week 15: vs. Vikings
TBD
Week 16: at Steelers
NBC | 4:30 p.m. ET (Saturday, Dec. 23)
Week 17: at Chiefs
CBS | 4:25 p.m. ET (Sunday, Dec. 31)
Week 18: vs. Browns
TBD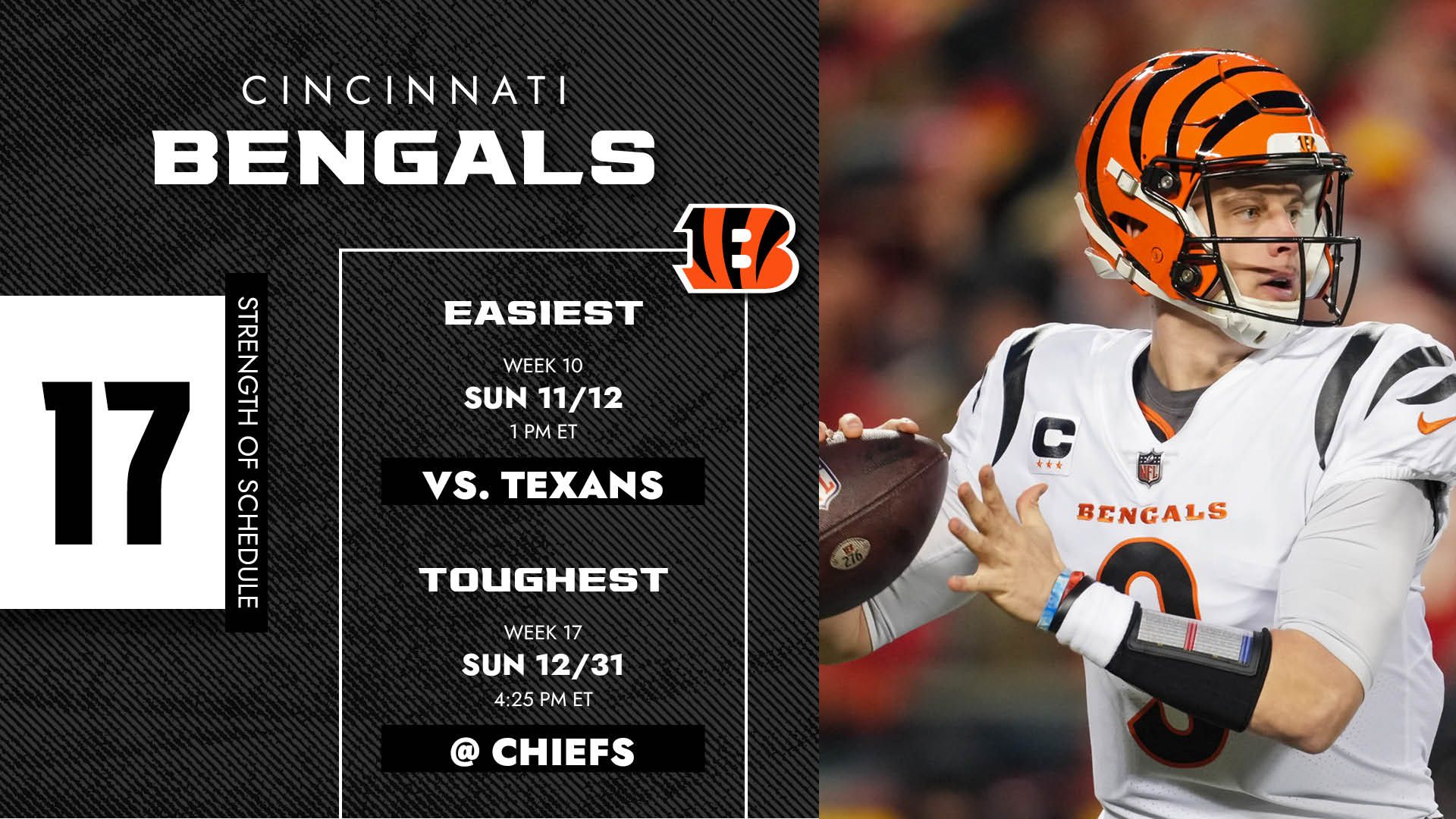 Cincinnati Bengals Strength of Schedule
According to Pro Football Network's Arif Hasan, the Bengals have the 17th-hardest strength of schedule. Referencing their schedule Hasan noted, "The Eagles, Jaguars, and Bengals have the hardest strengths of schedule inside their own division despite being the strongest teams in their division."
MORE: Free NFL Mock Draft Simulator With Trades
Pro Football Network's strength of schedule model "has done a better job of backcasting previous seasons than pure win total or point differential and is on par with models like DVOA.
"Nevertheless, so much uncertainty has to be baked into the model that no team is estimated to get below 5.5 wins or above 11.8 wins, even though that happens for multiple teams every season. This is a reason that every strength of schedule projection is inaccurate."
With the Bengals winning the division last year, it's not surprising that they have the toughest schedule in the AFC North. But, with interconference rivals Buffalo and Kansas City each having a tougher schedule than them, according to PFN's model, the Bengals will hope to play for the AFC's No. 1 seed late in the season.
Cincinnati Bengals Record Prediction
Coinciding with Burrow's 2021 breakout, the Bengals have won their division and at least 10 games in each of the past two seasons. It's been a welcome sight for Bengals fans after five consecutive years under .500. Even in a loaded AFC, Cincinnati should reach double-digit wins and return to the playoffs again this season.
As we know all too well, anything can happen in the NFL. That's why they play the games. With that said, the Bengals have four games on their schedule that look like guaranteed wins. Since they are good enough to beat anyone, there are no guaranteed losses. The rest of their games could reasonably go either way.
MORE: FREE NFL Mock Draft Simulator (With Trades)
The NFC West is one of the more challenging divisions to face. But the AFC South is one of the weakest divisions in football.
The Bengals' current Vegas win total is set at 11.5, with the under slightly juiced. It would be stunning if the Bengals didn't reach at least 10 wins. That should be considered their floor.
Adding Orlando Brown Jr. at left tackle should help the Bengals keep Burrow upright in the pocket. And elsewhere, rookie additions like Myles Murphy, DJ Turner, Jordan Battle, Chase Brown, and Charlie Jones could all make a tangible impact.
With one of the best offenses in football, the ceiling for the Bengals is 13-14 wins. They are more than capable of putting together a truly superb season like that. But given the nature of the NFL, teams are bound to lose a couple of games they shouldn't. Given their schedule, it's reasonable to expect the Bengals to win 11-12 games this season.
Projected Record: 11-6