No matter what metric you look at, the Chicago Bears' defense was one of — if not the — worst units in the NFL in 2022. First-year head coach Matt Eberflus has a defensive background, but his club simply didn't have the horses last season.
Chicago's struggles started up front, where the defensive line had issues generating pressure or containing opposing running backs. The Bears added several pieces to their front over the offseason, but how much can their DL depth chart improve in 2023?
Chicago Bears DL Depth Chart
Chicago's defensive line is better than it was last season, but the 2022 version of the Bears' front set an incredibly low bar. Eberflus' unit ranked dead last in sacks (20) and quarterback knockdown rate (4.2%) and finished 31st in pressure rate (15.9%). While Chicago's defensive line was slightly better against the run, it still ranked 26th in Football Outsiders' adjusted line yards.
The Bears are turning over a new leaf at defensive tackle, where Justin Jones is the only 2022 contributor expected to play a significant role next season. Jones will line up as Chicago's starting 3-technique, while free agent addition Andrew Billings will play nose tackle.
Jones and Billings are NFL-caliber players, but they'd ideally be rotational assets instead of clear-cut starters on a better defensive line. As such, rookie defensive tackles Gervon Dexter and Zacch Pickens should be expected to see regular snaps during their first NFL campaigns.
Both Dexter (pick No. 53) and Pickens (No. 64) might have been overdrafted, as each player was chosen at least 20 spots higher than his ranking on Pro Football Network's Industry Consensus Board.
MORE: Who Are the Bears' Breakout Candidates in 2023?
But the Bears were clearly enticed by Dexter and Pickens' athletic profiles, as both tackles posted at least 92nd percentile testing figures at the Combine, according to Kent Lee Platte's Relative Athletic Score database.
"We're looking for guys who are big, long, and can run and are interchangeable, nose, three-technique," Bears general manager Ryan Poles said after the draft. "You get kind of chipped up through the season, so you want guys that can fit in different spots. Both of these guys have the ability to do that, so it allows us to be versatile and deep the entire season."
Dexter and Pickens weren't overly productive in college. Neither player managed more than eight sacks during their college career, but Chicago is betting on upside. Poles pointed to a potential comparison from his days working in the Chiefs' scouting department.
"You know what's interesting? One of the first projects I had way back in the day was for Dontari Poe," Poles said. "I think he had two sacks, and we were contemplating taking him at (pick) nine or 10. And just did a study and watched all the plays, really trying to see how did he affect the game, punching the pocket, eating up two blocks while other guys can run free.
"Like I say, there's a level of multiplier where they can help other people as well, free other individuals up to make plays. Those guys have those pieces. And then the other thing is just coming up through the ranks, grade the flashes. Grade the flashes."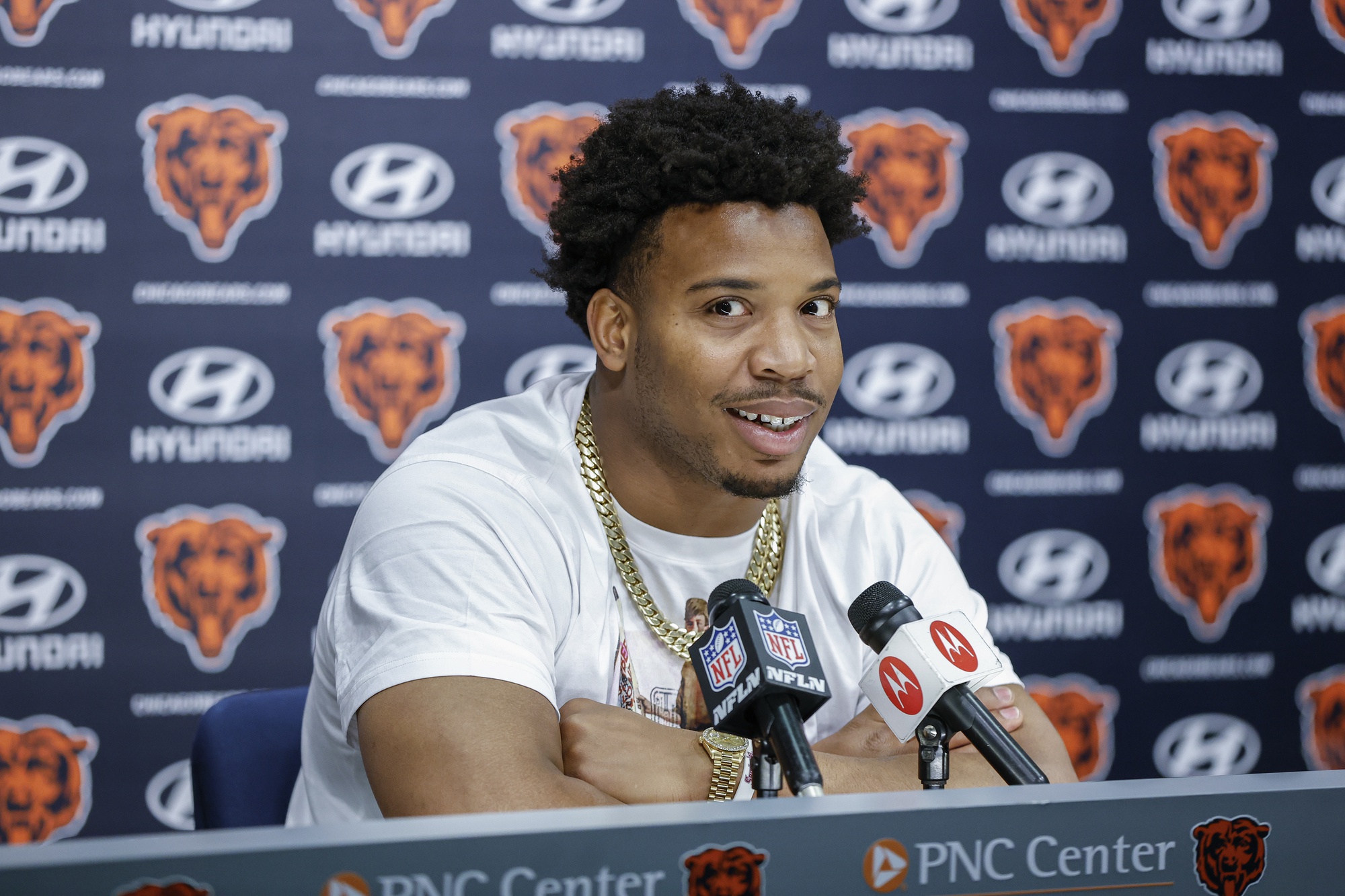 The Bears Still Need Help at Defensive End
While the Bears used mid-round selections to fortify the interior of their defensive line, they made no such draft additions on the edge. Chicago made several modest defensive end signings in free agency, but their EDGE group still profiles as one of the worst units in the league.
DeMarcus Walker is the most interesting and accomplished name among the Bears' defensive end options. A second-round pick by the Broncos in the 2017 draft, Walker hasn't developed into a star over six NFL seasons. But he's coming off a career-high seven sacks and offers Chicago the ability to play both inside and out.
MORE: Chicago Bears 2023 Schedule
The Bears also added former Texans defensive end Rasheem Green on a one-year deal, but he's unlikely to usurp holdover Trevis Gipson for a starting role. Gipson showed promise with seven sacks in 2021 but posted just an 8.9% pass-rush win rate last season, 50th among the 66 edge rushers with at least 300 pass-rushing snaps, per PFF.
Given the lack of positional competition on Chicago's roster, 2022 fifth-rounder Dominique Robinson will have a chance to see the field even more than he did in his rookie season when he played 550 snaps. Robinson was dominant in his first NFL game, posting 1.5 sacks against the 49ers, but he was quiet for the rest of the year.
It's unlikely that the Bears will enter next season without adding another veteran defensive end. Chicago has no impact players on the edge and will need to find a contributor capable of generating consistent pressure.
"We're interested in a lot of free agents, we're interested in a lot of guys at all positions right now," Eberflus said in May. "We're just excited about being able to look at those guys and potentially add as we go through camp and get closer to the season."
Former Bear Leonard Floyd and fellow free agent Frank Clark both came off the board this week, but plenty of edge rushers are still available on the open market. While Jadeveon Clowney and Yannick Ngakoue remain options, the best fit might be Justin Houston, who played under Eberflus with the Colts.