The Chicago Bears finished with the NFL's worst record last season, but improvement could be on the way following an active offseason. As the Bears approach their 2023 schedule, the pressure is on Justin Fields, head coach Matt Eberflus, and the rest of the roster to show development. Can Chicago factor into next season's playoff race, or are they destined for another high draft pick?
Chicago Bears Schedule
Here is the Bears' complete preseason and regular-season schedule for 2023.
Bears Preseason Schedule
Week 1: at Patriots
FOX 32 | 1 p.m. ET (Saturday, Aug. 12)
Week 2: vs. Buccaneers
FOX 32 | 7 p.m. ET (Saturday, Aug. 19)
Week 3: at Giants
FOX 32 | 1 p.m. ET (Saturday, Aug. 26)
Bears Regular-Season Schedule
Week 1: vs. Packers
FOX | 4:25 p.m. ET (Sunday, Sept. 10)
Week 2: at Buccaneers
FOX | 1 p.m. ET (Sunday, Sept. 17)
Week 3: at Chiefs
FOX | 4:25 p.m. ET (Sunday, Sept. 24)
Week 4: vs. Broncos
CBS | 1 p.m. ET (Sunday, Oct. 1)
Week 5: at Commanders (TNF)
Amazon Prime | 8:15 p.m. ET (Thursday, Oct. 5)
Week 6: vs. Vikings
FOX | 1 p.m. ET (Sunday, Oct. 15)
Week 7: vs. Raiders
FOX | 1 p.m. ET (Sunday, Oct. 22)
Week 8: at Chargers (SNF)
NBC | 8:20 p.m. ET (Sunday, Oct. 29)
Week 9: at Saints
CBS | 1 p.m. ET (Sunday, Nov. 5)
Week 10: vs. Panthers (TNF)
Amazon Prime | 8:15 p.m. ET (Thursday, Nov. 9)
Week 11: at Lions
FOX | 1 p.m. ET (Sunday, Nov. 19)
Week 12: at Vikings (MNF)
ESPN | 8:15 p.m. ET (Monday, Nov. 27)
Week 13: BYE
Week 14: vs. Lions
FOX | 1 p.m. ET (Sunday, Dec. 10)

Week 15: at Browns
TBD
Week 16: vs. Cardinals
FOX | 4:25 p.m. ET (Sunday, Dec. 24)
Week 17: vs. Falcons
CBS | 1 p.m. ET (Sunday, Dec. 31)
Week 18: at Packers
TBD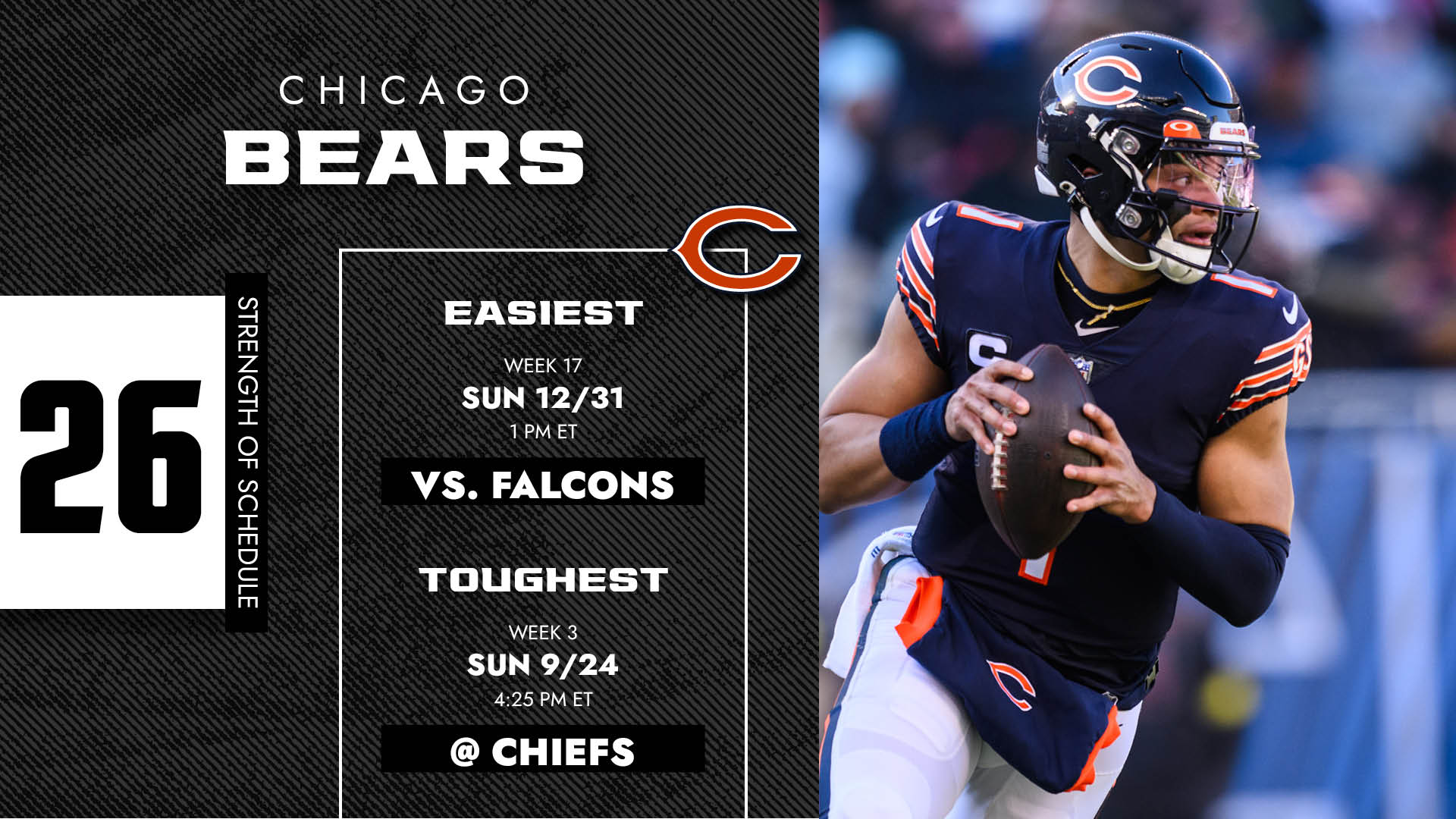 Chicago Bears Strength of Schedule
Based on 2023 win-total projections, the Bears project to have the ninth-easiest NFL schedule next season. Pro Football Network's SOS model, which estimates team strength and factors in more than just win totals, mostly agrees, pegging Chicago's 2023 schedule as the seventh-least-challenging in the league.
MORE: Best NFL Offenses | Best NFL Defenses 
The Bears will benefit from playing the entire NFC South, which projects as one of the weakest divisions in football. However, they're also scheduled to play tough teams like the Chiefs, Chargers, Browns, and Lions on the road.
Chicago Bears Record Prediction
The Bears could have theoretically selected a quarterback with the No. 1 overall pick and moved on from Justin Fields this offseason. But after deciding to commit to the former first-round pick and trade the top selection to the Panthers, Chicago went all-in on bolstering the roster around Fields.
Having already acquired Chase Claypool from the Steelers at the 2022 trade deadline, the Bears picked up another pass catcher — DJ Moore — in the trade involving the No. 1 pick. Chicago also fortified its offensive line by signing free agent Nate Davis and using its first-round choice on right tackle Darnell Wright.
MORE: Analyzing the Chicago Bears' Best and Worst-Case Scenarios
Fields will now play with the best combination of receiving and offensive line talent he's ever had during his Bears career, and 2023 projects as a make-or-break campaign for the former Ohio State star. If Fields fails, Chicago has the draft capital to target another signal-caller in 2024.
While Fields must show development, the Bears' defense — which ranked dead last in scoring and efficiency last season — has to step up following numerous offseason additions.
Day 2 draft picks line defensive lineman Gervon Dexter and Zacch Pickens and cornerback Tyrique Stevenson should supplement the front and back ends of Chicago's defense, while new linebackers Tremaine Edmunds and TJ Edwards will hold down the middle of the field.
Chicago's schedule will feature a few tough opponents, as the Lions, Chiefs, and Chargers all have win projections of more than nine games. Contests against the Cardinals and Buccaneers — each of whom have win totals below six — won't be as difficult, but the NFC North won't be an easy division.
The Bears have made enough additions that another three-win season appears unlikely. However, the club's final record will likely be determined by Fields' growth under center. If he and Moore can form a relationship early on in the season, and Chicago's defense improves to league-average, they should show progression.
Record Prediction: 7-10