Week 3 of the college football season looks like a great slate. The Pac-12 conference is far from the headlining games this week, but several prospects throughout the Pac-12 have an opportunity to rise the 2024 NFL Draft boards.
We're highlighting seven players in this CFB Week 3 Pac-12 preview. Each player is already on the PFN Scouting Team's radar and has room to improve their outlook.
Pac-12 Players To Watch in Week 3
DJ Uiagalelei, QB, Oregon State
There's no question that Uiagalelei had our attention starting in Week 1. It's hard to forget when he filled in for Trevor Lawrence as a freshman and starred in his four-game stint. Since then, Uiagalelei has been unable to re-capture the magic he had shown way back then.
A power thrower with a big, strong frame that is surprisingly athletic enough to scare defenders as he barrels toward them, Uiagalelei seems to of been built for Oregon State's offense. While we're seeing Clemson struggle each week on offense, even without Uiagalelei, he has more playmaking around him now than he did previously.
Uiagalelei completes 73.7% of his passes through two games, with a career-high 9.1 yards per average completion and five touchdowns. His longest pass of the season is only 32 yards, so his consistency is again winning just like it did back in 2020. Whether Uiagalelei can continue that success that the competition ramps up in Week 3 remains to be seen.
MORE: Pac-12 QB Rankings 2023
But he's been playing looser, and his mechanics look improved, and that's a combination that should lead Uiagalelei to be drafted in 2024. He's a unique prospect because of his style and physical limitations as a long-limbed player who will likely never be the most efficient passer due to his physical build.
If he can maintain a similar pace to what he's established in the first two weeks of Oregon State's season, it will be hard to refute that Uiagalelei is talented enough to be a backup at the next level.
Ja'Lynn Polk, WR, Washington
Everyone knew about the two star receivers the Washington Huskies boasted entering the season. Rome Odunze and Jalen McMillan are two players who we have projected to be taken by the end of Day 2 in the 2024 NFL Draft. But the Huskies may not be down there.
Wide receiver Polk has been another star of the offense so far this season. Set to take on Michigan State on Saturday afternoon, Polk is in a position to continue building on his draft résumé. The 6'2″, 204-pounder is averaging almost 23 yards a catch and has two touchdowns on the season.
He enjoyed a decent season in 2022, catching 41 passes for 694 yards and six touchdowns. He's an explosive downfield receiver with good length and a long stride. Quarterback Michael Penix Jr. hasn't quite shown the same favoritism toward Polk as he has his other two receivers, but that might be changing as Polk is coming into his own.
With more explosiveness and better size than McMillan, I don't think it's out of the realm of possibilities that Polk is the better prospect for the next level. Of course, the two play different roles, with Polk being a lower volume threat and being someone who's going to stretch the field vertically as opposed to a slot receiver, but Polk has the tougher skill set to find and replace.
Michigan State may not offer the toughest defense for Polk to show out against, but Polk is on a noteworthy pace and could revamp how we view the Day 2 receiving class.
Xavier Weaver, WR, Colorado
Another wide receiver we will watch on Saturday is Colorado senior Weaver. The 6'1″, 180-pounder has been fantastic through two games. We know Travis Hunter and Shedeur Sanders as rising talents in their own right; Weaver has been consistently stellar thus far.
He's caught at least six passes for 118 yards in each game this season. As Hunter moves into more of a break in case of emergency playmaker on all phones, Weaver has thrived as the primary receiver for Sanders. Weaver torched Nebraska for 10 receptions for 170 yards and one touchdown.
Weaver has very good speed, but his catch radius is surprisingly good for someone without great bulk or overall length. He's fast-twitched and able to react on a whim on those rare occasions when Sanders does not deliver a relatively accurate pass.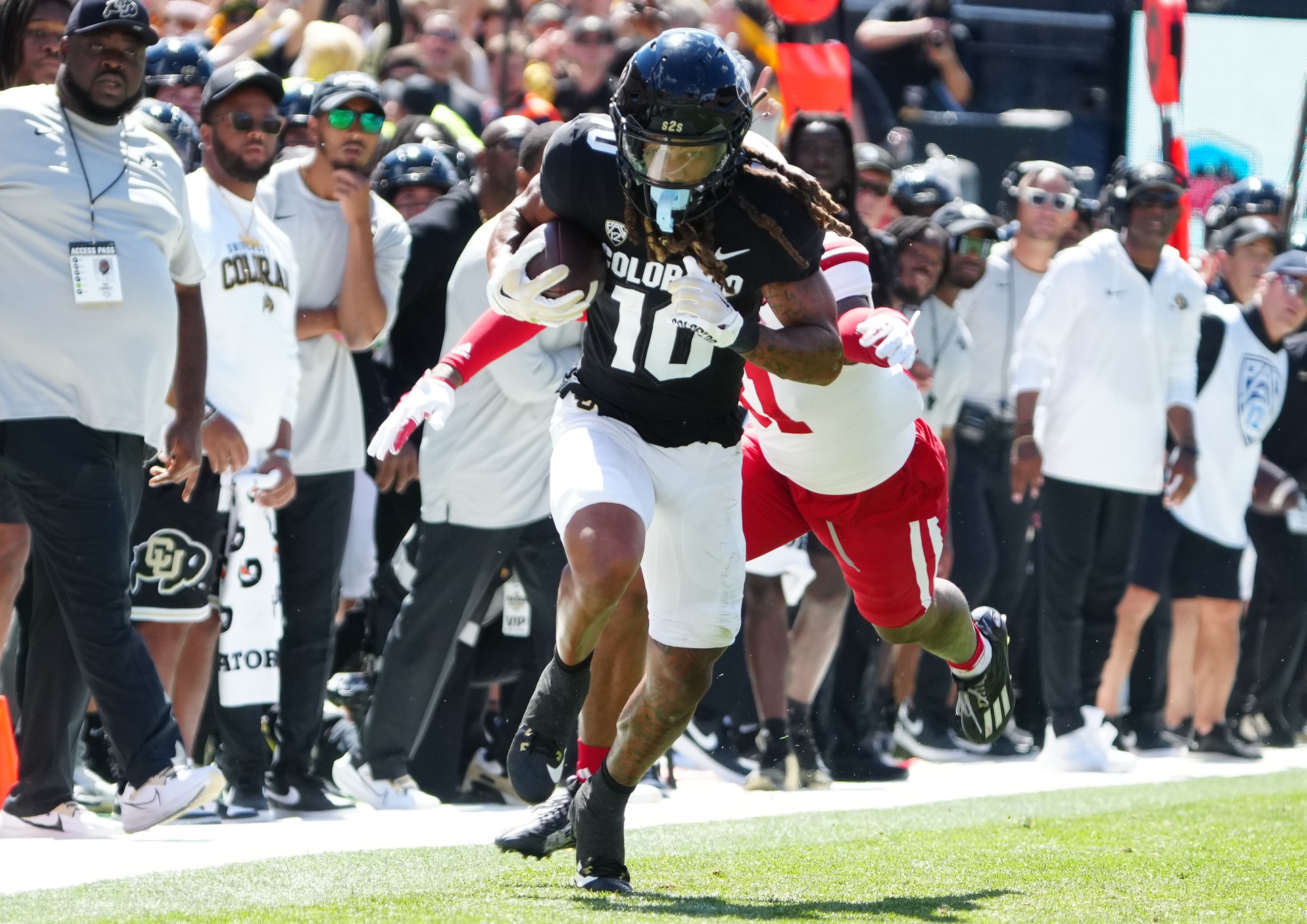 We also like that Weaver has the mobility to create after the catch, as he's shifty enough to make a defender mess and continue upfield.
Before transferring to Colorado, Weaver was a solid producer for UCF in the past two seasons. We didn't notice in an offense that had very little talent around him.
We are noticing now, though, and Weaver already has a draftable grade based on the season's first two games. Facing Colorado State this weekend, Weaver has the opportunity to continue growing his profile.
Tory Horton, WR, Colorado State
On the other side of the ball of Weaver will be Colorado State receiver Horton. Horton is one of my favorite prospects in this class as a deep-speed threat who theoretically fits any office in the NFL. He has a large catch radius at 6'2" and plays bigger than his 175-pound frame suggests.
Horton played well against Washington State two weeks ago, catching nine passes for 81 yards. He may not have the opportunity to produce as many big plays as last year due to the surrounding cast on the Rams' offense. Last year, he had five games with at least 127 receiving yards.
There's no question he's a big-play threat.
Even if that doesn't show this week against a fired-up Colorado defense, Horton will be playing on Sundays and offers a unique skill set because of his speed and competitiveness along the sideline. If he had a quarterback as talented as Sanders, Horton could lead the country in receiving yards.
All it takes is one big play for Horton to make his name known on a bigger stage, and this game will be broadcast nationally.
B.J. Green II, DL, Arizona State
We're leaving the offensive playmaker list to look at a defense prospect who can become a legitimate 2024 NFL prospect. Arizona Sun Devils welcomed several transfers this offseason as the new coaching staff brought in new faces to make them more competitive.
Green II was not one of them. He played sparingly over the last two years, totaling 20 tackles and 7.5 sacks. But now, the 6'1″, 270-pound junior is coming into a bigger role and has been unleashed more thus far.
MORE: FREE Mock Draft Simulator With Trades
As an undersized defensive lineman, green wins with speed. He's best fit as a 5-technique for 3-4 defensive fronts at the next level, as he splits blockers better than winning one-on-one because of his lack of length.
He may not be a 2024 prospect despite his promising start to the season with two sacks, but performing well throughout the season could make his decision more difficult.
Listen to the PFN Scouting Podcast
Listen to the PFN Scouting Podcast! Click the embedded player below to listen, or you can find the PFN Scouting Podcast on iTunes, Spotify, and all major podcast platforms.  Be sure to subscribe and leave us a five-star review! Rather watch instead? Check out the PFN Scouting Podcast on our Scouting YouTube channel.