The Big Ten will face big implications in Week 3 of the 2023 college football season. There's one marquee conference matchup and several other exciting non-conference battles on tap. Here are some of the top games and 2024 NFL Draft prospects to watch.
Big Ten Players To Watch in Week 3
Minnesota DBs Tyler Nubin, Justin Walley, and Tre'Von Jones
Through two weeks, the Minnesota defense is one of around only a dozen averaging less than 10 points against. The Golden Gophers have held their opponents to just 16 points total, and they've already produced five turnovers.
Minnesota's defense is a true three-level fortification. On the defensive line, Jalen Logan-Redding, Kyler Baugh, Danny Striggow, and Jah Joyner are all quality players. And if he's back healthy, Cody Lindenberg is an excellent linebacker. But the cream of the crop comes in the coverage unit — with Tyler Nubin, Justin Walley, and Tre'Von Jones.
Nubin — standing at 6'2″, 205 pounds — is a potential top-50 prospect in the 2024 NFL Draft, with an enthralling blend of coverage mobility, route recognition, closing speed, ball skills, and support proactivity.
MORE: Top 100 Prospect Watchlist
Walley is a ballhawk with a dual-sided ability to halt offensive momentum in run defense. And Jones — an Elon transfer — is the team's leading tackler, who's also proven his ability to swoop under passes in zone.
All three will be tested by North Carolina QB Drake Maye this week — a hyper-athletic signal-caller whose arm is essentially a rocket launcher on a 360-degree swivel. Beyond his raw talent, Maye can also operate from the pocket and manipulate defenders with his eyes — but he can also be prone to costly lapses in situational precision.
It'll be up to Minnesota's defensive backs to stay disciplined against Maye and capitalize on any opportunities he might give them. It could be the difference between a win and a loss.
Illinois Offense vs. Penn State Defense
We all know about the talent on Penn State's offense, but the Illinois defense vs. Penn State offense is just as enticing of a matchup in this Big Ten clash.
Illinois' offensive line fielded some consideration for the Joe Moore Award in 2022, and they returned several of their key contributors in 2023, including left tackle Julian Pearl and left guard Isaiah Adams.
Pearl is an incredibly physical, heavy-handed blocker with good technique in pass protection, while Adams is an athletic, mauling guard with tackle capabilities. No matter who lines up at tackle, they'll have to face Chop Robinson's violent hands and wicked burst, Adisa Isaac's power, or Abdul Carter's terrifying blend of tools.
Elsewhere, the Fighting Illini have Pat Bryant and Isaiah Williams at wide receiver, set to face Kalen King and Johnny Dixon in coverage. Bryant is a streamlined vertical threat at 6'3″, 200 pounds, but Dixon has the length and proactive coverage mentality to contend with him.
Williams against King is the more exciting WR-CB duel. Williams has uncanny change of direction and agility, both as a separator and as a RAC threat. But King is a twitchy, high-energy cover man who suffocates WRs looking for space — a key reason for his Round 1 hype.
Penn State Offense vs. Illinois Defense
For all the intrigue the Penn State defense carries against the Illinois offense, the Penn State offense has the highest-rated prospect in this entire matchup in offensive tackle Olu Fashanu. They also might have a 2025 QB1 candidate in Drew Allar, but let's stay in the present for now.
Fashanu and Jer'Zhan Newton are titans on the 2024 NFL Draft stage. Newton won't face Fashanu often, but as an alignment-versatile rusher at 6'2″, 290 pounds, he has the explosiveness, ankle flexion, and surgical hands to work from 5-tech.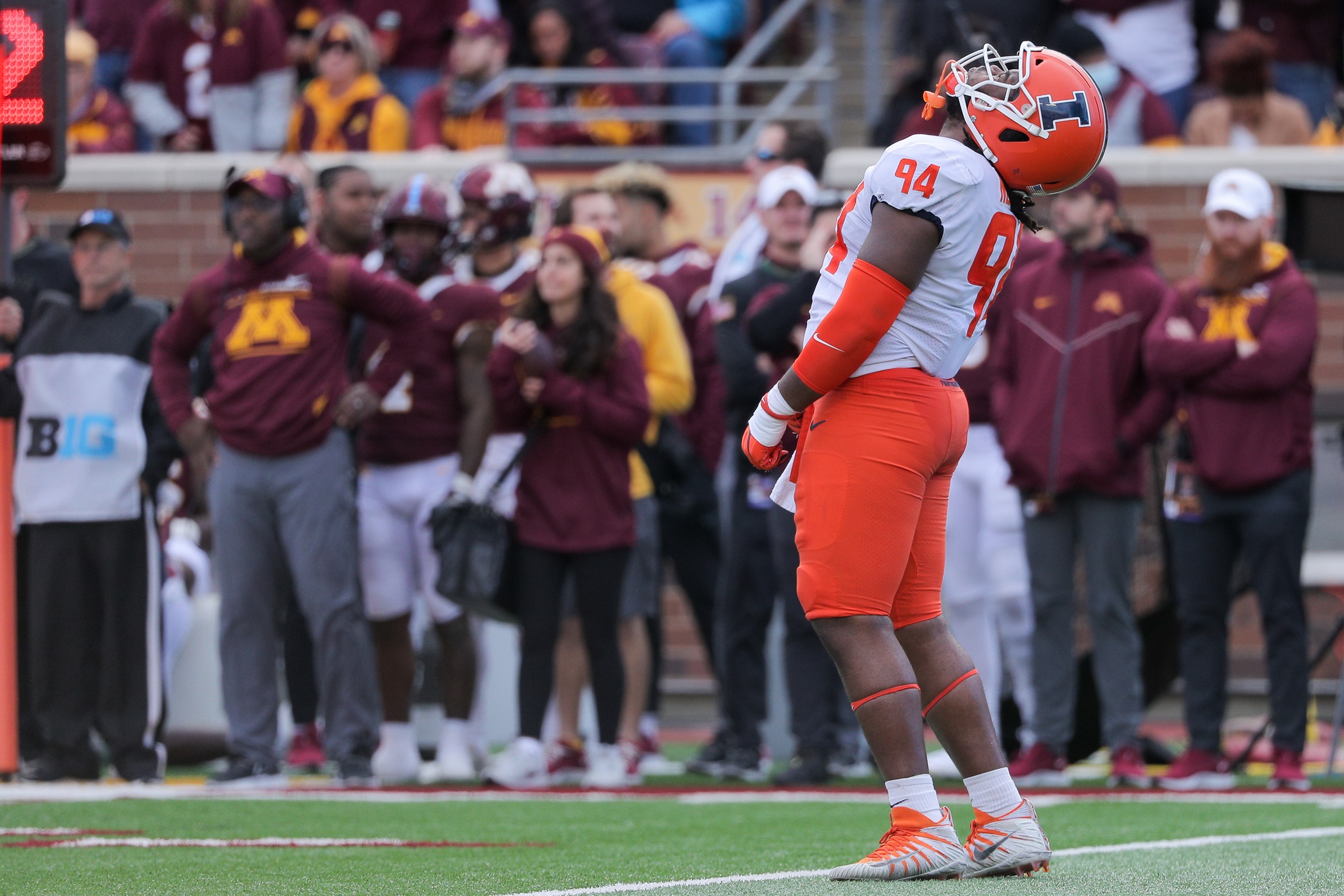 Fashanu will more often face Seth Coleman — an incredibly long and twitchy stand-up rusher — and Gabe Jacas — another 2025 prospect with absurd accelerative capacity and bend.
Beyond the trenches, there are other matchups to note. The speedy Keandre Lambert-Smith will go up against a feisty Tahveon Nicholson, whose tenacity could pose trouble at the catch point. But the heavyweight matchups on the line command the most attention here.
Ohio State CB Denzel Burke
Denzel Burke might be back to form after a down year in 2022. He's known for his breakout 2021 campaign, and he looks almost as good as he did as a true freshman through two weeks in 2023. Last week, he notched his first interception since 2021 — a high-flying grab on a contested ball, where Burke used his vertical athleticism and coordination.
Burke is a playmaker with length and physicality, but his true coverage chops will be put to the test against Western Kentucky. Malachi Corley is back from injury, and he has the hyperactive burst, speed, and RAC ability to challenge Burke in all phases. But if Burke can put the clamps on Corley with his technique and make all of his tackles in support, it could be a "stock up" opportunity.
Rutgers CB Max Melton
In the 2022 NFL Draft cycle, Rutgers produced an eventual starting NFL nickel defender in Christian Izien. Greg Schiano's defense is always worth watching, and this cycle, they have a big-time sleeper at CB in Max Melton.
MORE: FREE Mock Draft Simulator With Trades
The 6'0″, 190-pound Melton had two picks and 10 deflections in 2022, and he's off to a fast start in 2023. He plays Virginia Tech in Week 3, and the Hokies will no doubt line up Ali Jennings across from Melton. Jennings is a contested-catch savant, but Melton can limit his production with his stifling technique, awareness, and quick reaction speed.
Listen to the PFN Scouting Podcast
Listen to the PFN Scouting Podcast! Click the embedded player below to listen, or you can find the PFN Scouting Podcast on iTunes, Spotify, and all major podcast platforms.  Be sure to subscribe and leave us a five-star review! Rather watch instead? Check out the PFN Scouting Podcast on our Scouting YouTube channel.