One of the largest differences between real NFL and fantasy football that I've noticed over the years is that a real NFL team's second option can often become a fantasy football team's primary option. Players like Chris Godwin, Jarvis Landry, and Cooper Kupp come to mind. These players all outscored their teammate who sat higher on the NFL depth chart in terms of fantasy production. Today, I'm going to look deeper at a couple of NFL rosters and see who might be dynasty wide receiver sleepers for 2020.
Dynasty Wide Receiver Sleepers for 2020: Can these NFL WR2s become dynasty WR1s?
I went to Twitter this week to ask my followers which WR2 they would be interested in learning more about. The results were a little surprising to me:
Which team's WR2 of these three would you like a deeper dive on? @PFNDynasty

— 𝔸𝕟𝕕𝕣𝕖𝕨 ℍ𝕒𝕝𝕝 𝔽𝔽 (@AndrewHallFF) June 24, 2020
Cooper Kupp – The ideal WR1 blueprint
To me, everyone should already know all there is to know about Cooper Kupp so I was shocked that he won the poll. He's essentially the ideal candidate for a team's WR2 that is a fantasy WR1. He's so good that there's a very reasonable debate about whether he's actually the team's WR1. He finished 2019 as fantasy's WR4 in both PPR and standard leagues, largely due to his ten touchdowns, which was the second-highest for a receiver in the entire league.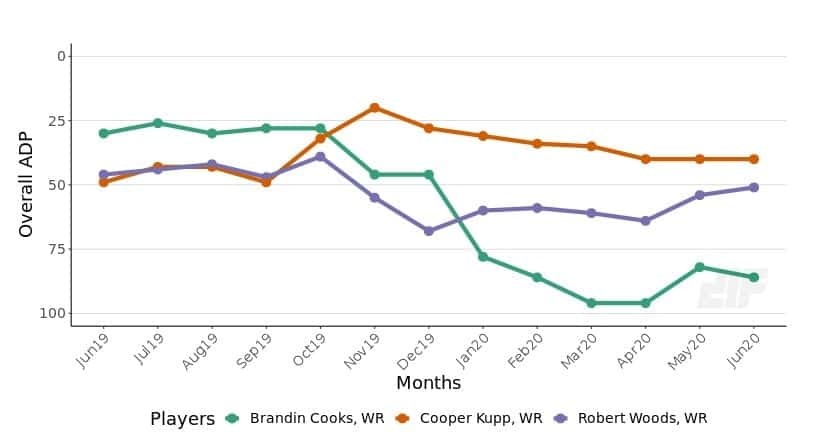 Last season, the Los Angeles Rams were stacked at WR, with Brandin Cooks, Robert Woods, and Cooper Kupp all going in the top 50 of dynasty startups per DLF. Most sites listed the receivers in that order on their Rams depth charts as well, with Kupp as primarily a slot receiver.
Thanks in large part to his ability to get separation on the inside, and Cooks' health issues keeping him off the field, Kupp ended up being the best pick of the three in terms of fantasy. As the season came to an end, he was clearly the favorite in dynasty ADP, going in the second round on average. He was truly coming into his own.
Related | Rams Fantasy Running Back Battle: Cam Akers vs. Darrell Henderson
After the season, when the Rams were rumored to be shopping Cooks, Pro Football Network's Oliver Hodgkinson noticed that "both Kupp and Woods were in the top 10 wide receivers by overall OSM for 2019. Kupp received a near-elite overall grade of 38.41 (WR3) and Woods wasn't far behind with an overall grade of 36.39 (WR9)." It was clear that the Rams didn't need Cooks so they traded him to the Houston Texans, effectively telling us that they were fine leaning on Kupp and Woods for 2020.
So who are the next receivers that can do something like this?
Michael Gallup – The "Chosen One"…until recently
A stud WR2 on his team's depth chart with WR1 aspirations in fantasy football last season? Michael Gallup. Gallup saw a whopping 112 targets on the high powered Dallas Cowboys offense last year, but he only came down with 59% of those passes. He did get six touchdowns which helped him finish as WR20 in standard scoring and WR22 in PPR, solid WR2 range for most fantasy leagues.
It sure looked like Gallup was going to be a dynasty wide receiver sleeper in 2020 if he could increase his catch percentage enough. But then came the NFL draft, where the Cowboys selected WR CeeDee Lamb 17th overall as the third WR taken in the draft, and Gallup owners everywhere hung their heads in sadness.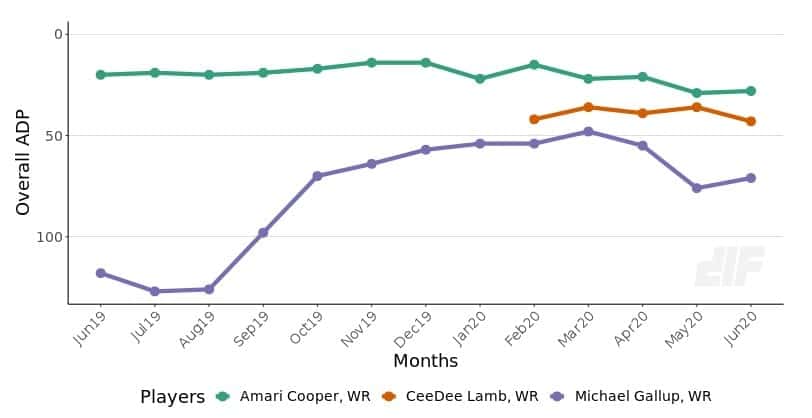 The DLF ADP shows exactly what I mean. Gallup was a rising asset throughout 2019 and even into the first part of 2020. As soon as the NFL draft happened it's like the bottom fell out on him. But why?
Wide receivers rarely come into the league and dominate right away, so Lamb wasn't really going to be that much of a threat to Gallup, at least not for a while. And Gallup showed last year that he has the talent to play at the NFL level.
Related | NFL Betting: Dallas Cowboys 2020 NFL season prop bets
It's entirely possible that Amari Cooper goes back to his inconsistent ways, and Gallup quietly becomes the WR1 for this team as Lamb gets up to speed. QB Dak Prescott just signed his franchise tender so you know he's going to be playing for a big contract, and it's hard to imagine him having a great year without Gallup also having one.
To me, Gallup is still a great wide receiver sleeper for 2020, even if the team did add another pass catcher for him to compete with. In terms of value, Gallup's drop is a good thing for savvy fantasy football players. Pro Football Network's James Aguirre recently did a really detailed write up on the Cowboys receivers, and he came away saying that "Gallup is a far better buy at his ADP than Cooper is." I 100% agree.
Allen Lazard – The Longshot with a Chance
The third option in my poll was Green Bay Packers wide receiver Allen Lazard, largely because Green Bay is something of an enigma this year. Head Coach Matt LaFleur did the best he could last season with a patchwork quilt at the receiver position behind perennial stud Davante Adams.
Here is a list of Packers players who received more than 50 targets last season: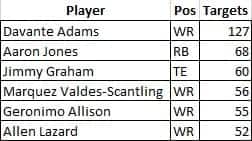 Other than Adams, the Packers threw the ball to Aaron Jones out of the backfield a fair amount, but there really wasn't a clearcut second option on this offense. Jimmy Graham left for the Chicago Bears, Geronimo Allison left for the Detroit Lions, and Marquez Valdes-Scantling might not even make the team this year. Lazard is the only one left.
In the offseason, everyone expected the Packers to add some WR depth through the draft. Instead, they signed journeyman free agent Devin Funchess to a one-year contract and drafted QB Jordan Love, RB AJ Dillon, and TE Josiah Deguara with their first three picks. To me, this signifies that LaFleur is perfectly fine rolling with who he's got at WR, which means Lazard is the longshot sleeper we all need to keep an eye on heading into 2020.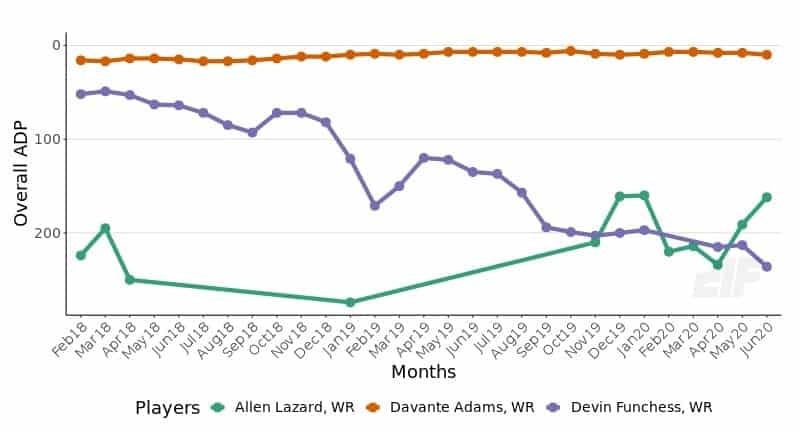 In startup leagues, Adams is consistently taken in the first round but Lazard has seen his value change wildly in the last two years or so. Adding Funchess to the mix did seem to have an impact on Lazard's value, but them passing on more WR help in the draft seemed to boost it right back up.
Related | Green Bay Packers 2020 Win Total: How hard will regression hit?
Looking at what the market is doing combined with what the team is telling us in their actions, it's clear to me that Lazard is being undervalued. This offseason, Pro Football Network's Andrew Jordan said in his review of the Packers receiving corps that he didn't see a dynasty future for Lazard, "but if you want to acquire him, it should not cost more than a late third-round pick."
This is the key takeaway: Lazard is being widely ignored by the fantasy community in general. However, you could argue that he has the clearest path to WR2 volume on a great offense, easily putting him in consideration for fantasy WR1 production as soon as this season. If you can get him for a later future pick then you should definitely do it, he's easily one of the best dynasty wide receiver sleepers in 2020.
---
Continue to visit the Pro Football Network for NFL news and in-depth analysis like the #PFNOSM data and be sure to keep coming back to our Dynasty Fantasy Football section for more fantasy football coverage.
Andrew Hall is a writer for PFN covering the NFL and Fantasy Football. You can follow him on Twitter: @AndrewHallFF.
Listen to the PFN Fantasy Podcast
Listen to the PFN Fantasy Podcast! Click the embedded player below to listen, or you can find the PFN Fantasy Podcast on iTunes, Spotify, and all major podcast platforms.  Be sure to subscribe and leave us a five-star review! Rather watch instead? Check out the PFN Fantasy Podcast on our Fantasy YouTube channel.