As a rookie, New York Jets WR Garrett Wilson showed all the signs of a future stud in both the NFL and fantasy football. There's little doubt in my mind Wilson will be a WR1 in fantasy for the better part of the next decade. But can he be the best wide receiver in fantasy football as early as this season? What are the chances Wilson finishes as the overall WR1 in 2023?
Did you get a trade offer in your dynasty or redraft league? Not sure what to do? Make championship-winning decisions with PFN's FREE Fantasy Football Trade Analyzer and Calculator!
Garrett Wilson's Rookie Season Suggests Future Success
Once upon a time, fantasy football was a much simpler game. Players would largely settle into ADPs relative to how they did the previous season, with some natural progression baked in. Managers could find breakouts by correctly pinpointing guys poised to take big leaps forward.
In the modern era, the collective fantasy mind is so much smarter and savvier than it was years ago. When players put together seasons at a young age that suggest better future performance, the consensus knows this. As a result, if you want that breakout player, you have to pay for it in advance.
Every year of his career, CeeDee Lamb's ADP has been higher than he's ever finished. Depending on your ADP source, that includes this year as well.
Similarly, Wilson is facing the same phenomenon. As a rookie, there's no denying Wilson had a fantastic year. He caught 83 passes for 1,103 yards and four touchdowns. For a first-year player, that's great. But he still averaged just 12.7 PPR fantasy points per game.
Currently, Wilson is going as the WR8, ahead of guys like Davante Adams, Amon-Ra St. Brown, and Jaylen Waddle. And to be clear, I don't necessarily disagree with the notion. The point is more that Wilson's price is baking in a significant jump in productivity.
To be fair, there's a very good reason for this. If you've read my article on Chris Olave's chances of finishing as a top-15 WR, this will be a bit redundant. But since both Wilson and Olave are sophomore players this year, the same historical analysis is relevant.
Rookie wide receivers need to crest the 500-yard threshold to realistically have any chance at a successful NFL career. Obviously, Wilson did that easily. The thing about that threshold is the degree to which rookies surpass it matters. This shouldn't come as a shock, but the better the rookie reason, the more likely that player is to become a top NFL receiver.
Since 2011, there have been 40 wide receivers drafted in the first three rounds who recorded at least 700 receiving yards as a rookie. Thirty-five of them (87.5%) went on to be productive fantasy receivers.
When you parse it down even further to rookie wide receivers who reached 900 yards, you get 21 names. Of those 21 receivers, 17 of them have gone on to post top-15 finishes. Of the four that didn't, two of them are Olave and Wilson, so they don't even count yet because they haven't played their sophomore season. That gives us an 89% hit rate on these players.
There have only been only four rookies since 2011 to have more receiving yards in their debut season. Those guys were Ja'Marr Chase, Justin Jefferson, Odell Beckham Jr., and Michael Thomas. Three of those guys posted an overall WR1 finish at some point in their careers. And if I had to hazard a guess, I'd say Chase, who has finished top five in each of his first two seasons, will get one sometime in the next couple of years. Suffice it to say, Wilson is in some really good company.
Garrett Wilson's Rookie Year Was Better Than the Numbers Indicate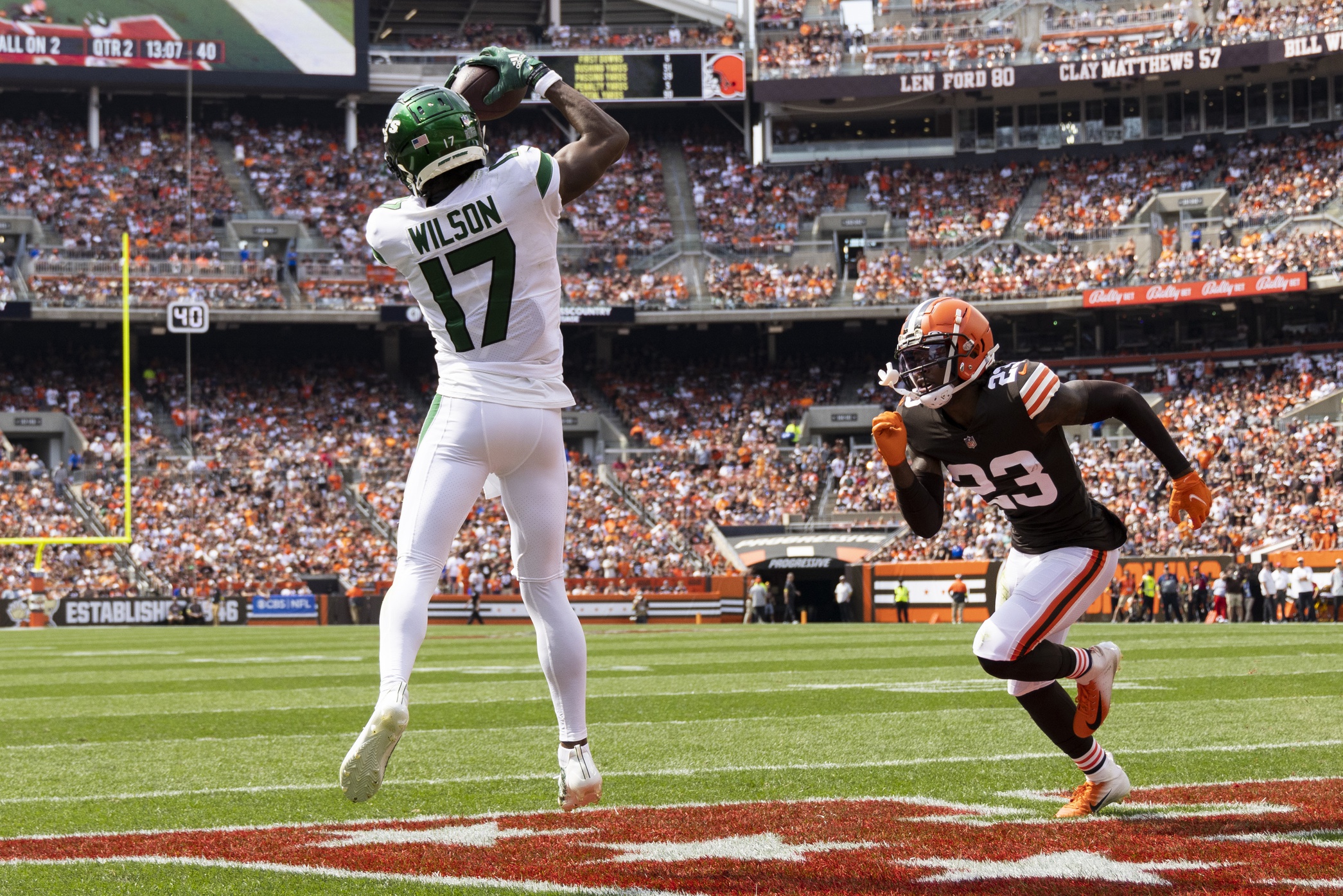 I doubt I'm the first person to point out Wilson's splits with and without that other guy on the Jets with the same last name as him, but I would be derelict in my duty if I failed to do so here.
As a rookie, Wilson's 24.9% target share was 21st in the league, and his 26.9% target-per-route-run rate was 16th. He commanded volume at a high rate regardless of quarterback. But his efficiency still has a ton of room to grow, largely because Zach Wilson is terrible.
The Wilson-to-Wilson connection resulted in Garrett averaging 8.8 ppg. When he played with any other quarterback, namely Mike White and Joe Flacco (not exactly world-beaters), he averaged 17.3 ppg. Essentially, Garrett is almost QB-proof; he's just not Zach Wilson-proof.
I'm thinking going from the three stooges of 2022 to first-ballot future Hall of Famer QB who won back-to-back MVP awards as recently as two and three seasons ago, Aaron Rodgers might be a bit of an upgrade. That sentence was a mouthful, but you get the point. Rodgers good. Wilson/Flacco/White not so good.
With Rodgers, Wilson can undoubtedly improve on his 13.3 yards per reception and 56.5% catch rate. Given Rodgers' career 65.3% completion percentage, we can reasonably project Wilson to be closer to that number. I've got him projected for a 64% catch rate.
Aaron Rodgers' WR1 Has a Long Track Record of Success
Rodgers has been around for a minute or three. Over the years, we've seen him propel many-a-wide receiver to fantasy WR1 finishes. Greg Jennings and Jordy Nelson each posted three WR1 finishes. Even Randall Cobb was able to get one in there. And, of course, there's Davante Adams.
The best wide receiver Rodgers has ever played with finished as a WR1 every year since 2016. Six of those were with Rodgers. Amidst that run, Adams finished as the overall WR1 twice and the overall WR2 once.
There were two primary differences between Adams and Jennings/Nelson/Cobb. First, Adams was a vastly more talented player. Talent commands volume. That's how Adams was able to earn such massive target shares.
Second, the target competition Adams faced was far less than those three. For Jennings, Nelson, and Cobb, their careers largely overlapped with each other. Early Jennings overlapped with Donald Driver, too. But for Adams, he was pretty much alone.
If we're drawing a comparison between Rodgers' WR1s for Wilson, the guy I'm choosing is Adams. Wilson looks like an elite talent, and while the Jets have three NFL-caliber receivers behind him, they don't have anyone who is even remotely a threat.
Allen Lazard, Mecole Hardman, and Corey Davis are all WR3/4s. They can be useful and productive when called upon, but they're not taking any targets away from Wilson the alpha.
How Likely Is Garrett Wilson To Finish as the Best WR in Fantasy This Season?
Since the great quarterback boom of 2011 — the moment the NFL transitioned to the modern pass-heavy version — the overall WR1 has never averaged lower than 20.5 ppg. That came from Antonio Brown in 2016, which was a down year for wide receivers overall.
Since 2011, the average finish of the overall WR1 is 23.1 points per game. Over the past three seasons, Cooper Kupp averaged 22.6 and 25.7 ppg, and Adams also averaged 25.7. For Wilson to have any realistic shot at an overall WR1 finish, he needs to get to at least 22 ppg. Can he get there?
My projections have Wilson catching 107 passes for 1,457 yards and 9.8 touchdowns. I have him averaging 18.5 ppg and finishing as the WR8. So, we need to find another 3.5 ppg to say Wilson can reasonably finish as the overall WR1.
This one is actually quite straightforward. All it would take is an outlier touchdown season. We know Rodgers loves to throw near the end zone. With Breece Hall coming off a torn ACL, the Jets could opt to go a little more pass-heavy near the goal line in an effort to reduce the punishment Hall takes.
In 2020, Adams scored 18 touchdowns. If Wilson is able to score 15 times, that already bumps him up to 20.3 ppg. Another 1.7 ppg is as simple as an extra 17 yards a game or something like an extra 10 receptions for 190 yards.
Of course, it would be foolish to say a season like this is likely. While sophomore wide receivers are historically very good bets to break out, there's a fine line between breaking out and being the best WR in fantasy.
With that said, there's no denying an overall WR1 finish is firmly on the table for Wilson. Fantasy managers know this, which is why his ADP is as high as it is. Given Wilson's combination of situation, talent, and opportunity, his ceiling is as high as anyone's. As such, I'm all in on him this season.
Listen to the PFN Fantasy Podcast
Listen to the PFN Fantasy Podcast! Click the embedded player below to listen, or you can find the PFN Fantasy Podcast on iTunes, Spotify, and all major podcast platforms.  Be sure to subscribe and leave us a five-star review! Rather watch instead? Check out the PFN Fantasy Podcast on our Fantasy YouTube channel.