In another world, Daniel Jones wouldn't even have gotten the chance to start for the New York Giants for another season last year. The Giants had declined his fifth-year option and were ready to move on.
Instead, Jones got one last chance and had the best season of his career, earning him a lucrative three-year extension. Entering the 2023 season, the question on every fantasy football manager's mind is whether Jones can build upon his performance and possibly put together a top-five fantasy season.
Did you get a trade offer in your dynasty or redraft league? Not sure what to do? Make championship-winning decisions with PFN's FREE Fantasy Football Trade Analyzer and Calculator!
Does Daniel Jones Have Top-5 Fantasy QB Upside?
Finishing inside the top five as a fantasy quarterback is far more difficult than it used to be. Last season, Jones averaged 18.4 fantasy points per game, finishing as the QB10. It was easily the best season of his career.
In years past, 18.4 ppg would be good enough to contend for top-five numbers. For example, in 2010, that finish would've been good for a QB5 finish. But ever since the great quarterback boom of 2011, the NFL has become much more of a pass-happy league. As a result, QB scoring has increased across the board.
Last season, six quarterbacks averaged over 20.0 ppg, which was actually down from a whopping 11 QBs to hit that threshold in 2021. So, for Jones to have any shot at a top-five fantasy finish, he needs to reach at least 20 points per game. Can he do it?
Daniel Jones Needs To Take a Step Forward as a Passer
It doesn't take an expert to figure out how Jones wound up as a top-12 QB last season: rushing. After averaging 4.5 carries for 26.3 rushing yards per game over his first three seasons, with a total of five rushing touchdowns, Jones exploded for 7.5 carries for 44.3 yards per game, scoring seven times on the ground in 2022 alone.
Jones finished top five in carries per game, red-zone carries per game, rushing yards per game, and rushing touchdowns. He scored 294 total fantasy points last season. Of those points, 38.3% came from rushing alone.
By way of comparison, Jones' second-best fantasy season was his rookie year, when he averaged 17.2 ppg. That season, just 17.5% of his fantasy points came from rushing, but he did throw 24 touchdowns.
Over his first three seasons, Jones was a turnover machine. He had more combined fumbles and turnovers than games played. Head coach Brian Daboll's plan to fix Jones was to essentially shackle him as a passer. Despite averaging a career-low 29.5 pass attempts per game, Jones also saw his interception rate shrink to a career-best 1.1%.
Daboll protected Jones by keeping his pass attempts near the line of scrimmage. Jones' average depth of target was just 6.5 yards. This helped him complete a career-high 67.2% of his passes.
So, as a rookie, we had Jones airing it out more (8.1 aDOT) but running far less and turning it over more. Last season, he wasn't airing it out at all, but Jones ran a ton and protected the ball.
At this point, you're probably starting to see the pieces of the puzzle come together for Jones to ascend into the top-five fantasy quarterbacks. He needs to combine his passing production from his rookie year with his rushing production from last season, but without the debilitating turnovers returning.
There's certainly room for more in this passing attack. New York was one of the most run-heavy teams in the league last season, with a 49% neutral-game-script run rate. Just eight teams ran it more than them. The Giants don't have to become the Chiefs or the Chargers. They just need to get that to around a league-average rate of around 45%, without sacrificing too much of Jones' rushing, for his passing numbers to improve.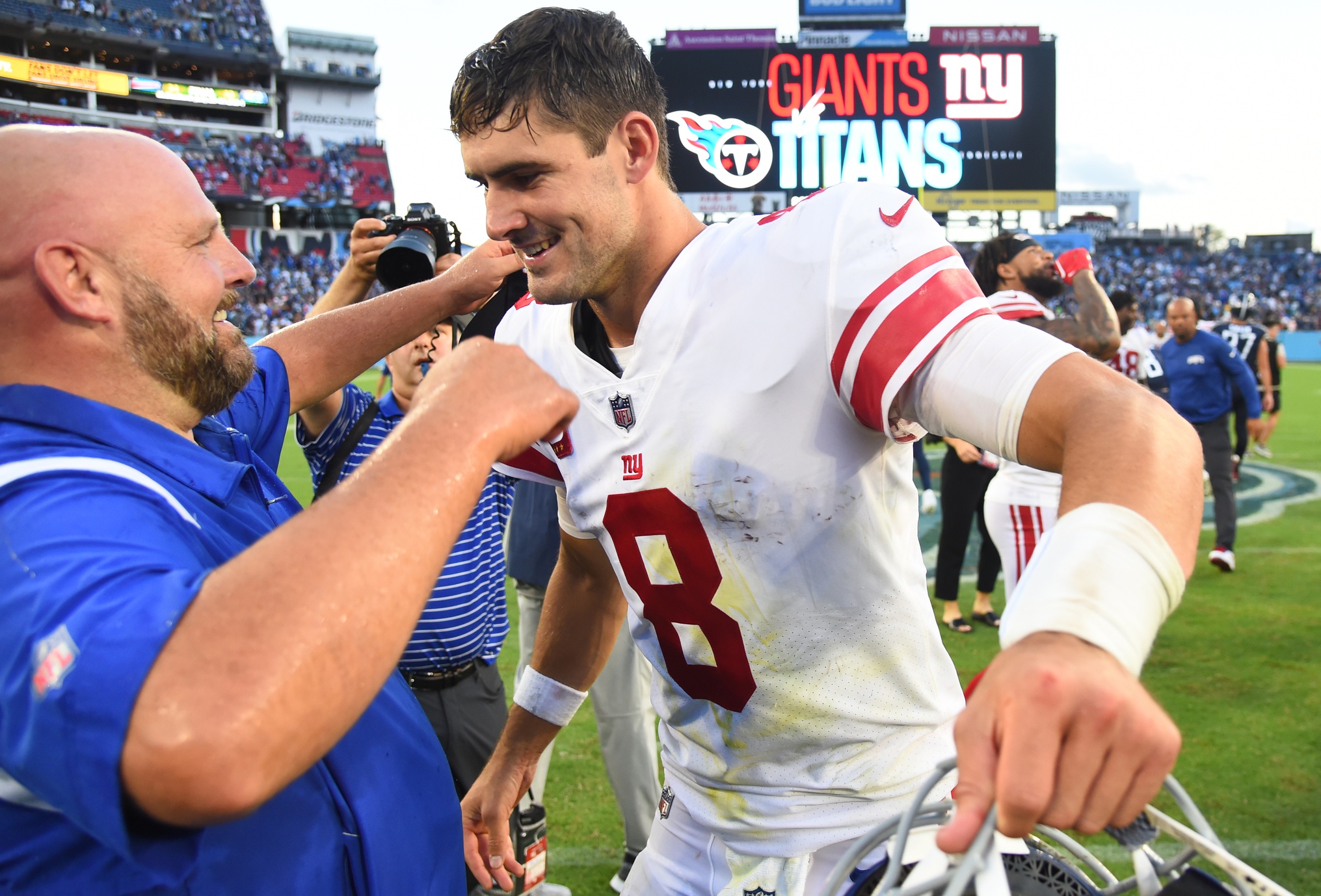 The Giants Improved Their Pass Catchers
Helping the cause will be the Giants' improvements to their group of pass catchers.
Although Jones' fantasy production was largely predicated on rushing last year, it's still quite the impressive feat that he was able to thrive with such a weak group of pass catchers.
The Giants still lack anything resembling a true WR1, or really even a WR2 for that matter, but they're undoubtedly better this year than they were last season.
For starters, we have significant addition by subtraction in jettisoning Kenny Golladay to the unemployment line. The next time we see Golladay play football, if ever, should be in the XFL or USFL.
Meanwhile, New York added a handful of new options, including rookie third-rounder Jalin Hyatt (who likely won't make much of an impact) and free agent acquisitions Parris Campbell and Jamison Crowder. Combine them with hopefully returning Sterling Shepard and Wan'Dale Robinson, and the returning Darius Slayton and Isaiah Hodgins, and this group is at least better than it was in 2022.
Most importantly, though, was the team's trade for former Las Vegas Raiders tight end Darren Waller. He's battled injuries the past two seasons, but if Waller can stay on the field, he gives Jones a true top target in the passing game, substantially better than anything he had in 2022.
How Likely Is Jones To Be a Top-5 Fantasy QB This Season?
There's no denying that a top-five finish is firmly in Jones' range of outcomes. However, it's also undeniably a lower probability outcome.
My projections have Jones throwing more but running less. I have him at 540 pass attempts, 363 completions, 3,757 yards, 18.7 touchdowns, and 11.9 interceptions through the air, with 102 carries, 591 yards, and 5.1 touchdowns on the ground. That comes out to 17.6 ppg and the QB16 in my projections.
It's important to remember that projections are not rankings. Projections are a combination of what I think will happen plus what's most likely to occur. Jones certainly has the potential to blow my projections out of the water.
Fantasy managers who opt to wait on quarterback should absolutely give Jones a look at his QB14 ADP. It's certainly not likely Jones will finish top five. After all, Jalen Hurts, Patrick Mahomes, and Josh Allen are near locks. Plus, we have Joe Burrow, Lamar Jackson, Justin Fields, and Justin Herbert all very much in contention.
Jones would have to outperform a few of them to get there. But you'd be hard-pressed to find a QB with a more plausible path to a top-five finish that late in drafts than Jones.
Listen to the PFN Fantasy Podcast
Listen to the PFN Fantasy Podcast! Click the embedded player below to listen, or you can find the PFN Fantasy Podcast on iTunes, Spotify, and all major podcast platforms.  Be sure to subscribe and leave us a five-star review! Rather watch instead? Check out the PFN Fantasy Podcast on our Fantasy YouTube channel.