The 2023 fantasy football season is firmly underway. Early in the season, values are constantly changing as we figure out the fantasy landscape. As always, fantasy managers should be looking to improve their rosters. Here are a handful of players to explore trades for, either to buy low or sell high on.
Looking to make a trade in your fantasy league? Having trouble deciding who to start and who to sit? Check out PFN's Free Fantasy Football Trade Analyzer and Start/Sit Optimizer to help you make the right decision!
Fantasy Football Week 4 Buy-Low Trade Targets
Here are a few players fantasy managers should be looking to acquire at a low price, if possible.
Trevor Lawrence, QB, Jacksonville Jaguars
For the second week in a row, I am including Trevor Lawrence, but I have less confidence than I did last week. Lawrence is just the best of a bunch of not-great options.
For the second week in a row, Lawrence looked tepid and uninspiring. He completed 27 of 40 passes for 279 yards, a touchdown, and an interception. It wasn't a total disaster in Week 3, but it's not what fantasy managers expect after how he closed 2022.
If we are to believe Lawrence is as talented as everyone says he is — and I'm not sure I do — then we can expect him to play better going forward. He's yet to reach 20 fantasy points in a single game this season. A home game against the Falcons next week is a great get-right spot. If you need a QB upgrade, now is the time to take the shot.
Austin Ekeler, RB, Los Angeles Chargers
This isn't your typical buy-low. It's not as if Austin Ekeler is playing poorly, but you know who is? RB Joshua Kelley. Since taking over as the lead back for an injured Ekeler, it's hard to imagine anyone playing worse.
MORE: Early Week 4 Waiver Wire Pickups
It's entirely possible that Kelley's performance played himself out of a role when Ekeler returns from his high ankle sprain.
He's probably going to be out through the Chargers' Week 5 bye. If you can afford to sit on Ekeler for two more weeks, see if you can swing a trade now from a manager who may be struggling without the elite RB1.
Dameon Pierce, RB, Houston Texans
It's tough to buy low on any player the week after he scores a touchdown, but Pierce still hasn't shown any sort of ceiling. Pierce is playing well, and I'm a believer in C.J. Stroud, who is only getting better, too.
As Stroud improves, so will this offense. Pierce is the clear lead back. He continues to play well ahead of Devin Singletary. The closer-than-you'd-think snap count in Week 3 was largely due to the game never being competitive.
Pierce still handled 14 carries and saw three targets. There are much better games ahead for Pierce.
Christian Watson, WR, Green Bay Packers
This one stems from questions I've received about the merits of dropping Christian Watson. Before you gasp at the notion, understand that there are people out there concerned over the fact that Watson hasn't played a game yet.
If there are people willing to drop Watson, they are surely willing to trade him — likely for pennies on the dollar.
Watson appears very close to returning. I think he would've played in Week 3 had the Packers not had a Thursday night game on the docket. My guess is that Watson returns in this upcoming game and immediately resumes his role as the team's WR1. If anyone is frustrated enough to trade him now, he's worth acquiring.
Calvin Ridley, WR, Jacksonville Jaguars
If I'm going to advise buying Trevor Lawrence, I might as well add his WR1 to the list.
Calvin Ridley exploded to open the season but has fizzled out considerably over the past two weeks. After catching eight passes for 101 yards and a touchdown in Week 1, Ridley's combined Week 2 and 3 line is just five catches for 72 yards.
I don't think Week 1 was a fluke. Ridley still physically looks good on the field. If better days are ahead of Lawrence, he will take Ridley with him. The Falcons are a great bounce-back spot next week after getting torched by WR Amon-Ra St. Brown this week. If Ridley is being sold at a discount, it's worth it to buy.
Darren Waller, TE, New York Giants
To be perfectly candid, I'm not sure any tight end is worth "buying." They are equally unhelpful in fantasy football, but if one fits the bill, it's Darren Waller.
This is purely based on Waller's talent and proven upside, but there's no guarantee it will work out. Still, there are managers out there ready to drop Waller — mostly because fantasy managers get aggravated with the underperforming players they have and just want someone different.
MORE: PFN's Consensus Rankings
The Giants have faced a brutal schedule to start the season. Sure, the Cardinals were a soft matchup, but their other two games were against the Dallas Cowboys and San Francisco 49ers, who are arguably the two best defenses in the NFL.
The schedule opens up over the next few weeks. Better days are likely ahead for Waller, so if you can get him cheap, he's worth a stab.
Fantasy Football Week 4 Sell-High Trade Options
Here are a few players fantasy managers should be looking to sell at a high price, if possible.
Deshaun Watson, QB, Cleveland Browns
After a dismal showing in Week 2, Watson bounced back in Week 3 with 289 yards and two touchdowns. Fantasy managers may think Watson is back, but I don't think that is the case.
Watson still does not look anything like the elite QB he was in Houston. His 21-point Week 3 effort was a product of the Titans' pass-funnel defense. You just can't run on them, but they can't stop the pass.
This week, Watson has a much tougher matchup against the Baltimore Ravens. Following this division game, Cleveland has their bye and a game against the 49ers. Watson isn't really startable the next three weeks, at least. If anyone out there thinks he's a buy, see what you can get.
Rhamondre Stevenson, RB, New England Patriots
It's tough to call a player a sell-high after a 7.2-point outing. For Rhamondre Stevenson, it's justified.
The Patriots do not have a prolific offense. Stevenson needs volume to justify his cost in fantasy drafts. While he did see 19 carries, he only caught one of four targets for three yards. Stevenson needs more passing game work, but RB Ezekiel Elliott is not going away.
Elliott may not be catching passes, but he's on the field and taking a ton of work. He handled 16 carries against the Jets. This is going to be a problem all season. If someone out there is still valuing him as a high RB2, you would be wise to sell.
Alexander Mattison, RB, Minnesota Vikings
I'm not sure if anyone out there is valuing Alexander Mattison as a strong RB2 anymore. Hopefully, this week renewed his managers' confidence in him.
Against a soft Chargers defense, Mattison carried the ball 20 times for 93 yards and added five receptions for 32 yards. It was easily his most efficient game of this season so far.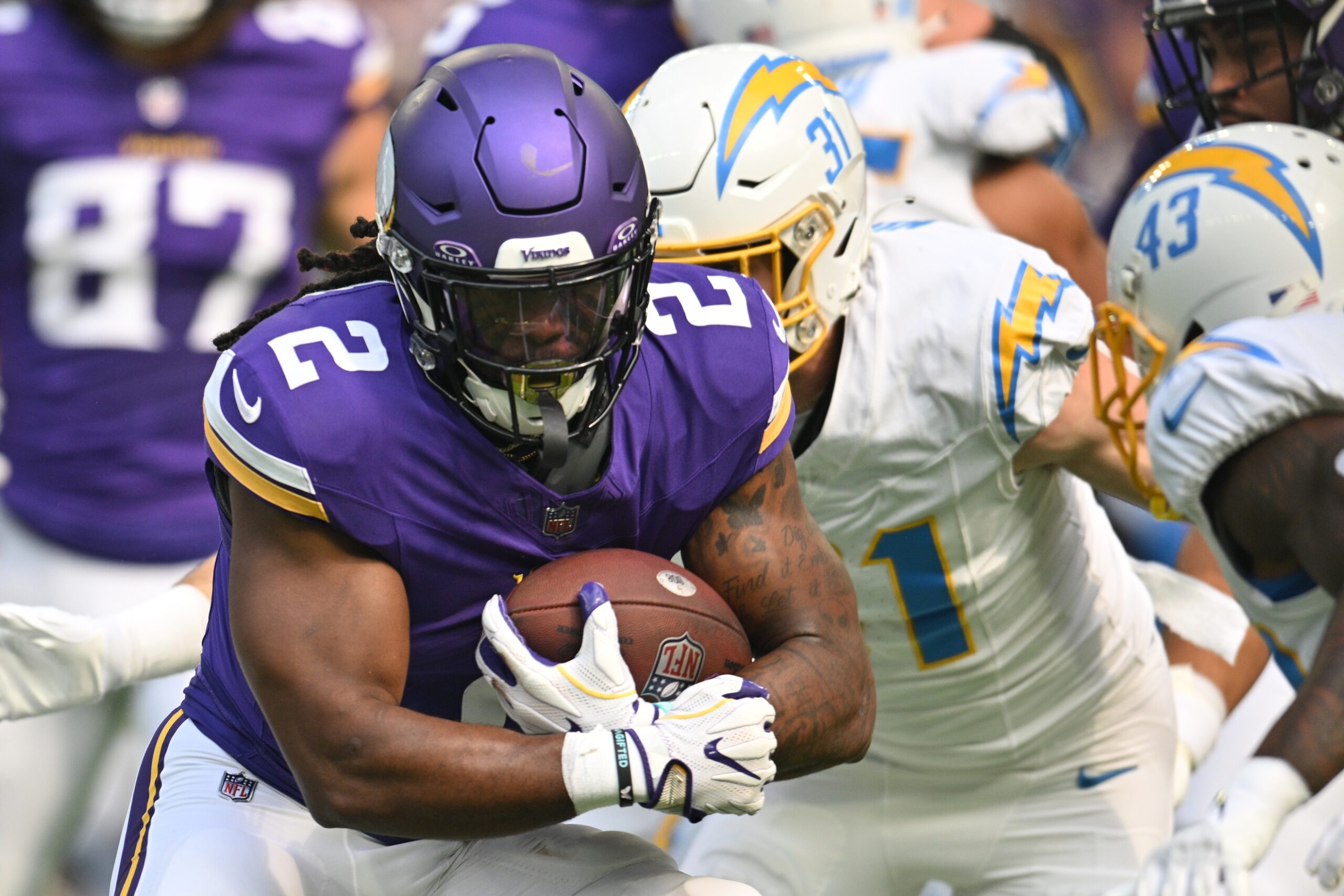 The Vikings just traded for RB Cam Akers, but he was inactive this week as he needs time to get up to speed on the playbook. Just one week ago, Mattison looked like a guy ready to get benched.
If he keeps up this level of play, he will keep his job. But if he falters, the Vikings have no real allegiance to him. They will not hesitate to give Akers more work. Mattison is not the strongest of sells, but he's a sell if you can get the right price.
Courtland Sutton, WR, Denver Broncos
Perhaps Courtland Sutton is still the WR1 for the Broncos ahead of Jerry Jeudy. At the very least, just like last year, the gap between the two in fantasy drafts was too large, just in reverse.
With that said, Sutton just put up 91 yards and a touchdown on eight catches. He also fumbled twice, which I can't imagine went over well with his coaches.
The Broncos are a disaster. HC Sean Payton has done nothing to change this team's trajectory. They are going to lose a lot of games, and there is no salvation in sight.
After next week's matchup against the Bears, the schedule really turns on the Broncos. They get the New York Jets, Kansas City Chiefs, Green Bay Packers, and the Chiefs again. Then, they have their bye. I am not excited about Sutton's prospects for any of these games. If you can sell him as a WR2, I would do so.
DJ Moore, WR, Chicago Bears
It was another disastrous game for DJ Moore — until the very end of garbage time when he found the end zone. That's two straight quality fantasy outings for Moore, but it's mostly smoke and mirrors.
MORE: Fantasy News Tracker
The Bears' offense is not good. QB Justin Fields has made no strides as a passer, so this remains a low-volume passing attack. Moore only has 15 targets through three games. If anyone still values him like the fourth-round pick he was in fantasy drafts, sell him at that price.
Kyle Pitts, TE, Atlanta Falcons
Is Kyle Pitts really a sell high? Probably not. But he did just have his best game of the season. He caught five of nine targets for 41 yards.
It's not exactly impressive, but the bar has been set extremely low for him. If anyone who believes in him remains willing to pay any legitimate price, I would sell.
Pitts is not going to happen, especially as long as Desmond Ridder is at quarterback and Arthur Smith is at head coach. You probably can't get anything of value for Pitts, but if you can, Pitts is no better than any other random TE streamer.
Listen to the PFN Fantasy Podcast
Listen to the PFN Fantasy Podcast! Click the embedded player below to listen, or you can find the PFN Fantasy Podcast on iTunes, Spotify, and all major podcast platforms.  Be sure to subscribe and leave us a five-star review! Rather watch instead? Check out the PFN Fantasy Podcast on our Fantasy YouTube channel.