While most of the focus for the Cincinnati Bengals on Friday night was on Jonah Williams' debut at right tackle, there was a sense from the 2019 first-round pick and his coaches that he would continue the seamless transition he's shown in practice and perform well.
The bigger question was how Jackson Carman and the other linemen battling for backup spots would fare.
Where Does the Bengals' Backup OL Competition Stand?
For the third year in a row, Carman entered training camp in a position battle that ended up being a no-contest. The cumulative effect from that is not only have his opportunities to crack the starting 22 slipped away, but his spot on the 53-man roster is also in limbo.
There were a lot of things offensive line coach Frank Pollack wanted to see from Carman in Friday night's game at Atlanta, and the evaluation period went the distance as the Bengals took the rare step of having someone play the entire game during the preseason.
Carman was on the field for all 63 offensive snaps. No other lineman played more than 49.
"You get better at football by playing football," said when asked about Carman's workload.
"He needs to get game-speed reps as much as possible and get comfortable playing on both sides as much as possible," Pollack added. "No matter who it is, live speed, calls coming in, not scripted, go through all the situations, so he's no different than all those other guys.
"With the numbers we're at — we haven't played the 1s — so some of these guys are getting a lot more reps. He's not the only one that's played a lot. That's a good thing."
Offensive linemen made up four of the five highest snap counts in the 13-13 tie at Atlanta.
Trey Hill and Max Scharping continued their center/guard swap, with each playing 49 snaps (78 percent), while undrafted rookie Jaxson Kirkland played 49 snaps. Cody Ford played 37 snaps at both guard and tackle.
With the starting five of Orlando Brown Jr., Cordell Volson, Ted Karras, Alex Cappa, and Jonah Williams set, the only real decision is who the depth pieces will be on the 53-man roster.
It's basically a six-man derby for either four or five spots, with Ford, Carman, Scharping, Kirkland, Hill, and D'Ante Smith in the running, with Hakeem Adeniji lagging farther behind.
Carman and Scharping did not have inspiring debuts against the Packers, although Scharping was playing center for the first time in a game at any level. Carman's performance, which involved snaps at his familiar spots of left tackle and right tackle, was more disappointing.
But Friday in Atlanta, he looked much better.
"It was a big step forward," Pollack said. "I was real happy with what he did. He was aggressive with his angles and solid with his punch, and then he showed some finish aspects off that. It was good.
"He looked more comfortable later flippin'. I moved him over to the right side, so that was good. Was he 100 percent? No. Nobody was, including Jonah. But (Carman) did a lot of good things. I was real happy to see him take that improvement step from Week 1."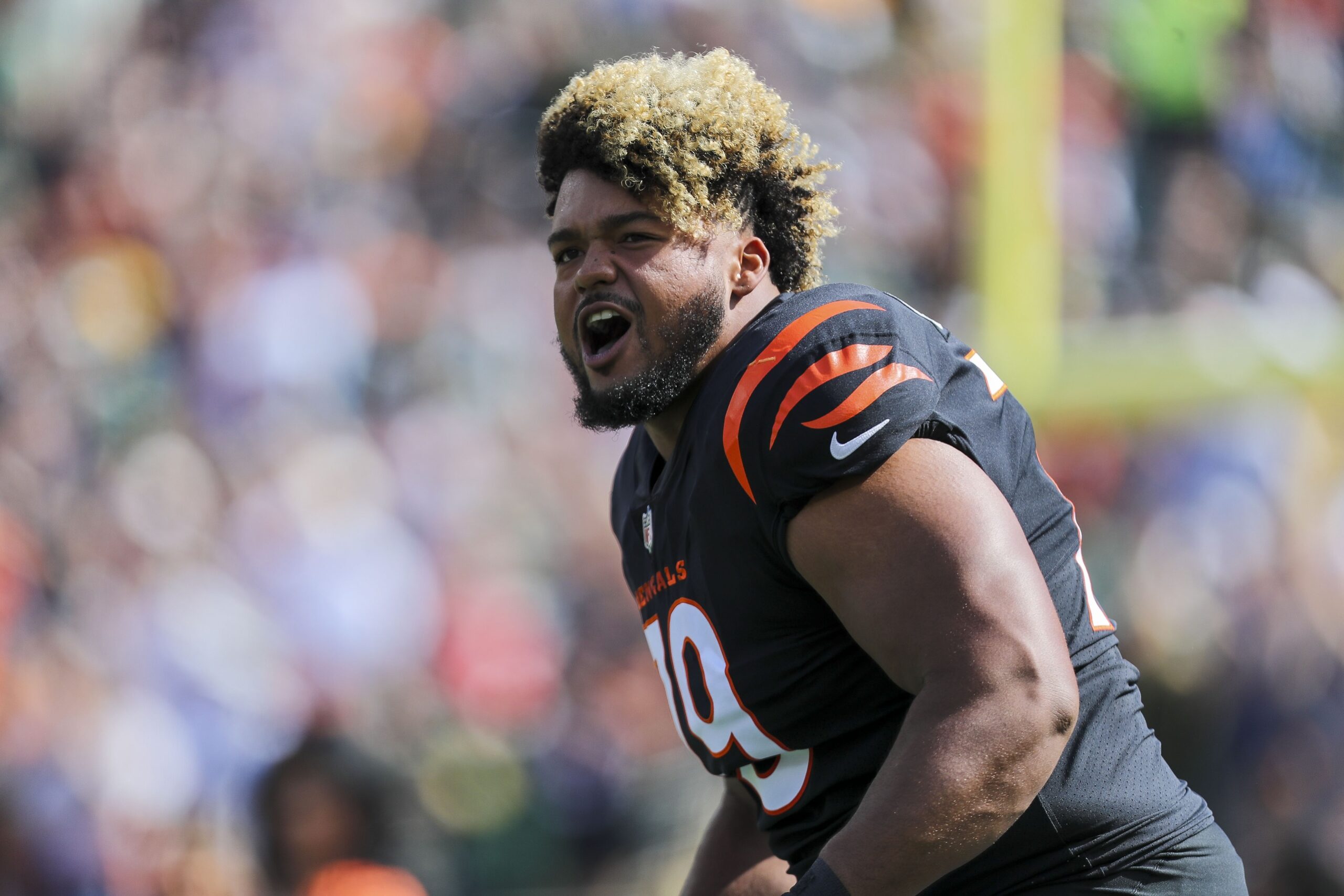 Smith has been the yin to Carman's yang. When one plays left tackle, the other plays right. The swing tackle spot appears to be a two-man race at this point. Even though Ford has guard/tackle versatility and has been impressive ever since the pads came on, he's only recently started repping at tackle.
Smith, a fourth-round pick in 2021, was inactive for most of the games last year, but his improvement, and more so his consistency, have been noticeable this summer.
"There's nothing that's been settled with what we're doing as far as the swing tackle spot goes, but (Smith) has showed really well all through training camp," Pollack said.
"He's been a lot more consistent throughout training camp than he has in previous years. Consistency is the name of the game for guys like him and Jackson.
"Be consistent and be able to be counted on any time on any side. I'm gonna make these guys flip. I told them already, 'Be ready flip constantly in this last game (at Washington). You're not gonna be able to groove one side or the other. That's not realistic.'"
Scharping had some snap and cadence issues in the Packers game but cleaned those up last week, and he and Ford appear to be locks for the 53-man roster. The big questions are whether the Bengals keep nine or 10 offensive linemen and who are the last two or three. Given Scharping's improvement at center, coupled with his 33 NFL starts, he could make Hill expendable.
MORE: Which Bengals Position Battles Are Worth Watching in Preseason Week 3?
Pollack said nothing has been decided yet, but he likes the group of backups he has.
"I'm comfortable that they know what to do, and they know how to do it. It's just a matter of being consistent and handling the adjustments on the fly and stuff," he said. "We're deeper than what we've been in the past for sure. But we've still got a lot of work to do. It's always a work in progress. You can ask me in Week 20, and we'll still be working to get better."
Listen to the PFN Bengals Podcast
Listen to the PFN Bengals Podcast! Click the embedded player below to listen, or you can find the PFN Bengals Podcast on iTunes, Spotify, and all major podcast platforms.  Be sure to subscribe and leave us a five-star review! Rather watch instead? Check out the PFN Bengals Podcast on our NFL YouTube channel.