With two preseason games in the books, we have a clearer picture of how the Cincinnati Bengals will construct their 53-man roster when the deadline hits in 10 days.
Friday night's 13-13 tie at Atlanta didn't move the needle from an excitement standpoint, but it did result in a group of winners and losers that shook up a couple of position groups, moving some players who were on the bubble after last week's projections into what appears to be a more secure spot.
Here's my updated projection for who should be in and who could be cut.
Cincinnati Bengals 53-Man Roster Projection | Offense
Quarterback (2)
Starter: Joe Burrow
Backup: Jake Browning
Practice Squad Prospect: Trevor Siemian
Camp arm: Reid Sinnett
Analysis: For the second game in a row, Joe Burrow's backups delivered underwhelming performances. But unlike last week, when Siemian and Browning finished with identical 49.9 passer ratings, Browning clearly outplayed Siemian against the Falcons.
Browning rallied from a poor interception to lead a go-ahead, 80-yard touchdown drive in the final minute, and he did it with most of his receivers seeing their first snaps of the game on that drive.
Where Browning really delivered was with his legs, rushing for 50 yards on four scrambles. His skill set is much better suited to escape pressure, of which there was a lot.
While Siemian was just 7 of 14 for 62 yards (4.4 yards per attempt), head coach Zac Taylor praised him for the final drive of the first half, which resulted in a 50-yard field goal by Evan McPherson as time expired.
"We got points on our last drive of each half, which is critical to gain some momentum there," Taylor said. "Trevor did a good job in a tight situation, putting us in field goal range. He had to make an audible during the drive, and he did a great job managing that. He stepped up in the pocket."
"I thought there were some positives to build off of for both of those guys," Taylor added.
Taylor said it was too early to say who will start the third preseason game in Washington, but all signs point to Browning winning the backup job.
Running Back (4)
Starters: Joe Mixon
Backups: Chris Evans, Chase Brown, Trayveon Williams
Practice Squad Prospects: Jacob Saylors, Calvin Tyler Jr.
Analysis: The run game has been stagnant through eight preseason quarters, but the real competition here is to see who the third-down back will be, and Evans has put himself in position to win that job.
He's getting better in pass protection, and he can be a real weapon in space against linebackers, as his 11-yard reception early on Friday night showed.
Williams could eventually challenge, perhaps as early as this week, but the ankle injury he suffered on Aug. 3 has set him back.
Brown got a chance to run the four-minute offense at the end of the first half and did well on a blitz pickup. And he scored the offense's first touchdown after 21 drives without one.
Wide Receiver (6)
Starters: Ja'Marr Chase, Tee Higgins, Tyler Boyd
Backups: Trenton Irwin, Charlie Jones, Andrei Iosivas
Bubble: Stanley Morgan, Trent Taylor, Kwamie Lassiter II
Practice Squad Prospects: Shedrick Jackson, Malachi Carter, Mac Hippenhammer
Analysis: Iosivas, the sixth-round rookie out of Princeton, continues to impress, and the quarterbacks continue to trust him, targeting him 20 times through two games.
I had him making a seven-receiver group last week, but signs point to the Bengals going with 10 offensive linemen instead of nine, which means a spot has to be shaved somewhere.
Fourth-round rookie Charlie Jones also has earned the trust of the quarterbacks, with them going to him in a number of big spots. Two of his receptions resulted in first downs — an 11-yarder on 4th-and-5 and an 11-yarder on 3rd-and-10.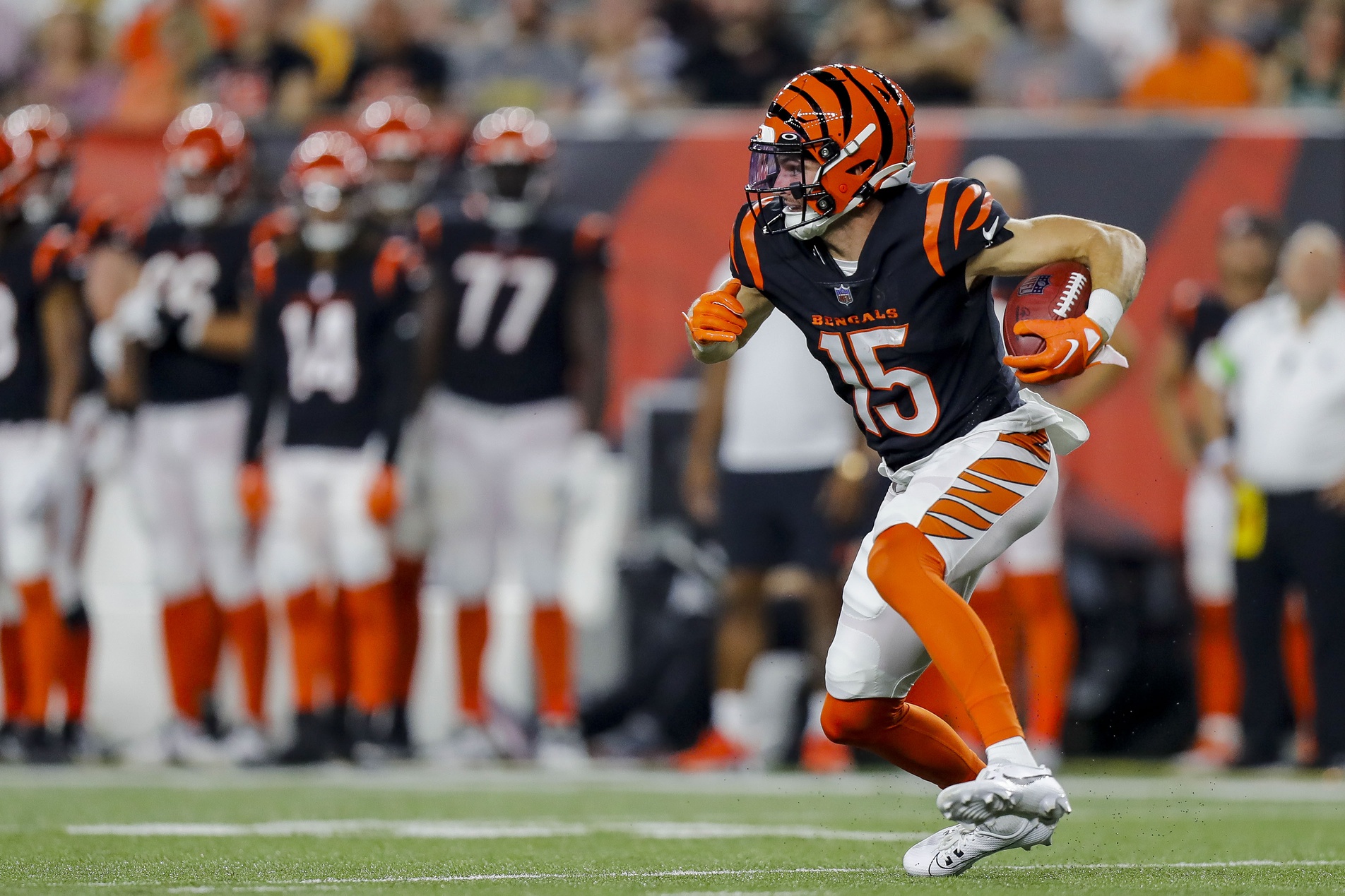 Jones also had an eight-yard catch on 2nd-and-15 to put the Bengals in a more manageable third down, which they converted. Jones also had an 11-yard catch for a first down on 2nd-and-8 wiped out by a holding penalty on Jackson Carman.
"He did some good stuff, and we saw a ton of man coverage," Taylor said. " So for those receivers, there's a lot of good things that (wide receivers coach Troy Walters) will get a chance to correct on the tape. He showed him some good examples of how they can continue to help us in other ways, so those guys made some plays when they came to him."
Stanley Morgan is a terrific special teams player and run blocker, and the Bengals will do everything they can to bring him back on the practice squad.
Tight Ends (3)
Starter: Irv Smith Jr.
Backups: Drew Sample, Tanner Hudson
PUP: Mitchell Wilcox
Bubble: Devin Asiasi
Practice Squad Prospects: Nick Bowers, Christian Trahan
Analysis: Wilcox remains on the Physically Unable to Perform (PUP) list, and it's beginning to look as though that is how he will start the season. Sample didn't play in the game against the Packers, but he was on the field for eight snaps. He doesn't offer much in the passing game, which is why Hudson looks like he will unseat Asiasi.
Hudson suffered a concussion against the Packers and didn't play Friday, but he should be able to get back to practice this week.
Offensive Line (10)
Starters: LT Orlando Brown Jr., LG Cordell Volson, C Ted Karras, RG Alex Cappa, RT Jonah Williams
Backups: Max Scharping, Trey Hill, D'Ante Smith, Cody Ford, Jackson Carman
Bubble: Hakeem Adeniji
PUP: La'el Collins
Practice Squad Prospects: Jaxson Kirkland, Nate Gilliam, Ben Brown
IR: Devin Cochran
Analysis: Taylor mentioned Ford as one of the players he thought played well in the opener, and Friday night, the Bengals got him reps at both guard and tackle as part of his 37-snap workload.
Scharping looked much better in his second-ever game playing center, while Carman struggled once again and was still in the game into the fourth quarter. His positional versatility probably will outweigh his inconsistency and keep him around for one last shot.
Cincinnati Bengals 53-Man Roster Projection | Defense
Defensive Line (10)
Starters: Trey Hendrickson, DJ Reader, B.J. Hill, Sam Hubbard
Backups: Joseph Ossai, Myles Murphy, Cam Sample, Zach Carter, Josh Tupou, Jay Tufele
Bubble: Jeff Gunter, Tarell Basham, Raymond Johnson III,
Practice Squad Prospects: Domenique Davis, Owen Carney, Tautala Pesefea Jr.
IR: Devonnsha Maxwell
Analysis: The depth here continues to show up with Johnson and Davis playing well again, while Gunter continues to have moments in practices and shared a sack with Johnson Friday night.
The irony was that the Bengals starters got their first snaps, and the Falcons went right through them before Ossai picked off Desmond Ridder near the goal line on the 15th play of the opening drive.
"It was a great experience for them to have to sustain a long drive and find a way out of it, which is what they did," Taylor said. "It's what they tend to do. So I think it was good for them to feel again like conditions against the starting offense and have their back against the wall a little bit and find a way to make a play." 
I had Tufele on the bubble last week, but he continues to show up and play well in the games, and it wouldn't make sense to only keep nine from the deepest position group on the team.
Linebacker (5)
Starters: Logan Wilson, Germaine Pratt
Backups: Akeem Davis-Gaither, Joe Bachie, Markus Bailey
Bubble: Keandre Jones
Practice Squad Prospect: Jaylen Moody, Shaka Heyward, Tyler Murray
Analysis: The most important development in Atlanta was that Bachie returned after being forced out of the Packers game with a chest injury. Bailey had a couple of pass breakups that just as easily could have been interceptions. This group of five is locked in.
Cornerbacks (6)
Starters: Chidobe Awuzie, Cam Taylor-Britt, Mike Hilton
Backups: DJ Turner II, Jalen Davis, DJ Ivey
Bubble: Allan George, Sidney Jones IV
Practice Squad Prospect: Marvell Tell III
Analysis: The Falcons went after Ivey quite a bit, but he's done enough in practice to warrant a spot, especially with Jones dealing with an injury that has kept him out for a week. And Jones wasn't playing that well before he got hurt.
Since Taylor arrived in 2019, the Bengals have cut only two of 31 draft picks. It's starting to look as though all eight, with Ivey being the last, will be on the 53.
Safeties (4)
Starters: Nick Scott, Dax Hill
Backups: Jordan Battle, Tycen Anderson
Practice Squad Prospect: Michael Thomas, Larry Brooks, Yusuf Corker
Analysis: Battle had a really dumb taunting penalty and got benched for the rest of the drive in favor of Thomas. That was just a rookie learning a lesson, however, as Battle returned to reclaim his spot on the next series.
Thomas can still be a veteran leader in the locker room for the youngsters on the practice squad, and the Bengals can elevate him on game days if his presence is needed on special teams, where he was a captain last year.
Special Teams (3)
Starters: K Evan McPherson, P Brad Robbins, LS Cal Adomitis
Bubble: Drue Chrisman
Analysis: Chrisman returned to action after his medical scare early in camp and hung a plus-territory punt that Atlanta returner Dee Alford had to fair catch at the 8-yard line. But this is clearly Robbins' job to lose, and he hasn't done anything to suggest that's a possibility.
Listen to the PFN Bengals Podcast
Listen to the PFN Bengals Podcast! Click the embedded player below to listen, or you can find the PFN Bengals Podcast on iTunes, Spotify, and all major podcast platforms.  Be sure to subscribe and leave us a five-star review! Rather watch instead? Check out the PFN Bengals Podcast on our NFL YouTube channel.