It took until the 22nd drive of the preseason for the Cincinnati Bengals offense to find the end zone, doing so on a 3-yard touchdown run by rookie Chase Brown with 50 seconds remaining in Friday night's game at Atlanta.
The touchdown gave the Bengals a 13-10 lead, but former Cincinnati draft pick Logan Woodside drove the Falcons down the field quickly, and Younghoe Koo kicked a 45-yard field goal to end the game in a 13-13 tie.
Evan McPherson provided the only points before the Brown touchdown with a pair of field goals, including a 50-yarder at the gun before halftime. McPherson is 6 for 6 in the preseason.
Here is some instant reaction with the winners and losers from the game as the Aug. 29 cutdown day nears.
Bengals vs. Falcons, Preseason Game 2 | Winners
Jake Browning
Looking to atone for a bad interception he threw on a third-down scramble, Browning found himself surrounded by mostly camp bodies at the skill spots on the team's final drive. Taking over at his own 20 with 3:15 to go, Browning led an eight-play, 80-yard touchdown drive.
The interception aside, Browning played well, completing 16 of 22 passes for 140 yards while also rushing for 50 yards. He had back-to-back scrambles of 19 and 14 yards on the go-ahead drive. He also was 5 of 5 for 47 yards on that drive.
Siemian got the start and a chance to play with guys higher on the depth chart, but he was just 7 of 14 for 62 yards.
Cuts are coming in 10 days, and Browning positioned himself firmly in front of Siemian in the backup battle.
Joesph Ossai
While he wasn't able to finish either one, Ossai had two near sacks to go along with his interception off a Mike Hilton tip near the goal line on the game's opening drive. On Ossai's first pressure, Taylor Heinicke bounced off but was dropped by cornerback Jalen Davis for a 7-yard loss. The second close call was a diving attempt from behind, reminiscent of his big play vs. Patrick Mahomes in the regular season game.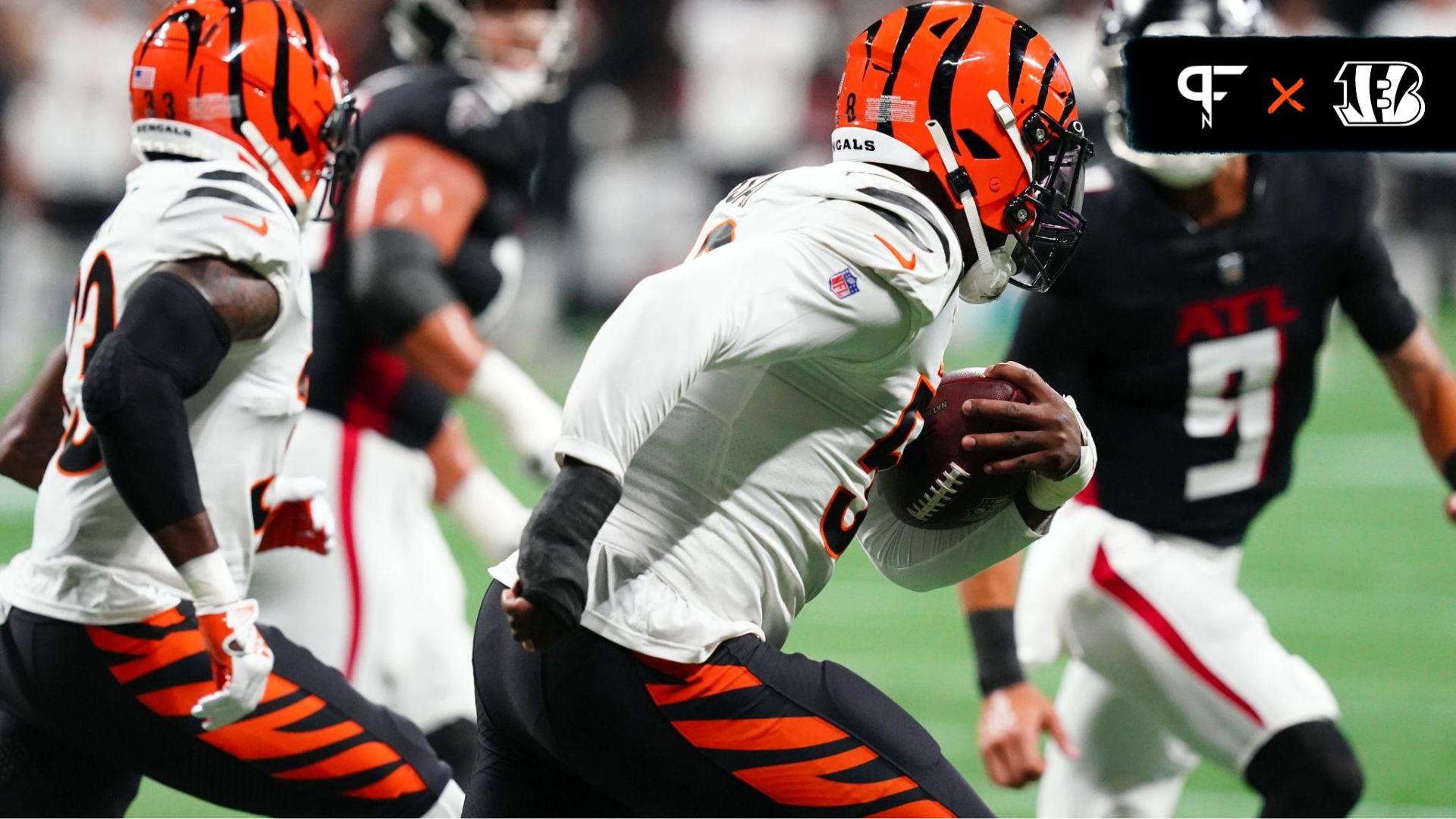 Ossai has looked explosive in practices and both preseason games.
Charlie Jones
Playing through a labrum injury, the rookie receiver had four catches for 46 yards. Two of his receptions resulted in first downs, an 11-yarder on fourth-and-5 and an 11-yarder on third-and-10. Jones also had an 8-yard catch on second-and-15 to put the Bengals in a more manageable third down, which they converted. Jones also had an 11-yard catch for a first down on second-and-8 wiped out by a holding penalty on Jackson Carman.
The fourth-round pick had one more 11-yard play on a punt return, the first of the game, but it was negated by a holding penalty on rookie Chase Brown. Jones is proving not only to be tough by playing through the injury, but dependable.
Max Scharping
After seeing his first game action at center at any level in the second half last week, Scharping made the start against the Falcons and was much better. The cadence and snap issues from last week were corrected, and Scharping appears to be a lock to win one of the four or five backup spots on the offensive line.
Drue Chrisman
The incumbent punter got his first chance since his poor punt in the closing seconds of the AFC Championship Game and the medical emergency last month. With the Bengals at the Atlanta 48, Chrisman hung a high punt that Falcons returner Dee Alford had to fair catch at the 8.
Raymond Johnson Jr.
Domenique Davis had the big game last week, but Johnson remains in front in the rotation, and nothing we saw Friday night is going to change that.
Johnson shared a sack with Jeff Gunter and added two other pressures, including another quarterback hit. Johnson also finished tied for the team in tackles, with both he and Joe Bachie recording five.
Johnson needed the strong showing, because Davis had four tackles and another quarterback hit.
Bengals vs. Falcons, Preseason Game 2 | Losers
Jackson Carman
He spent a lot of time being walked back by fringe pass rushers and is clearly behind D'Ante Smith on the offensive line depth chart. Carman also got flagged for a holding penalty, although he may get a pass on that one as Taylor was livid on the sidelines, arguing the call.
Still, Carman came into Year 3 needing to show a continuation of the jump he appeared to make when thrust into a starting spot in the postseason, but that has not happened. Caman played both left and right tackle and was still in the game in the fourth quarter for the second week in a row. His spot on the 53 is hardly guaranteed.
Jordan Battle
It would have been bad enough to commit a taunting penalty after a third-down stop.
But rookie safety Jordan Battle committed the sin after Zac Taylor spent the week harping on discipline and saying the pre- and post-snap penalties that plagued the team in the loss against the Packers were "not we're about." The coaches pulled Battle from the game after that, but he was back in on the next series and nearly had an interception.
Myles Murphy
The first-round pick was a victim of unfortunate circumstances as he came down ill and missed Wednesday's practice and, more importantly, Friday's game in his hometown, where his dad has been a Falcons season ticket holder for years.
It would have been interesting to see where Murphy rotated in on the pass rush with the first-team defense — if at all — on the 14-play opening series.
Listen to the PFN Bengals Podcast
Listen to the PFN Bengals Podcast! Click the embedded player below to listen, or you can find the PFN Bengals Podcast on iTunes, Spotify, and all major podcast platforms.  Be sure to subscribe and leave us a five-star review! Rather watch instead? Check out the PFN Bengals Podcast on our NFL YouTube channel.