Can the Boston College Eagles recover from the loss of their greatest offensive weapon and return to prominence on the college football landscape? Here's a look at their top 2024 NFL Draft prospects — the players who will be counted on to embark on this transition.
Boston College Eagles Roster and Depth Chart Changes
At the forefront of the Eagles' losses from 2022 is the departure of wide receiver Zay Flowers, who went in Round 1 of the 2023 NFL Draft to the Baltimore Ravens. They also lost Josh DeBerry and Jaiden Woodbey in the secondary, but aside from that, much of the Eagles' core from 2022 remains intact.
In a vacuum, Phil Jurkovec's transfer to Pittsburgh constitutes a loss, but he wasn't the team's starting QB by season's end. That honor went to Emmett Morehead. Now a redshirt sophomore, Morehead shows greater promise and could hit the ground running in 2023, with help from UCF transfer addition Ryan O'Keefe.
On the offensive line, the Eagles return Ozzy Trapilo and Christian Mahogany, and they added Kyle Hergel and Logan Taylor through the transfer portal as well. Boston College's defense will see many of the same faces within the front seven ranks, and the Eagles also used the transfer portal to bolster their secondary.
Boston College Eagles NFL Draft Prospects
Pat Garwo III, RB
Pat Garwo III's 1,000-yard rushing season in 2021 had some wondering if he'd take the leap and become a legitimate 2023 NFL Draft prospect. Instead, Garwo regressed in 2022, but he still has some appealing qualities as a deep sleeper in the 2024 NFL Draft cycle.
Despite his 5'9″, 208-pound frame, Garwo has long, powerful legs. He's more of a physical one-cut back than a true creator, but he finishes forward on runs and has an underrated receiving feel.
Kye Robichaux, RB
Garwo is the incumbent in Boston College's backfield, but don't be surprised if Western Kentucky transfer Kye Robichaux starts to eat at his volume share as the season progresses. The 6'0″, 215-pound Robichaux has similar density and impressive contact balance, but he also has the explosiveness to warp tackling angles out of the box. Robichaux's constant leg churn can make him very hard to slow down with solo tackles.
Ryan O'Keefe, WR
It'll be difficult, if not impossible, to fully replace Flowers at WR. But the Eagles are hoping UCF transfer O'Keefe can close the gap. Over the past two seasons, O'Keefe amassed 157 catches for 1,537 yards and 12 touchdowns, and he added almost 500 rushing yards on designed carries. O'Keefe's pure speed element is just as dangerous as Flowers' was, and his versatility and pace can help open up the Eagles' offense.
Dino Tomlin, WR
If you think Dino Tomlin's last name is familiar, that's because it is. Dino is the son of Pittsburgh Steelers head coach Mike Tomlin. He's in line for a larger role after transferring to Boston College in 2022 and catching 10 passes for 181 yards in his first year with the program. On one of his biggest plays, the 5'11", 186-pound receiver managed to beat potential first-round pick Andrew Mukuba at the catch point with a juggling grab.
George Takacs, TE
Since 2019, Boston College has produced two TE draft picks in Tommy Sweeney and Hunter Long. Could George Takacs be next?
It's unclear if Takacs will field a selection, but the 6'6″, 243-pound pass catcher is at the very least on the radar after hauling in 26 passes for 256 yards and a score in 2022. He's not an elite athlete, nor is he a very flexible route-runner, but Takacs has the length and coordination to snare passes in high-pressure situations.
Ozzy Trapilo, OT
If you're looking for more depth tackles in the 2024 NFL Draft crop, Trapilo is another name to store in the vault. The 6'8″, 310-pound blocker started 10 games at left tackle for the Eagles in 2022. His feet are a bit heavy off his kick, and he's still seeking more control with his movement. Nevertheless, Trapilo has the requisite size and bend capacity, gets off the line quick in the run game, and has the vertical burst and tenacity to finish plays.
Christian Mahogany, G
Mahogany unfortunately missed the entire 2022 campaign with an injury. But the plan is for him to return in 2023 and become a notable entity in the 2024 NFL Draft interior OL class.
Mahogany isn't quite as athletic as his predecessor, Zion Johnson, on Boston College's line. But at 6'3″, 333 pounds, Mahogany is a pure brickhouse with cinder blocks for hands and a road-grader mentality in contact situations.
Kyle Hergel, G
Joining the Eagles' ranks from Texas State, Hergel will aim to team up with Mahogany and give Boston College one of the best guard tandems in the nation. At 6'2″, 314 pounds, Hergel doesn't have the mass or the pure power component that Mahogany brings. He is, however, a very well-leveraged and measured blocker, who consistently stays square with his opponents and has the lateral mobility to recover positioning when necessary.
Cam Horsley, DT
At the center of Boston College's front unit on defense will be senior defensive tackle Cam Horsley. The 6'3″, 314-pound Horsley has seen consistent playing time going all the way back to 2020. In three seasons at Boston College, he has 83 tackles, 10.5 tackles for loss, and four sacks.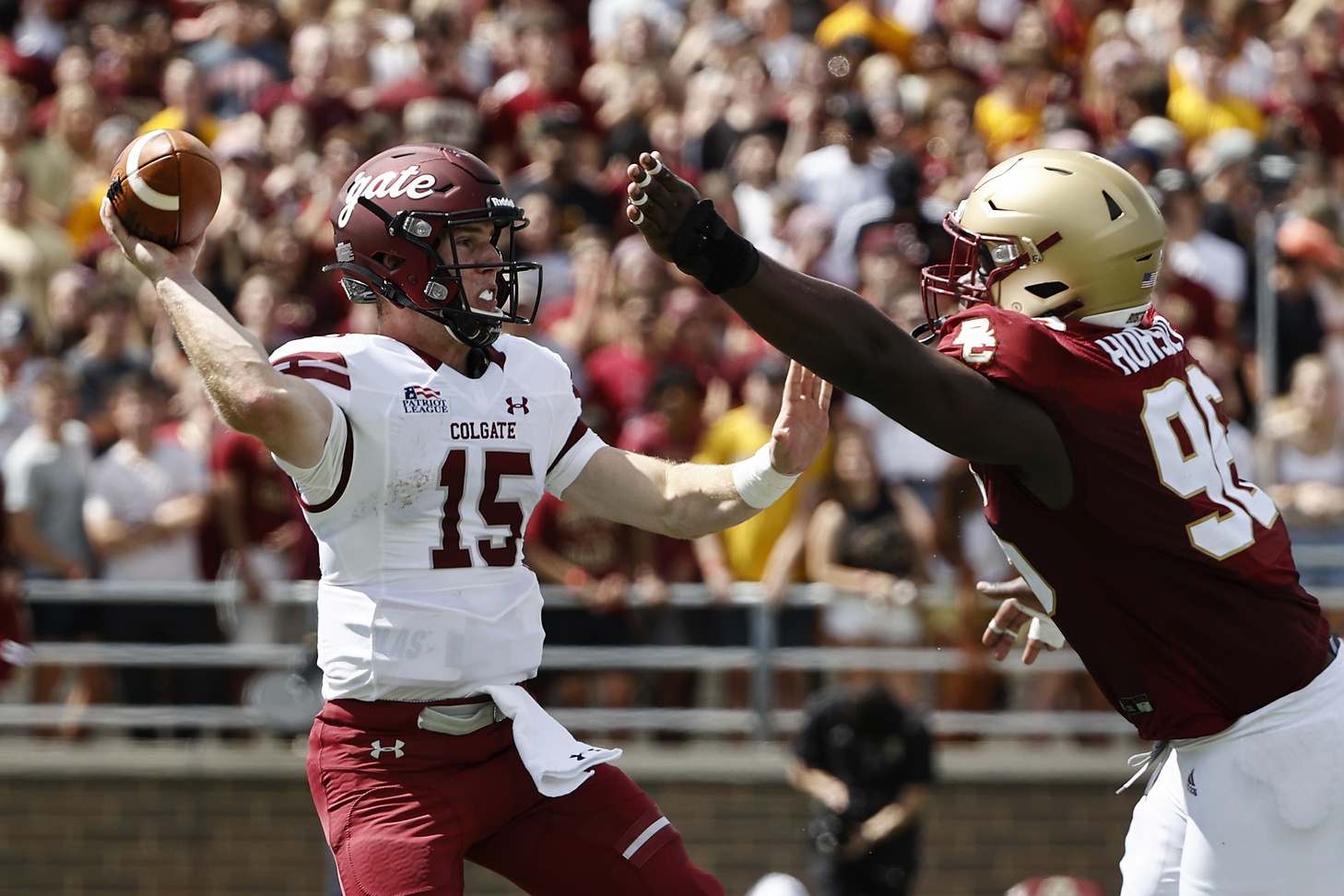 Horsley's main appeal comes from his sturdy build, balance, and anchor in run defense. Yet, he's also shown to get his hands up quickly and channel power as a pass rusher.
Khris Banks, DT
Khris Banks will return in 2023 as an important part of Boston College's DL rotation. In the past, Banks has shown off his alignment flexibility, rushing as far outside as a 5-tech. But now that he's over the 300-pound mark at 6'2″, 301 pounds, it's likely we'll see Banks play most often from interior alignments in 2023. Banks has two sacks and five TFLs since transferring to Boston College in 2021.
Donovan Ezeiruaku, EDGE
Donovan Ezeiruaku was one of Boston College's most productive players on either side of the ball in 2022, and he holds legitimate 2024 NFL Draft intrigue. At 6'2″, 250 pounds, Ezeiruaku is noticeably undersized and doesn't quite have elite bend.
Nevertheless, Ezeiruaku is explosive, and he can whittle away at blocking angles with sharp bursts of energy before stacking counters around the apex. With improved precision, he can improve on his 8.5 sacks from 2022.
Neto Okpala, EDGE
Don't let his 6'0″, 250-pound frame fool you. Neto Okpala can pack a punch with his power at contact. With his frame, it's tough to know just how he'll project at the NFL level.
But already in his Boston College career, Okpala has shown a willingness to play on special teams and the ability to maintain a pass-rushing presence with his motor through contact. As evidenced by his seven TFLs in 2022, he's also an asset in pursuit.
Shitta Sillah, EDGE
The most conventional of the Eagles' EDGE prospects is Shitta Sillah, a 6'4″, 250-pound defender who's flashed a desirable combination of athleticism and length in the past. Sillah logged 4.5 sacks and nine TFLs from 2019 to 2021, before a shoulder injury knocked him out just one game into 2022. Returning for a fifth season in 2023, Sillah has the tools to potentially finish his career on a high note and distinguish himself in the process.
Vinny DePalma, LB
Vinny DePalma was Boston College's leading tackler in 2022, with 87 takedowns to go along with seven TFLs, a sack, a forced fumble, and a fumble recovery. He's not very natural in coverage, even with his 5'11", 226-pound frame. Fluidity isn't a strength for DePalma, but he does have the high-energy motion and zeal to shuffle between gaps in close quarters, with the willingness to encumber blocks and enter the scrum.
Kam Arnold, LB
Kam Arnold was a sleeper I was eager to see play in the 2023 NFL Draft cycle. And in the 2024 cycle, Arnold remains a name to keep tabs on as he gets more LB reps under his belt.
The 6'1″, 232-pound Arnold is a former safety whose natural coverage instincts show up on passing downs. He's an explosive, agile mover with second-level range who's also improving his tackling ability as he gets stronger.
Elijah Jones, CB
For four seasons, Elijah Jones struggled to break out as a defensive contributor for the Eagles. But in 2022, he experienced newfound success, logging 34 tackles, three TFLs, a sack, two interceptions, and 13 pass breakups in a campaign that drew him honorable mention All-ACC recognition.
At 6'2″, 184 pounds, Jones has domineering length and reach, and he's able to use his physicality to dictate routes in man coverage.
Alex Washington, CB
Across from Jones at CB, the Eagles added Alex Washington through the transfer portal. Washington, who stands around 6'0″, 190 pounds, was a first-team All-Ivy League honoree at Harvard in 2021 and an honorable mention in 2022.
Through those two seasons, he racked up six interceptions and 11 pass breakups to go along with 51 tackles, 2.5 TFLs, and two sacks. He's a springy athlete who naturally lowers in his stance but doesn't have elite speed.
Victor Nelson Jr., S
Washington isn't the only FCS transfer projected to make an impact for Boston College. There's also Victor Nelson Jr., a 6'3″, 215-pound safety who put up six interceptions and eight pass deflections in a 2022 performance that earned him first-team All-NEC honors.
Nelson is a ball hawk who can play in space and manage zones, but he also has the frame and the nimble lateral mobility to match and square up runners as a support defender.
Cole Batson, S
He's only a redshirt sophomore, but Cole Batson is a player to watch in Boston College's secondary — not just for the size he and Nelson combined provide, but for the individual upside Batson has.
Batson earned more playing time in the final four games of the 2022 campaign and churned out 25 tackles, a TFL, a pick, and two deflections within that window. At 6'4″, 208 pounds, he's a rangy and versatile DB who's just tapping into his potential.
Boston College Eagles Schedule
Week 1
BYE
Week 2
Sept. 2: vs. Northern Illinois Huskies
Week 3
Sept. 9: vs. Holy Cross Crusaders
Week 4
Sept. 16: vs. Florida State Seminoles
Week 5
Sept. 23: at Louisville Cardinals
Week 6
Sept. 30: vs. Virginia Cavaliers
Week 7
Oct. 7: at Army Black Knights
Week 8
BYE
Week 9
Oct. 21: at Georgia Tech Yellow Jackets
Week 10
Oct. 28: vs. UConn Huskies
Week 11
Nov. 3: at Syracuse Orange
Week 12
Nov. 11: vs. Virginia Tech Hokies
Week 13
Nov. 16: at Pittsburgh Panthers
Week 14
Nov. 24: vs. Miami Hurricanes
Week 15
BYE
Listen to the PFN Scouting Podcast
Listen to the PFN Scouting Podcast! Click the embedded player below to listen, or you can find the PFN Scouting Podcast on iTunes, Spotify, and all major podcast platforms.  Be sure to subscribe and leave us a five-star review! Rather watch instead? Check out the PFN Scouting Podcast on our Scouting YouTube channel.