An exciting slate of Week 7 college football games skyrocketed some 2020 NFL Draft stocks for the better (looking at you, Joe Burrow) and plundered a handful of others. Week 8 is now upon us as the PAC-12 takes center stage, with a myriad of crucial matchups, players, and critical games to highlight this week. One player the spotlight will surely be on? Oregon Ducks quarterback Justin Herbert, who is trying to entrench himself at the top of the quarterback class in the 2020 NFL Draft.
With the west side of the nation taking precedence, there are still entertaining matchups across the SEC and ACC, despite a seeming lack of national attention. However, the eyes of the scouting world are going to be glued to the PAC-12 with games such as Oregon vs. Washington and Arizona State vs. Utah.
Player to Watch: Oregon QB Justin Herbert
As we continue to march towards the 2020 NFL Draft, one quarterback that has garnered plenty of attention is Justin Herbert. After being linked to teams such as the Cincinnati Bengals and Miami Dolphins coming into this season, there is now talk of him sliding down the draft board behind the likes of Tua Tagovailoa, Joe Burrow, and others.
This includes our own Tony Pauline, who thinks Herbert can do a bit more to help his draft stock. More specifically, Herbert's inability to come through in big spots raises some red flags not only for Pauline but for others in the NFL scouting community.
One thing that can't be critiqued? His natural arm talent, which has helped him throw 17 touchdown passes this season. Herbert has a missile of an arm that allows him to make some incredible throws. Add in some mobility and improvisation skills, and you have a guy who can be a franchise QB if he lands in the right spot on draft day.
Just think of Los Angeles Rams QB Jared Goff. Everyone was ready to write him off after his rookie year. But a good head coach in Sean McVay along with a system that fits his skillset has put him on a pedestal. A situation like that is one where Herbert would thrive in.
Just take a look at this throw to see the skill-set Herbert has. You can see that his wide receiver is blanketed in coverage, but he's still able to make an impressive throw into a tight window. There is no margin of error for this ball, but Herbert places it precisely with a heat-seeking missile, and as such, Oregon moves the chains. Throws like this are why NFL teams should still like him a great deal and why he has the potential to change the fortunes of a franchise for the better.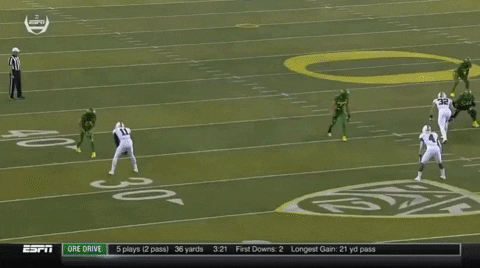 This is the other type of throw and play that should get scouts excited about what Herbert can bring to their franchise. Under head coach Mario Cristobal, the Oregon offense is nothing great schematically, and it also doesn't help that his surrounding cast isn't the greatest. This includes injuries along his offensive line this season.
That means Herbert has to rise above it and put the team on his shoulders. Here, he does just that. As he feels the pressure to his backside because of his offensive tackle, he uses his mobility to extend the play. Keeping his eyes downfield, he fires a dart where only his receiver can catch this ball. This is an NFL level play that your ordinary quarterback will not make.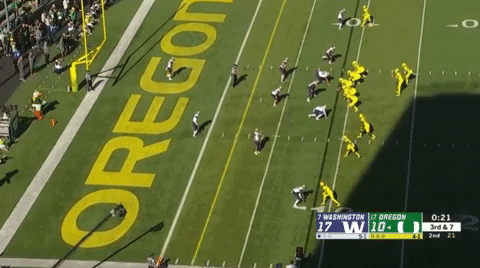 In Week 8, Herbert will face a solid Washington defense that should test him a bit. It's a big game and one that will allow him to raise his stock in the 2020 draft order. By beating a team with a good defense, he can quiet some of his biggest critics, if only temporary.
Matchup to Watch: Arizona State WR Brandon Aiyuk vs. Utah CB Jaylon Johnson
It's safe to say most of us in the draft community did not consider Brandon Aiyuk when compiling their lists of the top receivers in college football. Now halfway through his senior season, Aiyuk has the chance to show that he belongs in the conversation when it comes to the top ten wide receivers.
Aiyuk's dynamic ability is on display all over his tape, and it is an impressive blend of athleticism and overall football IQ, which he shows off below. Aiyuk runs a short crosser here, but his ability to sell the out route or hitch is impeccable. His feet stop for a quick pause, and he gives a nice head fake. The linebacker stands no chance as he bites and chops his feet, thus allowing Aiyuk to get into green space and get this first down. It's a beautiful route.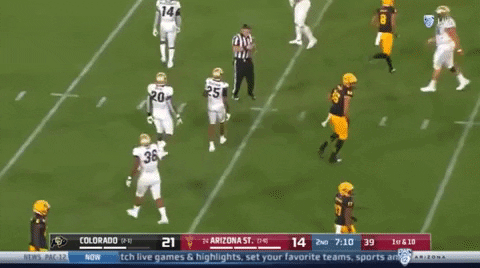 In this clip, Aiyuk shows nice ability to gain a good amount of yards after the catch. His suddenness and explosiveness allow him to turn this into a circus run. The cuts are sharp and fluid, which is important because it allows him to quickly reach top speed. Without that skill-set, his ability to break tackles and cause havoc in the open field would be undermined. Simply, to pull off these moves in succession is a unique attribute and one that not many are able to do.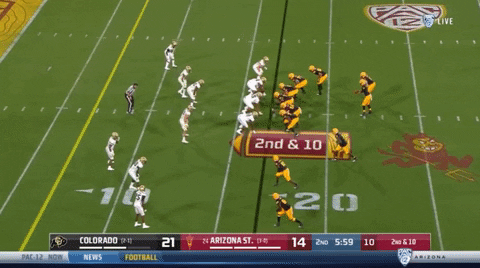 Meanwhile, Jaylon Johnson had plenty of hype coming into the season as one of the best cornerbacks out west. While he has not had his best season, there is enough there to keep him afloat.
It starts with his length and size. As you see here in this goal-line stand against Stanford, Johnson uses that length and size to help him gain leverage against J.J. Arcega Whiteside. Even if the ball is on the money, Johnson's leverage and physicality give him the chance to be able to make a play at the catch point. It's an excellent display of technique while also using his physical gifts.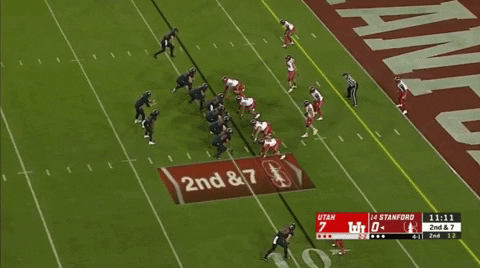 Similarly, as Johnson angles his body towards the back pylon prior to engaging Arcega-Whiteside, he also positions himself towards the front side and back shoulder. Although you can't give Johnson full credit because of the ball being tipped by the defensive lineman, his positioning allows him to get the interception and touchdown.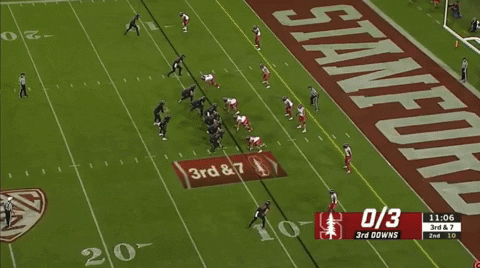 As you can see, Johnson possesses good ball skills. He catches the ball away from his body, high points it, and then tucks it in. This is a trait than can translate to the next level. If Johnson continues to use his length and size to his advantage, he should give Aiyuk some trouble during their matchup.
Sleeper to Watch: Boise State WR John Hightower
Although Boise State is undefeated heading into Week 8, John Hightower is a player that has flown under the national radar. This is confusing because ever since he transferred from Hinds Community College, he has been a big-play machine, much like he was at Riverdale Baptist High School.
And now, with the NFL Draft approaching for the senior wide receiver, he is starting to raise some eyebrows as he stacks together impressive performances on both offense and special teams.
Hightower is primarily known as a speed threat and because of that, he is utilized often as a deep threat and returner. However, he's more than just speed as he secures the ball well at the catch point.
Here, while fighting back towards the ball inside, he gives himself the leverage and upper lane at the catch point to bring in the ball. He has to create some magic, but he gets the job done with a one-handed catch while using his body as a support. He has a good feel for where he is on the field and knows how to position himself just right to make the catch.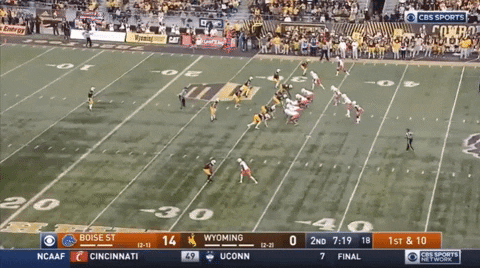 So the question then becomes, how does Hightower get separation and make the big play magic happen? A proponent of that is right at the line of scrimmage. Hightower uses a hop-step release to get on the cornerback's toes, uses his hand to get any contact away from him, and then turns his shoulder upfield.
By doing that and expecting this throw towards the pylon, Hightower has essentially stacked this defensive back. And as he goes to make this catch, he accelerates through the catch point, taps his feet since he is aware of the sideline, and tucks the ball into his body to secure the catch.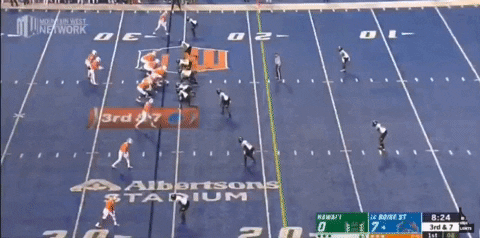 If he isn't already, Hightower's name should be gaining traction within the NFL scouting community as his skill-set and dynamic ability is coveted at the next level. If he keeps improving and producing, we will be hearing a lot more about Hightower as we get into the thick of draft season and start figuring out who belongs where in this draft class. Who knows, he may make an appearance in our next 2020 NFL
Mock Draft
.