You know what they say — the draft starts in Mobile. And after a week of practices in Mobile that saw top-rated prospects such as Javon Kinlaw and Josh Jones showed just why they had so much hype around them. Kinlaw may have worked his way into a top ten draft selection, and Jones is now certainly in the first-round discussion even in an excellent tackle class this year. Still, there are some small school prospects and others that made a lot of money this week, and those are our Senior Bowl risers.
With guys coming from the FCS, Division II, and Division III football, it was a diverse Senior Bowl cast that lived up to the hype for a fun and exciting week. Thus, here are some of those risers that won out in Mobile this week.
Dayton TE Adam Trautman
The hype around Adam Trautman had been palpable since around November ever since Senior Bowl Director Jim Nagy hyped Trautman up to be one of the best tight ends in this class, let alone one of the top FCS players in this class. Then, to hear from our own Tony Pauline that scouts and teams had a second-round grade on Trautman was something to behold. People around the draft scene have scarcely analyzed his film, but pretty soon, that is going to change.
Trautman showed up at the Senior Bowl and showed off very, very good athleticism in space. He was a feisty and technical blocker that blew guys off the ball all week. Then, he skied up for numerous contested catches, and perhaps the most surprising thing was the adeptness for route running that he displayed. Trautman was a complete tight end this week and gained a lot of money by showing it off.
There are plays like this on film that illustrate just what Trautman can do on a football field. He shows off fluid cuts and breaks and gets into the defensive back's blind spot to get wide open here. It is a crisp route and technical play that is finished off by some nice grit to get into the end zone for the touchdown — just an excellent play from a guy who is no longer a sleeper.
St. John's OT Ben Bartch
Ben Bartch came into the week as the only Division III player at the Senior Bowl, but he proved that he belonged in Mobile. Our own AJ Schulte talked about Bartch in November after he was invited to the Senior Bowl and came away more than impressed. I never got to watch much of Bartch's film until just before the Senior Bowl, and he dominated with his strength. His feet are fantastic, and he was clearly on another level than anyone else down there.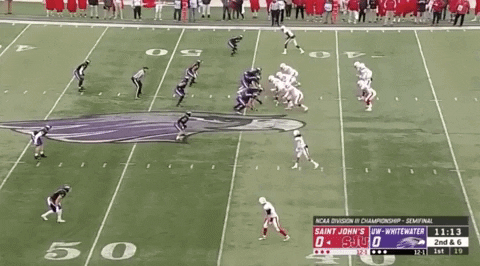 He routinely put guys into the dirt not just in the run game but in pass protection as well. Here he does a lovely job of delivering a powerful strike, pinning the outside shoulder of the rusher trying to soften the angle, and then plants him into the ground. That is a rep we saw from him on film multiple times.
In Mobile, Bartch might not have been a flashy guy who drove guys into the ground, especially since he was playing against some former blue-chip recruits, but his footwork and hand usage did shine through. He was rock solid and still got a lot of movement up front and proved his hype was worth it. Bartch has a legitimate shot to be a Day Two pick now after a great week in Mobile.
Lenoir-Rhyne S Kyle Dugger
Another small-school guy that has answered every question and more is the Lenoir-Rhyne safety. Dugger was not just a guy that extinguished those level of competition questions, but he quite literally was the best safety down in Mobile this week. Dugger was sticky in coverage and rarely got beat in the one-on-one drills this week. He showed his fluidity for a nearly 6'1″ athlete and showed off-ball skills on film.
We saw his athleticism on display as well as he flew around the field during team drills in impressive fashion.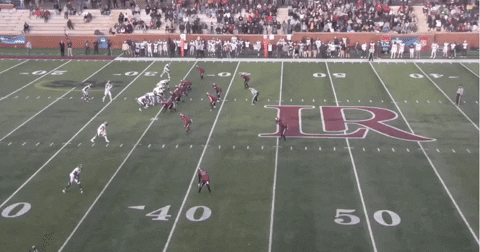 The run support question was already profoundly answered during his tenure at Lenoir-Rhyne, as he was continually flying downhill and making plays even when he was flexed up into a single-high safety role. Dugger stood out this week in the best way possible and squared down that everything in his film was no fluke. He has a legitimate shot to go Day Two in this year's draft.
Michigan EDGE Josh Uche
Uche was a man possessed this week. From his impressive one-on-one drills to where he could not be stopped by anyone, to his high IQ press conference answers, Uche won the week in flying colors and was the best edge rusher there. There was talk that all Uche was really on film was a speed rusher, which he shows off in his frame and fantastic first step.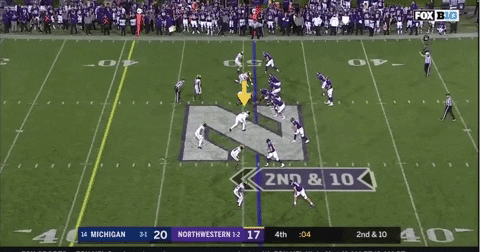 Plays like this show just why people loved the speed part of Uche's game. He flies off the ball like few guys can and has more than enough bend and cornering ability to soften his track to the quarterback. That was all over his film.
What was not all over his film was the adeptness to win back inside with a variety of counters and some serious stickiness and fluidity off-ball in coverage. Uche might move off-ball in the NFL, and he proved he could do that this week by showing off some excellent coverage skills and spatial skills. Uche was a big winner and could go before the end of the second round if he continues a strong process.
Baylor WR Denzel Mims
I can't talk about the top risers of the Senior Bowl without talking about the best wide receiver down in Mobile. Denzel Mims was on another level from everyone this week, and while he had beautiful contested catches and body control, much like his film has shown throughout the year, his ability to separate this week was seriously impressive. Mims did everything right. He dismantled press, used his physicality to separate, and his athleticism was an unstoppable matchup for every cornerback he faced there all week.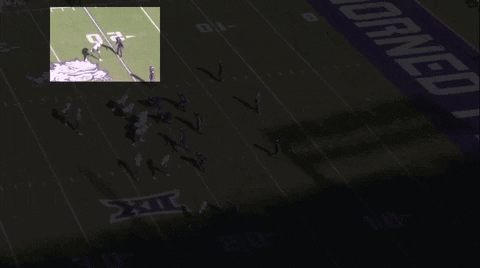 Mims has always shown an adeptness to use his physicality out of his breaks, and he did it quite well against TCU cornerback Jeff Gladney in their matchup earlier this year. With a strong Senior Bowl and a potentially strong combine coming down the pipeline for Mims, he could play himself right into the Day Two discussion even in a loaded receiver class.