The 2024 Senior Bowl has their collective scouting group scouring the college football grid entering Week 2. Senior Bowl Director Jim Nagy was kind enough to provide PFN with the list of games the Senior Bowl scouts will focus on in Week 2.
The PFN Scouting Team projected who the Senior Bowl is focused on this week, and we're diving into our thoughts on the key senior 2024 NFL Draft prospects in each matchup.
Top Senior Bowl Prospects in Week 2
Texas vs. Alabama
If Texas is to get a result in Tuscaloosa, then the offense will have to ball out. The Longhorns are loaded with potential Draft prospects, and wideout Isaiah Neyor is a legitimate talent who could go far earlier than people think. He is a big-bodied receiver with a ridiculous catch radius and has all the desired measurables.
Sixth-year senior right tackle Christian Jones must also put in a solid performance. Jones will go face to face with one of the top rushers in the country and projected top-20 pick Dallas Turner on Saturday evening.
On defense, Texas will need T'Vondre Sweat to dominate up front. The 6'4" 346-pound defensive tackle is gigantic with his sheer size and natural strength and has top-100 potential in the 2024 NFL Draft.
For Alabama, they will need to slow down the passing threat of Texas. Dallas Turner is the obvious threat, but Senior Bowl scouts will watch Chris Braswell. Braswell is an athletic pass rusher who is projected to have a bigger role in 2023 and already registered a sack in week 1.
Head coach Nick Saban is also expecting big things from Braswell, saying, "he's gotten bigger and stronger; he's a good pass rusher, so we expect him to do well this season."
Scouts also hope to see defensive back Malachi Moore in Alabama on Saturday evening. Still, his status is currently day-to-day after suffering an injury in the season opener.
Oklahoma State vs. Arizona State
This matchup doesn't provide much opportunity to watch much early-round talent, but there are Day 3 grades to keep an eye on.
For Oklahoma State, their quarterback Alan Bowman is now in his sixth year of eligibility, having previously been at Texas Tech and Michigan, and he needs to get his career back on track to gather draftable attention.
Arizona State's 2024 draft prospects are also mainly Day 3 hopefuls. After transferring in from Oklahoma, Jalin Conyers finds himself as a top 10 tight end in the 2024 NFL Draft. At 6'4" and 265 pounds, Conyers has a massive frame and shows great physicality to fight through traffic and collect contested catches.
Nebraska vs. Colorado
All eyes will be on Boulder early Saturday as the Deion Sanders-led Colorado Buffaloes debut in their home season. Colorado has captured the football world's attention, with everyone waiting to see if Deion's son, quarterback Shedeur Sanders, can repeat his heroics that saw them beat a ranked TCU on the road.
But it is his elder brother, defensive back Shilo Sanders, who Senior Bowl staff will watch closely. Scouts will also watch wide receiver Xavier Weaver, who hauled in 118 yards on 6 receptions in week 1.
Ben Scott leads Nebraska's draft prospects, having transferred over from Arizona State. He is an experienced but versatile prospect. He played right tackle at Arizona State and center and seems to have the starting center job for the Cornhuskers. Other seniors, such as RB Anthony Grant and DT Ty Robinson, will also hope they can vault themselves into draftable contention.
Texas A&M vs. Miami (FL)
This is an exciting game for Senior Bowl staff to be attending. The Senior Bowl will likely invite several prospects from both teams down to Mobile to participate in the Reese's Senior Bowl.
Miami has three fancied offensive linemen in center Matthew Lee, tackle Zion Nelson, and guard Javion Cohen. Cohen has transferred over from Alabama and has the athletic ability and organic power capacity to be in day 2 contention in the 2024 NFL Draft.
The most intriguing of Miami's draft prospects should be quarterback Tyler Van Dyke. Van Dyke didn't take the leap that many expected him to in the 2022 season despite having the desired size measurables and adequate arm strength.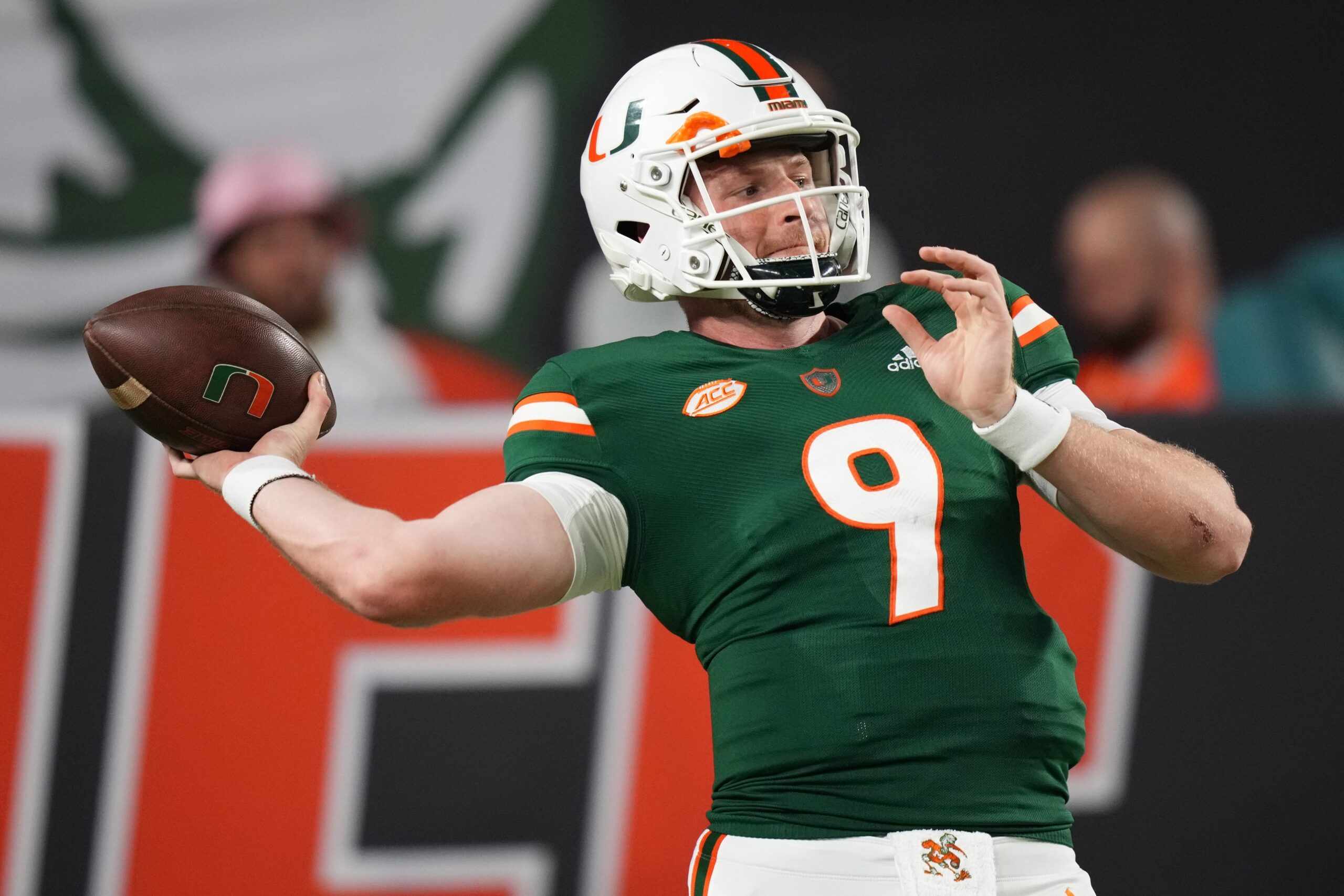 If he can show he has cleaned up some inconsistencies through this season, then he is someone that the Senior Bowl will look closely at.
Texas A&M boasts an exciting crop of seniors. Moose Muhammed III and Ainias Smith are two receivers that scouts will be watching, both with very different skill sets. Muhammed is a natural receiver who is smooth and has a technical route running. While Smith is more of a utility player who is a bundle of energy and is explosive and elusive.
Two defensive players headline this group, though. Tony Grimes is a defensive back with all the size, speed, and tools to be an early selection. The other is McKinnley Jackson, an imposing defensive tackle with an explosive first step that could land in the early rounds.
Arizona vs. Mississippi State
The list of potential Arizona Draft prospects is exciting, especially with the Wildcats having one of the top offensive tackles in the country. Jordan Morgan is one of the most athletic offensive linemen in college football, who has physicality, smooth mobility, and anticipation.
Morgan's evolution year after year, after multiple injuries, has put him in first-round contention. Wide receiver Jacob Cowing is also an exciting prospect for the Arizona program. Cowing is a quality, refined receiver who is extremely versatile. He has been extremely productive throughout college, showcasing great route running and fantastic YAC ability.
Regarding Mississippi State's draft prospects, the spotlight will be on the offense. Will Rogers is again the quarterback for the Bulldogs, and his experience could see him potentially sneak in as a late-round pick.
At receiver, Lideatrick Griffin will be one of his key weapons operating from the slot, and the Senior Bowl has recognized his return ability. Ja'Quavious Marks is also an extremely useful weapon. The running back excels as a pass protector and thrives catching balls out of the backfield.
Notre Dame vs. North Carolina State
After a thrilling debut from Notre Dame in Week 0, expectations are high for the Irish as they travel to North Carolina State.
The Irish have familiar faces who can carry them in this tough road game, with quarterback Sam Hartman leading the charge. But plenty of other potential Senior Bowl participants are set to star for the Irish in this game.
Senior playmaker Chris Tyree is the other notable offensive contributor eligible for the game. The quick slot target has caught four passes for 60 yards and a touchdown through two games, putting him on pace for a career-high in production.
Most of the Irish's senior talent is on defense, though. Edge-rusher Javontae Jean-Baptiste showed off good play strength and leverage in the season's opening games, and that will come in handy against Wolfpack tackle Anthony Belton, who is a very good tackle prospect.
Notre Dame also notably has pass-rusher Jack Kiser and cornerback Cam Hart, who have a shot at being drafted.
The Wolfpack doesn't have quite as much talent to watch besides Belton. Quarterback Brennan Armstrong leads the offense as an intriguing veteran, but he's a long shot to be drafted due to his physical limitations. The same can be said for the uber-productive linebacker Payton Wilson.
SMU vs. Oklahoma
While SMU has had some fun players, this isn't a year with a notable senior worth tracking for draft purposes. But that doesn't mean one won't emerge from a roster with a handful of transfer additions who will be graduating in a few months. Playing well against Oklahoma can help these newcomers.
Right tackle Hyrin White, running back Jaylan Knighton, and the entire SMU defense are seniors. The problem isn't their talent but rather their lack of playing time. This is an opportunity for each starter to show the Senior Bowl staff they belong to consideration for the next opportunity.
Oklahoma is not in the same boat. They have a senior-laden team with Senior Bowl candidates, starting with quarterback Dillon Gabriel, tackles Walter Rouse and Tyler Guyton, center Andrew Raym, and tight end Austin Stogner.
The defensive side of the ball has a similar feel. With edge-rusher Rondell Bothroyd and defensive backs Reggie Pearson and Woodi Washington headlining the unit, Oklahoma relies on each to be a true playmaker and difference-maker.
Cincinnati vs. Pittsburgh
A new coaching staff allows scouts to see a fresh batch of talent in a different scheme, which is what Cincinnati prospects who stayed after Luke Fickell left are hoping for. The best prospects in this game are on the other sideline for Pittsburgh. The Panthers have several notable draft-worthy seniors.
It starts with cornerback M.J. Devonshire, who could work his way into the Day 2 conversation as a 5'11", 190-pounder capable of playing inside or outside. Devonshire is athletic and twitchy in coverage. Bearcats quarterback Emory Jones will need to steer clear of Devonshire.
The other top prospect in this matchup is Panthers left tackle Matt Goncalves. Goncalves should be the top-ranked Panther on draft boards as an athletic and effective blocker. This is a loaded tackle class, so he'll have to play well against Cincinnati's senior duo of edge-rusher Jowon Briggs and linebacker Deshawn Pace.
Western Michigan vs. Syracuse
Want an idea of how deep the all-star games dig into NFL talent? Look no further than this Western Michigan vs. Syracuse game. Our team only has a few names between these teams on the watchlist, including Western Michigan edge-rusher Marshawn Kneeland. But seeing the Senior Bowl attend this game had us dive in more.
Syracuse has senior quarterback Garrett Shrader heading their offense and two senior guards, Christopher Bleich and Joe More. Defensive backs Isaiah Johnson, Jason Simmons Jr., Justin Barron, linebacker Marlowe Wax, and defensive end Caleb Okechukwu also qualify for the Senior Bowl.
UCLA vs. San Diego State
There's no question that UCLA has the upper hand in talent, but there's an opportunity for us to see what a gelling team does in their second game of the year. San Diego State will compete hard but will be overwhelmed by a veteran UCLA roster. UCLA's deep array of pass-rushers should feast, in particular.
MORE: FREE Mock Draft Simulator With Trades
Instead of focusing on the pass-rushers who are more known quantities, the Senior Bowl may be looking at center Duke Clemons and tight end Hudson Habermehl, lesser-known but quality starters in this offense.
Listen to the PFN Scouting Podcast
Listen to the PFN Scouting Podcast! Click the embedded player below to listen, or you can find the PFN Scouting Podcast on iTunes, Spotify, and all major podcast platforms.  Be sure to subscribe and leave us a five-star review! Rather watch instead? Check out the PFN Scouting Podcast on our Scouting YouTube channel.