With the NFL entering the dead period between minicamps and training camp, our summer scouting efforts to prepare for the 2023 college football season are underway. That means we'll continue to have 2024 NFL mock drafts that are updated as we dive deeper into the nation's talent pool. After diving into the quarterback class and seeing the immense talent, it's feasible that this crop of passers helps transform the league again.
The order of this 2024 NFL Mock Draft is courtesy of a season simulation where I hand-picked every game. Things will surely shake out differently regarding team success and prospects who emerge, but this NFL Draft order gives a good idea of what is possible at this incredibly early juncture.
2024 NFL Mock Draft
1) Las Vegas Raiders (From ARI): Caleb Williams, QB, USC
The Las Vegas Raiders finished with the second overall pick in my season simulation, but they're able to make a deal to jump into the top spot with the Arizona Cardinals. With a top-heavy roster and questionable coaching staff, the Raiders could implode in 2023. We could see both Josh Jacobs and Davante Adams playing elsewhere in 2024.
However, in this scenario, giving Caleb Williams both Jacobs and Adams along with a new staff would be ideal. Williams is a dynamic presence, boasting a terrific arm and rare playmaking. Because of USC's porous offensive line and lack of premier pass-catching talent, it's possible Williams' anticipation and pre-snap processing are more advanced than what we've seen.
2) Arizona Cardinals (From LV): Jared Verse, EDGE, Florida State
The thought is that if the Cardinals are this bad in 2023, and their roster looks worse than any other team in the NFL, then they should dump Kyler Murray. The problem is the money on Murray's deal makes that problematic. Arizona could likely find a taker for his upcoming $230.5 million extension, but the dead cap hits in 2024 and 2025 total $79 million.
Maybe that won't matter, but money usually influences decisions. Instead of taking a quarterback, the Cardinals could benefit from adding a blue-chip pass rusher. After passing on Alabama's Will Anderson Jr. in their trade down with Houston during the 2023 NFL Draft, they get an even more explosive talent in Jared Verse.
3) Los Angeles Rams: Drake Maye, QB, North Carolina
While Arizona could've traded down further from the No. 1 pick, they certainly wouldn't want to give the Los Angeles Rams their pick of the QB class. The Rams' roster is awful at key positions, and they're one injury to either Matthew Stafford or Cooper Kupp from being unable to compete on most game days. Finding their next franchise quarterback has to be the priority if Stafford doesn't bounce back in 2023.
The gap between Williams and Drake Maye isn't massive, but there's a difference right now. Maye's first season was reminiscent of Justin Herbert's excellent sophomore season at Oregon, which ended up being a better projection of his NFL career than his later seasons. He was an exciting player in 2022, but there's still a lot of room to improve, which gives him Trevor Lawrence-type potential.
4) Chicago Bears (From CAR) Marvin Harrison Jr., WR, Ohio State
Finishing with a worse record than they did last year despite adding the 2023 No. 1 overall pick and a new coaching staff would be far from ideal for Carolina. However, the Bears won't complain about the result of the trade that landed them this pick in their trade down from this past draft.
Ohio State wide receiver Marvin Harrison Jr. is worth every bit of hype imaginable. He has elite size, catch radius, play strength, and polish. The NFL is loaded with young, talented playmakers, but we haven't seen someone of Harrison's pedigree since Julio Jones.
5) Arizona Cardinals (From HOU): JC Latham, OT, Alabama
After adding one franchise tackle in Paris Johnson Jr. in this past draft, the Cardinals should go back to the well and address the other tackle spot. Alabama's JC Latham isn't the best player of the top tackles right now, but he's the best athlete of the top three names. Moving from right tackle to left tackle this fall, he'll also have experience at both spots.
Latham has excellent strength and is a naturally-smooth mover in space despite being so large. His ability to engage with and keep hands-on defenders has to improve, but it's fair to expect Latham to continue improving.
6) Tampa Bay Buccaneers: Jordan Travis, QB, Florida State
The 2024 QB class has some impressive physical specimens, and Jordan Travis certainly fits in that bucket. Despite standing only 6'1″ and 212 pounds, Travis has a cannon for an arm and showed the ability to develop at a rapid pace in 2022. Everything from his anticipation, accuracy, playmaking, and pocket presence took leaps throughout last season.
Now surrounded by an improved surrounding cast, Travis may have the chance to show he's a high-end pocket passer. If he does, and the Buccaneers' QB situation proves to be as bleak as the starting candidates have given us reason to believe it'll be, Tampa Bay can invest in Travis with confidence.
7) Tennessee Titans: Brock Bowers, TE, Georgia
It's not a secret that the Titans are lacking playmaking. After landing quarterback Will Levis in the second round of the 2023 NFL Draft, Tennessee has to continue adding star-level pass catchers in order for him to succeed.
2022 fourth-round TE Chigoziem Okonkwo showed good potential as a rookie, but he won't stop the team from taking Brock Bowers. Part of the reason why is that Bowers and Okonkwo can play together.
Bowers has rare movement skills and coordination despite his big body, which normally brings awkwardness. He's the rare tight end actually worth taking in Round 1 because he's more of a wide receiver.
8) Atlanta Falcons: Quinn Ewers, QB, Texas
If Atlanta is again picking eighth overall, then it's clear that the Desmond Ridder experience didn't work. Instead, the best-case scenario is to land someone more than comfortable in an RPO-based offense that has excellent accuracy and the ability to push the ball downfield to Drake London and Kyle Pitts. That could be Texas' Quinn Ewers.
Ewers had an up-and-down first season on the field, but his peaks were excellent. His footwork has to see a major jump in consistency, however. Ewers is not the athlete that some of his peers are, but his passing tools are phenomenal. There's pressure on him to put his tools together in a hurry as Arch Manning looms behind him on the depth chart, but Ewers can be a diamond if it happens.
9) Indianapolis Colts: Kool-Aid McKinstry, CB, Alabama
With rookie quarterback Anthony Richardson already impressing in Indianapolis, the Colts may be able to shift their focus to beefing up their defense here. The cornerback class in 2024 isn't particularly impressive at this juncture, but Kool-Aid McKinstry is an excellent cover corner who's way ahead of the field.
Pairing McKinstry with JuJu Brents would complete a revamp of the CB room that has been lacking young, high-impact talent for years. McKinstry has the length, attentiveness, and clean feet to be an immediate stud. He's not a ball hawk yet but is otherwise as sticky when shadowing receivers as prospects come.
10) New York Giants: JT Tuimoloau, EDGE, Ohio State
Taking a first-round receiver could be in play for the New York Giants, but the young duo of Jalin Hyatt and Wan'Dale Robinson can be building blocks in the team's best-case outcome. The strength of the 2024 class appears to be in the trenches, so the board has given us the chance to bolster the Giants' pass rush.
There's a lack of proven, consistent pass-rush stars in college right now, but JT Tuimoloau is the most impressive prospect of the bunch. He has elite size at 6'4″, 277 pounds, tremendous play strength, and enough bend in his hips to project to be a defense's top pass-rush threat.
11) New England Patriots: Olumuyiwa Fashanu, OT, Penn State
Though he doesn't have the overwhelming athleticism that some top offensive tackle prospects have boasted in recent years, Olumuyiwa Fashanu has everything needed to be a very good player early in his NFL career. He's effective at staying in front of defenders, using his long reach and excellent patience to survive against the most fierce pass rushers. His baseline is high, and he still has several areas he can improve upon.
His pad level and overall leverage can increase his ability to drive defenders backward in the run game. His ability to keep defenders close enough to combat their hands but far enough not to get into his body is another point of development. But those are things that can get him to an elite level and are not necessary for him to be worth this pick.
12) Minnesota Vikings: Bo Nix, QB, Oregon
I was surprised to go back to Oregon's film and see a much different version of Bo Nix from his time at Auburn. While he was always a player with excellent physical tools, Nix was able to put together his gifts immediately upon arriving in Eugene, Oregon. The result was a marked improvement in accuracy, decision-making, and effectiveness.
Nix may have landed as a first-round pick in this past class had he declared. Another season of refinement should push him past the point of doubt. Nix can give Minnesota everything that Kirk Cousins isn't, which is a creative playmaker with a knack for coming up big in clutch moments.
13) Chicago Bears: Chop Robinson, EDGE, Penn State
The Bears must continue dumping resources into their pass rush since it's the clear weak point of their defense. Chop Robinson is a speedy presence who is more of a projection than a proven star right now, but his 6'3″, 240-pound frame offers a ton of promise. He has great hip flexibility and a first step that will lead to NFL success.
14) Pittsburgh Steelers: Emeka Egbuka, WR, Ohio State
Pittsburgh has a history of finding great Day 2 value with wide receivers, but there's now a lack of talent at the position moving forward. With Diontae Johnson emerging as a possible trade asset, finding an upgrade will become a bigger priority.
Emeka Egbuka is an ideal partner for George Pickens, thanks to his elite ability to create after the catch and torment zone defenses with his quickness. Like other recent Ohio State receivers, Egbuka might be even better in the NFL once he's away from the deep rotation that the Buckeyes boast.
15) Washington Commanders: Joe Alt, OT, Notre Dame
The best lineman in college football right now is Joe Alt of Notre Dame. The massive 6'8″, 315-pounder boasts top-end mirror ability and is seamless as he picks up stunts and delayed blitzes. He's prone to overcompensating with the top half of his body and reaching but is otherwise a technically pure player who can start at left tackle immediately.
16) New York Jets: Leonard Taylor, DT, Miami (FL)
If Aaron Rodgers is back in 2024, this pick will likely be Green Bay's as it conveys if he plays 65% of snaps this coming season.
Teams can never have enough disruptive presences in their defensive line. Leonard Taylor would pair nicely with Quinnen Williams as a 6'3″, 305-pounder who can get into the backfield in a hurry. With 10 or more tackles for loss in each of the last two seasons, Taylor is certainly a force to be reckoned with.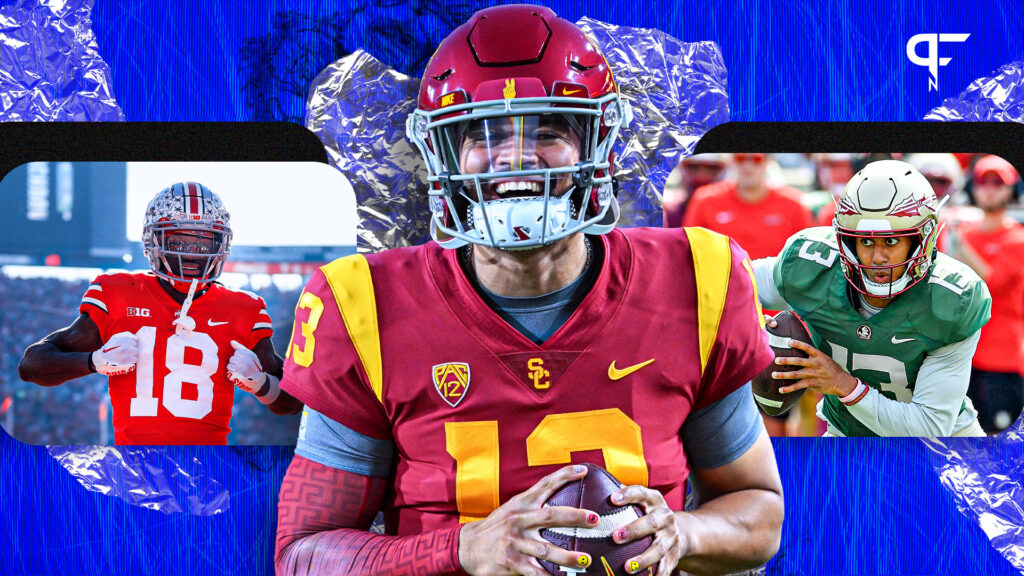 17) Denver Broncos: Jer'Zhan Newton, DT, Illinois
It's possible that Denver could be quarterback-shopping next offseason, but an improvement may keep Russell Wilson around another year. If Wilson is better in 2023, then beefing up the roster to compete for the playoffs in 2024 will be the priority. Adding more pass rushers will be key.
Losing Dre'Mont Jones this past offseason will sting. Jer'Zhan Newton is a worthy replacement as a 280-pound tackle who routinely finds himself in the backfield, disrupting plays.
18) Los Angeles Chargers: Cooper DeJean, CB, Iowa
The best playmaking defensive back in the country is Cooper DeJean. A versatile, athletic presence who spent time as a boundary corner, slot safety, and box defender, DeJean has a knack for finding the ball. He has great length and burst that allows him to make quarterbacks think twice before targeting him.
DeJean would benefit from the talent around him in Los Angeles' secondary as he could play freely to attack the ball. The Chargers must continue throwing assets into their defense so long as Patrick Mahomes is in their division.
19) Green Bay Packers: Jordan Morgan, OT, Arizona
The best pure athlete of the top tackles is Jordan Morgan of Arizona. Unfortunately, he tore his ACL in November 2022, so he returned to school just months before likely hearing his name called in the first round of the 2023 class. If Morgan can prove he's back to his full form by April 2024, he should be a lock to be someone's franchise left tackle. He's that good.
20) New Orleans Saints: Dallas Turner, OLB, Alabama
A quick look at Dallas Turner shows a solid athlete who is likely more of an off-ball linebacker than a true edge defender. Despite his 12.5 career sacks, Turner cleaned up more sacks than created them. He's an undersized edge player who does better in space as a weak-side defender that crashes from the back side of plays.
The Saints love athletic, versatile defenders who can be moved around. Eventually, Turner and Pete Werner could be the new core of the defense.
21) Baltimore Ravens: Keon Coleman, WR, Florida State
Adding another first-round receiver after drafting Zay Flowers won't be out of the question unless Odell Beckham or Rashod Bateman star in 2023.
After transferring from Michigan State to Florida State, Keon Coleman is in for a big year with quarterback Jordan Travis. Coleman is a ball-dominant playmaker who can give Lamar Jackson a presence he's never had before.
22) Buffalo Bills: Rome Odunze, WR, Washington
The Buffalo Bills opted against taking a wide receiver early in 2023 despite there being hope amongst the fan base they'd address their lack of depth at the position. With Stefon Diggs' strange offseason situation that suddenly popped up last week, the team has to address the receiver position in 2024. Washington playmaker Rome Odunze would be an excellent fit next to Diggs and 2023 first-round tight end Dalton Kincaid.
Odunze's 6'3″ frame allows him to bully smaller receivers and provide his quarterback with a big catch radius. He's not a refined route runner yet, but the Bills haven't sought out that skill set from the position anyway.
23) Detroit Lions: Bralen Trice, EDGE, Washington
The Lions could easily grab another wide receiver if Jameson Williams continues to underwhelm. However, after passing on the opportunity to bolster their pass rush in this past draft, Detroit can add Bralen Trice. The 6'4″, 256-pounder has been productive, thanks to his solid speed and size.
At best, a three-man rotation of Aidan Hutchinson, Trice, and Josh Paschal is an affordable and explosive trio to anchor the defense for years to come.
24) Jacksonville Jaguars: Jack Sawyer, EDGE, Ohio State
Jack Sawyer is certainly a projection right now based on the fact he started only three games last year, but the former five-star prospect is as toolsy as anyone. With the versatility to line up as a down lineman or a strong-side linebacker, Sawyer can be a true defensive weapon. His blend of strength and burst off the line could lead to an eventual top-10 ranking.
25) San Francisco 49ers: Malik Nabers, WR, LSU
The San Francisco 49ers have a delicate situation on their hands with wide receivers Deebo Samuel and Brandon Aiyuk facing critical contract junctures. It wouldn't be shocking to see the franchise move on from one or both playmakers if the 2023 season doesn't go as expected. Head coach Kyle Shanahan has shown supreme confidence in his ability to draft and develop playmakers instead of paying veterans.
Malik Nabers fits the mold as an Aiyuk clone or replacement. He's speedy and refined as a route runner, threatening defenses with his ability to gain easy separation.
26) Miami Dolphins: TreVeyon Henderson, RB, Ohio State
The Dolphins invested a third-round pick in Devon Achane, but their continued interest in Dalvin Cook is revealing that they don't view Achane as the workhorse. That makes sense, given his size. With Raheem Mostert and Jeff Wilson Jr. as fine veterans, the Dolphins would benefit from adding a true star in the backfield if Cook isn't signed.
Ohio State's TreVeyon Henderson is a major X-factor. He dealt with a bad foot injury that limited his availability and explosiveness in 2022 but expect him to return to form this fall. Henderson has tremendous acceleration to go with good contact balance and the ability to reach the second level of the defense quickly.
27) Seattle Seahawks: Jeff Sims, QB, Nebraska
Though I expect Seattle to be quite good this season, their interest in the 2023 quarterback class was documented throughout the offseason. They considered drafting an heir apparent to Geno Smith with their fifth overall pick. Even if they become a deep playoff contender, planning for the future makes some sense.
In very limited playing time, Jeff Sims looked like a potential star at Georgia Tech. Now at Nebraska with Matt Rhule, Sims has the profile of being a huge riser throughout the 2023 season. He boasts a strong arm, great athleticism, and the field vision you want from a franchise passer.
28) Houston Texans (From CLE): Prince Umanmielen, EDGE, Florida
The Cleveland Browns are lowkey stacked on both sides of the ball but this pick conveys to Houston from the Deshaun Watson trade. Texans head coach DeMeco Ryans should opt to continue building a deep rotation of defenders to unleash. Prince Umanmielen is a speedy, moldable, athletic piece of clay who can be a big winner with more consistency this fall.
29) Philadelphia Eagles: Jason Marshall Jr., CB, Florida
Even after nabbing cornerback Kelee Ringo in the fourth round of the 2023 NFL Draft, the Eagles will need more talent at the position unless Eli Ricks develops into the star he once looked like many years ago. With Darius Slay and James Bradberry on the back end of their careers, Jason Marshall Jr. is a fitting heir. He's also one of the few bigger, more physical corners in a class filled with sub-six-foot options.
30) Cincinnati Bengals: Sedrick Van Pran, C, Georgia
Veteran center Ted Karras is a fine stopgap for now, but the Cincinnati Bengals have continued to pour resources into their line for a good reason. Sedrick Van Pran is a powerful and athletic presence who can be Joe Burrow's best friend for a decade. The Bengals' run game would also benefit from the upgrade.
31) Dallas Cowboys: Jeremiah Trotter Jr., LB, Clemson
The Dallas Cowboys have been trying to overhaul their linebacker corps with a few third-round picks over the last few drafts, but it's telling that Leighton Vander Esch is still the most viable option on the team. Barring a breakout from rookie DeMarvion Overshown in 2023, passing on Jeremiah Trotter Jr. will be difficult. Trotter is a new-age linebacker who can do it all.
The six-foot, 230-pounder has the instincts and versatility you'd expect from the son of a longtime NFL veteran. He has to be more of a physical finisher in open space to lock in his value, but he can be incredibly valuable on a talented unit that will move him around.
32) Kansas City Chiefs: Maason Smith, DT, LSU
You can never have enough big, talented, freak athletes along the defensive line. After seeing Bryan Bresee go in the first round of the 2023 NFL Draft not too far removed from a torn ACL, LSU's Maason Smith will have the chance to do the same. The freshman phenom has great size at 6'5″, 300 pounds, and a first step that will help Chris Jones continue dominating along the Chiefs' line.
Listen to the PFN Scouting Podcast
Listen to the PFN Scouting Podcast! Click the embedded player below to listen, or you can find the PFN Scouting Podcast on iTunes, Spotify, and all major podcast platforms.  Be sure to subscribe and leave us a five-star review! Rather watch instead? Check out the PFN Scouting Podcast on our Scouting YouTube channel.