With the NFL playoff picture taking shape, it's time to take a look at the updated NFL Draft picture and how the ramifications of this season are hitting each team.
This mock draft is based on the current standings after Week 10. With eight weeks left in the season, this picture could shift tremendously, even though the teams at the top are likely to stay the same.
2024 NFL Mock Draft
1) Chicago Bears (via CAR): Drake Maye, QB, North Carolina
It's hard to argue that the Bears won't be in the quarterback market, as a (presumably) new coaching staff will want their own quarterback with whom to start fresh. There's a sort of irony that the Panthers pick is helping a Chicago nab their next quarterback.
Drake Maye is undoubtedly deserving of going first overall and is one of the most talented quarterback prospects in recent memory. His arm talent and precision passing are reminiscent of Los Angeles Chargers QB Justin Herbert.
2) New York Giants: Caleb Williams, QB, USC
The Giants could really use just about any position on the depth chart, but after watching QBs Daniel Jones and Tommy DeVito struggle to do much at all this season, Caleb Williams would be a welcome building block at the quarterback position.
3) New England Patriots: Marvin Harrison Jr., WR, Ohio State
While the Patriots' quarterback room is completely up in the air, and they will almost certainly be in the market for one, picking third here really messes them up in that regard. Thus, they'll have to be satisfied with an elite wide receiver prospect — potentially one of the best in recent memory.
Marvin Harrison Jr. might be their best overall receiver since Randy Moss and would be a shot in the arm for a team desperate for offensive playmaking.
4) Arizona Cardinals: Dallas Turner, EDGE, Alabama
Arizona could go any which way in the draft, and I wouldn't be surprised. But they have struggled to get to the quarterback consistently without schemed help and are still looking for a cornerstone player up front.
Who the top pass rusher in this class will be is still undetermined, but Dallas Turner is a standout edge defender whom the Cardinals can build around up front.
5) Chicago Bears: Olu Fashanu, OT, Penn State
With a new quarterback, it makes sense to invest in someone to protect him. While OL Braxton Jones has been fine, especially as a run blocker, Olu Fashanu is a natural pass-protector and one of the best tackle prospects in recent memory, coming off his best game of the year against Michigan. This move allows Jones to drop into a swing tackle role and gives Chicago a pair of talented bookends at the tackle spots.
6) Green Bay Packers: Keon Coleman, WR, Florida State
While there have been some questions about Jordan Love, I think Green Bay's biggest problem continues to be the team's wide receiver room. They've struggled with health and drops all season long and haven't had a standout player emerge.
Keon Coleman would be the top dog in that room pretty quickly with his elite height/weight/speed combination. He would be Jordan Love's go-to target and draw coverage away from the other receivers.
7) Los Angeles Rams: Joe Alt, OT, Notre Dame
You could really pick any spot on the Los Angeles Rams' roster, and there's a justification for adding a player there. With Stafford playing at a high level still, the Rams should be all-in on keeping him upright.
They've been searching for a left tackle since Andrew Whitworth's retirement and haven't had a solution emerge. Joe Alt's film is teach-tape in pass protection, and he should be a cornerstone for the Rams for the foreseeable future.
8) Tennessee Titans: Brock Bowers, TE, Georgia
The Tennessee Titans are one of the heaviest 12-personnel teams in the league. While they absolutely could take an offensive lineman here, adding Brock Bowers to this team with Will Levis at quarterback would be a significant boost to their offense, especially with no real receiving options outside of DeAndre Hopkins (who is a pending free agent).
9) Atlanta Falcons: Laiatu Latu, EDGE, UCLA
The Atlanta Falcons' defense hasn't been the problem for the team this season, and it's reasonable they could lean into an offensive player here. However, the Falcons could use a boost to their pass-rush room, as they are one of the worst teams at pressuring opposing quarterbacks. Their top pass rusher, Lorenzo Carter, is set to hit free agency.
Laiatu Latu is a dynamic pass rusher with superb technique and is capable of being a 10+ sack-a-year player. His medical history will have to be checked out, but Latu is a prospect worthy of being a top-ten pick.
10) Washington Commanders: Kool-Aid McKinstry, CB, Alabama
While the Washington Commanders will have to sort out their pass rush at some point, the cornerback room is a mess. Their top guy, Kendall Fuller, is a pending free agent and could look to sign with a contender. Emmanuel Forbes hasn't been what they hoped he would be either.
While Washington fans might be upset at two back-to-back first-rounders at CB, it's hard to ignore the need, given how bad the team's secondary has played this season. Kool-Aid McKinstry would provide day-one improvement to the starting lineup.
11) Tampa Bay Buccaneers: Chop Robinson, EDGE, Penn State
Tampa Bay will also likely look to figure out their long-term quarterback situation this offseason. For now, the team has struggled to generate pressure on opposing quarterbacks all season and needs some help on that side of the ball.
Chop Robinson's athleticism and length would be a boost to a Buccaneers' front desperate for it. They need to find a long-term answer there with players like Shaq Barrett aging out.
12) New York Jets: JC Latham, OT, Alabama
Without a doubt, the Jets need to get their offensive line right if they want the Aaron Rodgers trade to work out. There isn't a situation where they can fix it all in one go, but taking Latham, a talented and powerful tackle, is a step in the right direction.
13) Denver Broncos: J.J. McCarthy, QB, Michigan
There's way too much animosity being shown between Russell Wilson and Sean Payton for me to buy that they are going to roll this back for another season without something changing. J.J. McCarthy is the style of quarterback Sean Payton is looking for, with the arm talent and athleticism to elevate the scheme beyond the simple point-and-shoot style they are currently running with Wilson.
14) Los Angeles Chargers: Nate Wiggins, CB, Clemson
Pick a spot on the Chargers' defense, and you could argue they need an upgrade. But after the failed J.C. Jackson acquisition, something needs to shift in the cornerback room. Asante Samuel Jr. is inconsistent at best, and the team doesn't have a number-one corner in that room.
Nate Wiggins is an excellent blend of length and quickness who could be an instant boost to that secondary.
15) Indianapolis Colts: Cooper DeJean, CB, Iowa
The Colts' cornerback room is gearing up for plenty of turnover, and they need talent in that room. Cooper DeJean checks off a ton of boxes that the Indianapolis Colts look for in cornerbacks, and his ability to defend the run is a huge plus of his game, something the Colts need.
16) Las Vegas Raiders: Amarius Mims, OT, Georgia
Regardless of who the Las Vegas Raiders will have at quarterback next year, they need to sort out the right tackle position. Kolton Miller has been steady at left tackle, and they need another tackle to lock in. Amarius Mims is an incredibly talented tackle prospect with the upside to be a top-tier right tackle quickly.
MORE: FREE 2024 NFL Mock Draft Simulator With Trades
17) Buffalo Bills: Rome Odunze, WR, Washington
The Buffalo Bills' lack of playmakers offensively has cost them games and will continue to do so until they actually address the problem. Rome Odunze is one of the best players in this class and would be a prime target for Josh Allen. He and Diggs would be a top-tier duo almost right away.
18) Cincinnati Bengals: Jer'Zhan Newton, DT, Illinois
The Cincinnati Bengals have struggled to defend the run this season and need a boost from the interior of their defense. With D.J. Reader a pending free agent, Jer'Zhan Newton could fill an immediate need and give them a dynamic defensive tackle reminiscent of Geno Atkins.
19) New Orleans Saints: Malik Nabers, WR, LSU
While the futures of the New Orleans Saints coaching staff and their quarterback room are in question, the team needs another receiver to emerge and replace Michael Thomas. Malik Nabers is an explosive, silky smooth playmaker at receiver who would help draw coverage away from Chris Olave.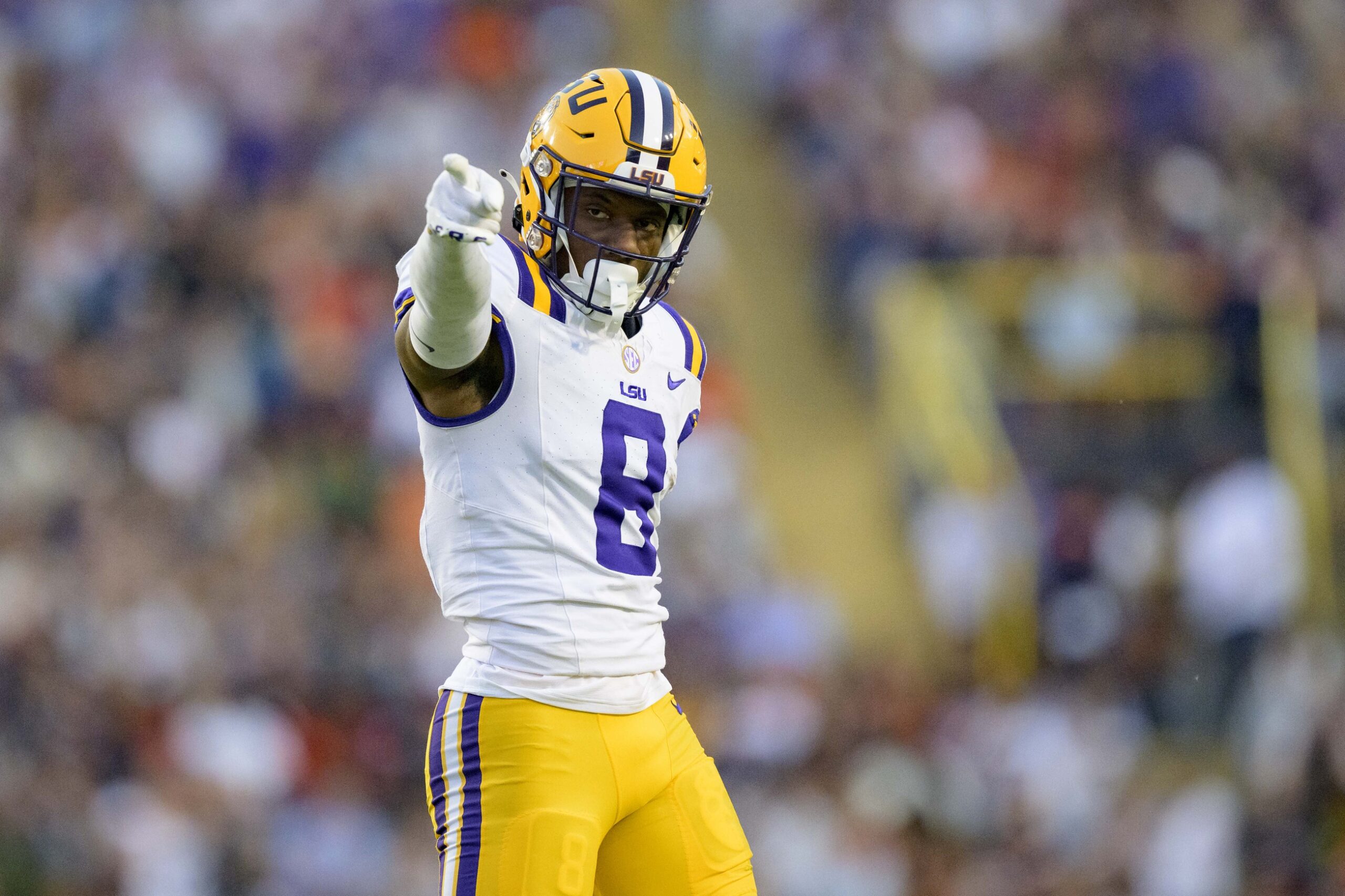 20) Arizona Cardinals (via HOU): Emeka Egbuka, WR, Ohio State
The Arizona Cardinals made a move on defense and now turn to the offense. Emeka Egbuka's route-running and hands would make him a go-to target for Kyler Murray and the Cardinals, who could lose Marquise Brown and Greg Dortch in free agency. The Cardinals need to continue to add playmakers around Murray regardless, and Egbuka would be a phenomenal investment.
21) Minnesota Vikings: Jared Verse, EDGE, Florida State
After seeing how much he means to that team, I'm willing to bet the Minnesota Vikings are going to bring Kirk Cousins back for at least one more season.
While this could still be a quarterback, they'll go all-in with Cousins once more in this scenario. With Danielle Hunter and Marcus Davenport slated for free agency, the Vikings need to add to their pass rush. Enter Jared Verse.
22) Dallas Cowboys: Kalen King, CB, Penn State
DaRon Bland has been a standout, and Trevon Diggs will return next season from a torn ACL. But the rest of that cornerback room has struggled this season. Stephon Gilmore is a pending free agent and well into his 30s. Kalen King has the man-coverage ability Dallas will covet and the inside/outside versatility to let them deploy him, Bland, and Diggs in different looks.
23) Pittsburgh Steelers: Terrion Arnold, CB, Alabama
The cornerback room for the Pittsburgh Steelers has been one of the worst in the league this season, if not the outright worst. Joey Porter Jr. has shown flashes, but the rest of the group leaves much to be desired. Terrion Arnold is a traitsy cornerback whose competitiveness screams Pittsburgh Steelers.
24) Houston Texans (via CLE): Kamari Lassiter, CB, Georgia
With C.J. Stroud playing at this level, it's important to ensure the defense takes strides to match his offensive output so it doesn't all fall on his shoulders. The Houston Texans have three corners who have all played over 200 snaps this year hitting free agency and haven't had a full season of Derek Stingley Jr.
I'm expecting Kamari Lassiter to get more and more buzz as time goes on. He's a highly competitive corner with the ability to play outside and in the slot. His on-field ability and work ethic off the field are a natural fit with DeMeco Ryans.
25) Miami Dolphins: Taliese Fuaga, OT, Oregon State
Miami's offensive line will have some shuffling to figure out with Austin Jackson, Robert Hunt, Connor Williams, Isaiah Wynn, Kendall Lamm, and Robert Jones all pending free agents. Fuaga could step into that right tackle spot and provide a significant boost — especially in the run game.
26) Seattle Seahawks: Cooper Beebe, G, Kansas State
Seattle has been a tougher team to predict throughout these mocks, but the bottom line is that the team has to get better at protecting Geno Smith. While Charles Cross and Abraham Lucas have the tackle spots locked up, the guard spots are up for grabs, especially with Damien Lewis being a pending free agent.
A versatile, physical offensive lineman, Cooper Beebe could shore up the Seahawks' interior and keep Smith from getting blown up from the middle like Seattle.
27) Jacksonville Jaguars: Adonai Mitchell, WR, Texas
The Jacksonville Jaguars will need to sort out their pass rush too, but it's hard to ignore their need for an outside receiver to free up Calvin Ridley. Adonai Mitchell is a playmaking X-receiver who would be a top-flight playmaker for the Jaguars' offense and keep coverage away from Christian Kirk and Ridley. He'll also aid the Jaguars' in the red zone with his 6'4″ frame.
28) San Francisco 49ers: Tyler Guyton, OT, Oklahoma
The San Francisco 49ers have stuck Colton McKivitz at right tackle to replace Mike McGlinchey, and that experiment has come to an end. Outside of Trent Williams, the OL has struggled to keep Brock Purdy clean, and McKivitz is picked on often. Guyton's athleticism is a natural fit for Kyle Shanahan's scheme.
29) Baltimore Ravens: Brian Thomas Jr., WR, Baltimore Ravens
It always feels a tad lazy to keep mocking wide receivers to the Baltimore Ravens. But Odell Beckham Jr. is slated to be a free agent, and the team lacks a reliable producer on the outside.
At 6'4″, 205 pounds with explosive speed, Brian Thomas Jr. has been a fast riser up draft boards in LSU's offense and rarely drops the football. Adding him to the Ravens would be fun for Lamar Jackson and open up coverage for Zay Flowers.
30) Detroit Lions: JT Tuimoloau, EDGE, Ohio State
The Detroit Lions have needed a pass rusher to emerge opposite of Aidan Hutchinson, and it hasn't happened. JT Tuimoloau isn't the most athletic pass rusher out there, but he is powerful and an advanced playmaker. He boasts the strength needed to stick in base against the run, something the Lions need more of.
31) Kansas City Chiefs: Ja'Lynn Polk, WR, Washington
The Kansas City Chiefs gambled on their wide receiver room and haven't found much luck with their youth movement there. The offense is missing a standout pass catcher not named Travis Kelce over the middle of the field who is reliable and will make the tough catches to keep the chains moving.
All Ja'Lynn Polk does is make tough catches and get open. He would be a steady target for Patrick Mahomes and be a frequent go-to guy in gotta-have-it situations.
32) Philadelphia Eagles: Ladd McConkey, WR, Georgia
The Philadelphia Eagles haven't figured out their WR3 spot yet, and Julio Jones, Olamide Zacchaeus, and Quez Watkins are all slated to hit free agency.
Howie Roseman has only drafted trench players, wide receivers, and quarterbacks in Round 1, so we have to stick with the theme. Ladd McConkey's quickness and hands have made him a standout and would add another dimension to the Eagles' offense.
Listen to the PFN Scouting Podcast
Listen to the PFN Scouting Podcast! Click the embedded player below to listen, or you can find the PFN Scouting Podcast on iTunes, Spotify, and all major podcast platforms.  Be sure to subscribe and leave us a five-star review! Rather watch instead? Check out the PFN Scouting Podcast on our Scouting YouTube channel.