Each week, the East-West Shrine Bowl staff has its eyes on all of the top 2023 NFL Draft prospects in the nation. Coming out of Week 5 of the 2022 college football season, who are some of the latest prospects to earn the admiration of the scouts in Las Vegas?
2023 NFL Draft: The Offensive Tackle Class Is Developing Nicely
Before the 2022 season, there was a sense that the 2023 NFL Draft offensive tackle class was very unsettled. And at such an important position in the modern NFL, that was a rather unsettling conclusion to arrive at.
But while worry set in across the NFL draft media landscape, the scouts at the Shrine Bowl remained patient. There was indeed talent in the wings — some prospects just needed more time. Early on in the 2022 campaign, prospects have received just that. And for some, it's resulted in positive progression.
The first name Shrine Bowl Director Eric Galko brings up when asked to run through his eye-catching performances, is BYU offensive tackle Blake Freeland. He mentions Jaren Hall and other linemen like Clark Barrington and Harris LaChance as well but says that Freeland was especially impressive, considering his matchup.
"Because of the Thursday and Friday games, I've seen a lot of BYU this year," Galko said. "And I think that offensive line is really fun to watch. Seeing Blake Freeland, how he plays and how he moves in space. They had Utah State this past week, and I thought Byron Vaughns was a good test for Freeland. A good player, a good athlete, a former Texas transfer. It was a good chance to see Freeland against a really athletic edge rusher, and he was impressive."
But Freeland is just one prospect in what's slowly becoming a very impressive offensive tackle class for the 2023 cycle. The perception among the media is that this class is improved. And in some cases, it has. But the Shrine Bowl staff has had its eyes on many who've experienced steps upward in the 2022 season. For Galko, it wasn't necessarily about the class improving but about the class becoming what it could be.
"I think the class was never short on guys who've played a lot of football," Galko began. "It's been great to see guys like Freeland, guys like Carter Warren of Pitt, who's taken the next step up when we already thought he was a good player. Cody Mauch and that whole North Dakota State line has been very impressive. Connor Galvin, Javon Foster of Missouri, who's proven it against top pass rushers as well."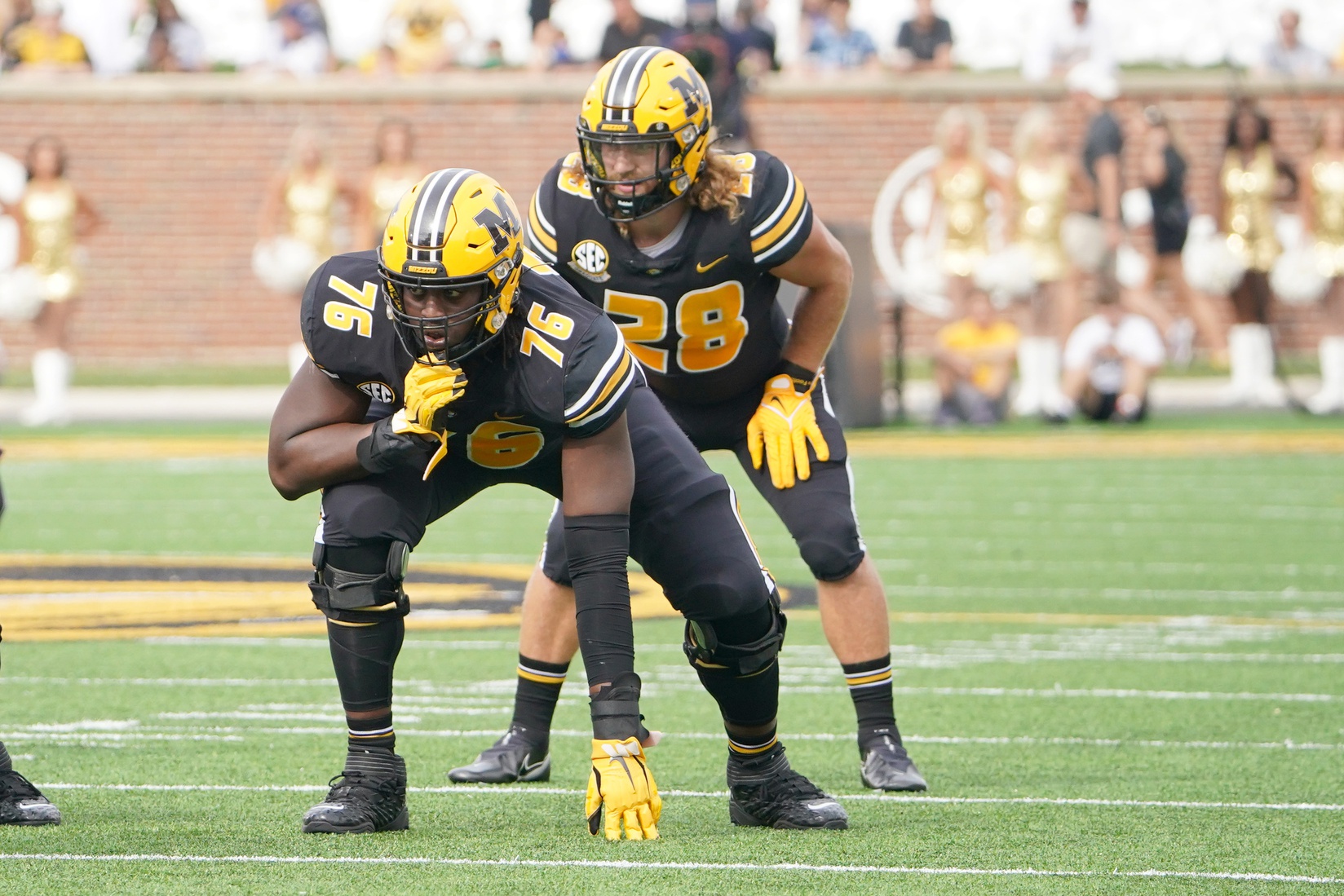 The names go beyond even that. There's Matthew Bergeron of Syracuse, whom Galko espoused praise on just last week. Even Jaelyn Duncan of Maryland, who showed out against Michigan State edge rusher Jacoby Windmon in a statement win. For Galko, the names all add up to support the perception of what's perhaps always been an underrated group.
"I think 'strengthened' is a good word, but a lot of tackles who we thought would have good years, have had good years and then some," Galko explained. "I think the question was: Will one of these guys emerge? I think two or three likely have emerged as guys that can be early-round picks, guys that can be starters early on in their careers. It was an intriguing and deep — in the sense that 'we'll see who actually emerges' — offensive tackle class early on in the year. And I think a lot of these guys have [emerged]."
It's not just upperclassmen, either. In fact, several of the most exciting breakouts at tackle have come in the underclassmen group. Paris Johnson Jr. is widely considered to be OT1 after his dominant start. Penn State's Olumuyiwa Fashanu has been a high-level starter and has early Round 1 upside. Even Anton Harrison of Oklahoma and Broderick Jones of Georgia have joined that group.
In Galko's eyes, the progression of the class has come two-fold. The underclassmen are incredibly talented and provide upside. But to Galko, the upperclassmen group is what gives the class its depth, and will truly give evaluators a sigh of relief when Days 2 and 3 come around next April.
"I think it's a really talented underclassmen tackle group," Galko said. "But I think we'll see more than a few guys go Day 2 and Day 3, that start as rookies. And I'd bet more than a few of them go on to be good players because that's how offensive linemen work.
"The underclassmen have a lot of upside and a lot of tools and a lot of traits, and we'll see who comes out. But I think NFL teams — if they were looking at boards the way Shane [Coughlin] and I are — they'd breathe a sigh of relief and say 'okay, there's guys who can help us here as rookies and be long-term offensive linemen.'"
The NFL draft, as we've seen through the years, is all about value. Teams will spend first-round picks on the premier tackle prospects. But a hit on Day 2 or Day 3 can be just as impactful. Looking at the upperclassmen group, Galko says there will be opportunities for teams to capitalize on that.
An HBCU Sleeper in the 2023 NFL Draft Offensive Tackle Class
No one quite understands the sheer depth of the 2023 NFL Draft OT class like the Shrine Bowl staff. As we've long established, this is a staff that stretches from coast to coast. It's a staff that surveys every level of collegiate football — from the high-level SEC matchups to Divisions II and III. Across that massive scope, there's a lot of OT talent to parse through. But one prospect in particular has emerged as a massive sleeper in the eyes of the Shrine staff: Howard's Anim Dankwah.
Shrine Bowl Director of College Scouting Shane Coughlin brought up Dankwah in one of our earlier meetings, and the Bison blocker has been elevating his play in recent weeks. Just this past week, Dankwah was named HBCU Offensive Player of the Week by the Shrine Bowl.
It's been a steep ascent for Dankwah, a Ghana native who came to football late, after first watching the sport as a junior in high school. Dankwah easily falls under the "raw" distinction in the raw vs. underdeveloped framework that the Shrine Bowl directors so often cite.
But by Coughlin's observations, Dankwah is ever so slowly starting to shed that "raw" label. It's a promising development for his NFL projection because he truly has high-level talent.
"He's listed at 6'7″, 330 pounds. I'd be shocked if he wasn't 6'9″, closer to 380," Coughlin shared of Dankwah. "He's a guy that, walking off the bus, is pretty intriguing. For me, at that size, you have the concern about pad level and maybe some hip flexibility issues. I thought he showed a little bit of that last year. Now, early in this season, particularly against Yale, whose pass rush is very good, you can see that Dankwah's feet are much more coordinated.
"The upper and lower halves are working very well together. And when you have a guy that big, who can engage his core, sink into contact, and show off a little bit of that arc, we're looking at a pretty special player with a really elite athletic profile."
It's hard to imagine Dankwah's traits won't win the allure of NFL teams and scouts later in the process, just as his traits have done for the Shrine Bowl staff. And in the years to come, we may look at Dankwah as another addition to a surprisingly well-rounded OT class.
Veteran Quarterbacks Provide Mixed Results in Tough Matchups
Naturally, the conversation finds its way back to the quarterback position. Within that sphere, Galko is quick to mention UCLA signal-caller Dorian Thompson-Robinson — a veteran passer who he spoke about in his Monday Morning Quarterback piece earlier this week.
Galko was also complimentary of UCLA receiver Jake Bobo and his ability to win 1-on-1 on isolation routes in clutch moments. But for Galko, Thompson-Robinson's ability to come out with a win, against a good Washington team, was particularly impressive.
"Dorian has shown a master's understanding of that offense," Galko elaborated. "He's really composed and controlled, which is what a lot of great quarterbacks have at the college level, and what helps them become good NFL quarterbacks, especially on third down. I thought Dorian was awesome on third down. He looked for Jake Bobo often. And Dorian not only targeted him but also set him up for success on those plays. It was a really good game on paper, but a really, really good scouting game as well."
Five years of starting experience have amounted to success in 2022 for Thompson-Robinson. Another older QB prospect — Will Levis — doesn't have the same kind of quantified experience. However, with his tools and toughness, he's garnered far more 2023 NFL Draft hype.
Week 5 was an important test for Levis against a talented Ole Miss defense. Levis didn't necessarily fail that test, but mistakes made by him ultimately led to a loss that could have been avoided. Galko has said that winning games matters for quarterbacks. Levis found a way to win against Florida a couple weeks ago. A loss doesn't take away Levis' ability to win. But Galko says you ultimately have to call it like you see it.
"If you're going to give Will credit for beating Florida and being a game manager, you also have to make sure you're cognizant of the fact that, the turnover at the end of the game was a bit on him," Galko said of Levis' game-sealing strip-sack.
MORE: 2023 NFL Draft Big Board
Having said that, it's also important to keep a bird's eye view when viewing these prospects. It was an imperfect game from Levis, but one in which he still showcased the high-level talent that will ultimately win over NFL teams. A deep sideline throw on the final drive comes to mind — a perfectly-placed back-shoulder pass that put Kentucky in a position to win.
"All it takes is one or two shots," Galko said of Levis' talent. "With Will, you see those throws and you say, 'alright, there's clearly all the tools to get a lot better here.'"
The talent is enough of a foundation to give Levis some security with his stock. At this point, it's a stable element of his evaluation. Even so, Levis can't get complacent or stagnate, Galko says. For where Levis wants to be, the need to constantly improve remains apparent.
"Will is competing, not only to be one of the best quarterbacks in this class, but the first overall pick," Galko emphasized. "A guy a team can really rest their shoulders on as a franchise QB. With that, there's a lower margin for error. Even talent only isn't going to get you there. I think he knows that, and with SEC play coming up — it's not like he can't make mistakes.
"But I think for Will and that Kentucky offense, NFL teams want to see this guy win and make some really big plays late in the game. I think he did in that Ole Miss game, to be frank. That last drive was good. The throws and talent were all there. But if you're going to give credit for winning games that are a little bit messy, you need to get some negative credit for losing games, too.
"I think scouts want to see how he picks up from last week, and if he plays well this upcoming week, scouts will see that he has the mental toughness to be a good QB."
Even with his stock locked into first-round territory, the evaluation remains fluid for Levis. His game against Ole Miss was an up-and-down performance that ended on a low note. A rebound against South Carolina would help show that Levis can bounce back from those moments.
Purdue CB Cory Trice a Rare Mold at His Position
One position group where the depth has in no way been contested is cornerback. From the start, everyone's agreed that the 2023 NFL Draft CB class is very strong with its depth. Then, however, the challenge becomes getting every worthy prospect on the radar. There are so many names to know at CB in 2022, and perhaps that's why Purdue's Cory Trice has fallen under the radar.
Trice, a fifth-year senior who missed most of 2021 due to an injury, has found new life in 2022. The 6'3″, 210-pound cornerback defies expectations with his size, frame density, and length, and he's been a top-tier player for the Boilermakers' defense. Teams rarely throw his way in general, and when they do, they've largely been met with total resistance. Trice has six pass deflections through five games.
In Week 5, Trice was similarly dominant, helping hold a talented Minnesota offense to just 10 points. Trice had a pair of pass deflections, but his quiet reps were just as impressive. He lined up on the boundary and covered receivers there, and also found himself sometimes matched up against tight end Brevyn Spann-Ford. And against the 6'7″ pass catcher, Trice was just as challenging to throw on.
Trice's length makes him a mismatch for offenses, but Galko says his ability to bend and transition at his size is what makes him so productive. That's something that not all taller cornerbacks have, and it's something that's burned NFL teams in the past. Trice can blanket receivers, transition, and use his length effectively in press. It's a complete combination that has scouts excited.
"He's very easy to like and get on board with as a scout," Galko said of Trice. "The size, he can also bend, he can turn. That stuff is pretty obvious. But I think he's shown the ability to be a press guy. He can work downfield. In the Syracuse game earlier, he was winning effortlessly as a press cornerback against some of those reps and throws."
Galko says it's easy for evaluators to say simply 'he's long, he's athletic, he's going to be good.' Length does widen a prospect's margin for error, but regardless, the requisite lateral mobility and bend can be the difference between a legitimate defensive contributor and a prospect with upside who never works out. Galko, however, says Trice has what you need. Coughlin is in lockstep, emphasizing Trice's ability to win in press.
"Another thing [bigger cornerbacks] might get burned on is press exposure. For a guy that big, has he played in press? How good is he in press?" Coughlin said, then expanding onto Trice's game. "I think you look at the body type and you say there's press upside, but [Trice] is a guy who's experienced with it. He's violent and physical at the line, he redirects with a lot of force. I think his upper body technique is borderline special, and he also has the recovery speed to maintain his leverage over the top."
Coughlin mentions Isaiah Simmons, putting Trice in esteemed company with the versatility he might be able to provide NFL defenses with his size and mobility. It's the type of body you normally see at safety. We need to see more from Trice as a tackler — Coughlin says Trice's coverage prowess dictates that he doesn't get a great deal of exposure with his run fits and support ability. But the coverage ability, and the technical fluidity in particular, is cause for excitement.
"I look at patience and how quiet his feet are, and where he reacts to a press release package," Coughlin went on. "So far, that is what I've seen — a patient player who's initiating with his hands squarely. He doesn't overreact, he doesn't over-transition. I really like his patience and recovery adjustments."
All this, at 6'3″, 210 pounds, with high-end length for the position. With his production, it's safe to say Trice will continue to draw more looks as the season progresses.
Other Defensive Standouts From the Week 5 CFB Slate
Coughlin ended the call with a few more prospect standouts to add to the fray. First on his list was Utah linebacker and Florida transfer Mohamoud Diabate, who had his best career game in Week 5 with six total tackles and four tackles for loss. While Clark Phillips III got the majority of the recognition with his three-interception performance, Coughlin says Diabate was just as impressive, and his NFL upside is enticing.
"He's showing a lot of versatility," Coughlin said of Diabate. "He's played outside linebacker over the course of his career, and now he's playing a little bit more MIKE. Athletically, he's shown he can play across the second level of the defense. He'll give you some pass rush, but he's also got the bursty trigger from depth.
"I think he's someone who trusts his eyes, trusts his path. And athletically, he's elusive enough to get away from mobile blocks. You see him ducking away, you see him scraping off, and then you see the play strength to finish."
Listed at 6'4″, 222 pounds, Diabate provides some of the same length and athleticism that made Devin Lloyd such a coveted prospect for Utah in the 2022 NFL Draft cycle. While they're far from the same player, Coughlin says the natural talent is through the roof with Diabate: "Athletically, he's an A for me."
MORE: Top NFL Draft Prospects To Watch in Week 6
Moving onward, Coughlin set his sights on Clemson-NC State from prime time. There's a lot of talent on the Clemson defensive line — headlined by Bryan Bresee, Myles Murphy, Tyler Davis, and Ruke Orhorhoro. But the player Coughlin brought up was none of those. Instead, he presented K.J. Henry as another prospect who impressed him and had a glowing review for the former five-star recruit and basketball standout.
"I think he's really popping early this year. He's already got 4.5 tackles for loss. I thought he had his best week this past weekend against NC State," Coughlin exclaimed. "That entire defense probably had its best performance, but Henry, to me, is a starting NFL 3-4 outside linebacker. He has a prototype body through and through, everything you want."
And Coughlin didn't sign off without adding one more name to the transcript: Florida State defensive back Jammie Robinson. Aptly named for his physical style, Robinson has 253 tackles, 10.5 tackles for loss, six interceptions, and 14 pass deflections across four seasons with the Seminoles. He has a big fan in Coughlin, who says Robinson's fast-play pace and versatility will earn him a role in the NFL.
"Jammie Robinson had 13 tackles. He's just really popped for me. A super springy, feisty, bursty guy that can play nickel, strong safety, press cornerback — everything like that."
The prospect roundup for Week 5 ends there, but the work of the Shrine Bowl staff does not. They're already turning their eyes to Week 6, with their board of green and yellow prospects on standby. Next week, there will be a whole new batch of performances to sift through — looking for the next NFL stars.
Listen to the PFN Scouting Podcast
Listen to the PFN Scouting Podcast! Click the embedded player below to listen, or you can find the PFN Scouting Podcast on iTunes, Spotify, and all major podcast platforms.  Be sure to subscribe and leave us a five-star review! Rather watch instead? Check out the PFN Scouting Podcast on our Scouting YouTube channel.