One great insight we get every year from the 2023 Industry Consensus Big Board is not just where the players rank after a survey of the draft industry, but which players have drawn the largest disagreements.
This year, because there hasn't been a consensus top five, we don't have any players that uniquely stand out at the top — some boards may rank Anthony Richardson at No. 1 overall while others grade him as a second-round pick.
That's atypical, as we very often see a consensus No. 1 or consensus top three in the NFL Draft. That means that this year, player rankings have varied drastically in order to stand out in a big way.
Who Are the Most Polarizing Players in the 2023 NFL Draft?
In order to find the most polarizing players in the NFL Draft, we look at the variance in ranks across boards. That means we won't be influenced by one or two odd rankings — we'll look at the players who truly have the most diverse set of rankings across our 70 big boards along the largest range of ranks.
Then, we adjust for overall rank. The difference in rank between the third overall player and seventh is much larger than the difference in rank between the 93rd overall player and 97th overall player — in the first instance, analysts are essentially saying that the difference between the two is worth a second-round pick in trade value. In the second instance, the analysts are essentially agreeing.
MORE: FREE Mock Draft Simulator With Trades
Surprisingly, despite disagreements over who the top quarterback in the NFL draft is, the quarterbacks generally did not create more disagreement than usual. The variance for all four quarterbacks was within the average range for their overall ranks.
With that in mind, here are the most polarizing players in the 2023 NFL Draft
Chandler Zavala, G, NC State
North Carolina State's Chandler Zavala is ranked 112th overall and yet isn't ranked by about half the boards that go beyond 100 players. In some instances, he's not even ranked by 300-plus player boards. At the other end of the spectrum, there are analysts who rank him in the 70s, like FantasyPro's Thor Nystrom, Yahoo Sports' Charles McDonald, and The Athletic's Dane Brugler.
Being relatively unknown isn't new to Zavala, who was unrecruited out of high school and a relatively little-discussed transfer. Nevertheless, he excelled with the Wolfpack. That has something to do with his polarizing nature as a prospect, but his age (24 years old), injury history — he missed most of his 2021 season with a back injury — and apparent reliance on upside, it's tough for every analyst to bet on him.
Terell Smith, CB, Minnesota
After a strong Combine performance, Terell Smith — a one-year producer at Minnesota — was able to land on a number of boards. He primarily excelled in the 40-yard dash, the traditionally most important Combine drill for cornerbacks. Add in his length, with 32-plus inch arms, and there's a lot to like about Smith.
But with only a year of production, a strong cornerback class, and some questions about the other elements of his athletic profile, analysts are split — which often happens to late risers in the draft process, like Smith. He's ranked 132nd overall but was 59th from NFL.com and 69th from Nystrom. He also ranked 291st overall on the Draft Network's board and 318th on Pro Football Focus' board.
Darnell Wright, OT, Tennessee
After playing well against Will Anderson Jr. and Alabama to start things off for Darnell Wright, there's been discussion about him going in the middle of the first round as the best player in the next tier of tackles after Peter Skoronski, Broderick Jones, and Paris Johnson Jr. But his position as a right tackle and inconsistent overall play this season has created some questions.
Wright has a prototypical build and good short-area athleticism, but he needs improved pass-blocking technique, and he can't sustain movement like many zone-blocking tackles are required to do. As a result, draft experts are split on him. PFF ranked him 70th, while Ourlads placed him 67th overall.
Darius Rush, CB, South Carolina
Playing opposite a first-round cornerback can hurt a prospect. Coby Bryant, who played opposite Sauce Gardner at Cincinnati, was a bit of a polarizing prospect in part because of how many targets he saw. Darius Rush might experience the same thing playing opposite Cam Smith, and how analysts have chosen to interpret that has varied wildly.
Rush is a good athlete with a great frame that needs some technical clean-up. His performance has been a little up and down, but a lengthy injury history, a late arrival as a starter, and his age (23 years old) are all concerns. Those question marks have led to some analysts ranking him as low as 226th, like at the 33rd team.
Others, like Luke Inman at Locked on Sports and Ryan McCrystal at Draft Ace, rank him at 34th. Rush has earned rankings everywhere in between those two points, making him truly a mystery. His ultimate ranking of 80th overall may not be where he goes in the NFL Draft.
Tyler Scott, WR, Cincinnati
Tyler Scott is a highly productive speedster from Cincinnati who tends to play one note but plays it well. How analysts view the value of that trump card in light of other weaknesses — route technique, size, ability to get off press, and so on — tends to dictate their rankings of the player.
Scott ranks highly with NFL.com and Brugler, who both rank him 48th overall. But his skeptics, like Great Blue North, who ranked him 162nd, dragged down his score to 72nd overall.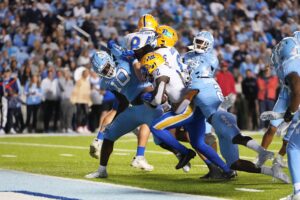 Israel Abanikanda, RB, Pittsburgh
The split on Israel Abanikanda comes from the perception of his weaknesses. Both his detractors and proponents believe he has incredible burst and speed, which he can use to hit home runs with some regularity. Add in his contact balance, and there's something to work with there.
MORE: When Is the 2023 NFL Draft? 
The question is whether or not he has core fundamentals like vision and change of direction. Analysts like Pro Football Network's Ian Cummings liked those qualities of his and ranked him 69th. Bleacher Report and 33rd Team, however, ranked him pretty low — 183rd and 167th, respectively.
Luke Musgrave, TE, Oregon State
Some analysts have propped up Luke Musgrave as the top tight end in the class, while others are concerned that he's too linear of an athlete, like Mike Gesicki. He ran well at the Combine, though many expect him to be even faster than his 4.61-second 40-yard dash time. Unfortunately, injuries cut his 2022 campaign short.
Without much production in his healthy 2021 and a small sample of production in 2022, it's hard to fully project Musgrave. At 47th overall, there are some who see him as a potential first-rounder. ESPN'S Jeff Legwold ranked him 21st overall, and NFL.com ranked him 12th. At the other end of the spectrum, there are boards much lower on him. Jeff Risdon at USA Today's Draftwire ranked him 197th, while Chris Trapasso at CBS Sports ranked him outside of his top 110.
Who Are the Least Polarizing Players in the 2023 Draft?
We can sometimes view a variance in the rankings as a way to quantify uncertainty and, in some ways, project perceived upside. That's not a perfect way to do it, but the variance in rankings can result in prospects who have a wider variance in outcomes. That's hard to measure, but if we find prospects with low variance performing like analysts predicted, this might be a tool to tell us who "safer" prospects are.
If we look at highly-ranked players with low variance, that has largely panned out. 2020 and 2021 were the best years for it, with Joe Burrow, Andrew Thomas, Tristan Wirfs, Xavier McKinney, Creed Humphrey, Rashawn Slater, Trevor Lawrence, and Patrick Surtain among the least-variable prospects in terms of analyst rankings.
It's not perfect; low-variance picks still bust at a decent clip. Garrett Bradbury, Irv Smith Jr., Nasir Adderley, Devin Bush, Greedy Williams, Solomon Thomas, and Reuben Foster were some of the least polarizing players in their draft classes.
Conversely, the bust rate for high-variance prospects is a bit higher, but the gains can be tremendous. Players like Josh Allen, Patrick Mahomes, Chris Jones, Jonathan Allen, and Rashan Gary were among the highest-variance prospects in their class.
With that in mind, here are the least polarizing players in the 2023 NFL Draft Class
Jalen Carter, DT, Georgia
The prospect with the most off-field uncertainty might be Jalen Carter, but his talent has been so overwhelming that he ends up with the least polarizing difference in analyst rankings. While this year has a number of potential "top three" draft candidates cycled throughout a group of essentially six players, Carter is the only one consistently in the group.
His variance was lower than Bryce Young, Will Anderson, or C.J. Stroud, and it landed him a second overall ranking. That can still mean quite a bit this year. Carter was off one analyst's draft board, and ESPN's Jeff Legwold ranked Carter 16th, with another few ranking him outside the top 10. But, for the most part, Carter consistently earns top three consideration. There are a number of questions surrounding Carter, but his talent wins out.
Byron Young, DT, Alabama
The "other" Byron Young in this year's draft, the potential three-technique chess piece has earned consistent rankings just outside of the top 100. Not many view him as anything other than a Day 3 pick — though Ryan Wilson at CBS Sports ranked him 42nd overall while 33rd Team ranked him 52nd — there has been a consistent push to place him around 120th or so. The Draft Network put him at 251st overall, and Drafttek ranked him 206th, but he's otherwise kept an even band of rankings.
Because Young physically profiles as a player who can move inside-out but largely plays as a run-stuffer, he can split analysts. The reason he doesn't is his consistent level of play, especially with prototypical five-technique traits that should slot him well in the right defense. He always seems to find a way to produce, even if he's not an every-down pass rusher.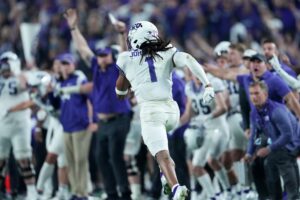 Quentin Johnston, WR, TCU
Though there has been a wave of critique for TCU's Quentin Johnston, it doesn't amount to much change in analyst rankings. Johnston has lost his ranking as the top receiver in the draft at the conclusion of the draft cycle, but experts haven't dinged him too much.
He's ranked 19th overall, and the low end of his rankings places him around 36th (Sam Teets' Sports Talk) or 38th (DRAFTPLEX), while there are some high rankings, like Seth Burn at seventh overall. For the most part, however, analysts rank him fairly consistently at around 20.
Johnston had low route diversity at TCU and is supposed to be a speedster, but a somewhat worrisome Combine performance had people dropping his ranks a bit. He still has good upside and awareness, especially for a class with so few receivers above 6'1" in height.
Owen Pappoe, LB, Auburn
At one point, Owen Pappoe was a polarizing prospect. But as we get closer to the draft, analysts have evened out on their take. He's an inconsistent, if athletic, linebacker who might be best suited for a special teams role but can develop into a starter.
MORE: 2023 NFL Draft Team Needs 
For a player ranked 124th overall, his band of rankings is fairly narrow. Pro Football Network's Tony Pauline rates him 75th, and there are a few rankings in the 80s that feature his upside while a few are concerned about his lack of development. NFL.com ranks him 185th, and Sports Info Solutions puts him around 191st.
Jaxon Smith-Njigba, WR, Ohio State
It's not always the case that the top player at a position has consistent rankings when the player below him is also consistent — but Jaxon Smith-Njigba did it, earning near-universal recognition as this year's top receiver in the draft. He has an unusual profile for a player in that position — he has a unique athletic profile, which is typically polarizing, and analysts disagree about whether he can play on the outside consistently, relegating him to a slot role.
It speaks to the level of obvious talent that Smith-Njigba displays for those concerns to crop up for experts to consistently give him the nod over Johnston and Jordan Addison. There are some that place Smith-Njigba in the Day 2 range, like Trapasso and Risdon, but he's generally earned ranks between 11 and 20. Jacob Infante at Windy City Gridiron ranked him sixth overall, while Eric Edholm at NFL Network ranked the Ohio State receiver ninth.
Listen to the PFN Scouting Podcast
List to the PFN Scouting Podcast! Click the embedded player below to listen, or you can find the PFN Scouting Podcast on iTunes, Spotify, and all major podcast platforms.  Be sure to subscribe and leave us a five-star review! Rather watch instead? Check out the PFN Scouting Podcast on our Scouting YouTube channel.