The value of running backs has taken a bit of a dip here in dynasty circles over recent years, but that doesn't mean that we should completely forget about them! How does the 2023 rookie RB landscape look as the season is now upon us?
Let's find out right here! If you're looking for my overall rookie rankings, make sure to check those out here.
Did you get a trade offer in your dynasty or redraft league? Not sure who to start or sit this week? Make championship-winning decisions with PFN's FREE fantasy tools — the Fantasy Football Trade Analyzer and Calculator and Start/Sit Optimizer!
Top 5 Dynasty Rookie RB Rankings 2023
1) Bijan Robinson, Atlanta Falcons
When we're discussing whether or not Bijan Robinson is the best running back prospect of all time, we clearly need to be drafting him within the top five of dynasty rookie drafts. Put on the tape, and it's evident that Robinson has the chance to be special in today's NFL.
Bijan Robinson time 😤pic.twitter.com/iZDKnO7awl

— Pro Football Network (@PFN365) August 11, 2023
With his size and power capacity, Robinson should be able to handle a significant amount of carries for this Falcons offense that is going to want to run the ball as much as humanly possible. He also has the skill set to be a receiving threat at every level of the field, which is rare to find.
From a fantasy standpoint, Robinson has the ability to be the RB1 every year for the next 5+ seasons due to what he can do on the football field. Behind one of the best run-blocking offensive lines, 1,500+ rushing yards in Robinson's rookie season is not out of the realm of possibilities.
Robinson's been highly touted in dynasty circles over the past several years. It would have to take Arthur Smith getting too cute with his usage and role for him to not meet expectations right out of the gate. If you have the 1.01 selection in your draft, Robinson should easily be the selection.
2) Jahmyr Gibbs, Detroit Lions
The Lions clearly wanted an explosive playmaker that can score from anywhere on the field, and that's exactly what they're getting with Jahmyr Gibbs after selecting him No. 12 overall.
Gibbs' elusiveness — combined with his receiving ability at every level of the field — is going to instantly make him a fan favorite in Detroit. However, does that mean that he's instantly going to be a fantasy football star?
While Gibbs may have numerous performances in 2023 and beyond that help push your lineup over the top, consistency may be a concern due to his role in the offense. David Montgomery's presence in Detroit for the foreseeable future relegates Gibbs to a "playmaking" role vs. a more traditional RB that will see a consistent workload game in and game out.
We should expect to see Gibbs moved around the formation and among the league leaders at running back in terms of routes run, but targets are much more difficult to project than carries. At just 200 pounds, it's highly unlikely that Gibbs sees north of 10 carries per game, which means that he's going to need to be highly efficient with his opportunities when they come.
With that being said, Gibbs' home-run ability and receiving capabilities keep him towards the top of dynasty rookie drafts right now. With so many questions surrounding the other RBs in this class from a fantasy standpoint, Gibbs' upside is worth swinging for the fences on.
3) Kendre Miller, New Orleans Saints
From a tape standpoint, there may not be a more well-rounded RB in this entire draft class (after Robinson) than Kendre Miller. The 5'11" and 215-pound running back has the size to be able to withstand a significant workload, but he's also smooth and evasive in the open field with the ball in his hands.
Don't be shocked if Kendre Miller is the biggest riser throughout this pre-draft process. pic.twitter.com/9pPMK7Jf2b

— Kyle Yates (@KyleYNFL) January 23, 2023
Add on surprising top speed and natural receiving ability, and there's a case to be made that Miller should be going much higher in dynasty rookie rankings than he is right now.
Unfortunately, the landing spot that Miller fell into is one that's all sorts of confusing right now for fantasy purposes. Alvin Kamara has a suspension that he'll serve for the first three games of the season, and the Saints went out and gave Jamaal Williams a three-year, $12 million contract in free agency this offseason, which muddies the waters quite a bit for Miller's fantasy projection in 2023.
With Kamara suspended, Miller should step into the receiving-down role for New Orleans, which should have immense fantasy value with Derek Carr's tendency to target his running backs. However, with it being only a minimal suspension, does that mean that Kamara will immediately step back in and take over that role and therefore send Miller back to the bench?
Dynasty rookie drafts are all about targeting talent over situation, though. Who knows what the 2023 NFL season will hold in store as Miller works his way up the depth chart? As long as he's fully healthy to start Week 1 — which is currently a question due to a knee sprain — his talent should supersede the situation.
4) Zach Charbonnet, Seattle Seahawks
If Zach Charbonnet had landed almost anywhere else in the NFL Draft, we'd be discussing him as a top-five selection overall in rookie drafts. There weren't many traditional three-down running backs in this draft class, but Charbonnet's tape indicates that he can easily handle a massive workload for an NFL team right away.
Unfortunately, it's highly unlikely that Charbonnet will ever get that chance now that he's a member of the Seattle Seahawks. Kenneth Walker III was superb last season for Seattle, and he's clearly established himself as the alpha in this RB room when he's healthy.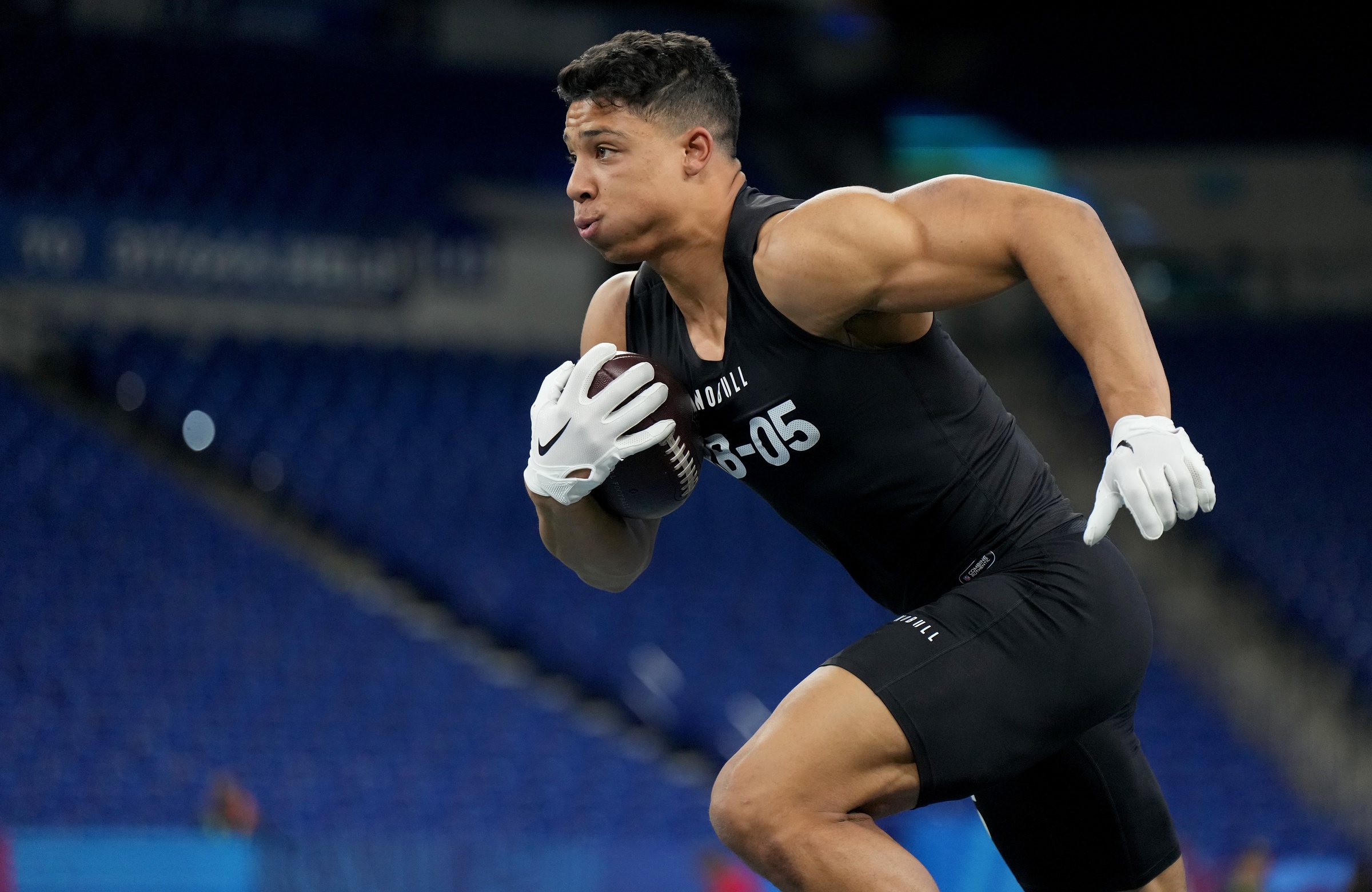 Even though Charbonnet was selected with the 52nd overall pick, Walker is going to be the clear lead option in this backfield, which will dramatically limit the former's ceiling from a fantasy football standpoint.
RB depth is still a necessity for dynasty rosters, so Charbonnet shouldn't be dropped down the rankings too far. However, with how many other talented players there are in this offense, Charbonnet is unlikely to ever enter into the top-20 RB discussion while Walker is healthy.
The potential that Walker misses a bit of time at the start of the 2023 season due to his groin injury makes Charbonnet a bit more of an intriguing option, but it's important to remember that dynasty is obviously more of the long-term outlook versus immediate return.
5) De'Von Achane, Miami Dolphins
If you love highlight-reel runs, De'Von Achane is a target for you in your rookie drafts. With blazing top-end speed, Achane can break angles (and ankles) of incoming defenders with his acceleration, which makes him an incredibly enticing asset for fantasy football.
At his size, though, just 188 pounds, Achane is highly unlikely to shoulder a massive workload for this Miami Dolphins offense. While he may be able to reel off multiple 15+ yard runs in a game, the carry totals and target opportunities may simply not be enough to put him into the top-24 RB discussion for fantasy on a weekly basis.
Add in the fact that the Dolphins have multiple options at their disposal in this backfield, and it's difficult to find a path where Achane sees more than 10 touches per contest, at least in 2023.
There's the potential that he breaks every efficiency metric in the book this season with how high-powered this offense will be, but the consistency won't be there for the explosive RB.
With all that being said, Achane's upside is too tantalizing to let him slide too far down the draft board in dynasty rookie drafts, and he can be viewed as a solid top-15 selection.
Dynasty 2023 Rookie RB Rankings | 6-27
6) Roschon Johnson, Chicago Bears
Roschon Johnson proved to be incredibly efficient running behind Robinson at Texas. With his pass-catching ability (and pass protection), there's a chance that he takes over this backfield in Chicago by the start of 2024.
7) Tyjae Spears, Tennessee Titans
Tyjae Spears is an incredibly athletic RB that could easily carve out a role in this Titans offense as a reliable pass catcher out of the backfield.
8) Tank Bigsby, Jacksonville Jaguars
Tank Bigsby has the talent to carve out a substantial role alongside Travis Etienne Jr. in this Jacksonville offense right away.
9) Chase Brown | Cincinnati Bengals
Chase Brown didn't receive high draft capital in the 2023 NFL Draft, but he handled a massive workload for Illinois during his time in college. We could see him be the next man up if something were to happen to Joe Mixon this season.
10) Zach Evans | Los Angeles Rams
Zach Evans was a highly touted recruit going into college, but he never truly lived up to expectations. After minimal draft capital, he may not even be guaranteed a roster spot in Los Angeles. Still, a weak depth chart above him makes him worth targeting in the later rounds of your dynasty rookie draft.
11) Israel Abanikanda | New York Jets
Israel Abanikanda has the speed and home-run threat ability to be a factor in this Jets offense down the line. Unfortunately, the addition of Dalvin Cook makes Izzy's outlook for 2023 a bit bleak.
12) Evan Hull | Indianapolis Colts
The running backs in Indianapolis are already dropping like flies with injuries in training camp, so Evan Hull has the opportunity to climb this depth chart. However, expectations should remain under control as Indianapolis has gone out and looked at multiple veteran RBs instead of showing confidence in Hull.
13) Eric Gray | New York Giants
Eric Gray is a smooth receiver out of the backfield, but he may have to wait until 2024 to become a thing for fantasy football. With Saquon Barkley back in town, plus Matt Breida above him on the depth chart currently, Gray's most likely in line for a special-teams role only in 2023.
14) DeWayne McBride | Minnesota Vikings
DeWayne McBride has as good of a chance as anyone else in this backfield to emerge as the RB2 behind Alexander Mattison. But it's important to note that he was a seventh-round pick in the 2023 NFL Draft, and he had just five receptions during his entire time in college.
15) Sean Tucker | Tampa Bay Buccaneers
Sean Tucker is incredibly talented, but he was not drafted in the 2023 NFL Draft due to a medical issue that came up during pre-draft testing. He's with Tampa Bay now, though, and has every opportunity to climb this weak depth chart in front of him.
16) Deuce Vaughn | Dallas Cowboys
From a pure tape perspective, Deuce Vaughn's up there with the best of the best in this class. Unfortunately, his size is going to hold him back in the NFL from seeing the type of workload he would need to be fantasy relevant.
17) Chris Rodriguez Jr. | Washington Commanders
Chris Rodriguez Jr. is a big and physically imposing RB that can punch the ball in from the 2-yard line without difficulty. Unfortunately, he joins a very crowded Washington backfield that will prevent him from seeing the field much this season.
18) Kenny McIntosh | Seattle Seahawks
Kenny McIntosh is a smooth receiving RB, but he lacks the traits to be a three-down workhorse in the NFL. Additionally, he landed in a very crowded backfield.
19) Mohamed Ibrahim | Detroit Lions
Mohamed Ibrahim has been on the fantasy radar for a while now, but he has yet to really live up to expectations. In a crowded Detroit backfield, it's difficult to see that changing.
20) Keaton Mitchell | BAL
21) Camerun Peoples | CAR
22) Lew Nichols III | GB
23) Tiyon Evans | FA
24) Xazavian Valladay | PIT
25) Tavion Thomas | FA
26) Jase McClellan | FA
27) Kendall Milton | FA
Listen to the PFN Fantasy Podcast
Listen to the PFN Fantasy Podcast! Click the embedded player below to listen, or you can find the PFN Fantasy Podcast on iTunes, Spotify, and all major podcast platforms.  Be sure to subscribe and leave us a five-star review! Rather watch instead? Check out the PFN Fantasy Podcast on our Fantasy YouTube channel.